Happy Spring Festival : ArtPro Brings You the Best Wishes along with Global Auctions Houses
11 Feb 2021, 09:00
In 2020, the global art market has experienced historical moments again and again, whether it is the complete suspension of global auction houses during the spring auctions, the full recovery of global auction houses during the autumn auctions, or even an explosive transaction boom.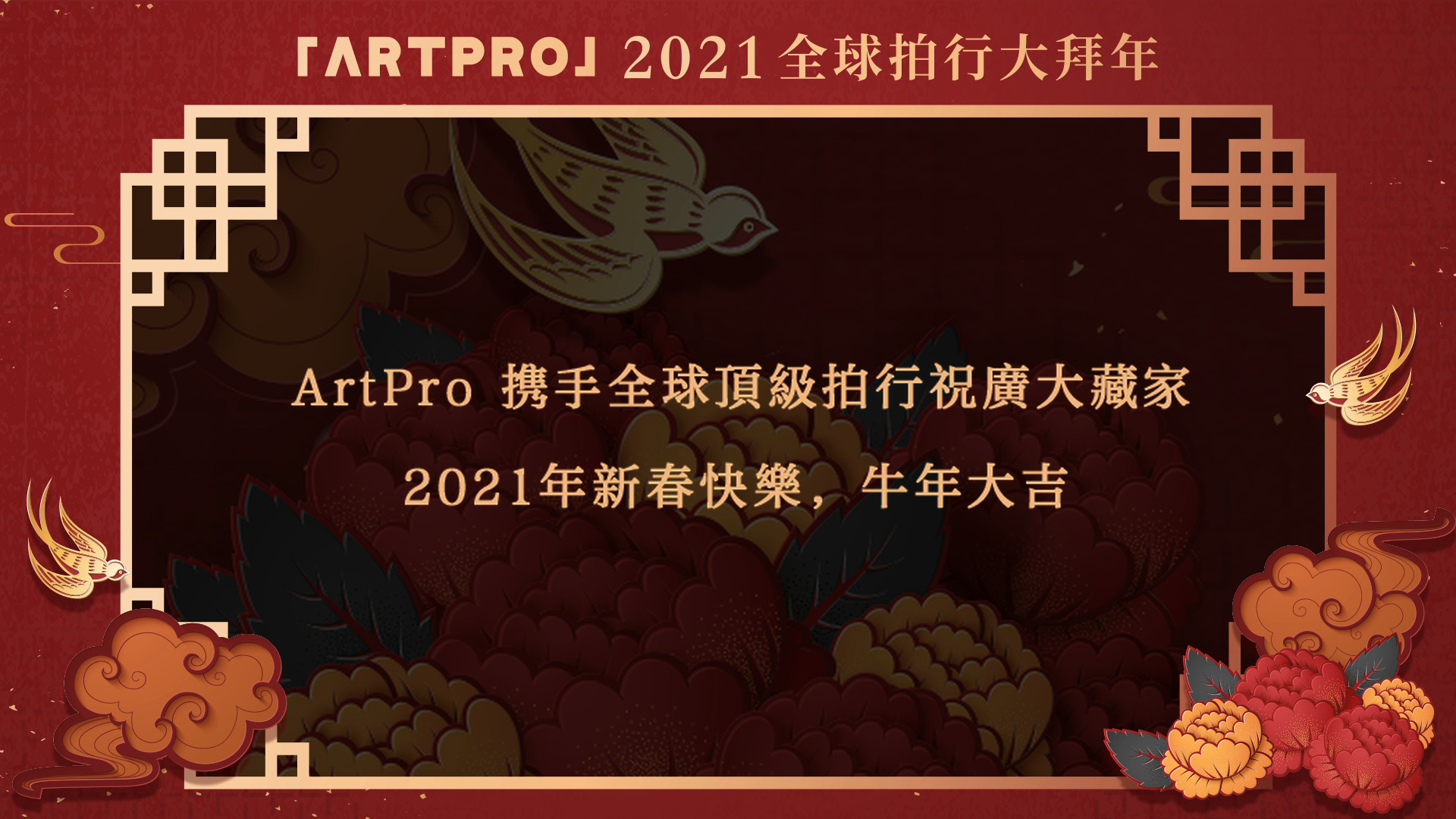 ArtPro Brings You the Best Wishes along with Global Auction Houses
The world's major auction companies are not only facing uncertainty and challenges, but also seeking new breakthroughs and changes in adversity, and are working hard to serve collectors and art sales affected by the epidemic in various ways.
With the joint efforts of everyone, the global art transactions in 2020 have created countless wonderful moments. Here, ArtPro joins hands with the world's four major auction houses Sotheby's, Christie's, Phillips, and China Guardian to bring a new year to global collectors. blessing.
Sotheby's Asia CEO Brings Chinese New Year Blessings to Collectors around the World
Hi everyone, I'm Kevin Ching from Sotheby's China. Due to Covid-19, 2020 had been an extremely challenging year.
However, our total auction turnover also exceeded 7 billion HKD leading the art auction market in the 5th consecutive year. This proves our love for arts and artworks is not hindered by the virus outbreak.
We wish we can defeat the virus in 2021 return to the normal auction market and see you again soon. And we want to wish you again in the NewYear, prosperous with more fortune. We everyone in the Year of the Ox Strong and Healthy With more profits and wealth And everything as you all wished.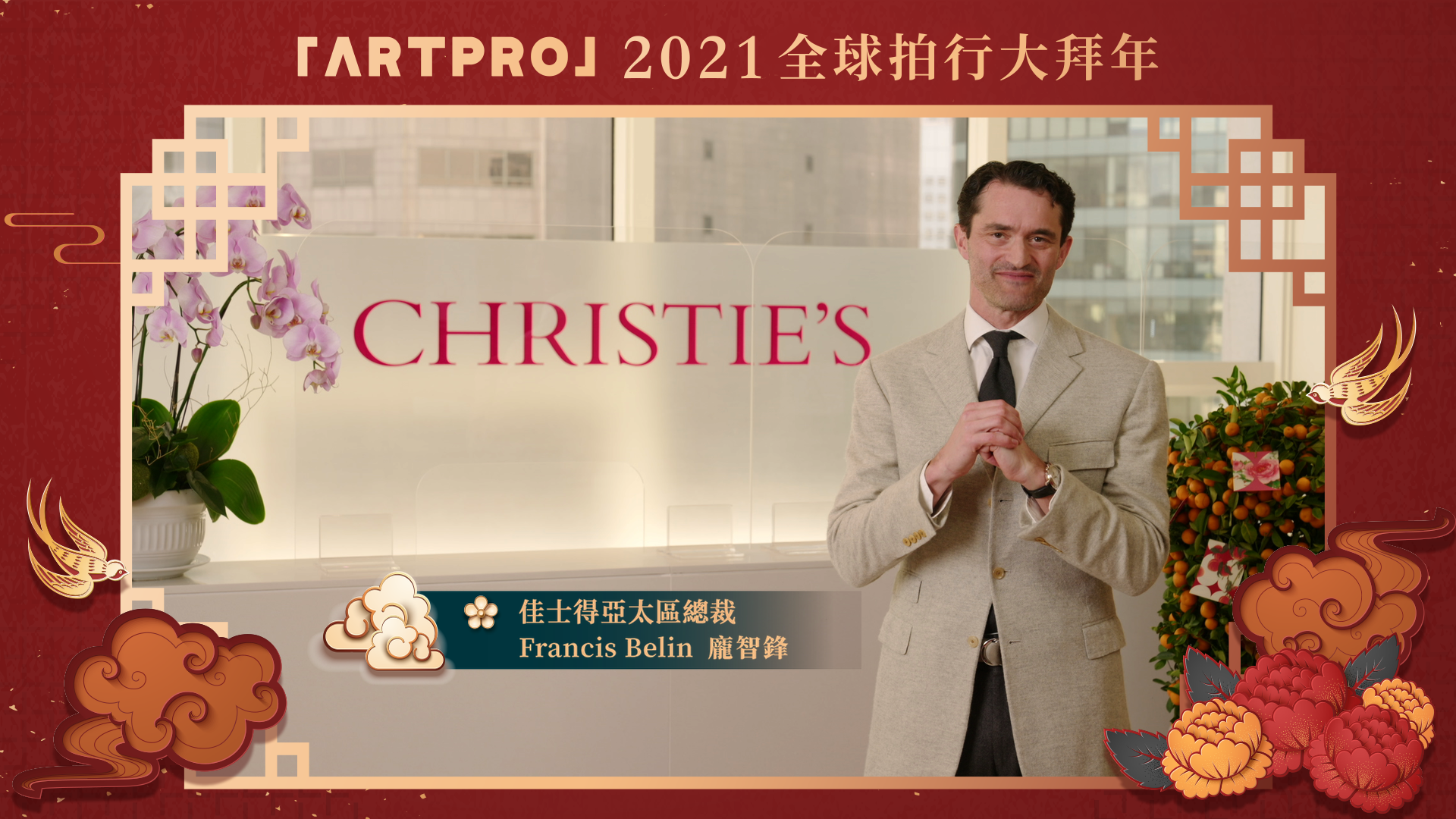 President of Christie's Asia Pacific Presents Chinese New Year Greetings to Global Collectors
A warm hello to everyone watching on ArtPro. I'm Francis Belin, President of Christie's Asia Pacific, and I'm speaking to you here from our Hong Kong galleries.
As we look to celebrate the Lunar New Year, I wanted to take a quick moment to reflect on what a transformative year 2020 has been.
The disruption and challenges of the last year provided a natural moment for pause and reinvention. For Christie's, it was an opportunity to re-examine our ways of doing business and to step out boldly in forging a new path for the art world.
United with collectors, we were amazed at the energy and resilience of the market here in Asia. Several important milestones were achieved throughout the year, including our highest ever evening sale total in December, a series of stunning prices achieved across art and luxury, as well as our pioneering hybrid evening sales which were embraced by collectors from around the world.
As we enter the Year of the Ox, our superior digital capabilities and multi-channel transaction platforms, and of course our unrivaled specialist teams remain a winning formula.
2021 will be no doubt be another defining year, both for the art world and for Christie's. Drawing on our heritage and spirit of innovation, we will continue to navigate the challenges and be the pioneering force of change in this rapidly shifting market.
I want to take a moment to thank all our clients for taking this journey with us. I feel optimistic about the future and look forward to sharing some exciting news with you all very soon.
We wish you and your loved ones a prosperous, healthy, and fruitful year of the Ox.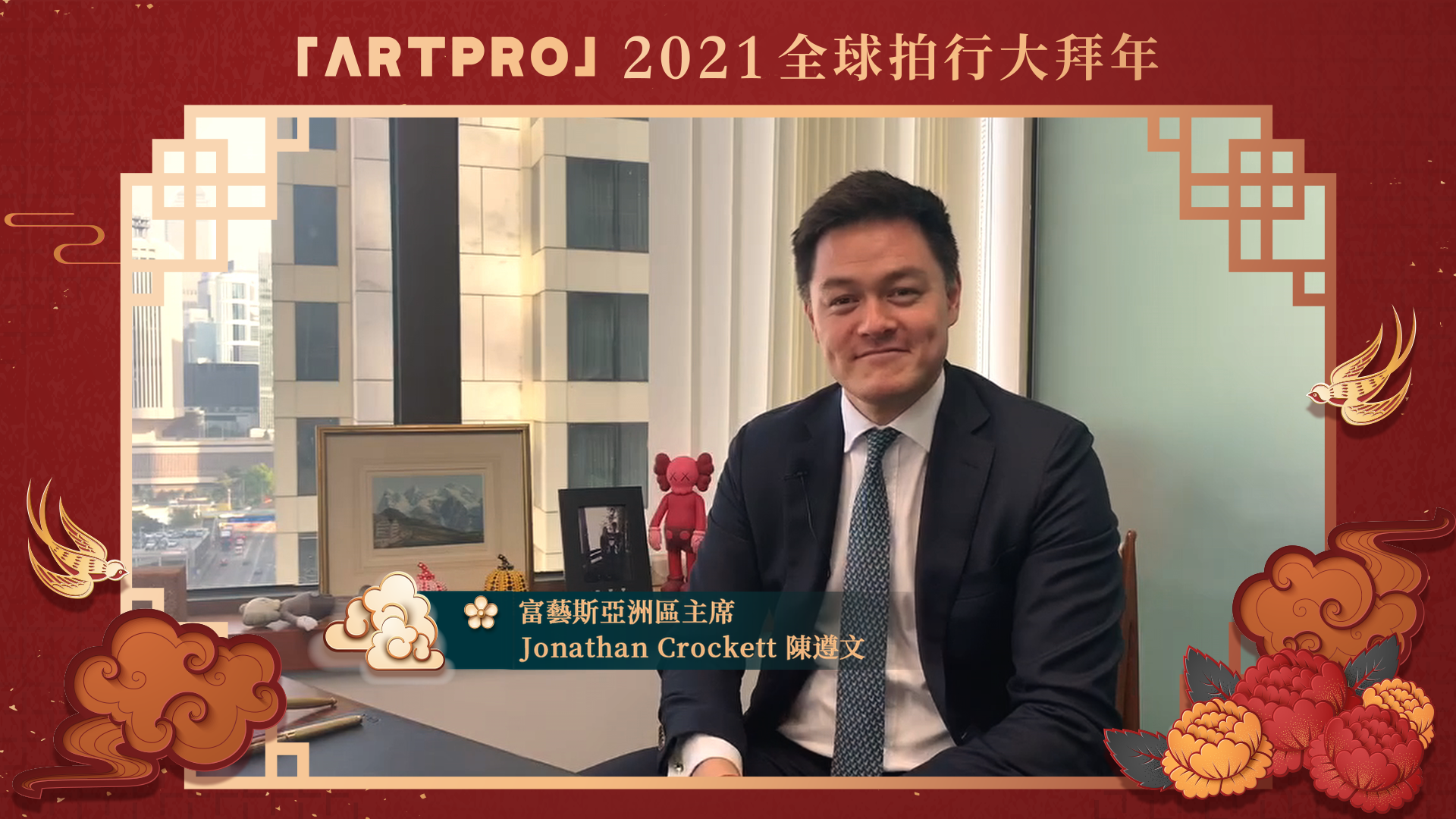 Jonathan Crockett, Chairman of Phillips Asia, presents New Year Blessings to collectors around the world
Hello, and Happy New Year to the ArtPro collecting community!
In an unprecedented year of change, Phillips was pleased to end 2020 on a high note with exceptional sale results achieved across our key categories. Last year marked our fifth-year anniversary in Asia and our strength and expansion across the region contributed significantly to the company's global successes. 2020 was our strongest year in Asia to date, and our 20th Century & Contemporary Art & Design sales in Hong Kong continued to set multiple world auction records for artists from around the world. We are enormously grateful to you, our global community of collectors, both established and new, for your steadfast support in navigating this remarkable year. Thank you for all your support.
Looking forward to 2021 and the uncertain challenges that it may bring, I can assure you of one thing, that Phillips will continue to innovate as we always have, bringing the highest quality works to sale, introducing new and exciting initiatives, an enhanced digital experience, and we will strive to achieve the very best possible results for you once again. We remain positive about the market outlook and look forward to a welcome return to in-person experiences across the globe.
I wish you and your loved ones good health, success, and everlasting prosperity in the Year of Ox.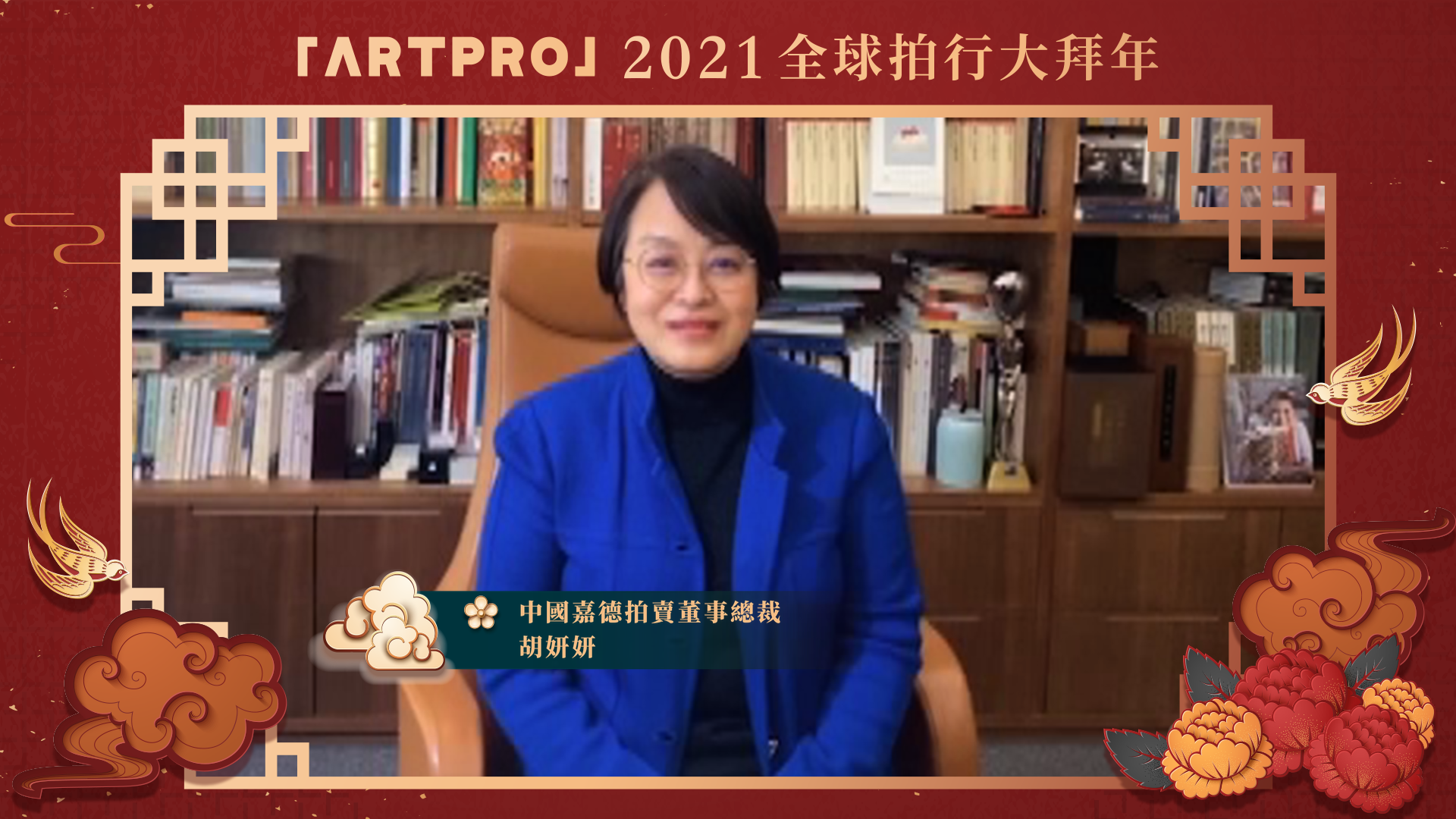 Hu Yanyan, Director and President of China Guardian Auctions, presents New Year blessings to collectors around the world
Hi eveyrone, I'm Hu Yanyan.
China Guardian Auction is here with ArtPro, to bring the best wishes of the Spring Festival to you and global collectors.
We wish you great fortune in the new year, eveything as you wish, wellness, happiness, and joy!
Source: ArtPro
Author: Li Shuai