Personal Report on Zhou Chunya's Auction Market in 2020
Zhou Chunya is known as a representative of the integration of Chinese and Western Neo-Expressionism, and one of the most important and influential contemporary artists in nowadays China by virtue of his forward-looking artistic language and highly personal style of color expression. His works have attracted worldwide attention. In 2020, Zhou Chunya made a total of 50 auction pieces, 46 of which were sold and 4 were not sold, with a turnover rate of 92%. Finally, the auction ended with a total turnover of $37.25 million, which continued the booming trend of the auction. What kind of market data is hidden under the appearance of intense auction? Next, ArtPro will take you to explore Zhou Chunya's market data in 2020.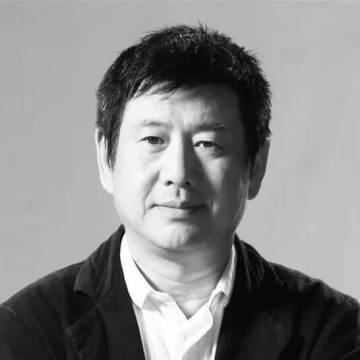 Zhou Chunya was born in Chongqing, China in 1955. Graduated from Sichuan Academy of Fine Arts in 1982, he returned to China in 1988 after receiving a master's degree from Kassel University in Germany, and now works and lives in Chengdu and Shanghai. He is one of the most eye-catching and recognized artists in contemporary China. His works are deeply supported by important international art institutions and collectors. He has been invited to participate in large-scale exhibitions all over the world for many times and has far-reaching influence.
Part 1 Change: A Summary of Market Performance in 2020
1. In 2020, Zhou's world ranking promoted significantly, leading far ahead among the artists of the 1950s
According to the total turnover of global artists over the years, we can see that Zhou Chunya has been rising significantly in the global artist ranking list. In the past five years, Zhou Chunya ranked 213 in 2016, and gradually rose from the top 100 in 2017 to 38th in 2020. Compared with 2019, his ranking increased by 49, which is the highest ranking over the years. In 2020, only five Chinese modern and contemporary artists ranked in the top 50, Wu Guanzhong ranked sixth, Zeng Fanzhi ranked 34th, Zhou Chunya ranked 40th, followed by Liu Ye and Lin Fengmian.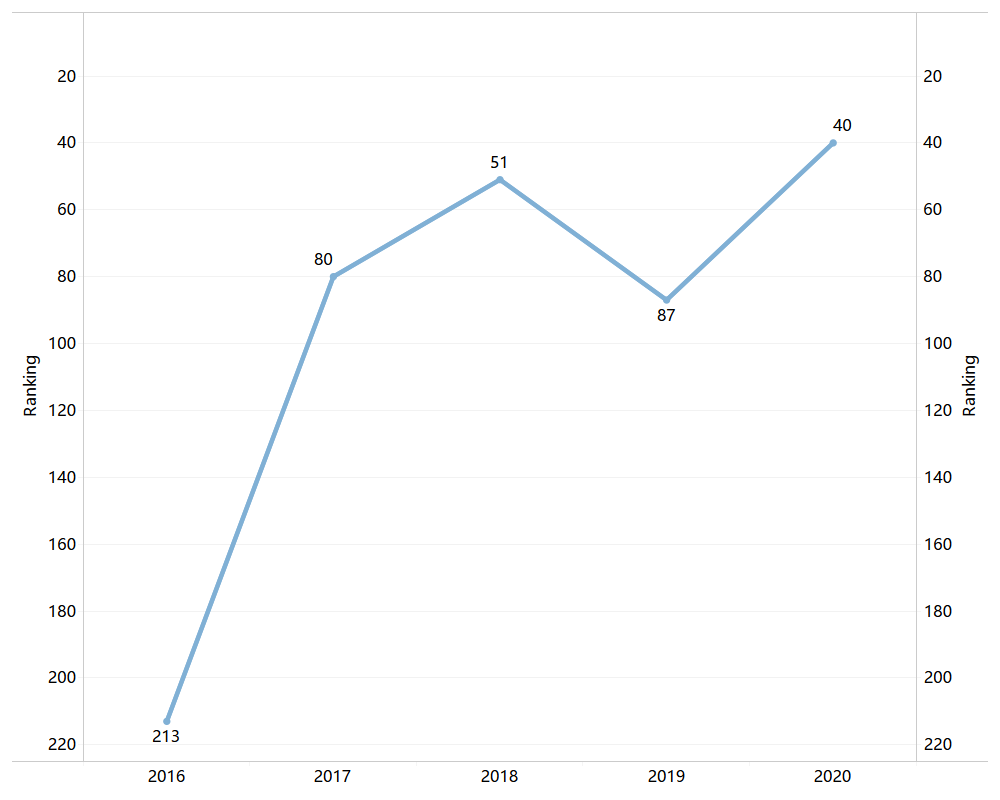 World Rankings of Zhou Chunya
In 2020, Zhou Chunya's performance is more prominent in the turnover list of global and Asian artists of the 1950s. Among the ranking of Asian artists in the 1950s, Zhou Chunya ranked second just after Yoshitomo Nara.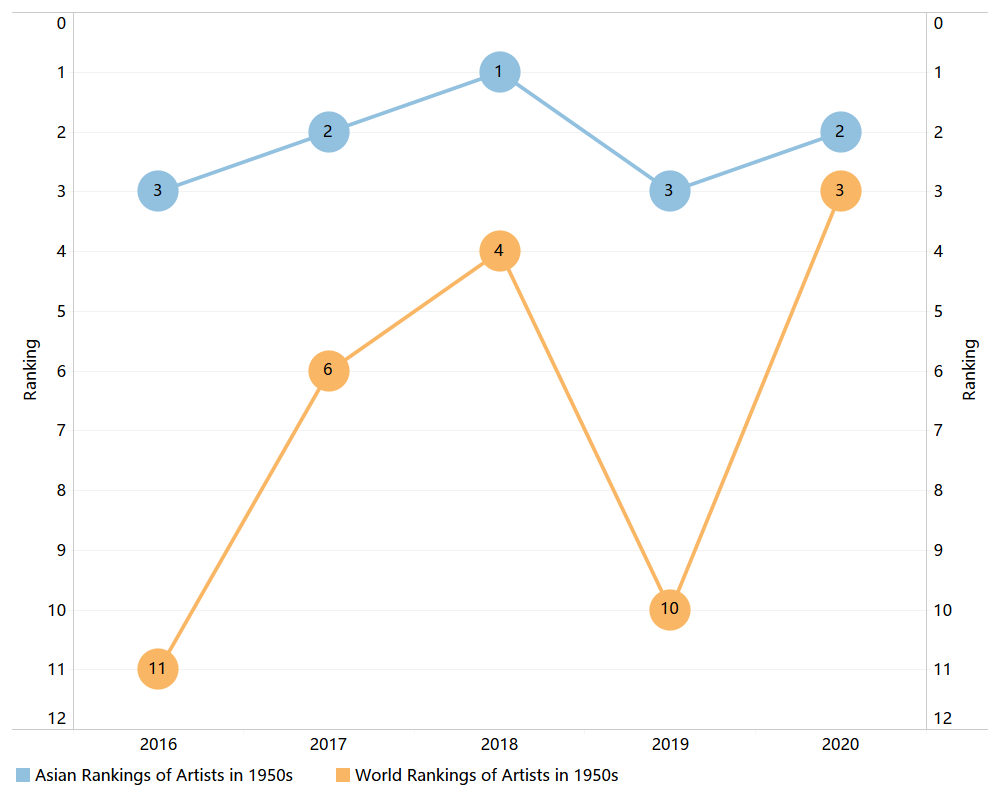 World Rankings and Asian Rankings of Artists in 1950s
2. Zhou Chunya's works were sold as the most expensive ones for four consecutive years in China Guardian
In 2020, Zhou Chunya's most expensive works are all paintings, and the two most expensive works are from China Guardian. It is worth mentioning that for four consecutive years, Zhou Chunya's most expensive works are all from China Guardian. It can be seen that China Guardian plays an important role in proving Zhou Chunya's market value.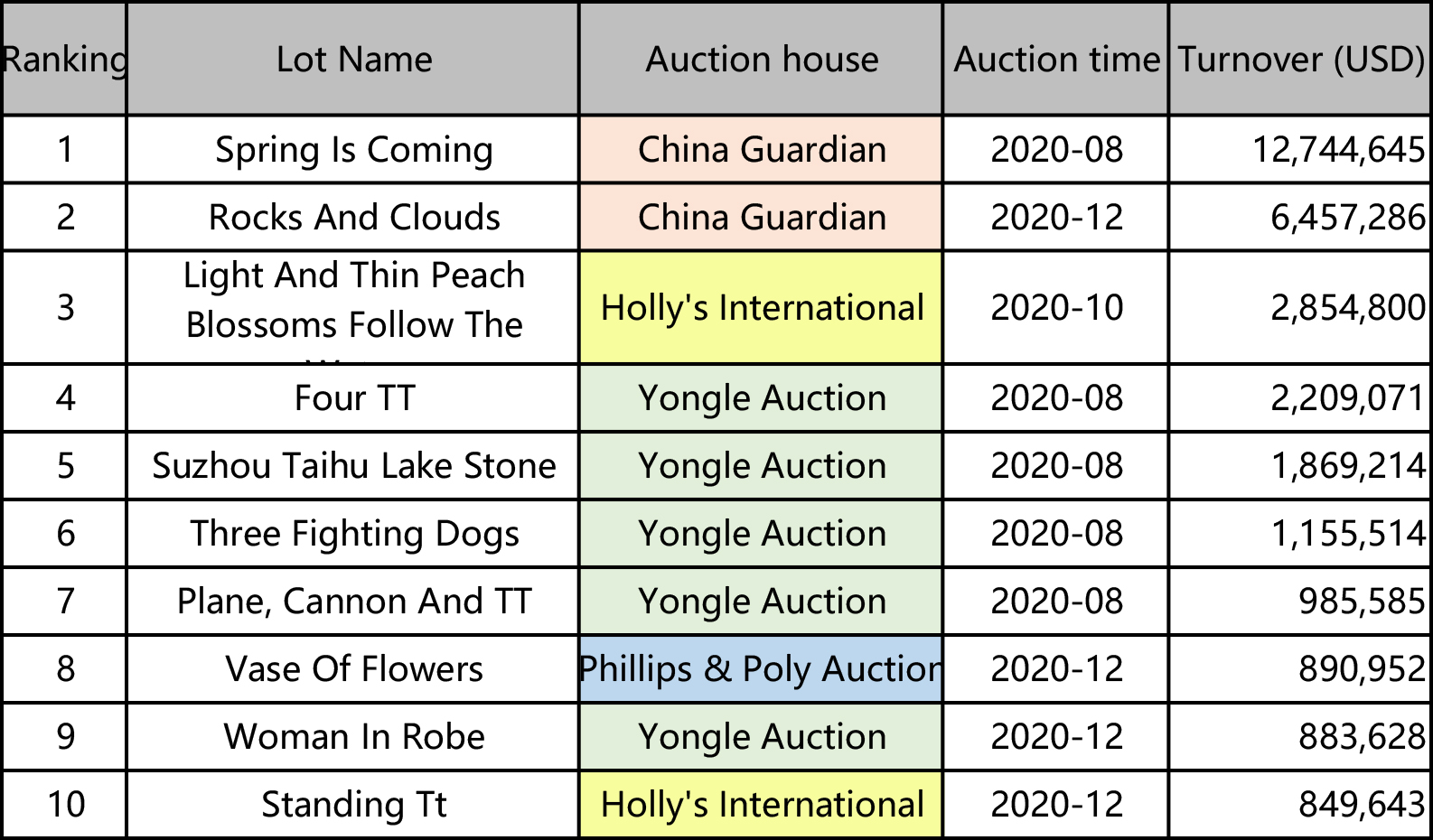 Top 10 Turnover of Zhou Chunya in 2020
From the perspective of work distribution, 50% of the works come from Yongle Auction, China Guardian Beijing and Holly's International Beijing each accounted for 20%, and Phillips & Poly each accounted for 10%; from the perspective of turnover price, 10% of the works are more than $10 million, 50% of the works are more than $one million and 40% of the works are less than $one million and more than $800, 000.
The turnover volumes of the day and night shows are equal, and the turnover of the night shows is very important
From the perspective of day and night lots volume, Zhou Chunya's daily and night lots volume s are equally divided, with 25 works being auctioned and 23 works being sold. From the perspective of turnover, the night lots contributed $34.43 million, which is 13 times of the daily turnover. The top 10 works are all from the contemporary art night shows of various auction houses, and the works in night auction still occupy a pivotal position.
Par 2 Data Analysis of the Auction Market
In 2020, the turnover rate reached the second highest price in history, and the price index rose five times in 15 years
2006 marks the initial stage of China's modern and contemporary art market. Here, we discuss the turnover and price trend of Zhou Chunya in the past 15 years from 2006 to 2020. On the whole, Zhou Chunya's work in market has experienced three peaks, with three waves and three downs in terms of turnover volume. In 2020, it won US $37.25 million, which is the second highest turnover volume in the past 15 years. In terms of price index, its price is very low. The price index has reached its peak in 2007, 2014 and 2019, while the price index in 2020 is still at a high level on the basis of 2019.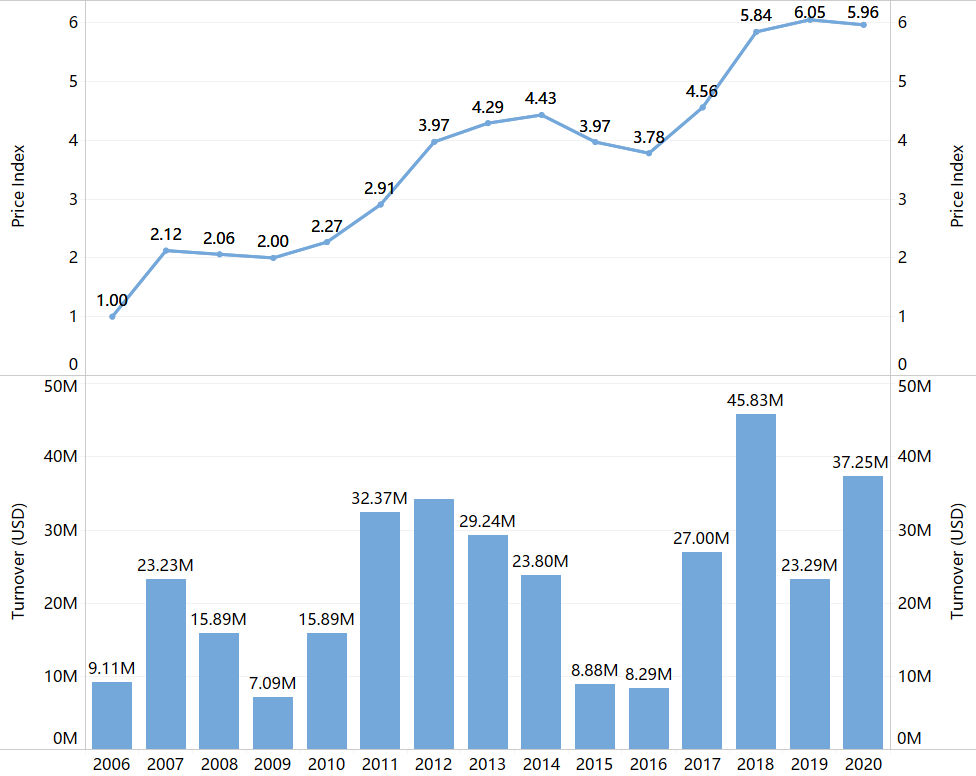 Price index and turnover between 2006 and 2020
Compared with 2019, the turnover of Zhou Chunya in 2020 is 1.6 times that of the last year, but the auction volume is only 77% of that of 2019. The volume is small and the price is high. The price index is still stable at a high level, and the market performance has attracted much attention.
(Note: ArtPro price index is an important reference to reflect the change of artists' price level.)
On the whole, in 2006-2020, the turnover rate of Zhou Chunya's work experienced three ups and downs, reaching the peak in 2006, 2010, 2017 and 2020, and reaching or exceeding 90% in that year. Here, we choose the range of the last two fluctuations to analyze the turnover and auction situation in the past decade.
In 2020, Zhou Chunya had 46 works, the second lowest in recent ten years, only next to 2016; in terms of streaming volume, there were only 4 works, which was the least in recent ten years; the turnover rate was 92%, which was the highest in recent ten years. It can be seen that the auction industry has a higher degree of confidence in his works, and the demand of collectors for his works is still high.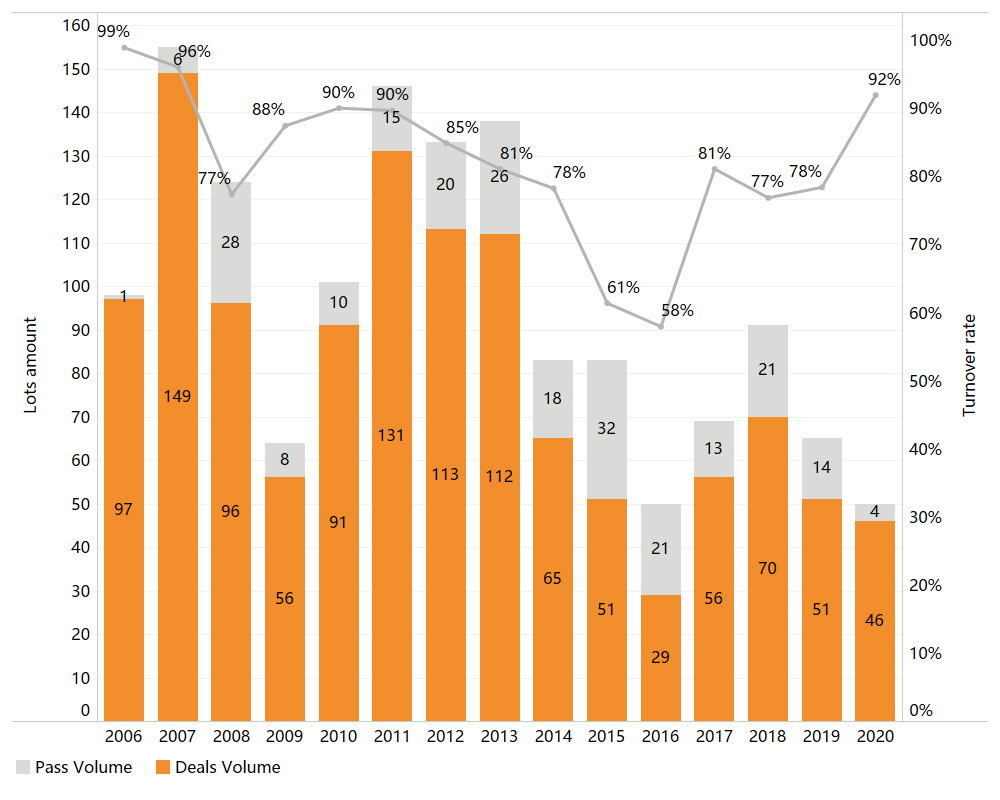 Turnover and unsold lots in 2006-2020
Compared with that in 2019, the number of auction taken in 2020 is only 77% of that of last year, but the turnover rate is higher than that of last year by 14%. The art market in 2020 is facing many fluctuations and uncertainties. In this environment, the market is still full of confidence in Zhou Chunya's works.
2. Market Distribution Auction in Beijing: Total Turnover of $34.01 million in 2020
Before 2010, Zhou Chunya's main markets were Beijing, Taipei and Hong Kong. Since 2010, the market share of Taipei has not changed significantly. However, the market share of Beijing and Hong Kong has gradually increased, and even greatly exceeded that of Taipei in some years.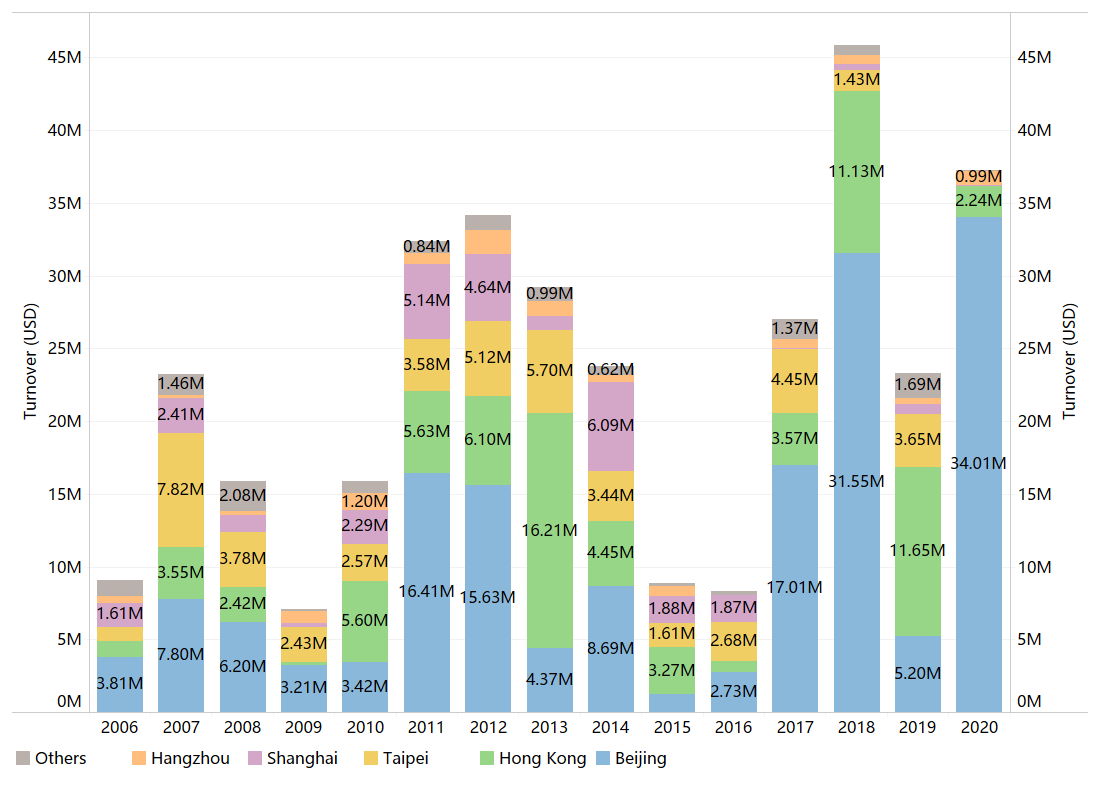 Market share of different regions in 2006-2020
In 2020, the main turnover of Zhou Chunya comes from Beijing, followed by Hong Kong and Hangzhou. Beijing reached $34.01 million, accounting for 92% of Zhou Chunya's total turnover this year, which is Zhou Chunya's highest turnover in the mainland in the past 15 years. On the other hand, due to the epidemic and other factors, both collectors and photographers are faced with many restrictions on mainland going to Hong Kong. This year, Zhou Chunya only gained $2.24 million in Hong Kong, less than five percent of Hong Kong's turnover in 2019; Hangzhou won $990,000 and all the four works were sold.
3.All kinds of works are in full bloom, with multi-level price
Zhou Chunya's works on the market were like the blooming of hundred flowers as all the series have been auctioned. In terms of the number of lots, green dog took the most, followed by peach blossom series and rock series. In terms of turnover, Tibetan series, mountain rock series and green dog series occupy the main turnover. There are only three Tibetan series on sale, but the turnover is in the first place, which is small in volume and high in price.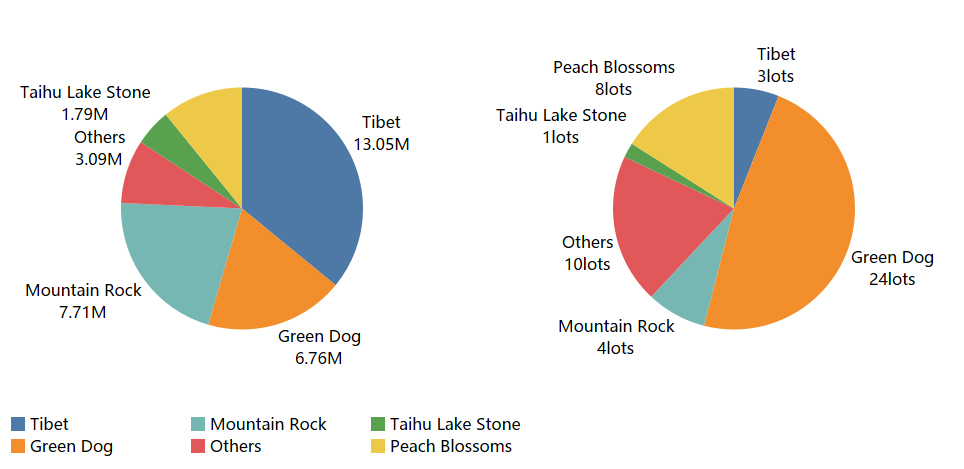 Left;the proportion of the turnover of different types of works;
right;the proportion of the lots volume of different types of works
In 2020, the number of paintings (24 pieces) and sculptures (14 pieces) are far ahead, followed by paper works (3 pieces) and prints (5 pieces), and each type is involved. From the perspective of price gradient of works, from tens of millions to millions to 100,000 or even below 10,000, it shows that the price system of Zhou Chunya's works has a better ladder type and suitable for various collectors. Collectors of different levels can choose their favorite works of art from different levels.
4. The turnover of the Expo are hot, and the new solo-exhibition in 2020 are popular
In addition to the remarkable achievements in the secondary market, Zhou Chunya's primary market in 2020 is also booming. His works have participated in the 25th Autumn Guangzhou Art Expo, the 7th West Coast Art and Design Expo, ART021 Shanghai 21 Contemporary Art Expo, and the 2020 Basel Online Expo in Hong Kong, among which the two major expositions in Shanghai have made gratifying deals.

Exhibition of Zhou Chunya in 2020
In 2020, Zhou Chunya held one exhibition and participated in five group exhibitions. Waves:Literature and Works Exhibitions of Previous Shanghai Biennales (Group Exhibitions) is not only an international art event every two years, but also one of the most influential art events in Asia at present. Zhou Chunya also participated in Continuous Changing Chinese Art held by Minsheng Art Museum in Beijing and Natural Production@ The 5th Fine Art Literature Exhibition: Birth and Vibrancy: Nature, Human and Technological Development by Hubei Art Museum. These exhibitions have high academic value for Zhou Chunya. They are the exploration of art history, times, humanities and society. They have also won extensive social attention and enhanced collectors' confidence in artists.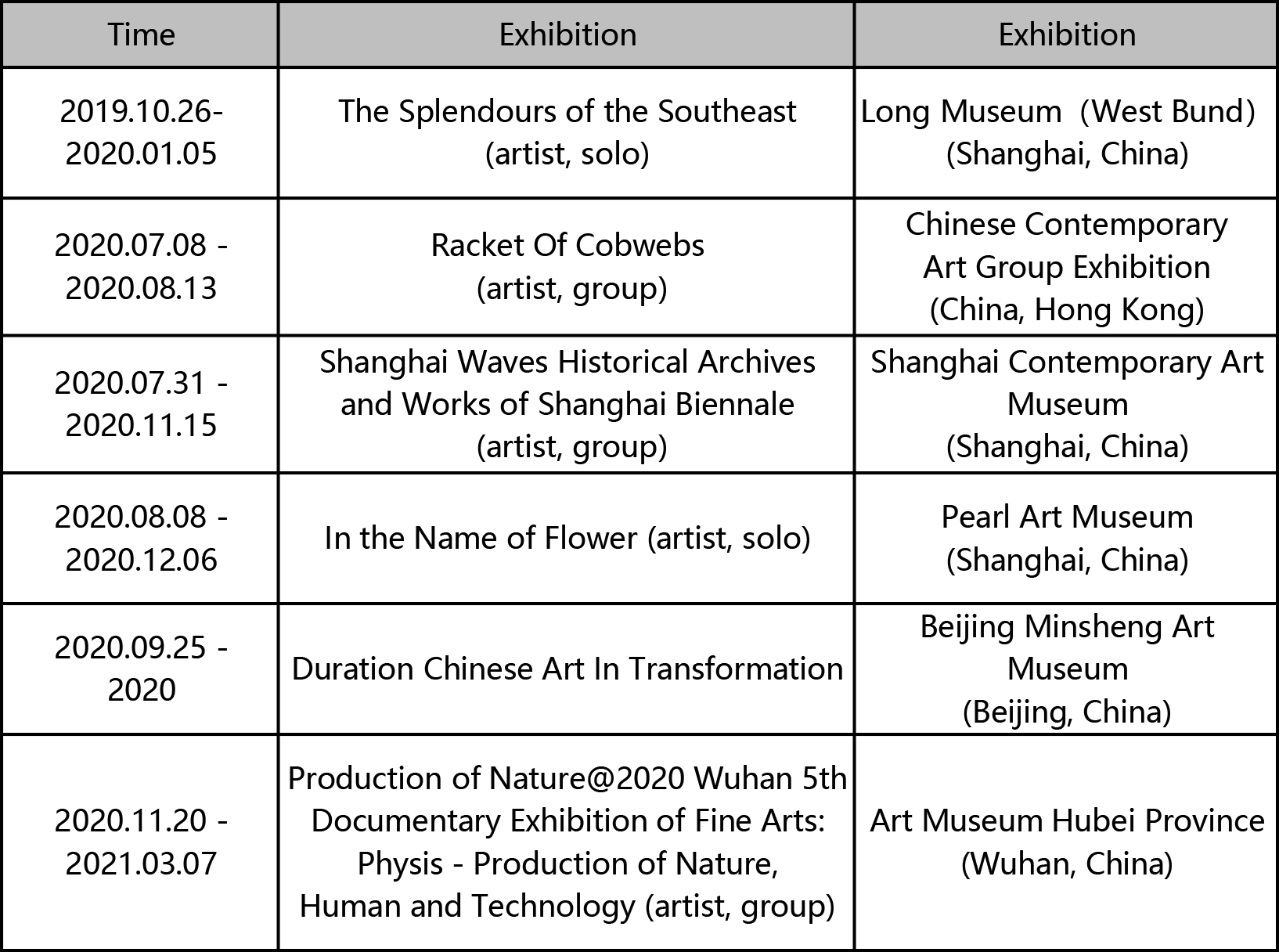 Exhibition of Zhou Chunya in 2020
It is worth mentioning that in the end of 2019 and the beginning of 2020, the Southeast Xingsheng (solo exhibition) held in Shanghai Dragon Art Museum covers more than 30 years from 1978 to 2013. The exhibition not only shows Zhou Chunya's new attempt in painting theme and language, but also reflects his artistic career.
In this solo exhibition, Zhou Chunya's new works on Jiangnan landscape have attracted much attention. First, they are inspired by his mother's feeling of seeking roots; second, they are inspired by the tradition of landscape painting from Zhao Mengfu to the four families of Yuan Dynasty. In recent years, Zhou Chunya has frequently explored Jiangnan scenic spots and previous dramas, and the new works in this exhibition are born out of this; and the Jiangnan landscape series Zhou Chunya Big Rockery was first on auction in 2020. The size of this work is only 0.15m² and it was sold for us $45,000.
Part 3: Important series of representative works completed in 2020
1. Tibetan series
As the first exploration series of Zhou Chunya's artistic creation, "Tibetan series" mainly covers his youth when he studied in Sichuan Academy of fine arts. Zhou Chunya is excited by the bright colors, unique local conditions and customs, and the vast territory of the Tibetan area, but also ignites his enthusiasm for creation.
In 2020, the most expensive turnover of Tibetan series is $12.74 million, which greatly breaks the record of top 1.
2. Rock series
"Rock series" is Zhou Chunya's first important creative theme after returning from Germany in 1989. Zhou Chunya's exploration of mountain stone series draws on the essence of traditional painting of "Four great artists in Yuan Dynasty" and "Eight Great Man from the Mountains". At the same time, combining with German New Expressionism, he naturally integrates the techniques of traditional Chinese ink and wash, such as brushwork and composition, into the creation of mountain stone.
In 2020, the most expensive lots of rock series is $6.45 million
3. Green dog series
As we all know, the green dog series originated from Hagen, a German Shepherd Dog raised by Zhou Chunya in 1998. Its eye-catching visual effect and various ways of expression have already become a unique personal symbol of artists.
The most important green dog series reached $2.2 million in 2020
4. Taihu stone series
The Taihu Lake stone series probably appeared around 2000. Zhou Chunya's dog Hagen died in 1999. He was very sad, so he said goodbye to the "green dog" series temporarily. When he was relaxing in Suzhou garden, he saw some Taihu Lake stones, which inspired the series.
In 2020, the most expensive lots of Taihu stone series is $1.86 million
5. Peach blossom series
The peach blossom series emerged in 2005, and Zhou Chunya began his third marriage. In March of that year, when he was on a spring outing in Longquan Mountain, Chengdu, he noticed peach blossoms all over the mountains. The "wild" and "gorgeous" of peach blossoms touched Zhou Chunya's feelings and inspiration, so he started the "peach blossom" series.
The most expensive lots of peach blossom Series in 2020 is $2.85 million
In his decades of artistic career, Zhou Chunya has been exploring the relationship between Chinese and Western cultures, and has always been committed to various forms of exploration. From Tibetans to rocks, from green dogs to Taihu stones, from peach blossom to today's Jiangnan landscape, he has built his own artistic world with imagination and diversified artistic elements. ArtPro will continue to pay attention to the market changes of Zhou Chunya and bring you more market trends. For more personal reports of artists, please contact ArtPro customer service.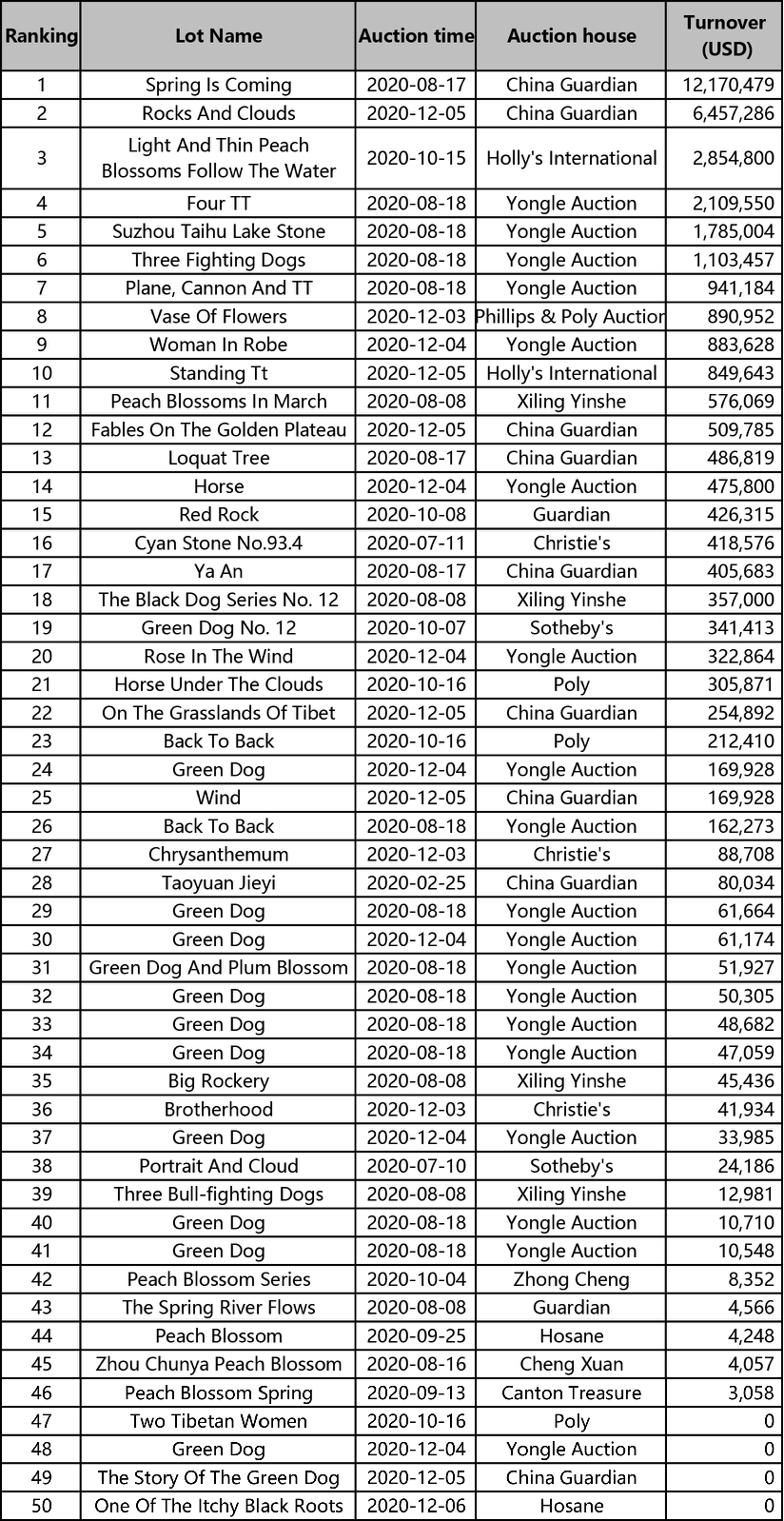 Zhou Chunya's auction data in 2020