Auction Report: The Enthusiasm For Ayako Rokkaku And Moe Nakamura Has Reignited, Modern And Contemporary Sector In Taipei Generated NT $448 Million In December
The last round of autumn auctions in December is coming to an end. Ravenel's modern and contemporary art section in Taipei has also came to a strong end yesterday. This time Ravenel presented a series of Chinese and Western classics, as well as wonderful Asian modern and contemporary artists. The two auctions received a total of NT $448,852,000. Among them, Zao Wou-Ki was the champion, Ayako Rokkaku, Moe Nakamura, and Javier Calleja set their personal records. Artists such as Yayoi Kusama, Bernard Buffet, Keith Haring, Eddie Martinez have all achieved dazzling results.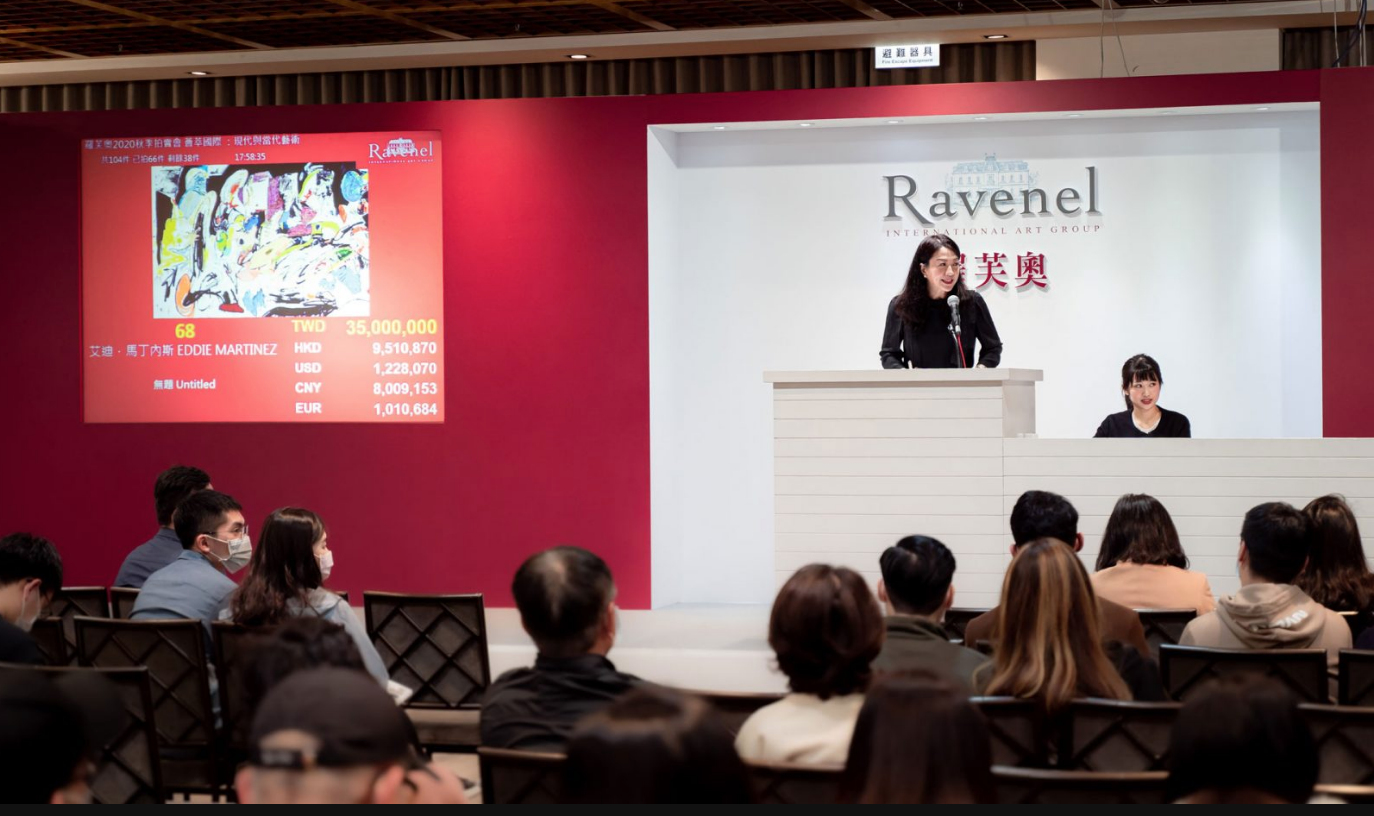 Modern & Contemporary Art
The 142 oeuvres of Modern & Contemporary Art have achieved outstanding results, with a sold-by-lot rate of 76%, and a total transaction amount of more than NT $300 million. The champions of this auction are Zao Wou-Ki, Yayoi Kusama, Bernard Buffet, Ayako Rokkaku, and Moe Nakamura who set their personal records.
Top1 & Top5 Lots are from Zao Wou-Ki
21.3.1964 became the top1 in this field with a transaction price of NT $80.96 million. This painting was created in 1960s, a period of rapid development of Zao Wou-Ki's paintings. The paintings were made with yellow, brown, and black brushstrokes, which is free and unrestrained.
Another work by Zao Wou-Ki was created in 1979, Untitled was sold for NT $12 million and became the top5 in this field.
Top2 Lot is Flowers - That Bloom At Midnight of Yayoi Kusama
Flowers - That Bloom At Midnight was created in 2009. The vibrant flower is one of the large sculptures of Yayoi Kusama, with delicate texture and rich colors. The work was estimated at NT $30-40 million before the auction, and finally sold for NT $4,064, setting a new record for the artist's flower-themed large sculptures.
Top3 Lot is Saint Tropez, Le Port of Bernard Buffet
This Saint Tropez, Le Port was completed in 1993. Bernard Buffet created several small watercolors of the port of Saint Tropez. There are only two large museum-level important oil paintings, one of which is now in the collection of Buffet art gallery, this is another one. This masterpiece of the charming southern French style of Saint Tropez is also the first to appear in the auction, and it was sold for NT $36 million after more than ten fierce bids.
Top4 Lot is Untitled (Tide Shop Counter) of Keith Haring
Untitled (Tide Shop Counter) of Keith Haring was bought into the new collection for NT $13.2 million. This work was originally for his opening a pop shop selling his own works at Soho district in New York in 1986. The city is his Canvas, Keith Haring conveys his care for the world through art.
New Personal Records
Lot from Ayako Rokkaku, the favorite in market, were sold well beyond the estimate. The early large-scale work The Sisters started bidding at a price of 3 million, after over 20 calls of fierce bidding, it finally sold for NT $11.76 million, breaking the artist's personal auction record.
Another Japanese artist Moe Nakamura's Night Sheep also jumped to the top spot in the personal auction record with a price of NT $4.08 million, which exceeded the appraisal.
Modern & Contemporary Art
Ravenel Taipei
Marriott Hotel 199 Lequn 2nd Road Zhongshan District Taipei
Select: Modern & Contemporary Art
Select: Modern & Contemporary Art closed with a total turnover of NT $145 million. Among them, the American artist Eddie Martinez performed outstandingly. Both works broke high estimates and achieved great results with a posture of over 10 million. The Spanish artist Javier Calleja set his new personal record.
Top1 & Top2 Lots Are From Eddie Martinez
Untitled of Eddie Martinez was created in 2015 and is the cover lot for this time. After fierce bidding, it was sold for NT $41.76 million, broke his personal Top2 record.
Another flower-themed painting Untitled (White Flower Pot) was sold above the estimate price with NT $2,400, breaking the artist's Top 5 and setting the No. 1 record for his flower themed works.
New Record of Javier Calleja Was Born
Spanish artist Javier Calleja's Green Days With Red Words has the iconic grass-green background of adorable children with fluffy hair, pink cheeks and red noses. It was finally sold for NT $18.6 million, setting record of the artist in global auction market
Select: Modern & Contemporary Art
Ravenel Taipei
Marriott Hotel 199 Lequn 2nd Road Zhongshan District Taipei
Source: ArtPro
Author: Ning Ning