Tsuguharu Foujita | Auction Market Personal Report
Japanese artists have a certain amount of values on art market. Artists such as Yoshitomo Nara, Kazuo Shiraga, Yayoi Kusama, Takashi Murakami have almost monopolized the entire market of Japanese artists. In recent years, as Japanese post-war artists began receive attentions from the market and academia, the representative figures of various genres were discovered. As one of the most controversial character, Foujita has always attracting attention.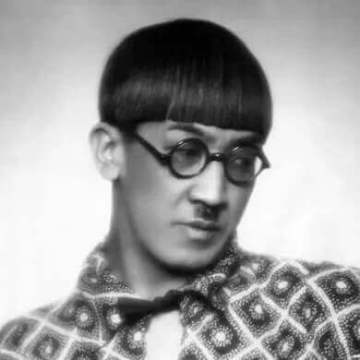 Tsuguharu Foujita was one of the best Japanese artists of 20th Century, and the only Asian artist from the School of Paris. He was born in noble family in 1886 at Tokyo, his father was a military physician. Foujita had decided to be one of the European artists since he was young. After graduated from Tokyo School of Fine Arts in 1913, he left home to Paris and set up his own studio in Montparnasse. Soon he became famous with other Modernist artists like Picasso and Modigliani.
Part I. Tsuguharu Foujita Market Observation Report
1. Price index surging up in recent years, achieving a leap from 1 to 4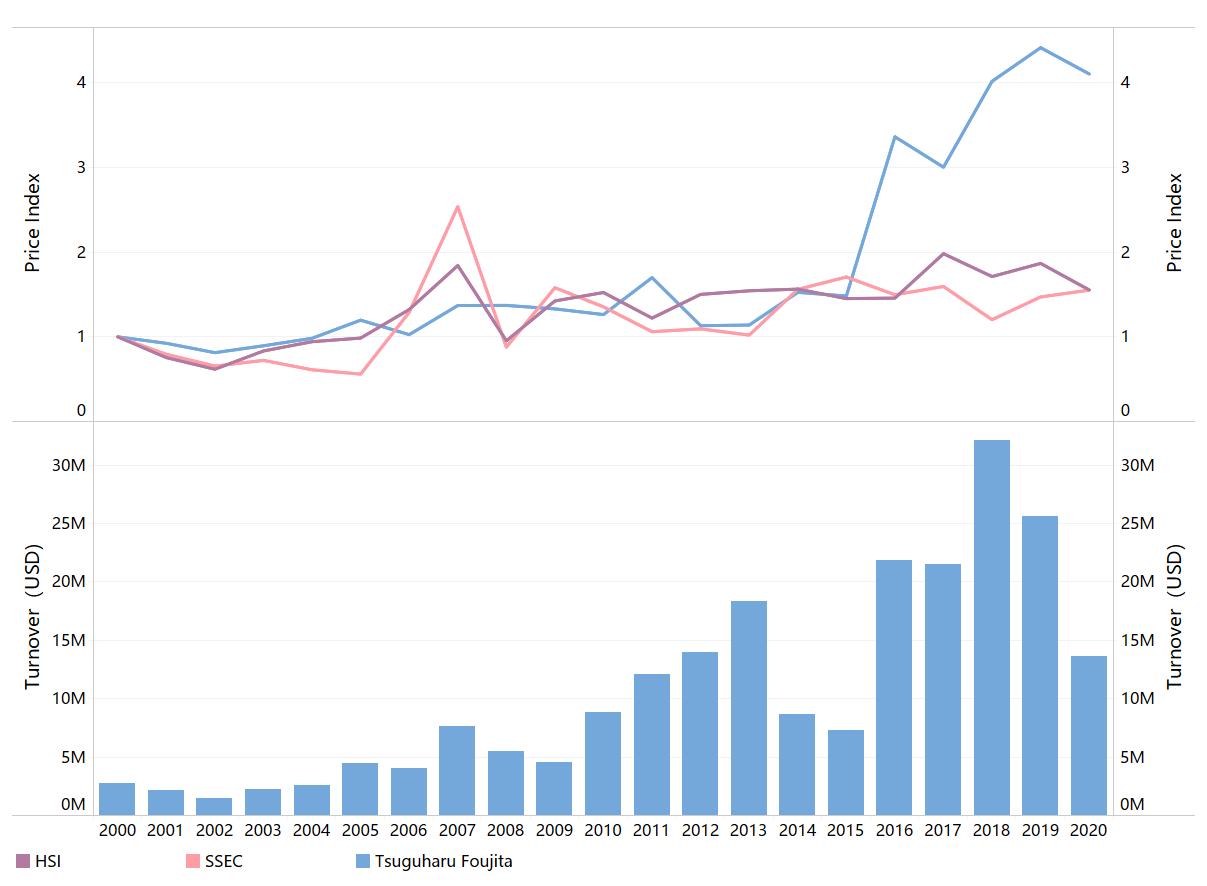 Price Index & Turnover of Tsuguharu Foujita from 2000 to 2020
In the beginning of 2000, the market started to grow interest on Foujita's works. His turnover has been fluctuated for the last 20 years, but kept an upward trending, especially since 2015 it has increased significantly.
2. 2016 is the turning point, set up the personal Top1 record in 2018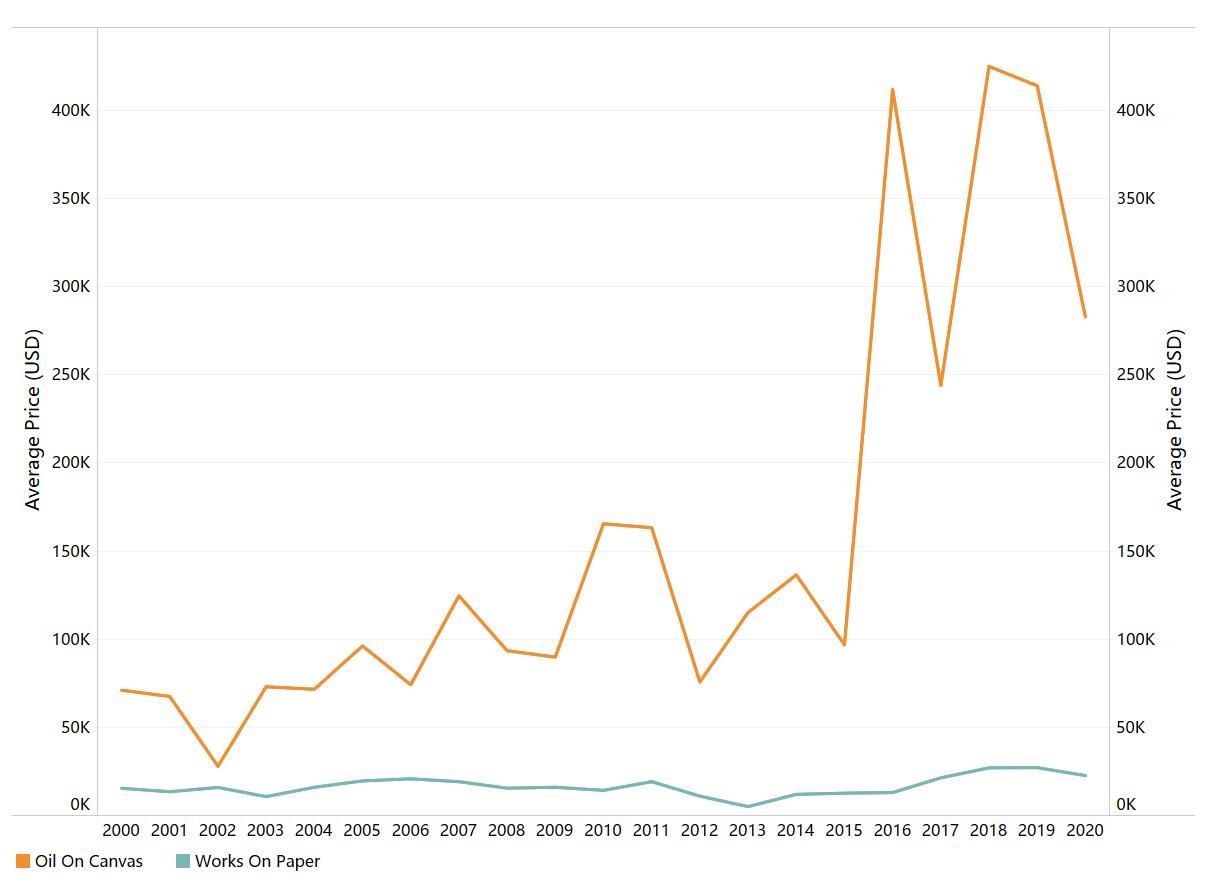 Average Price of Oil Paintings & Works on Paper
The popularity of Foujita has increased in Asia in recent years. The movie Foujita by director Kohei Oguri has been released in 2015 that tells the story of his lifetime. 2016 is the year of his 130th anniversary of birth, there are exhibitions held in the cities of Nagoya, Hyogo and Fuchu in Japan for about two months separately. Different from the past exhibitions of the local art museums, this time they have gathered the private collections and works from French and Japanese art institutions, to create the large scaled exhibition of Tsuguharu Foujita that has never been seen before. On the Sotheby's spring auction in the same year, Foujita's NU Au Chat received high price of nearly HK $40 million, such hot trend at the Hong Kong in 2017 has made the market notice that at the cross of Western and Asian modern art, besides the early Chinese masters, there is also a "Japanese and Western fusion" of Tsuguharu Foujita.
2018 is the 50th anniversary of his death, Tokyo Metropolitan Art Museum has held the largest retrospective exhibition of him. At the same year, his oil painting La Fête d' anniversaire was sold for nearly 7.1 million pounds, breaking the artist's auction record in world-wide. The works of Tsuguharu Foujita has completely set off a boom on market.
3. International artist whose works are recognized on market in global-wide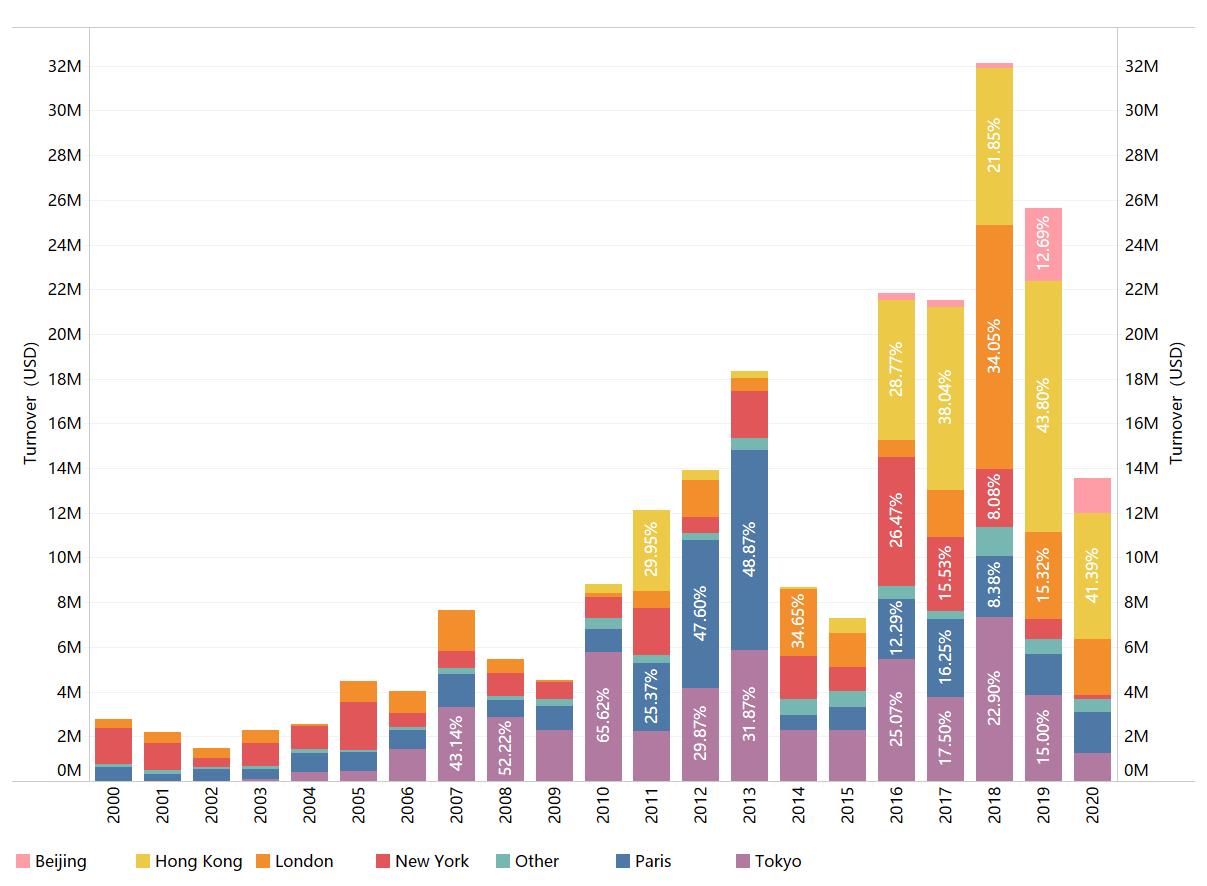 Location distribution of Tsuguharu Foujita 's turnover
The auction market of Tsuguharu Foujita is evenly distributed around the world. In the early years, it was concentrated in Europe, then United States, but still mainly at London and Paris. Since 2005, his turnover has continued to grow in Japan, and once became his main auction venue. Hong Kong has also joined the "Foujita Wave" after 2011, which turnover has increased substantially after 2015. In market of Mainland China, which is dominated by Beijing, his works began to appeared after 2016. In fact, there are not many artists like Foujita who is recognized in worldwide, it also indicating that the charm of his works has already attracted collectors from world-wide.
4. Each six stages in art career has its own advantages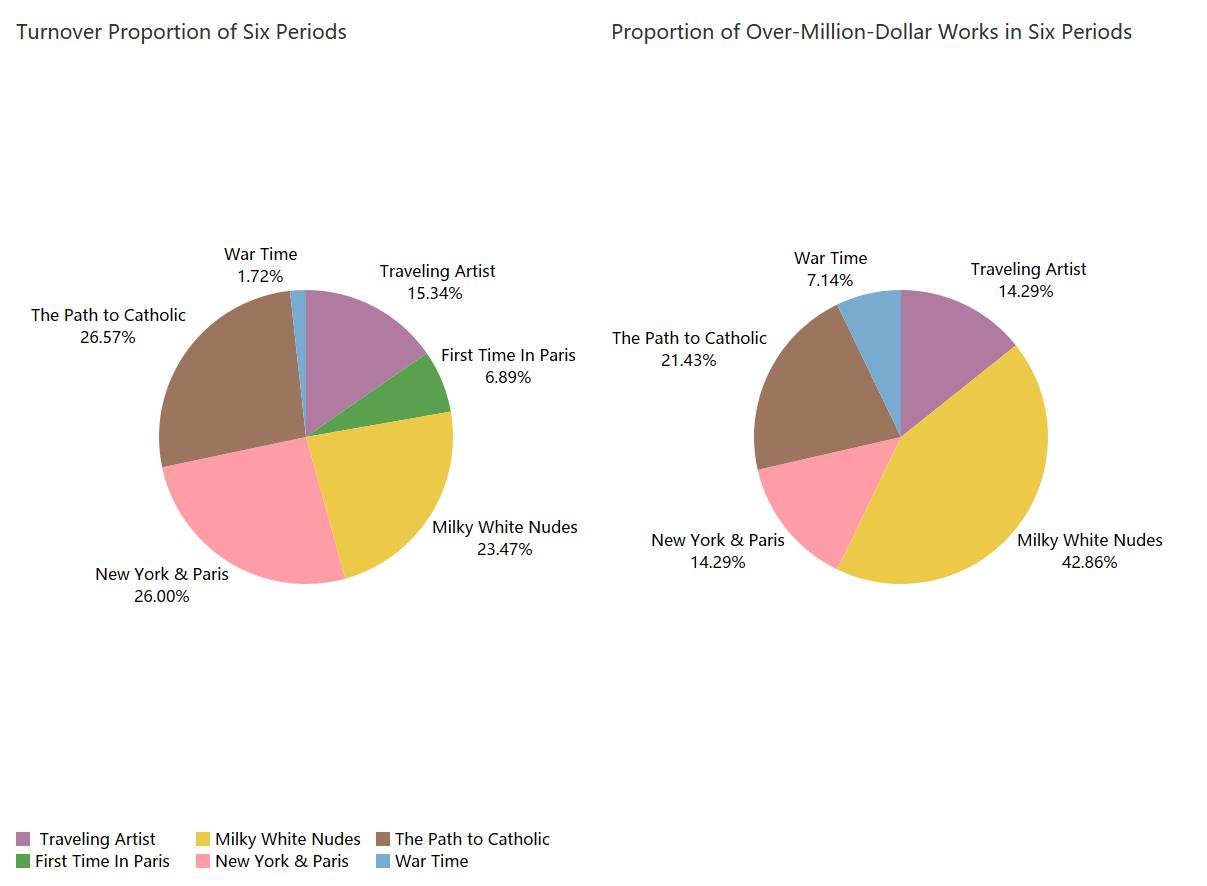 Proportion of turnover and over-million-dollar works in six periods
According to the artist's personal experience and style changes, Foujita's works can be divided into six periods:
1913-1919:First Time In Paris

1920s: Milky White Nudes

1930s:Traveling Artist

1940-1945:War Time

1946-1954:New York & Paris

1955-1968:The Path to Catholic
Among these six stages, works from 1955 to 1968 accounted for the highest proportion of turnover, but among all over- one million-dollar works, the "1920s: The Milky White Nudes" period has the largest proportion that reached 42.86%. The second is "1955-1968: The Path to Catholic" period. Then "1946-1954: New York & Paris" period and "1930s: Traveling Artist" period has accounted for almost the same proportion respectively.

Tsuguharu Foujita's Personal Top10 List
In the artist's personal Top10 list, there are three works from the "Milky White Nudes" period, and another three from "The Path to Catholic" period. The remaining two works are from the "War Time", "New York & Paris" and "Traveling Artist" has one piece on the list respectively.
Part II. Six Creative Periods of The Artist
1. 1913-1919: First Time In Paris
In the early days of Foujita's life in Paris coincided with the First World War, he was impoverished, that even has burned his own paintings on cold winter nights to keep warm. When he first entered this foreign country, he also had to face the cultural differences between his identity and the environment, so his style was not stable during this period. Some of the creations had Japanese cultural elements. Take his work Nature Morte Aux Anémones in 1918 as an example. An oriental styled subjects and has been presented with a Zen-like texture of Buddhist and artistic conception, which revealing his own cultural background.
At the same time in the artist community of Paris, he met many other artists who were also broken at the time, including Modigliani. They once had a common model, Jeanne Hébuterne, who has later became the muse of Modigliani. In many of Foujita's early works, there is also some trace of imitation of Modigliani's works.
2. 1920s: Milky White Nudes
In early 1920s, the concept that Foujita thought of accidentally had later became his iconic style, that integrating Eastern and Western artistic elements into one. He often uses both oil paint and inks on the canvas at the same time, and the brushes he used are the fine-point brushes that are famous in Japan for their precision and delicateness. The most prominent feature of Foujita's works is the milky white surface, which is fascinating. For a long time, the artist has been kept secret on this creative technique, but finally reveal the mystery: by mixing linseed oil, crushed chalk and talcum powder, to get the shimmering pearly texture in his works. This highly innovative approach has become his icon. Foujita's works from 1920s to early 1930s are the most popular on auctions. The pearl liked milky white shimmering surface that he created at that time is one of the most important reasons.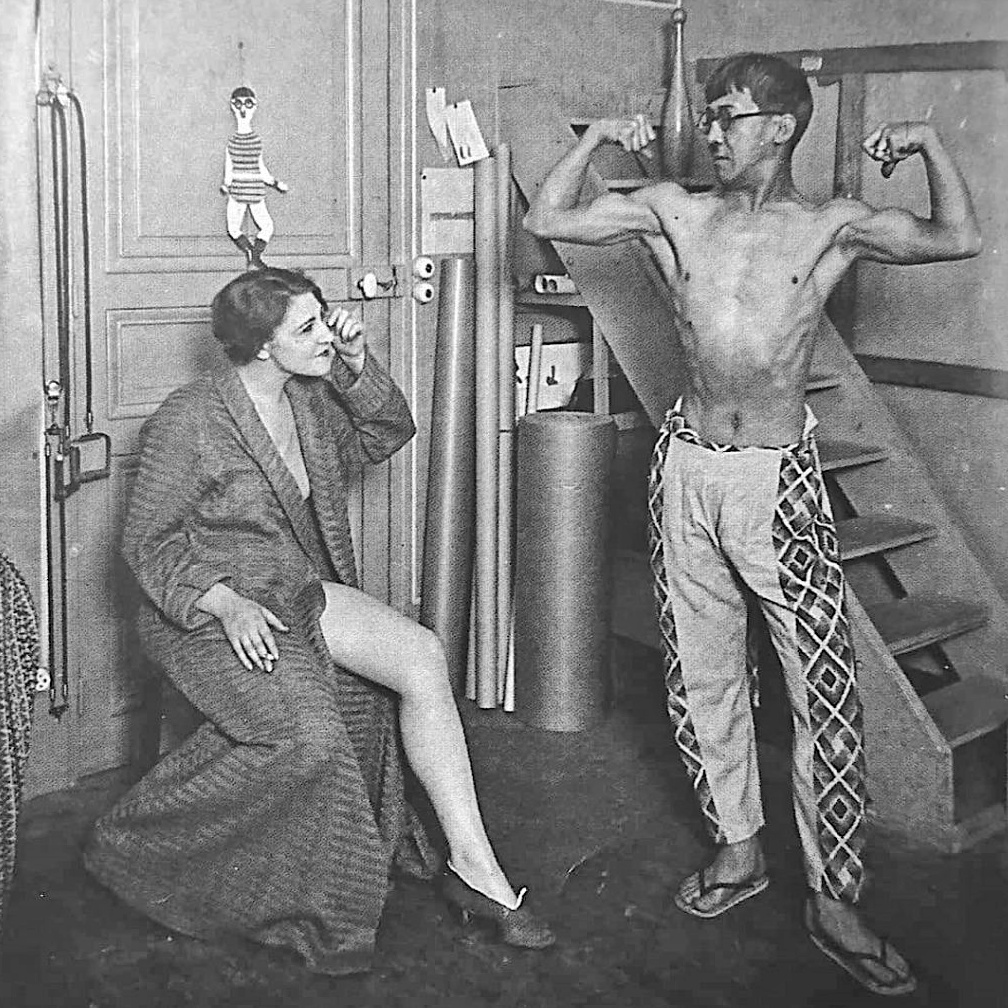 Foujita with Lucie Badoul
After Foujita's gained fame, he met Lucie Badoul the model in 1921. She became a source of inspiration for Foujita, who gave her nickname "Youki", which means "snow" in Japenese, because of her snowy white skin.
In 1924, the two got married. In the same year, Foujita completed his masterpiece Nu Aux Mains Croisées of this period. The naked girl in the picture is Youki, with both hands folded on her chest, making Christian etiquette gestures. The background behind her is a white cloth, and Youki's skin is whiter than the background and exudes a pearl-like luster, that highlights the beauty of the holiness of her. The work was sold for USD $2,140,926 at the Bonhams in London in October 2019. Foujita has been through five marriages in his whole life, and each wife has been his nude model.
In addition to the naked women, Tsuguharu Foujita is also good at painting cats. Cats are regarded as a symbol of family in Japan. For Foujita, who was in a foreign land, painting cats seems to be a kind of inner sustenance to his nostalgia. The cats also had occupied his works and life throughout the whole time. Tsuguharu Foujita once said, "Women and cats are the same. They seem lovable and sensible, but if you slight them in any way, they will forget all their gratitude to their master and lightly betray you." In many of his paintings, cats and women often appeared at the same time.
3. 1930s: Traveling Artist
After successfully gained attention with the milky white nudes series, Foujita started on an immersive journey across North America, Central and South America and Asia in 1930s, that has temporarily take him out of the milky white world, the artist began to wander in those brightly colored worlds. During his travels in South America, he adjusted his works to the local colors and his style of painting had changed for a time. Crimson, green, and blue that had not been used before now appeared on his canvas, and the lines of ink from the past had disappeared.
This color ink work Sound of Hometown has been completed in 1933. In this painting, the artist abandons the visual excitement, instead he used faint shadows and slender ink lines, focusing on the grasp of the spiritual temperament of the characters, the thin and firm-eyed men and the women wearing turbans brings out contracting of calmness and melancholy.
Later, Tsuguharu Foujita also brought this style back to Paris. Taking this work Printemps in 1935 as an example, he used bright colors and smooth lines while maintaining his usual elegant and delicate style. The face of the protagonist in the picture still has the characteristic of his obsession on the textures of skin.
4. 1940-1945: War Time
In the 1940s, as the Second World War spreading across the whole world, France and Japan became hostile countries, Foujita had to return to his homeland, and began to create the most controversial series of war paintings in his career. He became a military painter of the Japanese Imperial Army during World War II. Foujita's works in this period have been argumentative: many peace-loving artists of his generation criticized on his large-scaled combat paintings that have been used for political propaganda.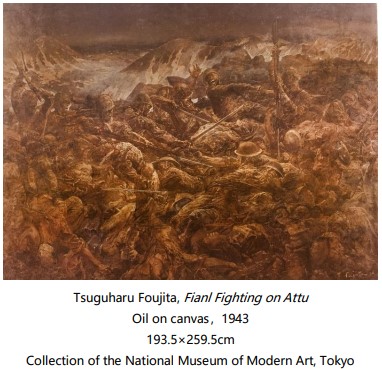 Among all those paintings, Fianl Fighting on Attu is an important work in the war painting series of Foujita. The group portraits on the screen under the depressed atmosphere of war, all painted in the same tone, with dense and complex textures, intertwining blood and the terrifying elements of the atmosphere of facing life and death on the battlefield. Like many Japanese nationals at that time, in the wartime state of the national mobilization, Foujita may has just showed his love for the country while the country is facing the crisis of survival, but after the defeat of the Japanese Empire, a new political system was added. The various accusations on Foujita have made him frustrated and went overseas again. He never set a foot on his homeland again in his whole life that brings infinite imagination for the future generations.
5. 1947-1954: New York & Paris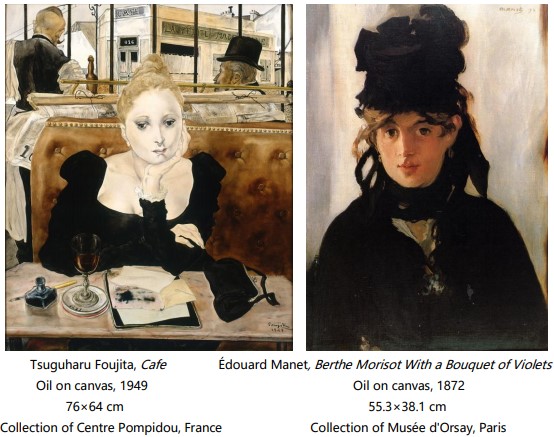 After the end of World War II, Foujita, who was tired of the war, longed for a free and peaceful environment to only create art for himself. While waiting for the visa to France, he moved to New York in 1949, and upon arrival, he threw all the belongings into the Hudson River to show artistic freedom that he felt in the United States. The huge change of emotion has brought new energy to Foujita's creation. He chose to escape into the paintings from the reality. During this period, he was inspired by the French master Edouard Manet and created a series of striking female portraits, such as Cafe.
Another source of inspiration is the French fables, especially by Jean de la Fontaine. These stories attracted him greatly, because in these strange stories of the animal kingdom, he found himself surrounded by the familiar figures. These descriptions of grotesque images became the catalyst for Tsuguharu Foujita's creation. During this time he created more than 20 "fables" works, which is a group of full and dazzling lively paintings. One of the most spectacular is La Fête D'anniversaire which has all the essence this series, and is one of the most satisfying works according to Foujita in this period.
6. 1955-1968: The Path to Chatholic
After the war, Foujita returned to France permanently. Since then, the paintings of children have increased significantly. However, compared with the innocence and simplicity in his earlier works, most of the children in the works of post-war period have lost their innocence instead of serious and sophisticated faces. For example, Girl Holding Cat was created in 1956. In the work, the girl in a dress is sitting on a green leather chair and holding a kitten in her arms. The background is black and white. The girl's dress and chair are divided into red, blue, white and green. The different color blocks create a bright and vivid but harmoniously unified relationship of colors. The facial expression of the girl looked calm, her eyes revealed an indifferent expression of seeing through the world. This way of expression brings the painting with religious dignity. After that, he changed from the theme of children to the Christian world after baptism.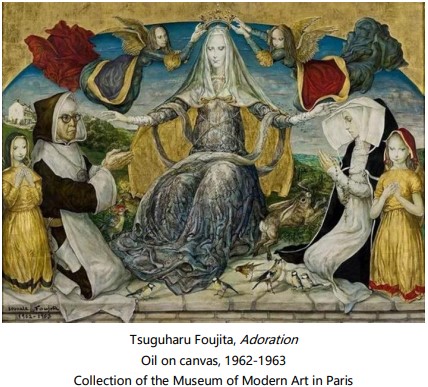 He was naturalized and became a French citizen in 1955. Two years later, the French government awarded him with Legion of Honor, he was also the first Asian artist to receive it. In 1959, Foujita converted to Catholicism, and the image of the naked woman gradually disappeared from his creation, which also indicated that his passionate life had returned to calmness. Since then, he began to make more religious themed paintings, such as this Adoration created from 1962 to 1963, which even incorporated his posture of kneeling and worshiping Mother of God, showing his repentance towards the past.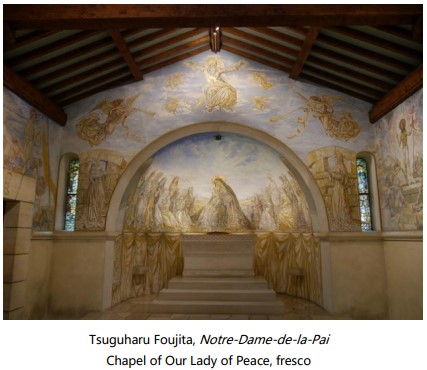 At the end of his life, he imitated Matisse to build a church for himself, the Chapel of Our Lady of Peace in Reims. The fresco Notre-Dame-de-la-Pai in the church is the greatest achievement of the artist's late period. He passed away two years after the church was completed, solemnly ended his life with a paintbrush. Foujita died in 1968 at the age of 81 and was buried in a cemetery outside the church.
The life of Tsuguharu Foujita can be described as magnificent, but there are mixed praises and criticisms, that made him a topical figure in the art world. After his death, the market reaction to his works is lacklustre until it reached a peak again in the late 1980s. Japanese buyers started to collect Foujita's works enthusiastically. Part of the reason is the sympathy among Japanese compatriots, but it is also due to the fact that Japanese collectors began to buy various types of impressionist and modern art works in large quantities at that time. In recent years, Foujita's fiery momentum likely to be the second peak of purchases. As one of the most watched Japanese artists in the market at present time, whose future development deserves our continued attention. If you want to get more artist personal reports, please contact ArtPro customer service.