In the year of 2020 under the pandemic, auction markets around the world have demonstrated extraordinary resilience. Auction houses have "adjusted to the pandemic" to survive, and high-priced lots in the modern and contemporary art section have appeared frequently. Soon after the ending of October auction season, the global auctions are about to enter a new round in December, such excitement should not be missed. Now, please follow ArtPro to focus on the December schedule of global modern and contemporary art auctions.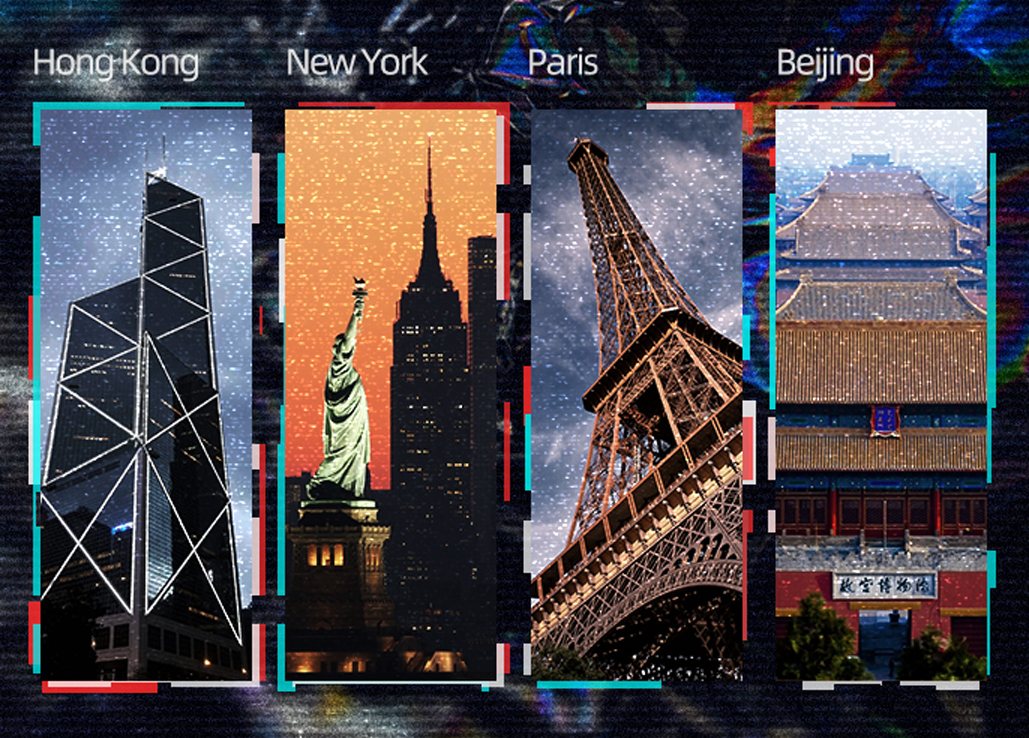 Hong Kong
Christie's will open up a special auction of modern and contemporary art in Hong Kong on December 2nd and 3rd, covering the masterpieces of many artists such as Zao Wou-Ki, Chu Teh-Chun, and Yoshitomo Nara. San Yu's animal-themed oil paintings will be the final in this special evening auction. Together, Phillips and Poly will hold the 20th Century & Contemporary Art Evening Sale and 20th Century & Contemporary Art And Design Day Sale on December 3rd and 4th, presenting works from masters of Eastern and Western art and emerging stars. Bonhams will present Modern and Contemporary Art on December 4th, include the best works of the emerging artists such as Ayako Rokkaku and Javier Calleja. Poly Hong Kong is going have Poly Auction Hong Kong & Macau Joint Auctions on December 8th with masterpieces of artists such as Shi Chong, Chen Danqing and He Duoling.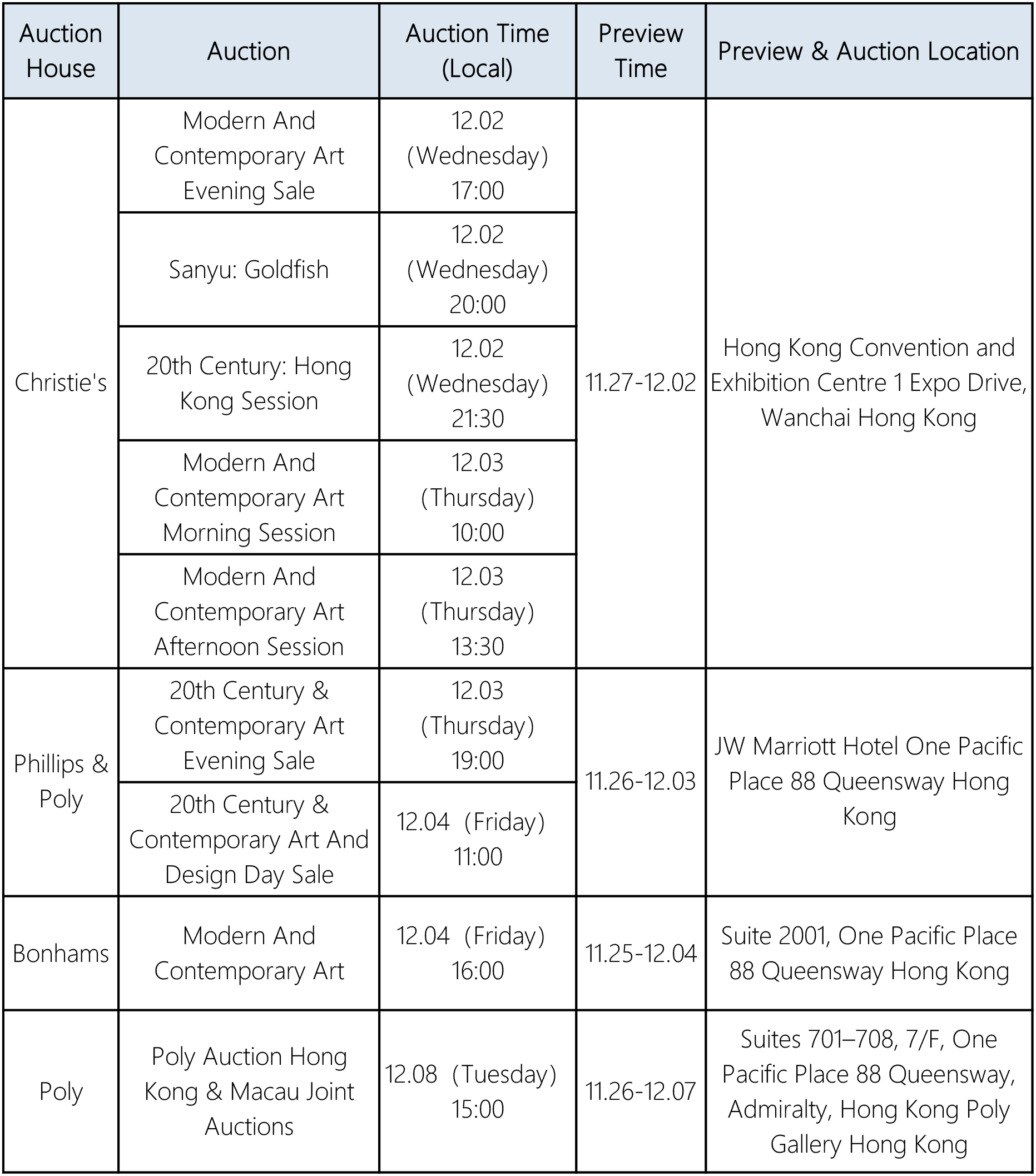 Paris
French auction house Millon will open a special Post-war & Contemporary Art in Paris on December 2nd; Artcurial will has Impressionist, Post-war and Modern & Contemporary Art specials auctions on 8th and 9th, covering masterpieces by artists such as Alexander Calder, Bernard Buffet and Chu Teh-Chun; Sotheby's Art Contemporain Evening Sale will be held in Paris as well on December 16th.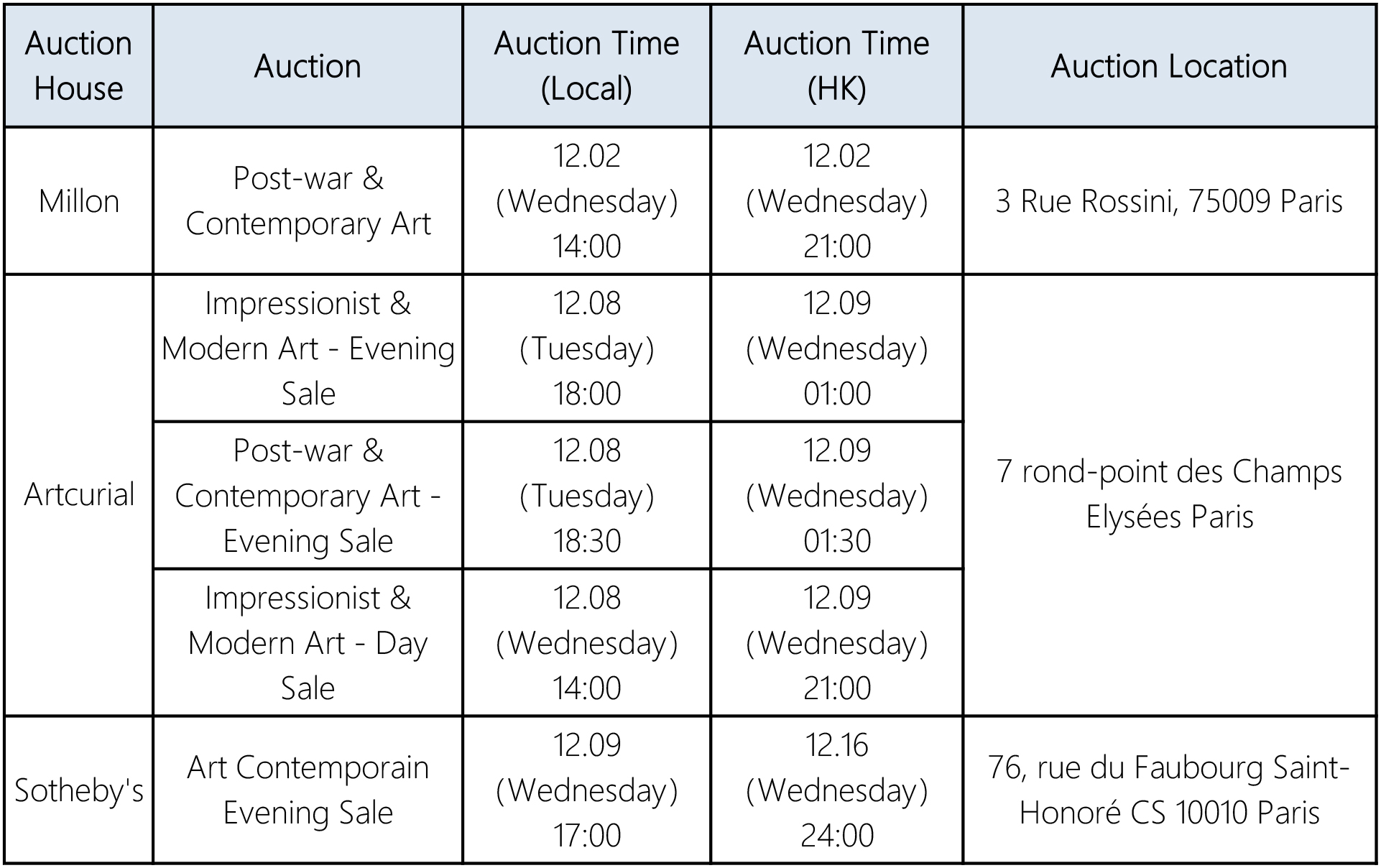 New York
Christie's New York will present 20th Century: New York Session on December 2 and Post-war & Contemporary Art Day Sale, Impressionist & Modern Art Day Sale on December 3 and 4, covering Pablo Picasso, Andy Warhol and Classic works of art masters such as Wayne Thiebaud; Phillips will present the 20th Century & Contemporary Art Sale on December 7th and 8th;Sotheby's American Art special auction will be held on December 11th.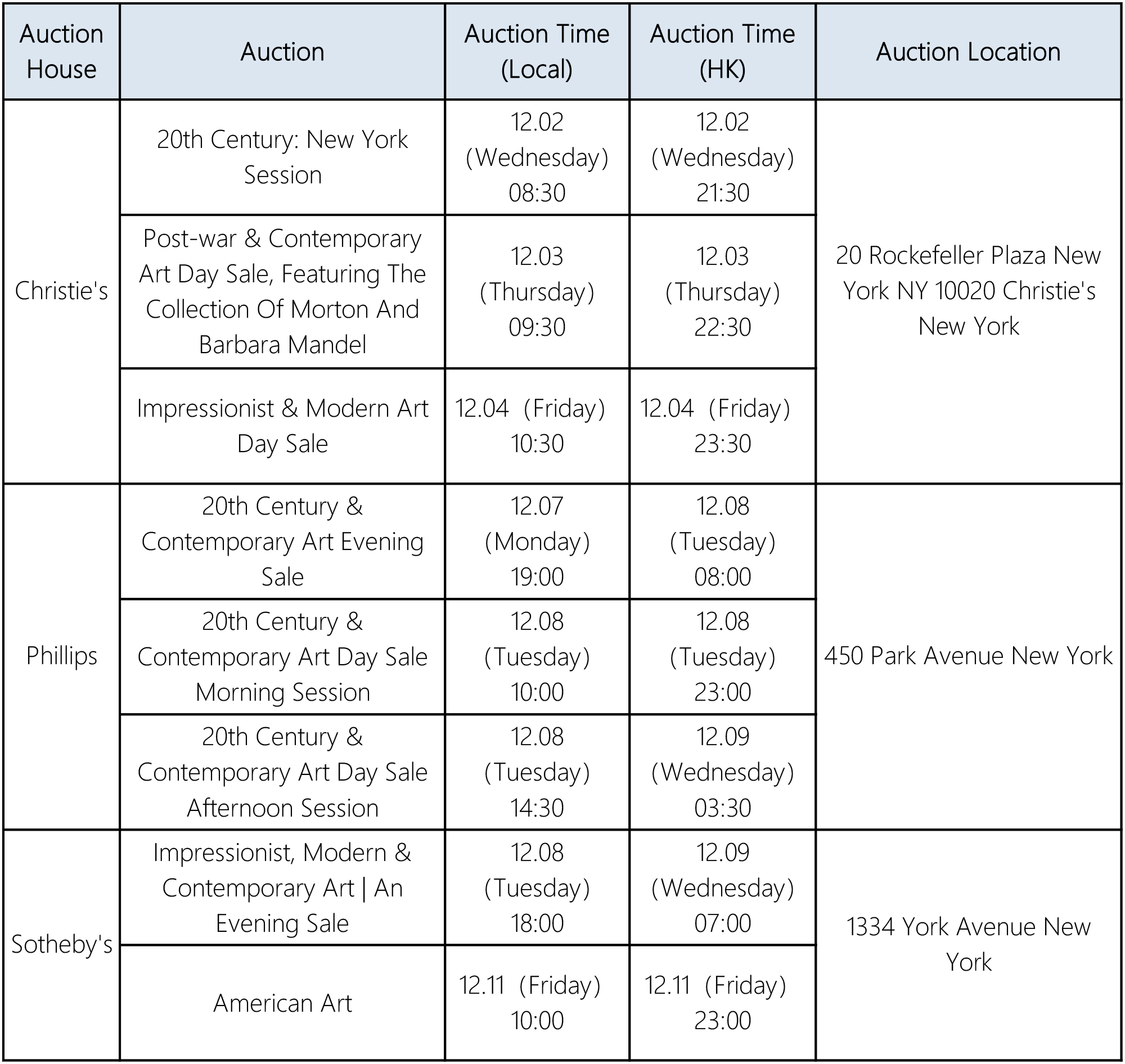 Beijing
Yong Le Auction will present Modern And Contemporary Art Night Show on December 4th;On December 5th, Guardian's 20th Century and Contemporary Art auction is going to open up in Beijing. It will include masterpieces by the leading artists of major genres since the beginning of the 20th century, and present masterpieces by artists with great potential; the same day, Modern and Contemporary Art of Holly's International is also going to be held in Beijing.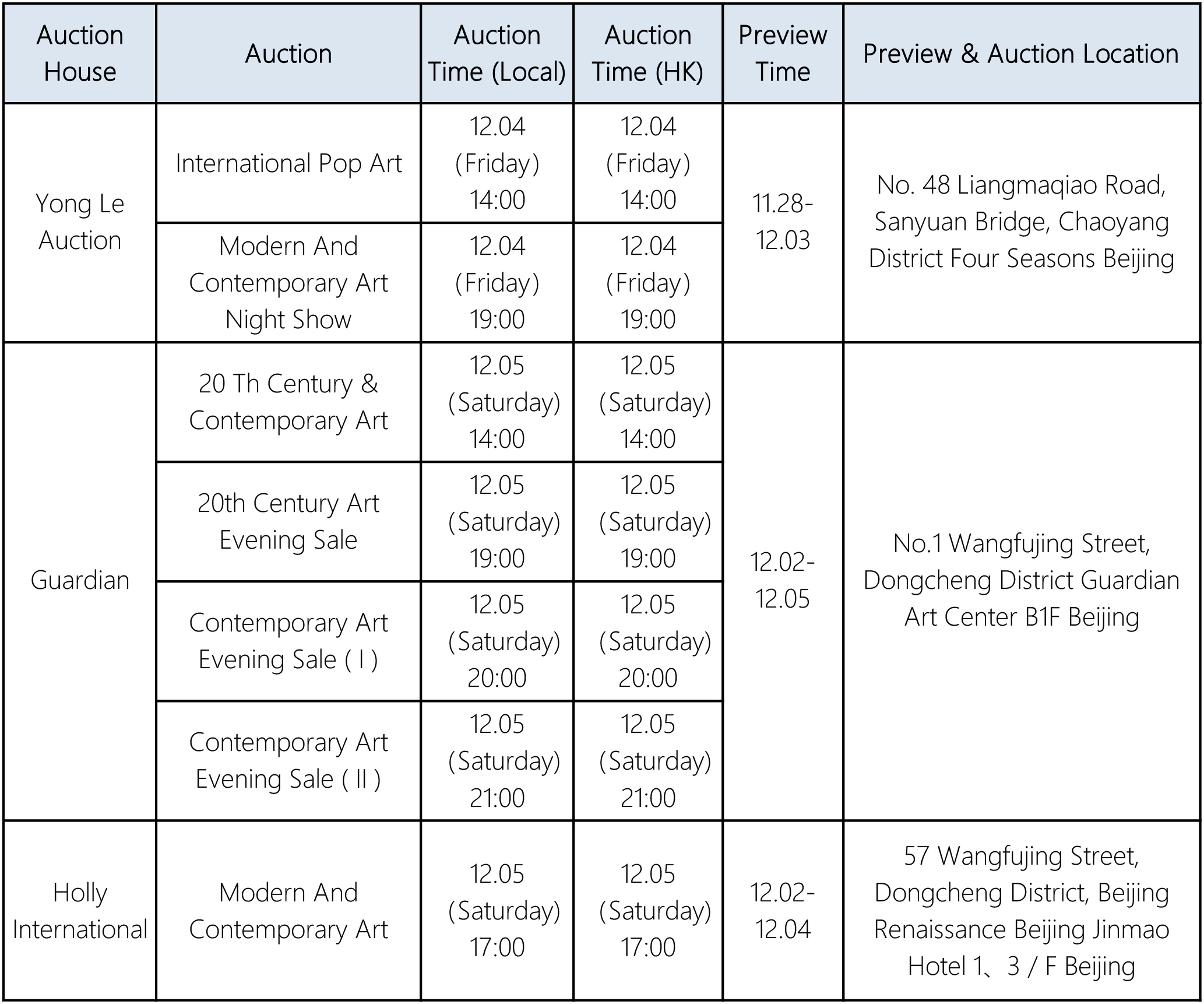 Other Cities
On December 3rd, Desa Unicum Auction House is going to hold a Post-war & Contemporary Art auction in Warsaw, Poland, which will be divided into two special sessions of Op-art And Geometric Abstraction and Installations - Environment - New Media; On December 5th and 6th, Ravenel International in Taipei will open the auctions of Select: Modern & Contemporary Art and Modern & Contemporary Art. Works by Zao Wou-Ki, Eddie Martinez and Kazuo Shiraga will be displayed.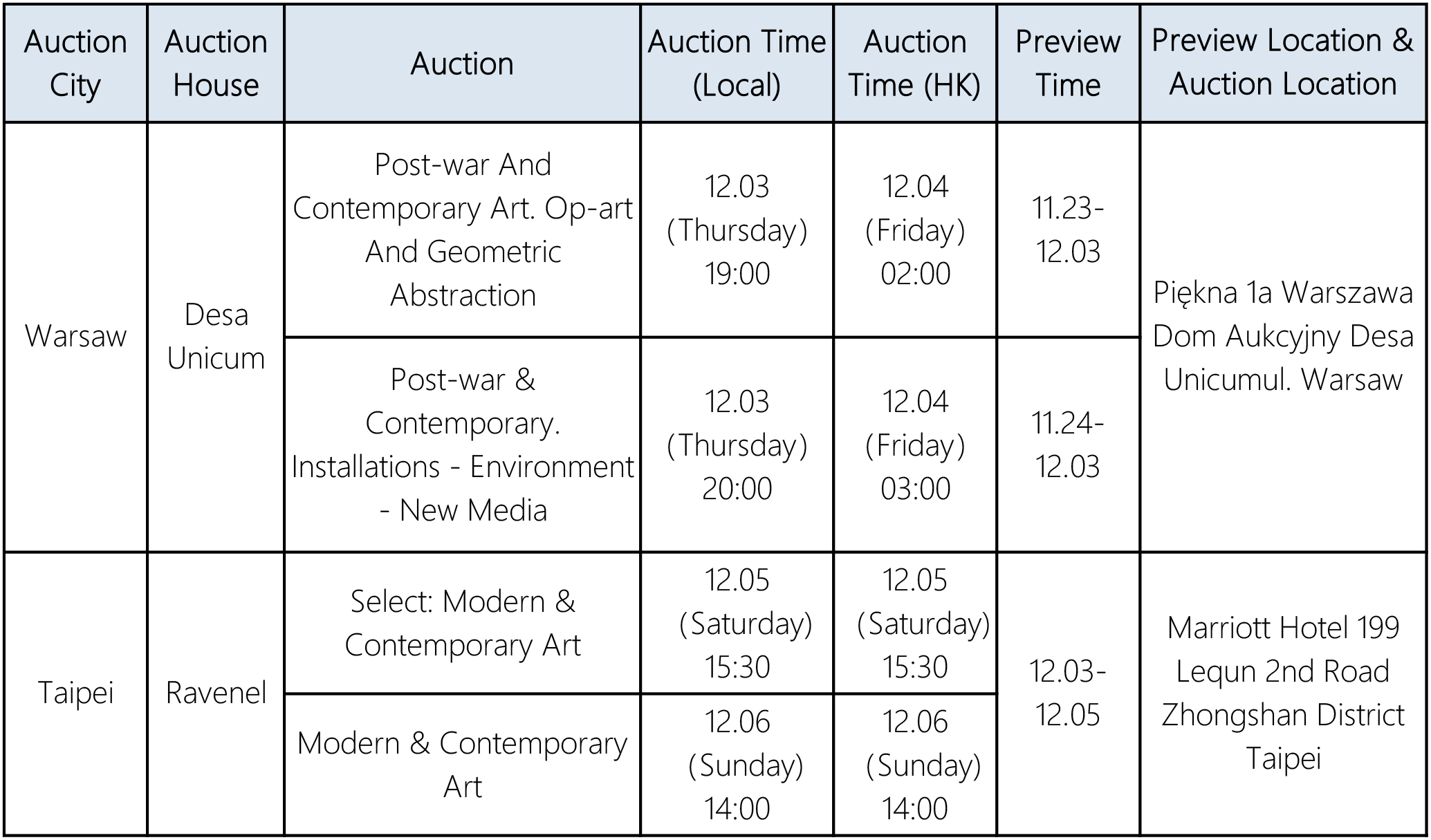 ArtPro will continue tracking global auction information and bring you more market trends, please stay tuned.