Joan Mitchell | Auction Market Personal Report
In the global art market, female artists occupy a place with their own unique styles. Mitchell as one of them has attracted much attention for her impressive abstract art style, and is far ahead in the ranking of all female artists; Mitchell calls herself "the last abstract expressionist". Through her free form of expression, that shows her love for nature and poetry. Her auction performance has been outstanding, especially in the past three years. In 2018 her total turnover reached highest point in history, and the popularity continues in 2020. Now, let us walk into Mitchell's art world together.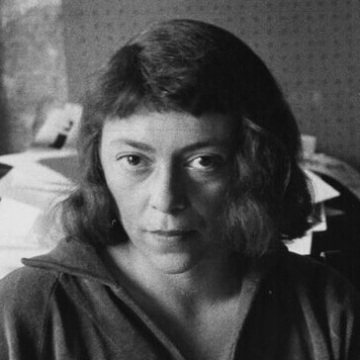 Mitchell is an American abstractist painter born in Chicago in 1925. Her mother was a poet and father is a doctor who likes to paint. The wealthy family background is undoubtedly the icing on the cake for her art career. Mitchel graduated from the Art Institute of Chicago in 1947 and held her first solo exhibition in the 1950s that established her style. In the following decades of creative path, her style has developed matured. She is always adhered to abstract creation, interpreting the unique soul in her body, until the last moment of her life.
I. Market Data
1.Market trend: 15 years of business, the price index has risen greatly since the peak in 2018
In the past fifteen years, the price index of Mitchell has risen from 1 to 6.4. It has experienced three peaks in 2008, 2011, and 2018. It is worth mentioning that Mitchell's market performance in 2018 was particularly outstanding. The rate of increase of her price index started in the same year is evident. In the past two years, although its transaction volume has declined compared with 2018, her price index has been on the rise, and the popularity has not decreased.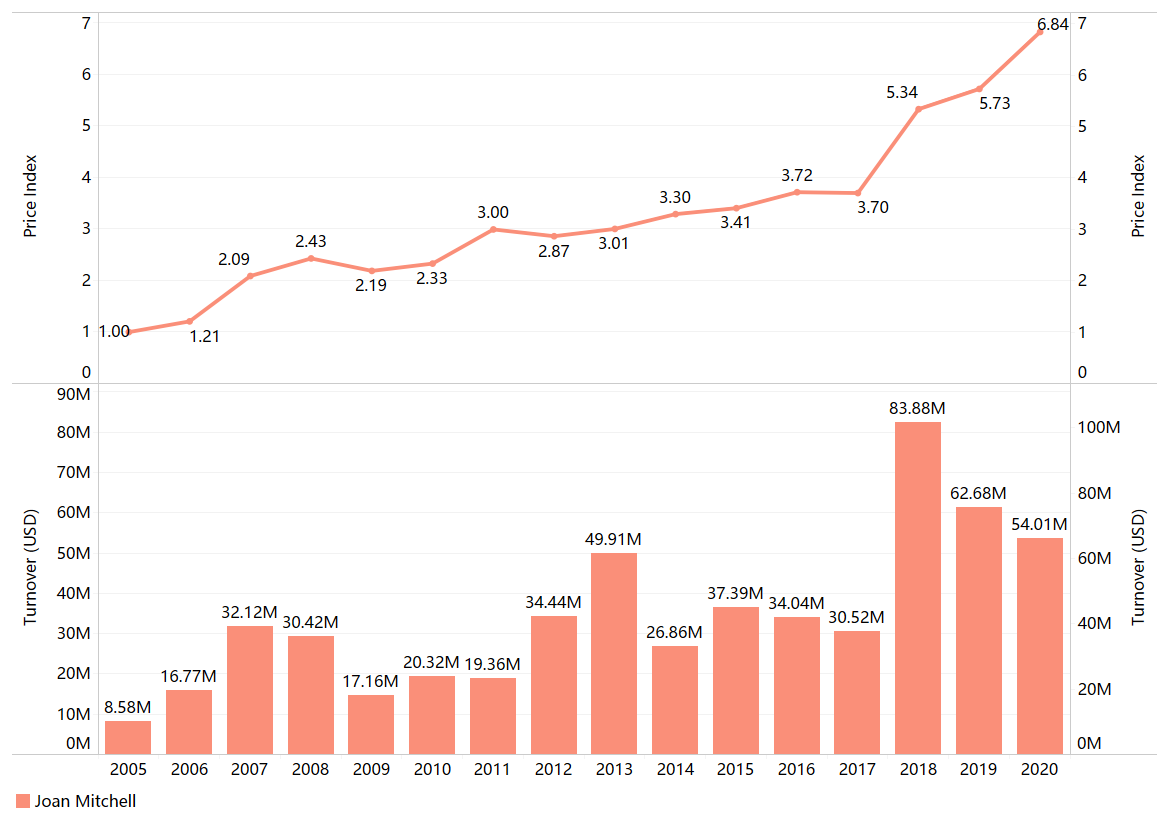 Price Index & Turnover from 2005 to 2020
The outstanding performance in the past three years is not only reflected on turnover and price index, the auction performance of a single work has also confirms this market trend. In her Top 10 list, 7 works were sold in the past three years. Top 1, Top3, and Top10 were updated in 2018, Top 4 and 5 were updated in 2019, and Top 2 and 7 were updated in 2020.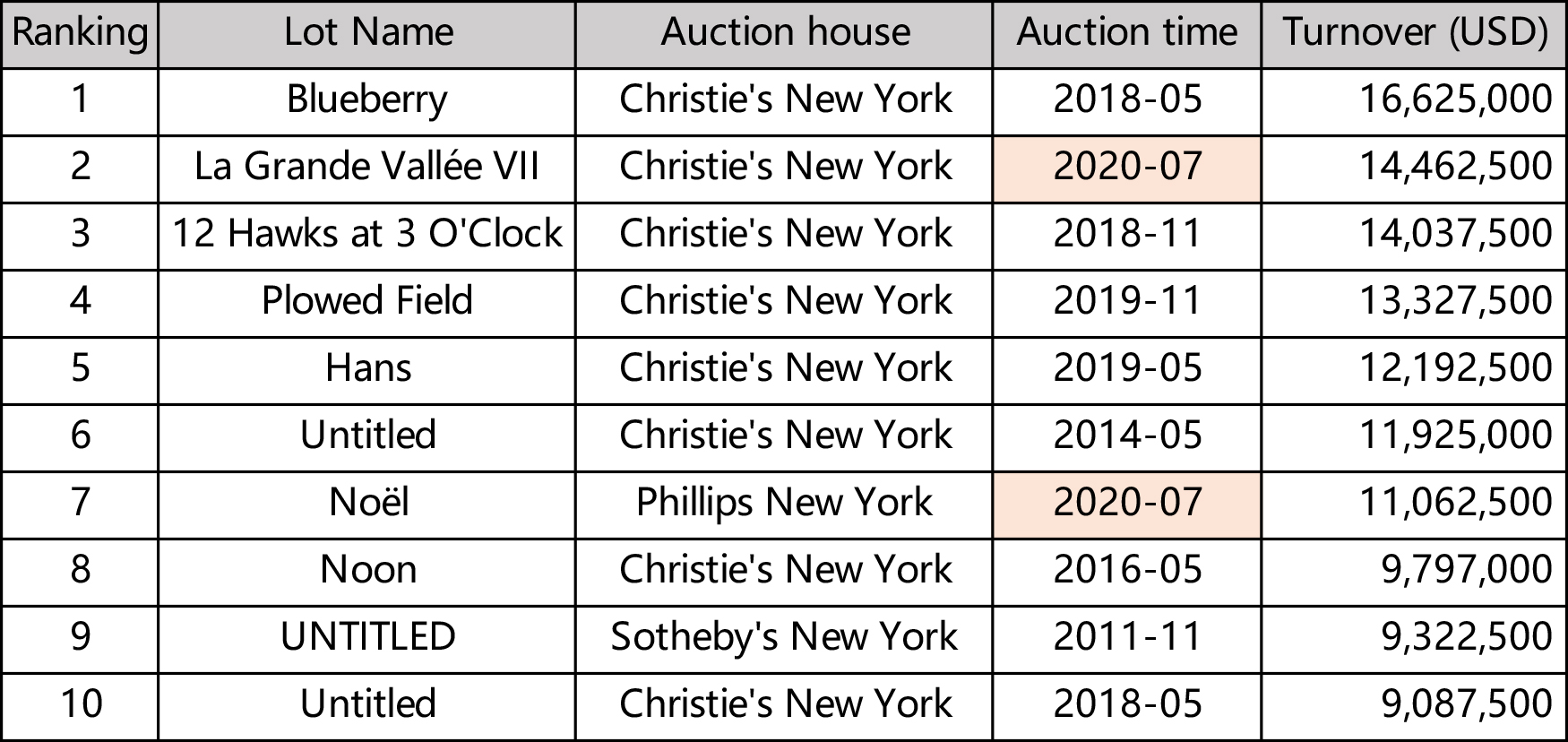 Mitchell's Personal Top10 List by October 2020
2.Competitions between the two: Mitchell is ready to go, temporarily set on the top 1 throne of female artists in 2020
In the past ten years, Mitchell has been among the top three female artists, her impressive record are comparable to Yayoi Kusama who had 410 lots in auctions this year, while Mitchell had only 32. Small quantity and high price, as of November 2020, Mitchell is current set on top of the sales all female artists.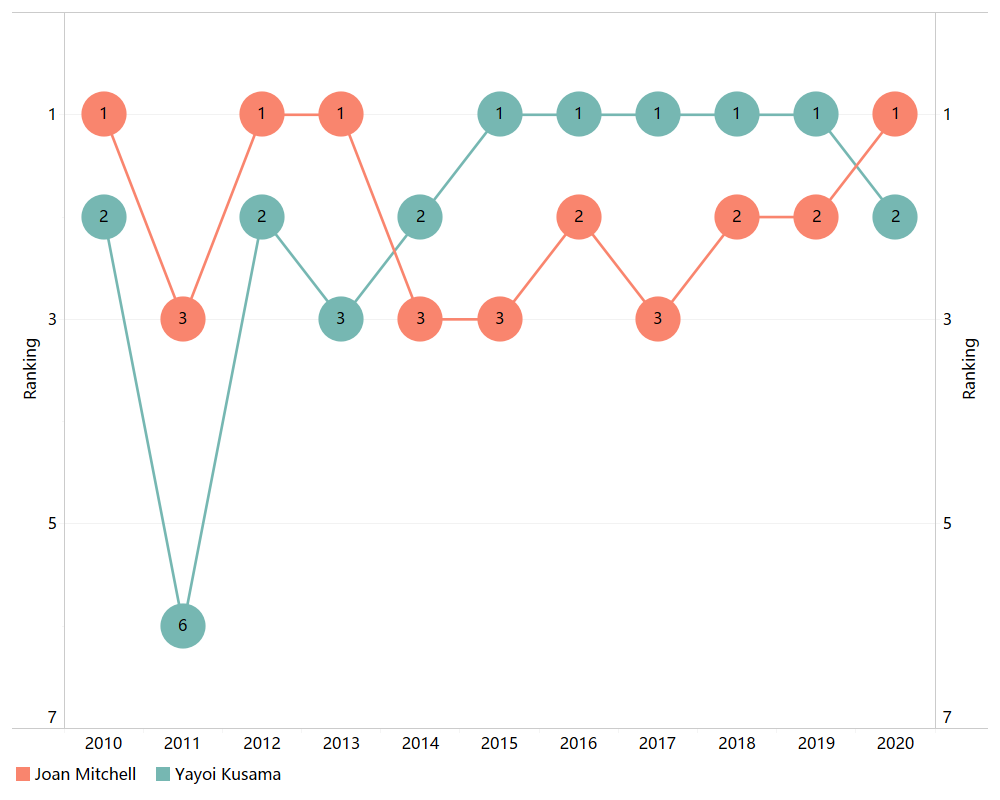 Female Artists Ranking From 2010 to 2020
3.Distribution and income of works: the number of works from 1960s are small but refined
The works of the past few decades are divided into four stages. From the number of works, 1980s and 1990s was the high production stage of Mitchell, which the number of works on the secondary market was obviously higher than the other three periods; although from the turnover perspective, 1980s and 1990s have the largest lots volume, they only contributed 21% of the total turnover, while the works from the 60s were few but sold with high prices, and contributed the largest turnover. It's clear that the works of the 60s are more popular on current market.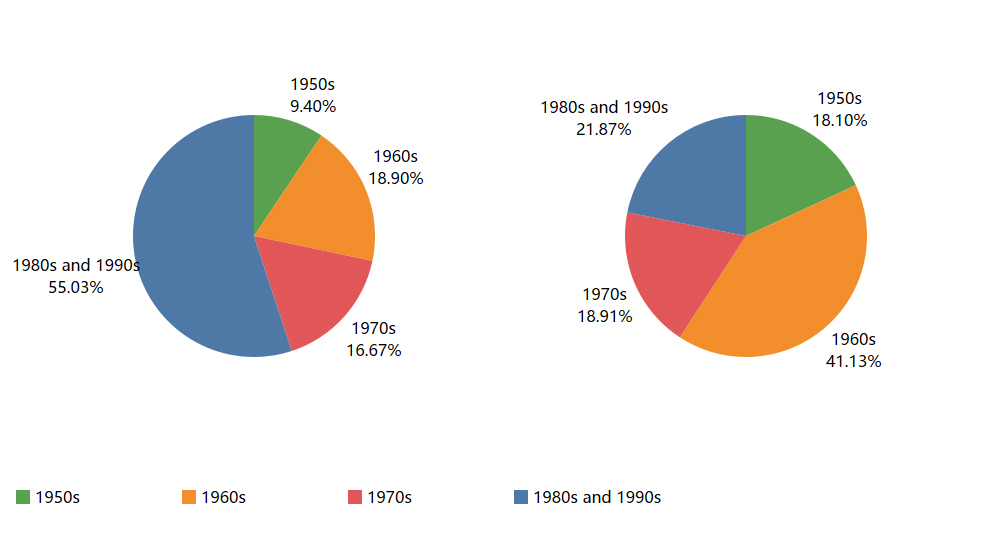 Left:Number of works from different periods
Right:Distribution of turnover
La Grande Vallée VII was first sold for USD $330,000 in 1989, then it was auctioned at Christie's New York in2019 and received USD $14.46 million, from 100,000 dollars to 10 million dollars, the annualized rate of return is 12%; Plowed Field was auctioned at Christie's in 2003 with a price of USD $650,000; after 16 years, it was sold at Christie's New York again in 2019, with a price of USD $13.32 million and 21% annualized rate of return.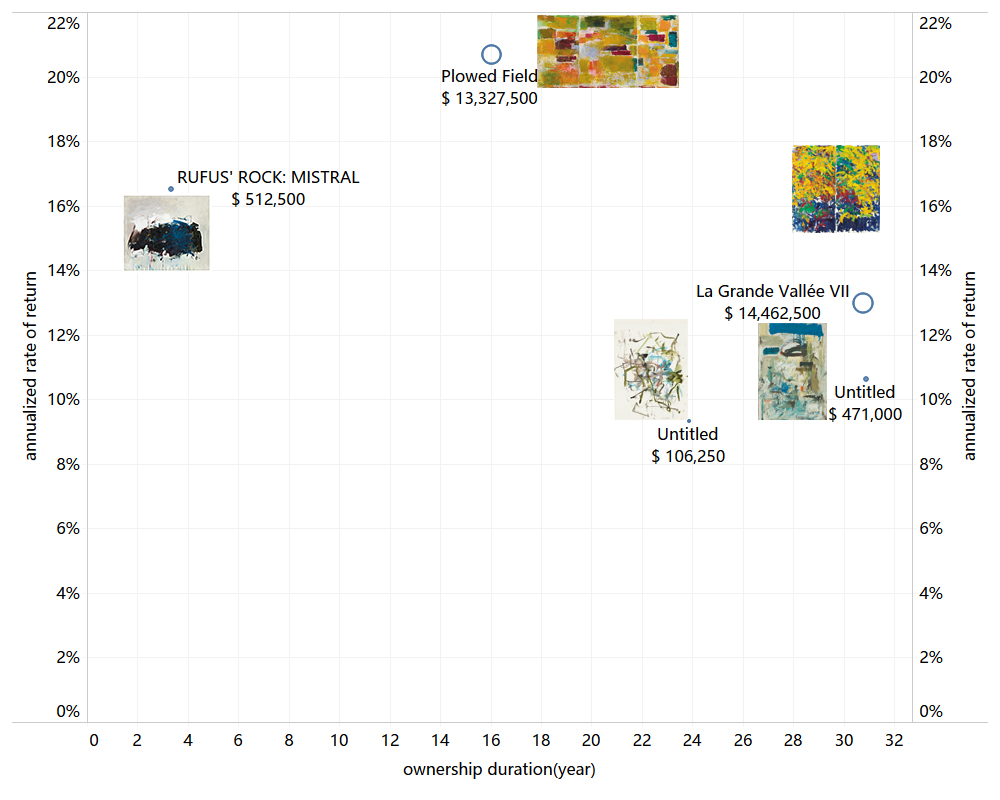 Profitability of part of the works
Part II. Main Styles
Time: 50s
Location: New York
Discription: Initially established her own abstract painting style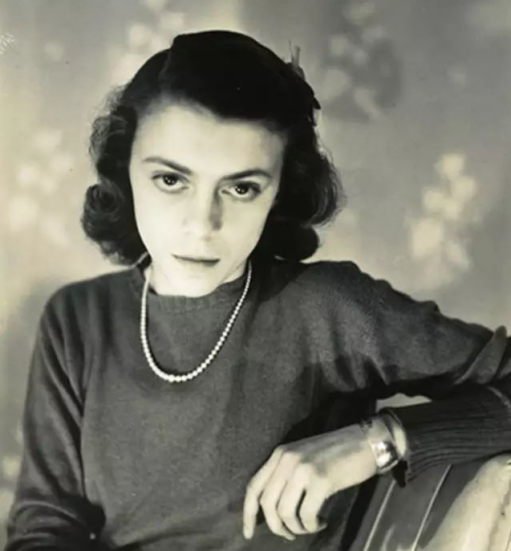 Mitchell
Mitchell moved to New York in 1949 and has active been active in the art world. She had contacted with artists such as William De Kooning, Jackson Pollock, Yves Klein, etc., and became one of the female artists in the abstract exhibitions at the time. In 1953, her first solo exhibition was held at Steiber Gallery, which has attracted much attention at the beginning of her art career.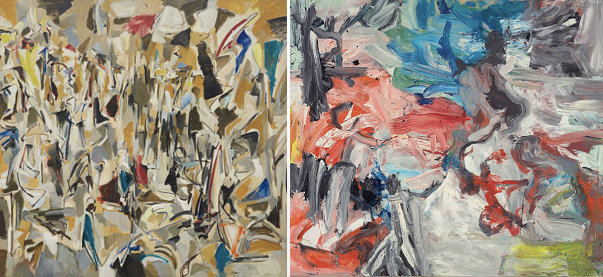 Michell (left) and Kooning's (right) work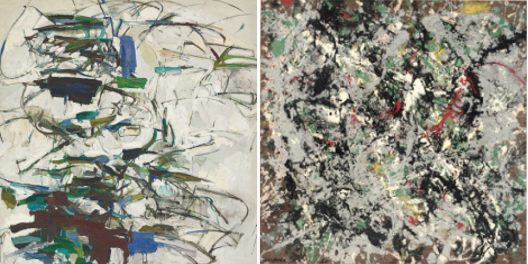 Michell (left) and Pollock's (right) work
In mid 50s, Mitchell has established her own artistic language. While being influenced by the masters of abstract expressionism, she refused to follow their path directly and had always insisted on her own style. During this period, her large-scale abstract expressionist paintings had dynamic and powerful brushstrokes, the gray and dark tones were swayed freely.
Time: 60s
Location: France
Discription: Abandon the early creation and conbinded the best of schools to refine her own style
In the late 1950s, Mitchell moved to France to spend the rest of her life. There, she began to be influenced by European post-impressionism, especially the colors of Van Gogh and the overlapping geometric planes of Paul Cézanne. With her many years of training and the artistic style from New York, she has combined her expertise to create her own visual language.
From 1960 to 1964, she discarded all the styles and colors of her earlier works, instead she continued to express the original subject matters with darker tones and dense colors. Mitchell said that she hopes her paintings to "convey the feeling of a sunflower dying".
In Mitchell's creation, she does not hase obvious changes on style like other artists of the same period, but she had constantly changed her way of painting. The external scenery and inner feelings are the source of her inspiration. Such as cities, lakes, fields, trees, poetry... She often paints at night, reveled in the world of music, and painted the world of art in her mind on canvas.
Time: 70s
Location: Vétheuil Village
Discription: The paintings became wilder, with more large sized works
In the late 1960s and early 1970s, Mitchell moved to the French village of Vétheuil, where is close to Monet's garden in Giverny. The lighting control of Monet's paintings has a profound influence on her, and Mitchell's Expressive Abstractism style is getting mature. This is what makes Mitchell different from the first generation of abstract artists. The landscape and natural atmosphere in her paintings are perfectly combined with her own style. The following work shows Mitchell's abstract reflections on light, shape, color, and energy. It can also be seen that the image of lotus in Monet's Water Lilies is actually Mitchell's reflection of Monet's late period through this work. A tribute to the work Water Lilies.

Mitchell pays tribute to Monet through works
In terms of painting style, in 1970s, the Whitney Museum of American Art held a large-scaled exhibition. Her paintings have become wilder, with vibrant brushstrokes and colors reaching the edges of the canvas. These works have established her reputation as a creative artist and master of painting skills.
In terms of size, Mitchell is a small woman but she likes to create large-scaled works, especially in the 70s. Many large sized works of this period all reveal heroic brushwork, just like her staunch and eclectic personality.
Time: 80s & 90s
Location: Paris
Description: Tribute to the classics, the colorful pictures are full of vitality
From Mitchell's creation, each paintings has its own features, although there are obvious differences in the use of colors, the aggregation and grouping of patterns, they all maintained as pure abstraction. In the following years, she participated in a large number of exhibitions, and her works began to have subtle changes. After the 1980s, Mitchell's works became brighter and saturated with yellowish colors, the whole images are full of vitality.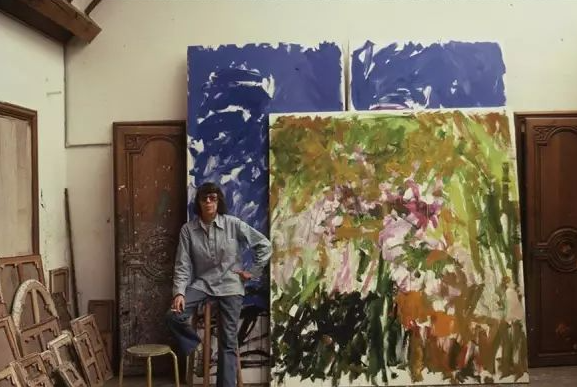 Mitchell at France in 1984
"Sunflowers are something that bring me strong emotions," says Mitchell. "They are so beautiful when they grow, and so moving when they wither." However, she specifically pointed out, "I don't like sunflower fields. I like when they are separated, like in Van Gogh's paintings.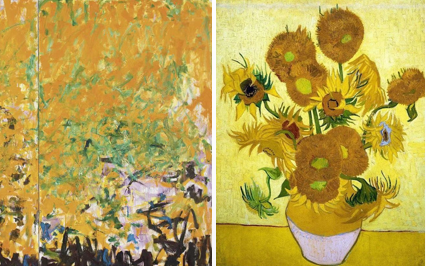 Mitchell (left) and Van Gogh's (right) Sunflower Painting

Part of Mitchell's Sunflower (left) that pays tribute to Van Gogh's Wheat Field with Crows (right)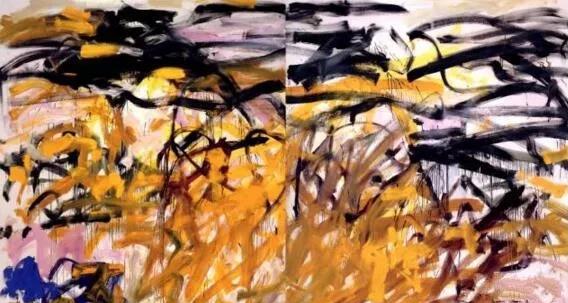 No Birds of Mitchell 1987-1988
As Mitchell grew old, she concerns more about death. The dark brown colors began to appear on her canvas. At the same time, due the cancer in her later years, it is inconvenience for her to paint, the number of large-scaled works had decreased.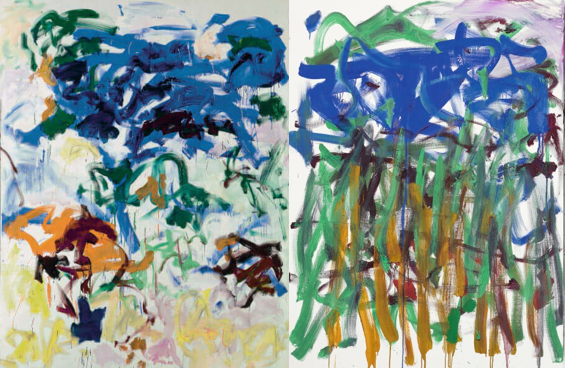 Part of Mitchell's 1989 and 1992 works
Mitchell's works have been collected by major museums from, all over the world in now days, and the market position is significant. Since she was represented by Zwirner Gallery, it has also promoted the development of her works on market, and its market value has been continuously explored. We are expecting to see whether the high-priced works and her popularity is the turning point of Mitchell on the art market or her up-coming prominence before gaining momentum.