Adrian Ghenie | Market Personal Report
At Sotheby's Hong Kong in October 6 this year, Adrian Ghenie's Lidless Eye was sold for HKD $54.92 million and become the Top2 expensive work on artist's personal list . This piece was created between 2016 and 2018 which is based on a self-portrait of Van Gogh's later period.
Adrian Ghenie is a young artist who has been active recently in the art world on an international stage. He currently lives and works in Cluj, Romania and Berlin, Germany. In 2016, his work Nickelodeon was auctioned at Christie's in London for a record breaking price about $8.77 million, and set the top 1 in his personal record so far.
In order to comply with consumption trending and avoid the ambiguity of important indicators, the market has further segmented "Ultra-Contemporary" art, specifically referring to the creation of artists born after 1975. As one of the best artists in this group, the price of Adrian Ghenie's works have continued increasing in recent years. In 2019, he had three works on the list of the Top 10 Most Expensive "Ultra-Contemporary" Arts in world-wide.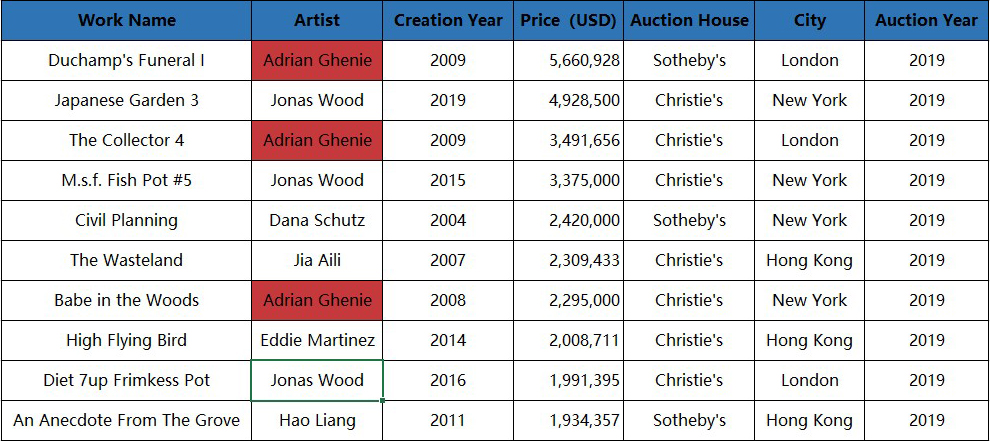 Top 10 Most Expensive Ultra-Contemporary Arts in 2019
Now, ArtPro will bring you closer to this young artist who has been internationally well-known.
Part I: Adrian Ghenie Market Observation Report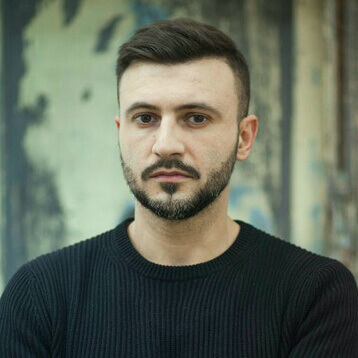 Adrian Ghenie was born in 1977 and grew up in the socialist period of Nicola Ceausescu in Romania. His father often tells the stories of Romania's "golden age" in the 1960s, and Ghenie himself also remembers the economic recession in 1970s. After the end of Ceausescu's regime, Ghenie studied fine art in Cluj, the third largest city in Romania. At that time, he had little exposure to the 20th century art trends and the works of modern art masters in Western Europe. Until later he traveled around Europe and visited major museums in his two-year resicdency experience in Vienna which had an immeasurable impact on his paintings.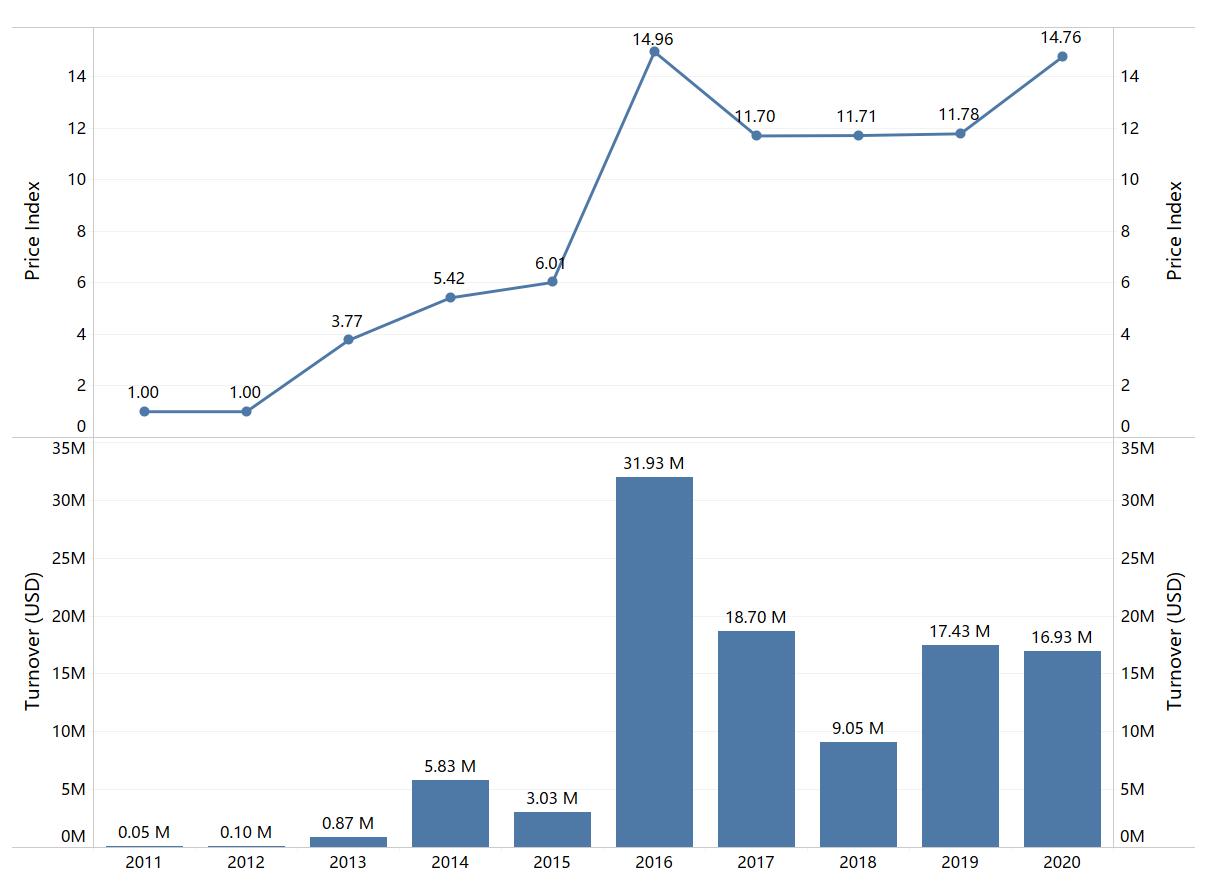 Price Index & Turnover of Adrian Ghenie
Ghenie had just entered the auction market in 2011, after which his price index and turnover surging up, achieving a substantial increase from 1 to 14. After Ghenie represented Romania in Venice Biennale in 2015, he attracted widespread attention. So in 2016 his turnover and price index rised up dramaticly and reached a peak. Although it cut back slightly afterwards, it has remained at a high level in recent year with steady performance.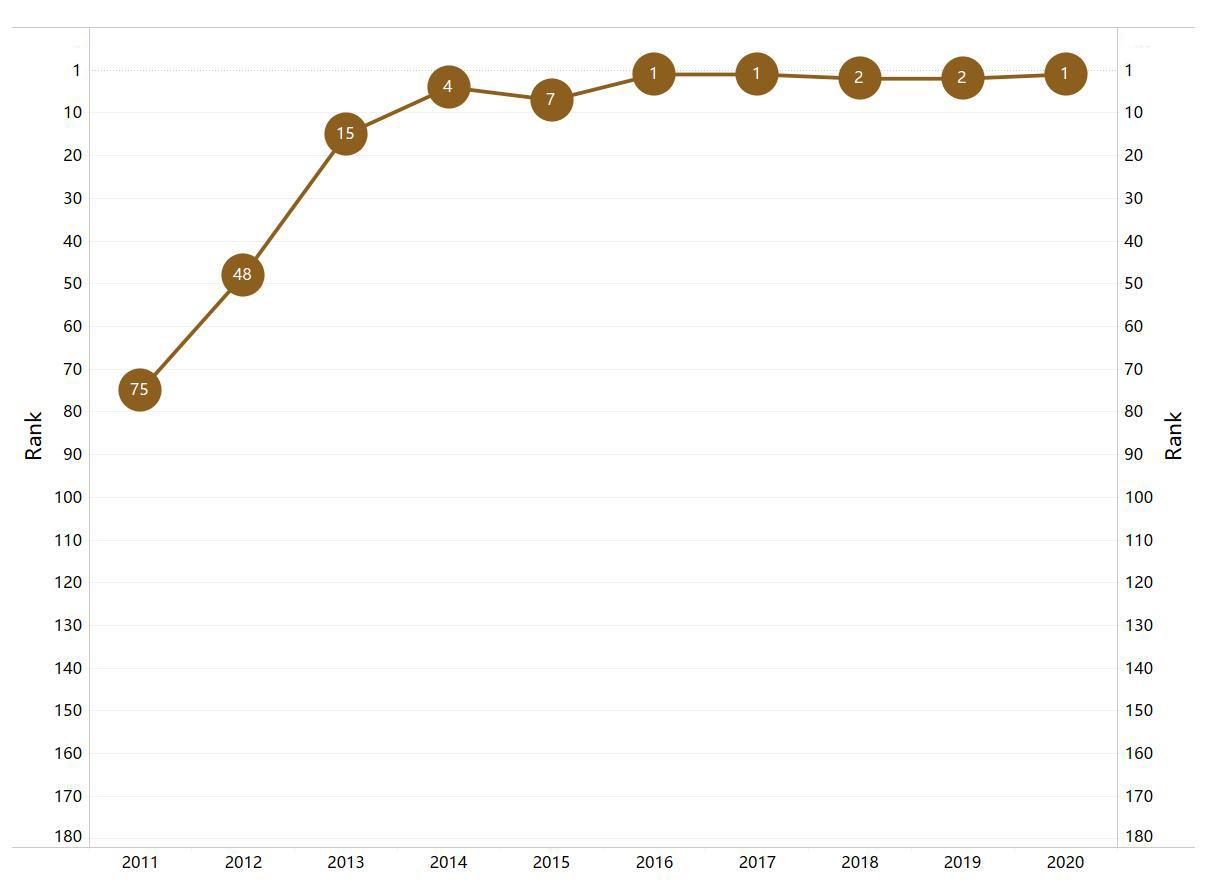 Adrian Ghenie's ranking among all "Ultra-Contemporary" artist In global-wide by turnover
According to the data, Adrian Ghenie's turnover among "Ultra-Contemporary" artists group has been rising since his entering in secondary market, soon reached a peak in 2016 and occupying the top1 position. In the following years, he has always been among the top notch as one of the most popular young artists, and one of the artists whose prices have risen in the fastest in recent years. Here we have selected 5 representative people of "Ultra-Contemporary" artists (Eddie Martinez, Dana Schutz, Nicholas Patty, Jonas Wood, Adrian Ghenie) , to observe their recent market performance.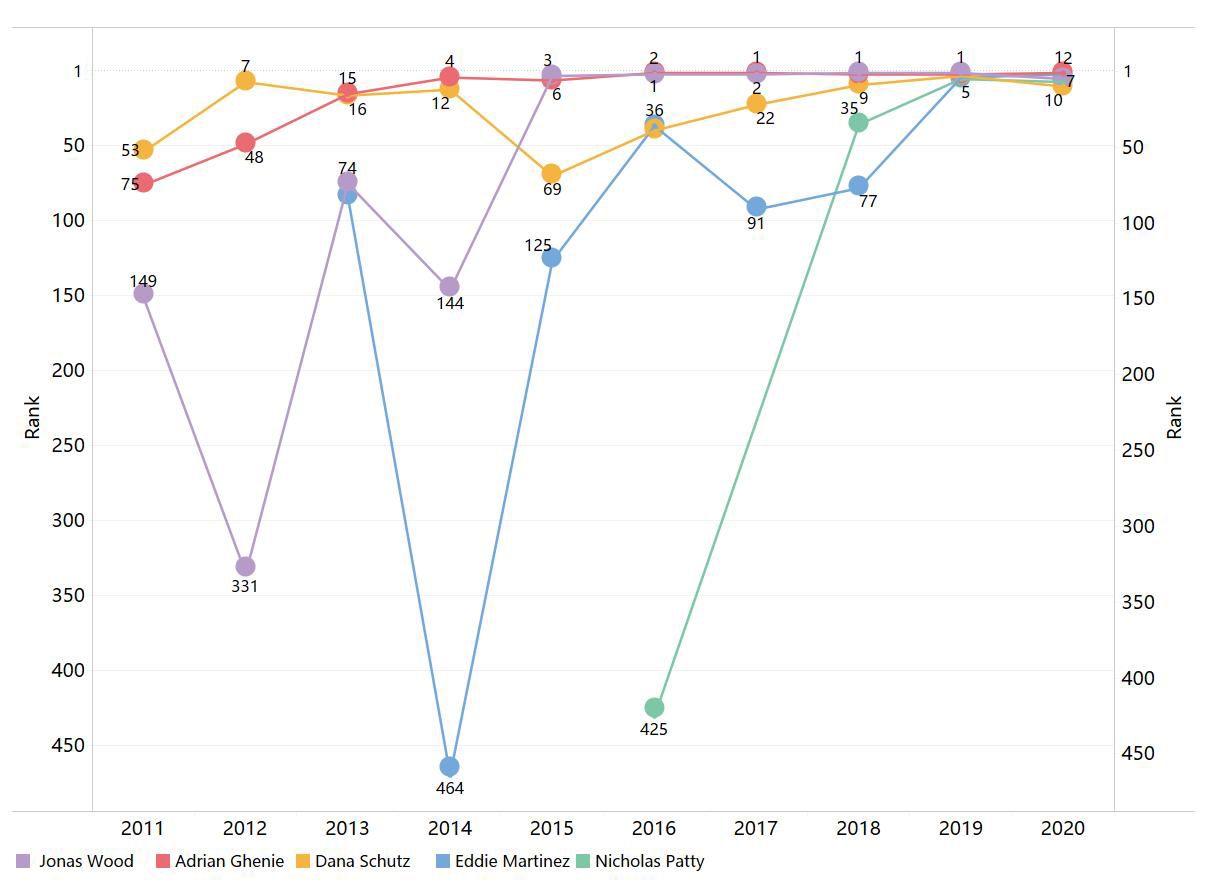 Five "Ultra-Contemporary" artist ranked by their turnover in global-wide
From the global ranking of "Ultra-Contemporary" artists, the performance of these five artists is generally on the rise. The starting point of Adrian Ghenie is relatively high with a stable rising speed, and he has always been among the top ones, that shows the enthusiasm on market towards him. The other four artists have all experienced severe ups and downs, and the overall fluctuations are relatively great. In fact,earlier in 2012, Ghenie was listed as one of the 50 most collectible contemporary artists by "Art+Auction". In addition, institutions like Ghent Municipal Museum of Contemporary Art (SMAK Ghent), San Francisco Museum of Modern Art (SFMOMA), UCLA Hammer Museum (Hammer Museum) and Los Angeles Museum of Contemporary Art (LA MOCA) has all collected works of him.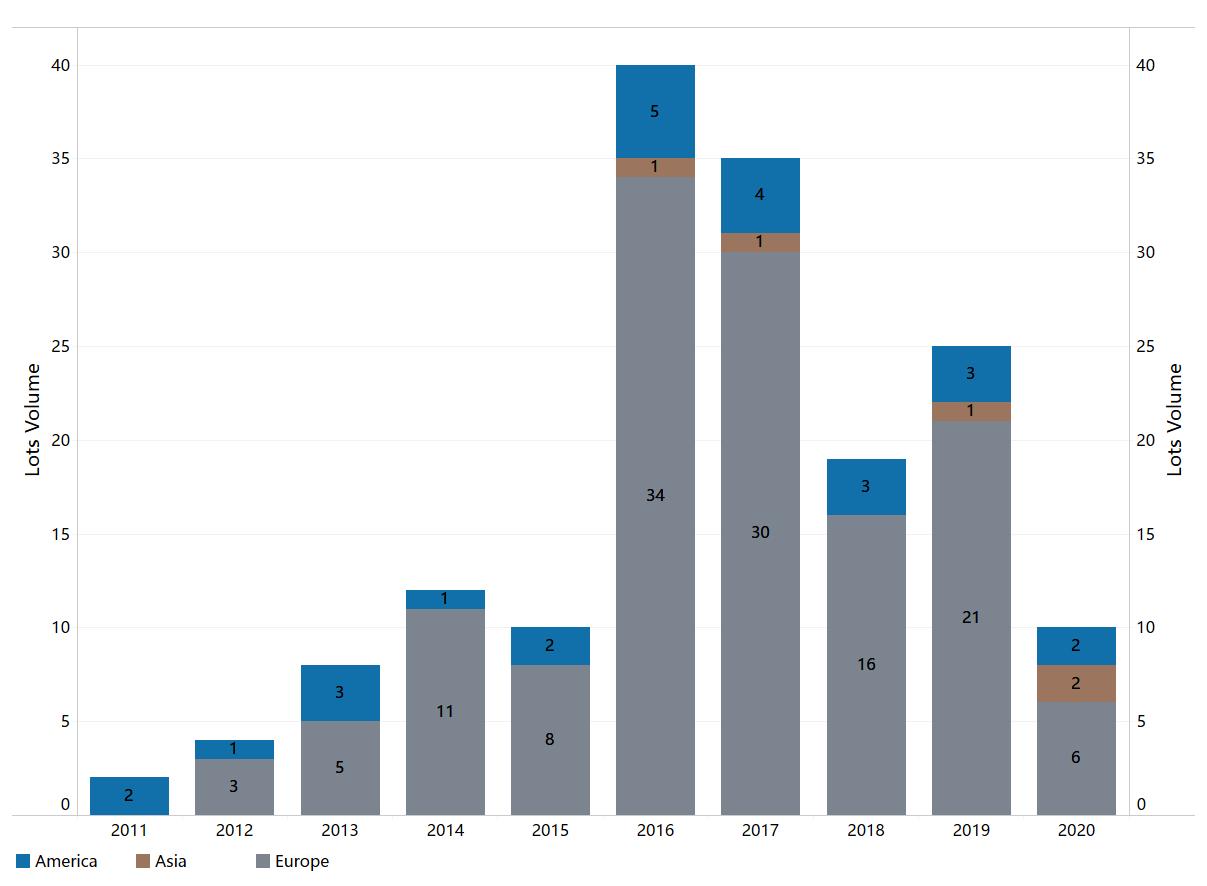 Regional Distribution of Adrian Ghenie's Lots
The auction locations of Ghenie are mainly concentrated in Europe, but there are also a small number of auction records in the Americas, while the number of auctions in Asia are insignificant.
Now, let's look at the most popular works of the artist in recent years.
Part II. Analysis of Adrian Ghenie's Main Works
As a Romanian, Ghenie's mother had lived under the totalitarianism in Eastern Europe for a long time. But when she talks about this history that shivering downs the spine, the nostalgia she showes gave Ghenie the inspiration to deconstruct history from another perspective. The differences and overlaps between historical facts and subjective impressions of individuals have become his the important themes of art creation. All the seemingly unshakable history can be smeared, torn down, and reorganized. After putting on a veil of illusion to the reality, the distance between memory and documents has been emphasized, and unexpectedly overlaped at a certain point. He tries to express the history as he understood, but knowinf that the history cannot be defined or fully reproduced.
1. Nickelodeon
Nickelodeon is the main work of Adrian Ghenie's first solo exhibition "Darkness For An Hour" in Britain in 2009. This work was painted on two panels up to four meters wide, presenting eight figures in a dark space. These characters stand under the spotlight on wooden floor like actors on stage. They wearing heavy coats and pose for ownership, just like warehouse inspectors or dictators. However, their identities are lost, faces are blurred, and they disappear into abstracted brushstrokes, as if their bodies have been eroded by time. One of the characters looked stoic, his pink face were melted and dripping onto his brown trench coat. The bodies of other figures gradually fade into darkness of the background with flashing dim light of the splash of paint. Nickelodeon is a summary of Ghenie 's artistic practice. He shows the role of images in history with blurred and dark scenes. He is particularly fascinated with the connection between film and painting, the power of the two medias to spread truth and illusion. In 2016, this work was auctioned at Christie's London for a record breaking price of more than USD $8.77 million, making it the top 1 expensive on his personal record so far.
2. Lidless Eye
This work is based on a later self-portrait of Van Gogh, created between 2016 and 2018. In addition to Van Gogh, the work also includes the chiaroscuro technique of Renaissance painting and the influence of Francis Bacon's work. Ghenie is speciallized in using a variety of painting methods, combining the composition with his perspective on the world through abstraction. Lidless Eye is a distinctive masterpiece of his portrait works. Ghenie likes to paint historical figures or artists at various stages, bringing the experiences he learned from past artists into this digital era, and showing the audience that history is shaped by visual culture. He processes images in an almost classical ways: composition, graphics, using of lights, etc. He is willing to borrow the subjects, styles and ideas the classics in art history. His true talent lies in condensing and combining these hybrids into a whole, to question the basic structure of the image, and opening up a new field of painting medium at the same time. The work was sold for HKD $54.92 million at Sotheby's Hong Kong in October this year. Become the Top2 of the artist's personal record.
3. Boogeyman
In Adrian Ghenie's monumental painting Boogeyman, 2010, the boundaries between fact and fiction, memory and myth, figuration and abstraction begin to blend and blur into a dreamlike haze. Rendered in the hallmark style of Ghenie's masterful visual practice, the work draws together different aesthetic elements into a sumptuously painted, superbly rendered and surrealistic amalgamation of colour, form and subject matter that slips in and out of focus like the half-remembered fragments of a fading dream. Boogeyman is the largest painting from Ghenie's celebrated series entitled The Visitation, and powerfully explores the notions of temptation and iniquity, which become merged with elements of history, hearsay, and the artist's own autobiography. The painting depicts an interior scene in the artist's studio, with Ghenie himself situated in a central armchair, his back to the viewer. A second enigmatic figure, in a dark suit, tie and bowler hat, stands to the right of the picture plane, an ominous and overbearing presence. Indeed, the distinctly biblical title of the series seems less concerned with the sacred Visitation of the Holy Virgin Mary than with the more sinister tale of Saint Anthony's Temptation, seething as it is with apparitions, demons and satanic seducers. The work was sold for USD $6.31 million at the Sotheby's London in 2018, set as the third expensive work of the artist.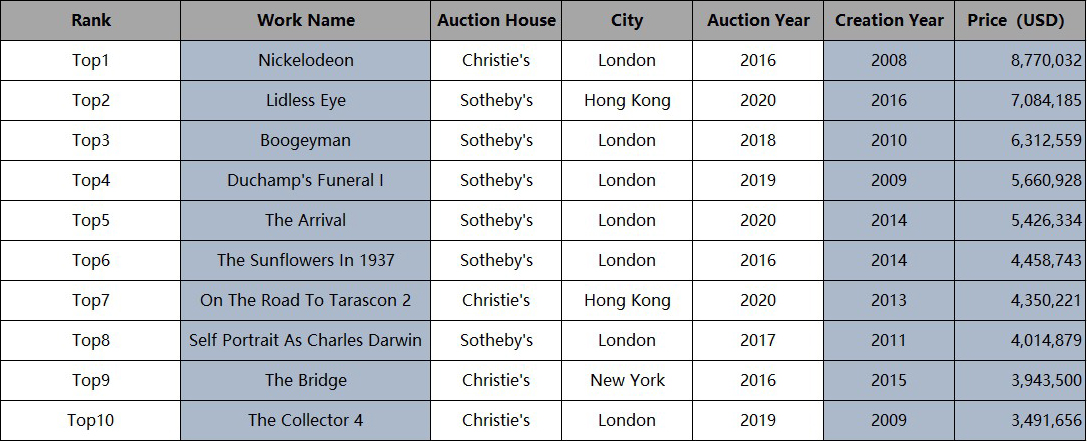 Adrian Ghenie's Top10 List
Adrian Ghenie is a new born star in contemporary art. His works have been promoted by the galleries and are generally affirmed by art critics and major art museums around the world. According to the data, Ghenie only create about 10 to15 medium and large sized paintings every year, and the fine works are even scarce.We will pay a close attention on the follow-up of this outstanding young artist.