Modern And Contemporary Art Auctions In London Earned 56.29 Million Pounds On October 21st, Contemporary Art Evening Sale Achieved Great Results
Following the first victory of London autumn auctions yesterday, the excitement continued on October 21. 20th Century & Contemporary Art Day Sale of Phillips' London and Contemporary Art Evening Auction of Sotheby's London has successfully ended. A total of 166 lots were sold for 56.29 million pounds. With great performance of Banksy, Gerhard Richter and other artists.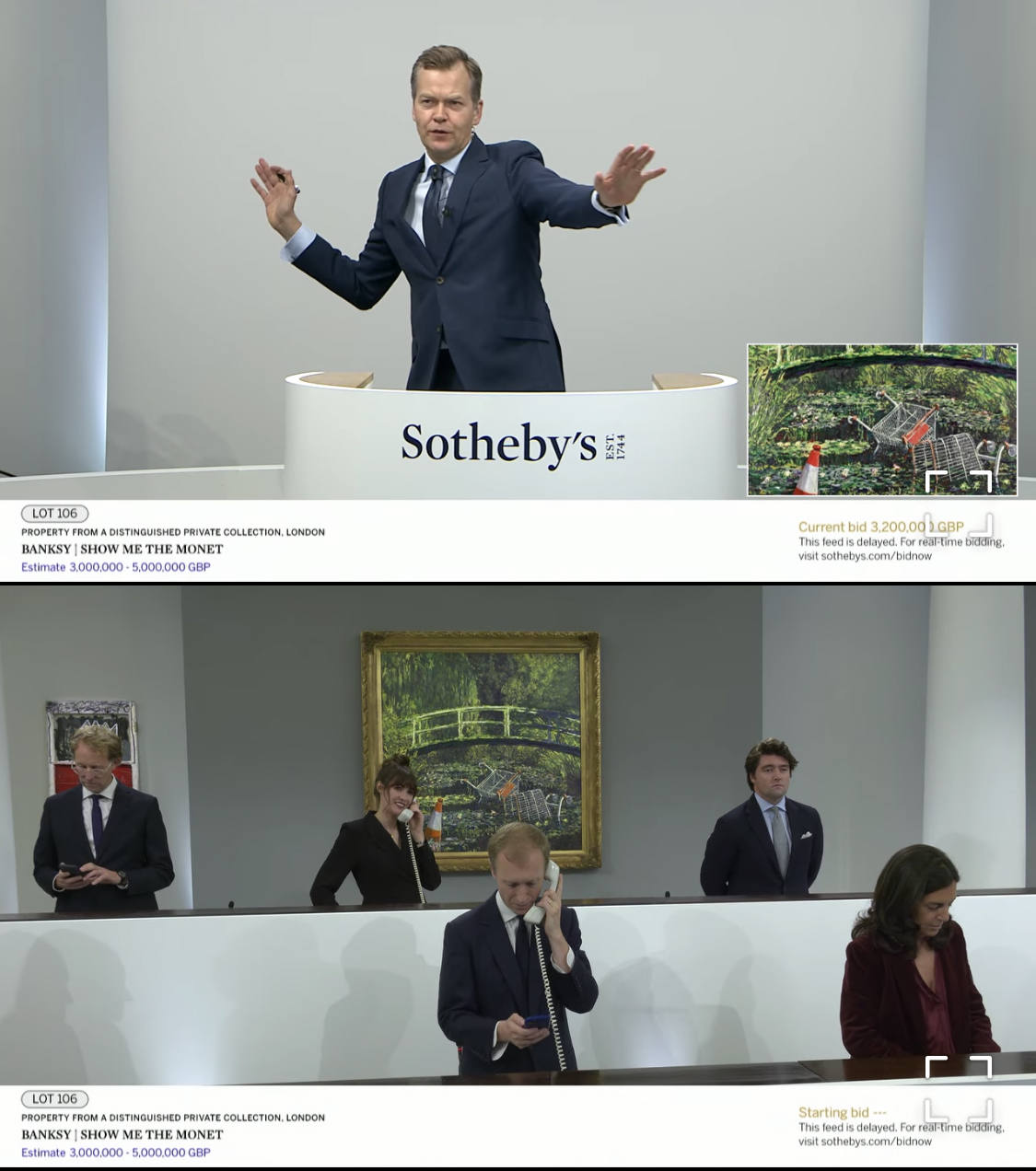 Auction Scene
The Contemporary Art Evening Auction of Sotheby's London presented total 41 lots and 34 of them were sold, with a sold-by-lot rate of 82.9% and a total turnover of GBP £47.79 million. These precious masterpieces are all from the artists of 20th and 21st centuries, who are highly sought after in the current market, including artists like Gerhard Richter, Jean Michel Basquiat, and Banksy.
Top1 Lot In Auction:
The water garden of luxuriantly green was one of Monet's most classic subject, but Banksy delivered with the ironic dead-pan immediacy of a punchline, which is thought-provoking. Show Me Monet received an estimated of GBP £3-5 million, and was finally sold at a price of GBP £7.55 million, which has been significantly overestimated. It automatically became the top lot in the auction and also set as the artist's Top2.
Top2 Lot In Auction:
Works of Gerhard Richter have always been the most popular on auction market. This Abstraktes Bild was created in 1991. The passionate layers of paint covering the mysterious world behind the red curtain that catches the eyes. This lot has been sold for GBP £5.13 million.
Top3 Lot In Auction:
Justcome Suit of was created in 1983 by Jean Michel Basquiat that he uses blue as the main color. The rich patterns, symbols, lines and other elements of graffiti makes the picture looks substantial and intriguing, showing the eclectic creativity and imagination of the artist. This lot received an appraisal of GBP £4.6-6.6 million, and finally sold for GBP £5.08 million that is within the estimated price. His another work Minor Success has also sold for a good price of GBP £2.25 million.
Other Highlighted Lots:
In the meantime, there are several lots in this evening auction achieved good results, works from Adrian Ghenie and George Condo among which have all been sold.
Contemporary Art Evening Auction
Sotheby's London
34-35 New Bond Street London
The 20th Century & Contemporary Art Day Sale of Phillips had total of 168 lots, with a sold-by-lot rate of 78.6% and turnover of GBP £8.49 million. The Top three expensive lots are all sculptures by Alexander Calder. Although the three lots have different shapes, they all reflecting his perfect control of space and balance, which bringing infinite reverie to the audience. The work created in 1953 has been sold for GBP £450,000, and the other two sculptures both exceeded GBP £300,000.
The top three priced works are all sculptures of Alexander Calder:
The Black Horses:
Except the top three, the works of Stanley Whitney and Tony Cragg have also achieved good results. Also works of Kaws and Mike Kelley have been sold over the estimated price and became the dark horses in this auction.
20th Century & Contemporary Art Day Sale
Phillips London
30 Berkeley Square London London

The London auctions will continue. In October 22nd, Post-war And Contemporary Art of Bonhams' London and Christie's Post-war And Contemporary Art Evening Sale are going to begin. For more information, please click on the auction session to view.
HK Time: October 23rd 02:00 Coming Soon
Post-war And Contemporary Art Evening Sale
Christie's London
8 King Street, St. James's London



HK Time: October 22nd 24:00 Coming Soon
Post-war & Contemporary Art
Bonhams London
101 New Bond Street London