Wu Guanzhong | Auction Market Personal Report
Together with Zao Wou-Ki and Chu Teh-Chun, Wu Guanzhong was known as the "Three Swordsman of France" who influenced Chinese art in the 20th century. The year of 2019 is the 100th anniversary of Wu Guanzhong's birth when his works LOTUS FLOWERS (I) and Lion Grove Garden sold high prices in the auction market. In October 2020, the red classic of Scenery Of Northern China was sold at Sotheby's Hong Kong for HKD $150 million, and attracted attention once again. The database shows that Wu Guanzhong's works have more than 3,000 transaction records, with a sold-by-lot rate of over 80%. Now, please follow ArtPro to focus on Wu Guanzhong's performance on auction market and explore his art career.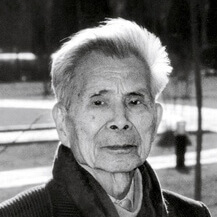 Wu Guanzhong was born in Yixing, Jiangsu Province in China 1919, who is one of the most important Chinese artists of the 20th century, a writer and art educator. He went to the same school as Zao Wou-Ki and Chu Teh-Chun, they all graduated from the Hangzhou National Academy of Art and studied under Fang Ganmin, Lin Fengmian, Wu Dayu and Pan Tianshou. He went to France for studying in 1947 then returned to China in 1950. Wu Guanzhong devoted his whole life to the exploration of the nationalization of Western oil painting techniques and the modernization of Chinese painting. He combined oriental ink painting with western oil painting, and his works have extremely high aesthetic value. Now, we will sort out Wu Guanzhong's artistic creation process follow his five periods which includes: Early Stage of Learning (before 1950), the Exploration of Sinicization of Oil Painting (1950s and 1960s), the Modernization of Chinese Painting (1970s), the Integration of Freehand Brushwork (1980s and 1990s), and the Late Years (21th Century).
Part I Market Observation In Recent Years
1. The price index increased from 1 to 14 in 20 years, and the market value rising points show frequently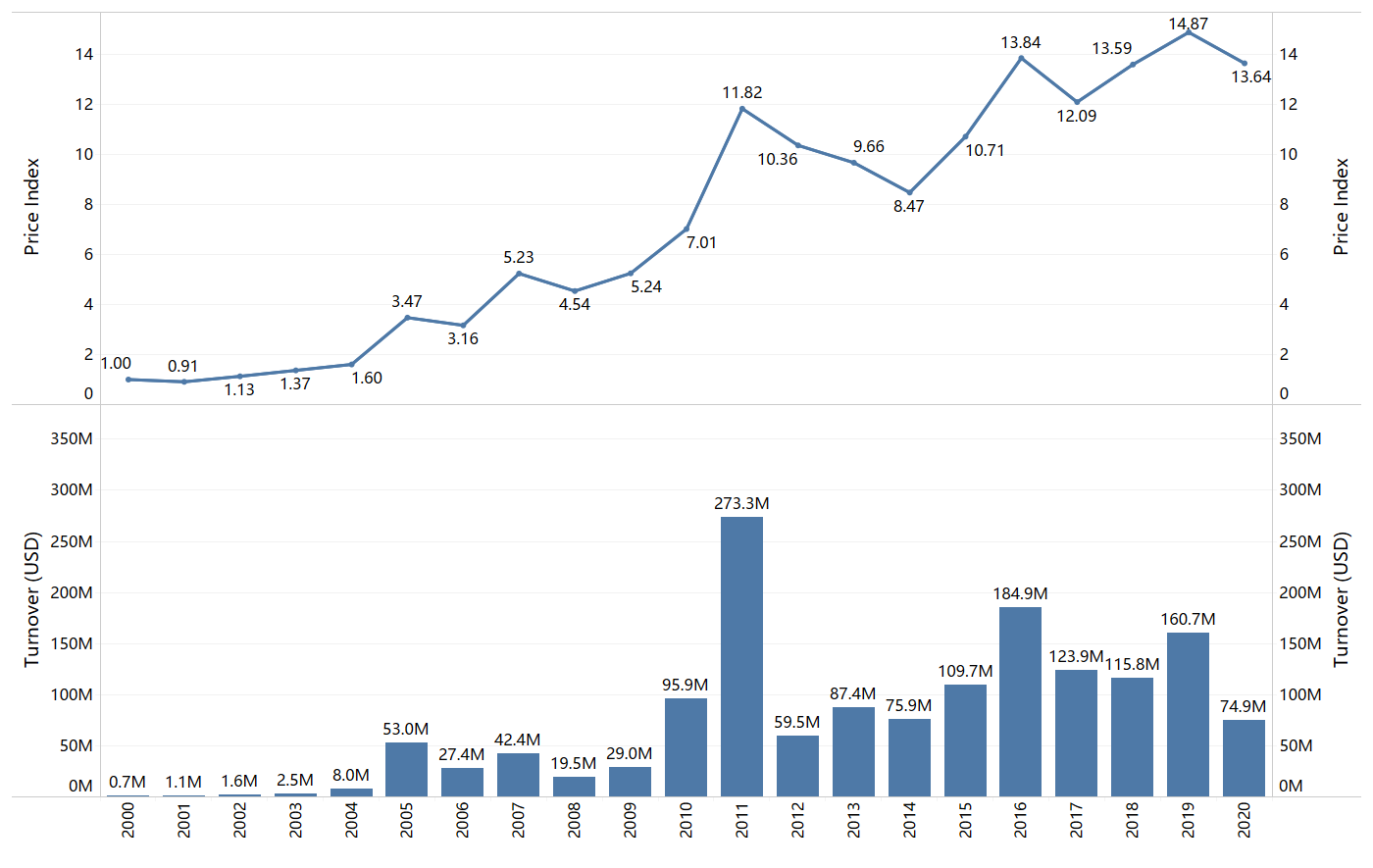 Price Index & Turnover of Wu Guanzhong From 2000 to 2020 (data collected by October 9th 2020)
In the auctions from 2000 to 2020, Wu Guanzhong's price index showed an upward trend. In 2011, 2016 and 2019, the prices reached highest points. When he passed away in 2010, the volume and price of his works in the auction market has increased dramatically in 2011. The oil painting The Zhou Village were sold with more than HKD $230 in 2016, setting Wu Guanzhong's auction record as the first place. The years of 2019 marks the 100th anniversary of Wu Guanzhong's birthday, his price index has reached its peak.
2.High-priced works are concentrated in 1980s and 1990s, followed by the 70s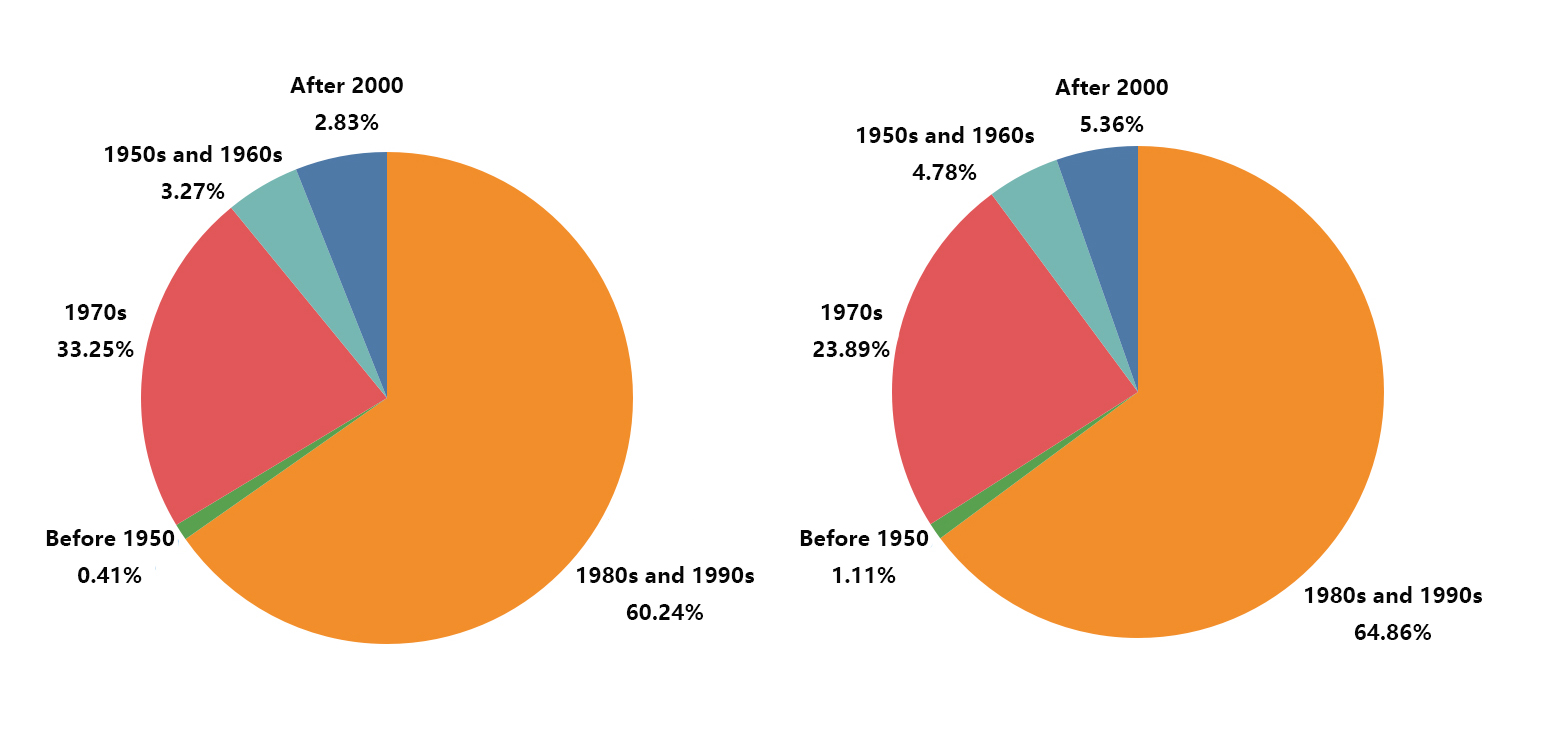 Left:Turnover proportion in different period of times
Right:The amount of pieces sold over 1 million dollar in different period of times
Among all the pieces of Wu Guanzhong on auction market, works completed in the 1980s and 1990s have a better performance than other periods, followed by the 1970s. In terms of the turnover and the number of works sold over one million dollars, works from the 1980s and 1990s accounted for more than 60%. Works completed in the 1950s, 1960s and before, and in the 21st century are insignificant. By looking at Wu Guanzhong's personal list of his masterpieces, 1/2 of the works were from the 1980s and 1990s, and 8 were from the 1970s.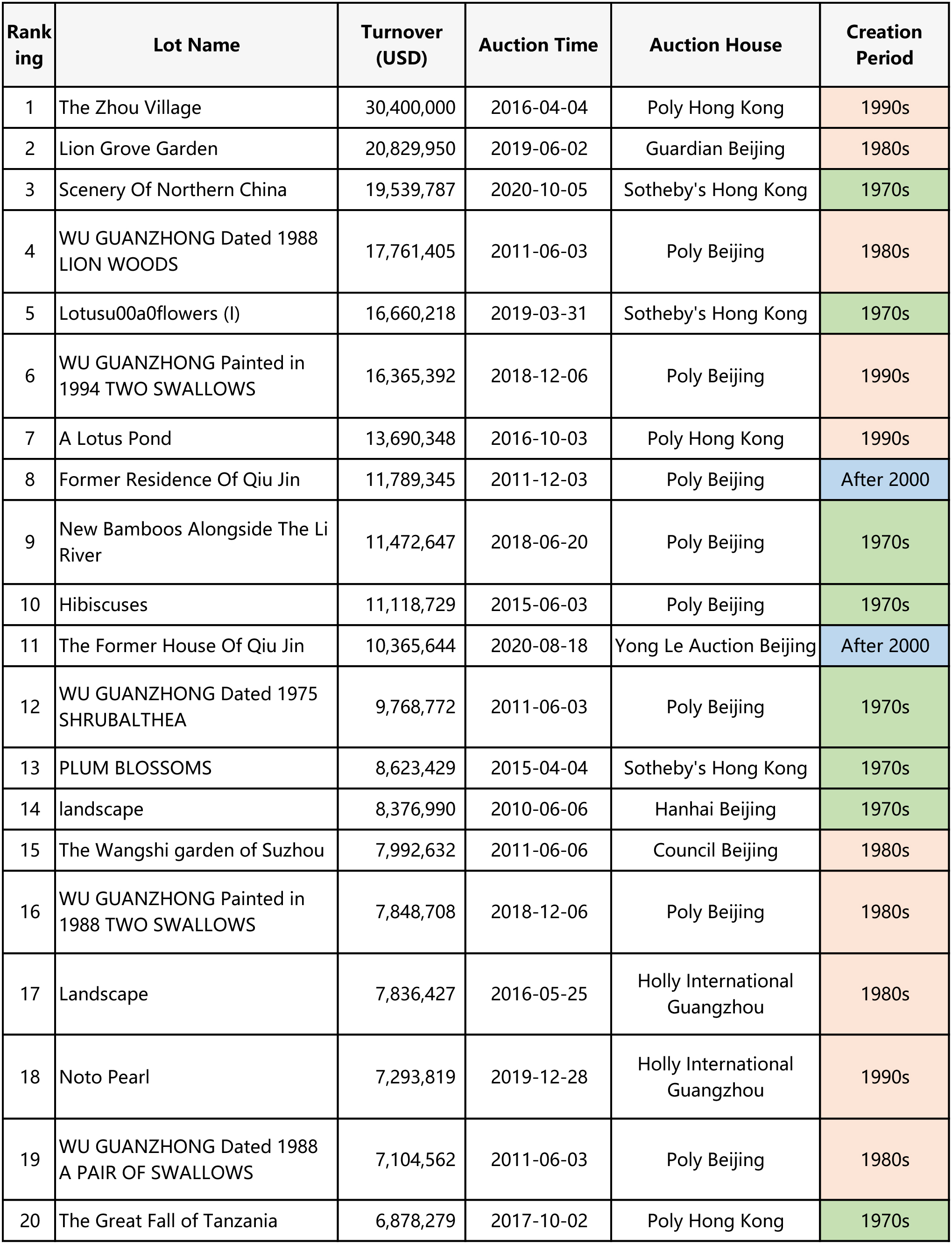 Wu Guanzhong's Top20
3.Wu Guanzhong's auction market locations are concentrated on Mainland China and Hong Kong area.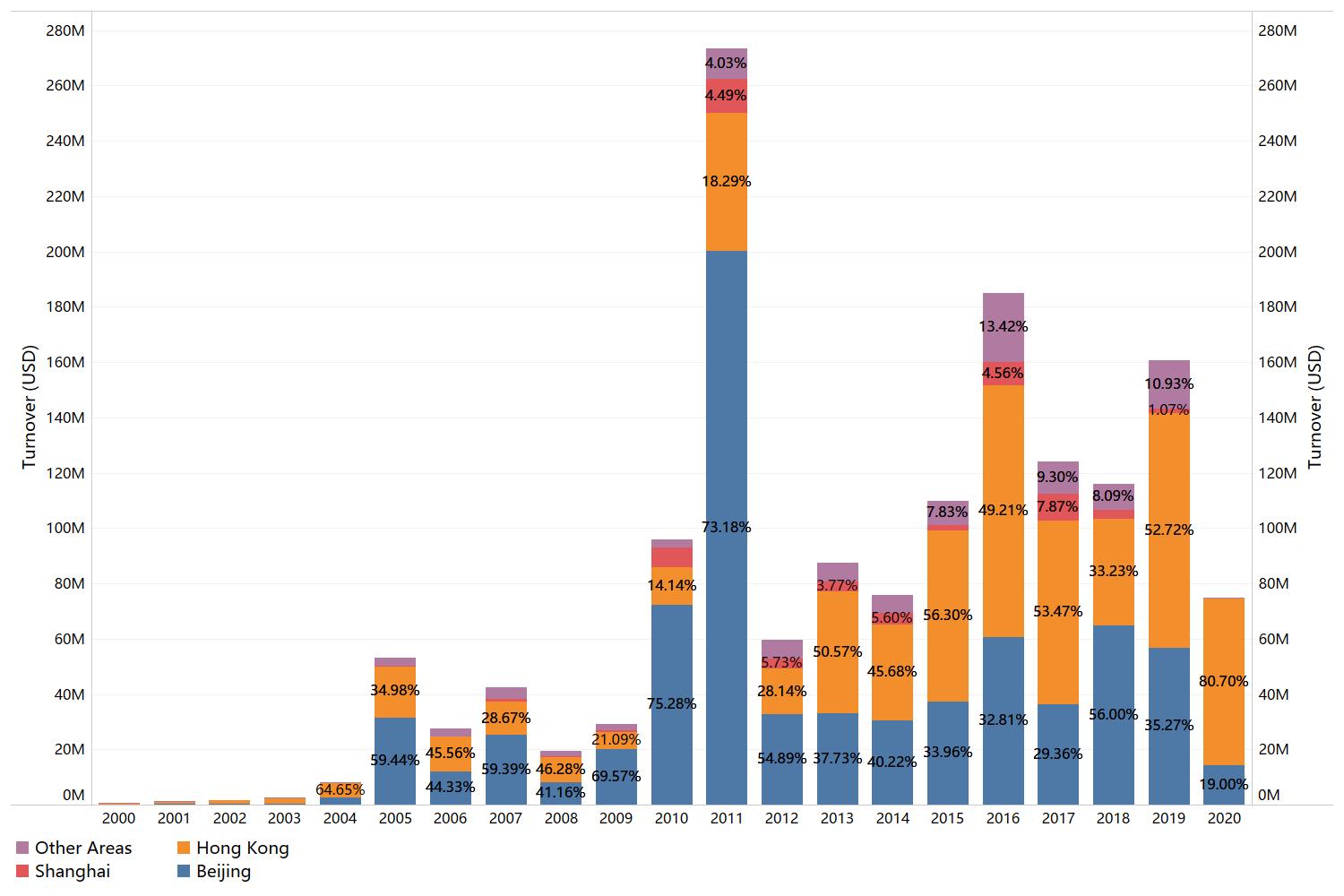 Location distribution of Wu Guanzhong's auctions from 2000 to 2020 (Data collected by October 9th 2020)
From the geographical perspective of auction transactions over the years, Wu Guanzhong's market is mainly concentrated in Mainland China and Hong Kong. In the late 1980s and early 1990s, Wu Guanzhong's works began to flow into the Hong Kong market; with the opening of the art market at Mainland China in 2004, his works returned from overseas. In terms of data performance, from 2005 to 2012, China was the home court of him. In 2011, Wu Guanzhong's transactions in mainland China occupies an overwhelming position, especially in Beijing. Since 2013, the contribution of transactions in Hong Kong began to exceed Mainland China.
4.The annualized rate of return of part of Wu Guanzhong's repeated lots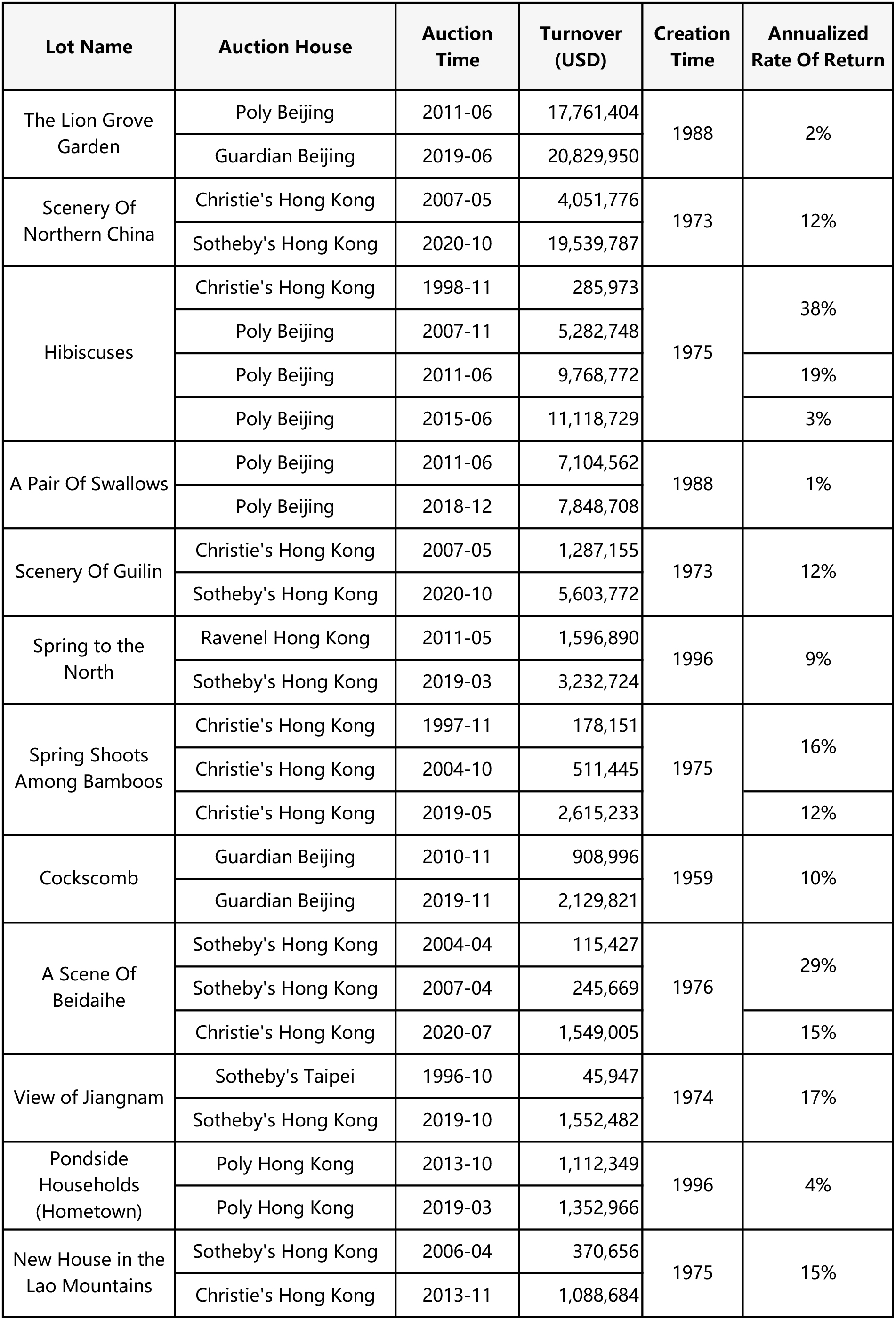 The annualized rate of return of part of Wu Guanzhong's repeated lots
Part II Analysis of Works in Each Creative Period
1.Before 1950: Early Stage of Learning
In 1936, Wu Guanzhong entered the National Hangzhou Academy of Art to study western painting, also Chinese traditional painting and watercolor. In 1938, he studied under Chang Shuhong and Guan Liang for oil paintings, then he transferred to Chinese painting with Pan Tianshou in 1940. In the end he returned to the oil painting department in 1941. Wu Guanzhong studied abroad at France in 1946, the experience of jumping between Western painting and Chinese painting has made him an artist who can converts between oil painting and ink painting. The experience of practicing sketching in his early years also created the foundation for his famous landscape paintings in his later period.
2.1950s & 1960s: Exploration of Sinicization of Oil Painting
After returning to China in 1951, due to the pressure of the political environment, Wu Guanzhong devoted himself to landscape paintings and explored the nationalization of oil paintings. In the 1950s, he focused on creating watercolors. At the time he live and worked in Beijing, so he picked up subjects from those local views. "Landscape, Realism and Beijing" became the three key words of Wu Guanzhong's creation during this period. He used strict realism style to paint the streets and alleys of Beijing, and later extended to the sketches to Mount Wutai, Shaoxing, Jinggangshan, Ruijin, Hongtong, and Hainan Island etc..
In the early 1960s, Wu Guanzhong practiced both watercolor and oils, but focusing on oils as the main medium and experimented with inks. For landscape paintings, he complete a set of his own theories. He tried to integrate the intuitive and vivid nature of European oil paintings, their rich and delicate colors of with the spirit of traditional Chinese art and aesthetics.
The most expensive lot in period:
Wu Guanzhong's early oil paintings have been through catastrophes, and most of them were damaged, and the current amount of lots on the market is not much. In order to achieve the nationalization of oil painting, Wu Guanzhong insisted on his own art practice, and went to various cities, villages, even rural areas that have not yet been reclaimed with poor conditions for sketching. BOMBAX WOODS ON HAINAN ISLAND is a masterpiece of this stage.
3.1970s: Modernization of Chinese Painting
The 1970s was the golden period of Wu Guanzhong's oil painting creation. During "Cultural Revolution", Wu Guanzhong was sent to work in the rural areas of Hebei. He went back to Beijing in 1973 and re-started to paint. In order to create a huge mural River Scenery for Beijing Hotel, Wu Guanzhong traveled along the Yangtze River. By 1978, he had been to Jiangsu, Anhui, Sichuan, Shandong, Zhejiang, Guangxi, Fujian, Jiangxi, Hunan and other places, created a large number of realistic landscape oil paintings, such as LOTUS FLOWERS (I), New Bamboos Alongside The Li River, Hibiscuses, etc.. In addition, Wu Guanzhong began his experiments ink painting, improving the modernization of Chinese paintings. He tried to use traditional Chinese art materials and tools to express the modern spirit and explore the innovation of Chinese painting. The Water Lily was completed in 1976 which is a representative piece of his ink painting at this stage.
The most expensive lot in period:
On October 5 2020, the Scenery Of Northern China (created in 1973) was sold at Sotheby's Hong Kong for HKD $150 million. This oil painting is based on Mao Zedong's famous poem "Qin Yuan Chun·Snow". It is a typical "red" art creation based on the leader's poems which has unique historical and cultural value. This time the auction has include Wu Guanzhong's personal Top3 representative works.
4.1980s and 1990s: Integration of Freehand Brushwork
The 1980s and 1990s were the most important periods in Wu Guanzhong's art career, when he switched from oil painting to ink painting, and decided to integrate the two. In 1980s, he is already skillful with oil painting techniques, at the same time, his ink painting style is getting mature. He combined freehand element of inks into oil painting, and brought out the theory of "Kite Incessant Line", which made left an impressive mark on the history of contemporary Chinese art. In 2019, this colorful ink work Lion Grove Garden was sold for CNY ¥143 million at Guardian in Beijing, which attracted attentions of the market.
In 1990s, color ink works became dominant, and he completed some large-scaled works. The abstract elements of the works at this stage have been enhanced and become more imagery. Wu Guanzhong has no longer insisted on completing the work by sketching on site, instead he document his feelings through sketches, and then turning to canvas. The 1990s was the sublimation period of Wu Guanzhong's art, with extremely distinctive features. Works from this period, especially large-scaled pieces, have been in private collections once they were completed.
The most expensive lot in period:
On April 4th 2016, Wu Guanzhong's large sized oil painting The Zhou Village was sold at Poly Hong Kong for HKD $236 million, setting a personal record and has not been broke yet. This work is mainly composed by three colors of black, white and gray. In the form of dot, line and plan that represents the landscape of Jiangnan area. It is the largest piece of Wu Guanzhong on market.
5.21th Century: Late Years
Wu Guanzhong's works created in the 2000s have a total of more than 100 transaction records in auction market. During this period Wu Guanzhong broke the concept of "shading color" in traditional paintings, and incorporated the vibrant colors of the West into Chinese ink painting, forming his own unique color theories of new ink painting. In the 21st century, colors became more important in his creations, especially in his modern ink paintings.
The most expensive lot in period:
Among the works created after 2000, the oil on canvas Former Residence Of Qiu Jin which was completed in 2002, was the highest-priced lot in this period. This piece is highly simplified in form with abstract imagery and deep concepts. In 2011, it was sold at Poly Beijing for CNY ¥74.75 million.
In 1992, Wu Guanzhong became the first living Asian artist who had a solo exhibition at the British Museum. He was awarded with the highest literary medal of the French Ministry of Culture, the Gold Medal of the Paris and academician of the French Academy. After his death, many famous institutions such as the Asia Society in New York organized exhibitions of him with great success. His centennial birthday draws attention spontaneously from various places around the world that promoted the sales of his works in the auction market.