Basquiat's 1982 Tour-de-Force from the Famed Collection of Yusaku Maezawa
6 Apr 2022, 17:00
Coming from the esteemed collection of Japanese entrepreneur Yusuku Maezawa, Untitled is one of Jean-Michel Basquiat's greatest masterpieces. Its potency and scale mark it as one of his most ambitious works: standing at almost eight feet tall and over 16 feet wide, it is among his largest canvases. Executed in 1982, the watershed year which shot the artist to international stardom, this tour de force is from a small series created in Modena, Italy, where Basquiat visited at the invitation of the dealer Emilio Mazzoli during two periods in the early 1980s.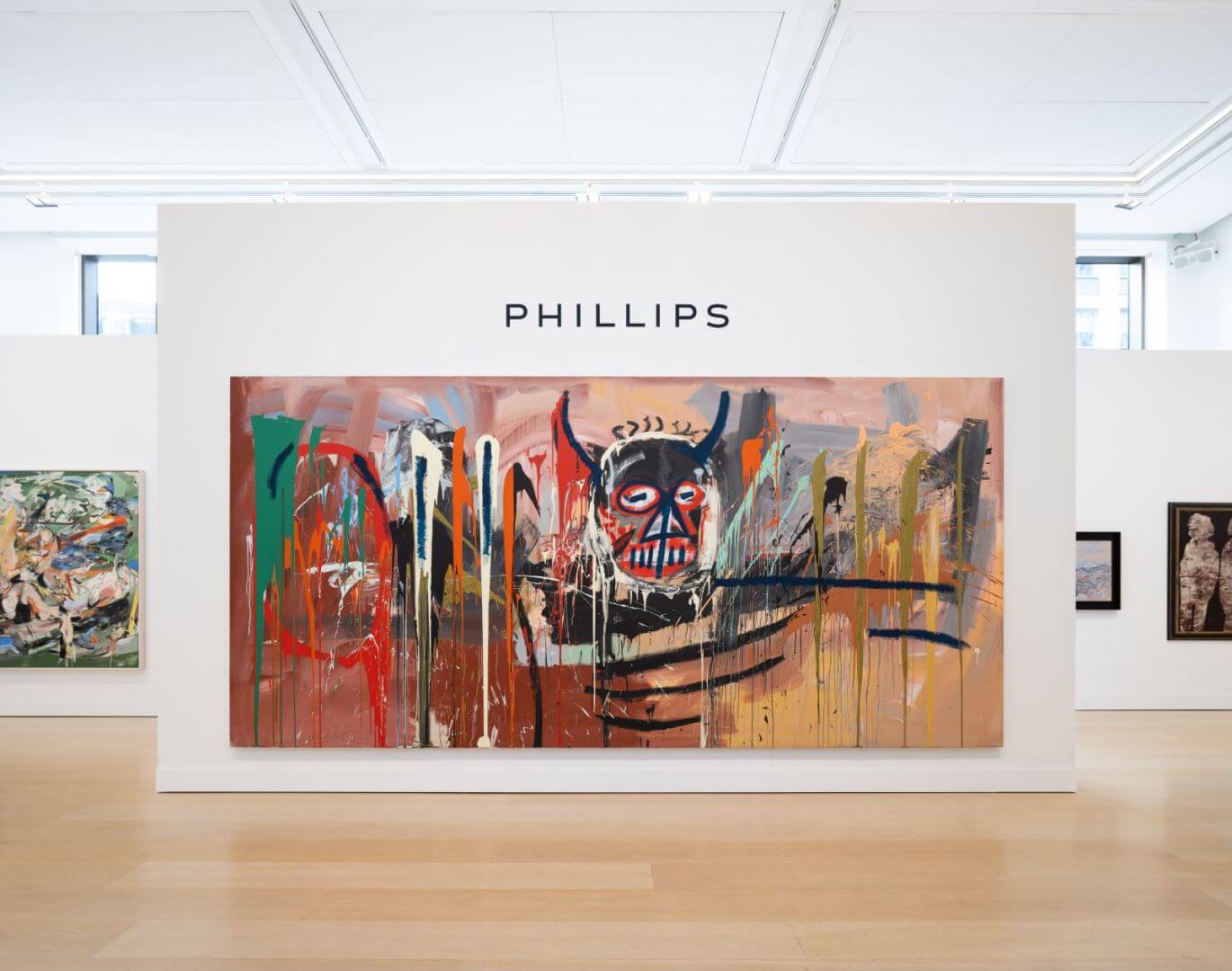 This pivotal chapter, today regarded as one of the most desirable of his career, marked his transition from "SAMO©"—the pseudonym Basquiat used as a street poet and tagger whose nom de plume had begun appearing all over New York's disintegrating infrastructure in the 1970s—to an art world force to be reckoned with. Indeed, Untitled's vastness is so striking that it, coupled with the artist's use of spray paint and geometric shapes, is suggestive of a large mural or graffiti-covered city wall—a fusion of street culture with "high art" that reflects a radical shift in his career and approach to art-making.
Characterized by an unparalleled painterly dynamism, Untitled embodies both the gestural lyricism and rawness that Ricard described. The work depicts a devil figure with blood red paint dripping from his horns. This demonic subject, whose body is defined only by black strokes delineating ribs, rises against a fiery expanse of gestural color evoking the physicality of Abstract Expressionism. Appearing with arms or wings spread across the canvas, he meets the viewer with a threatening grin and stares at us with piercing eyes. These exaggerated features–including an oversized triangular nose and a grid of teeth—immediately resonate as both a nod to the African masks that he admired and as a reply to European modernism's "primitive" aesthetic.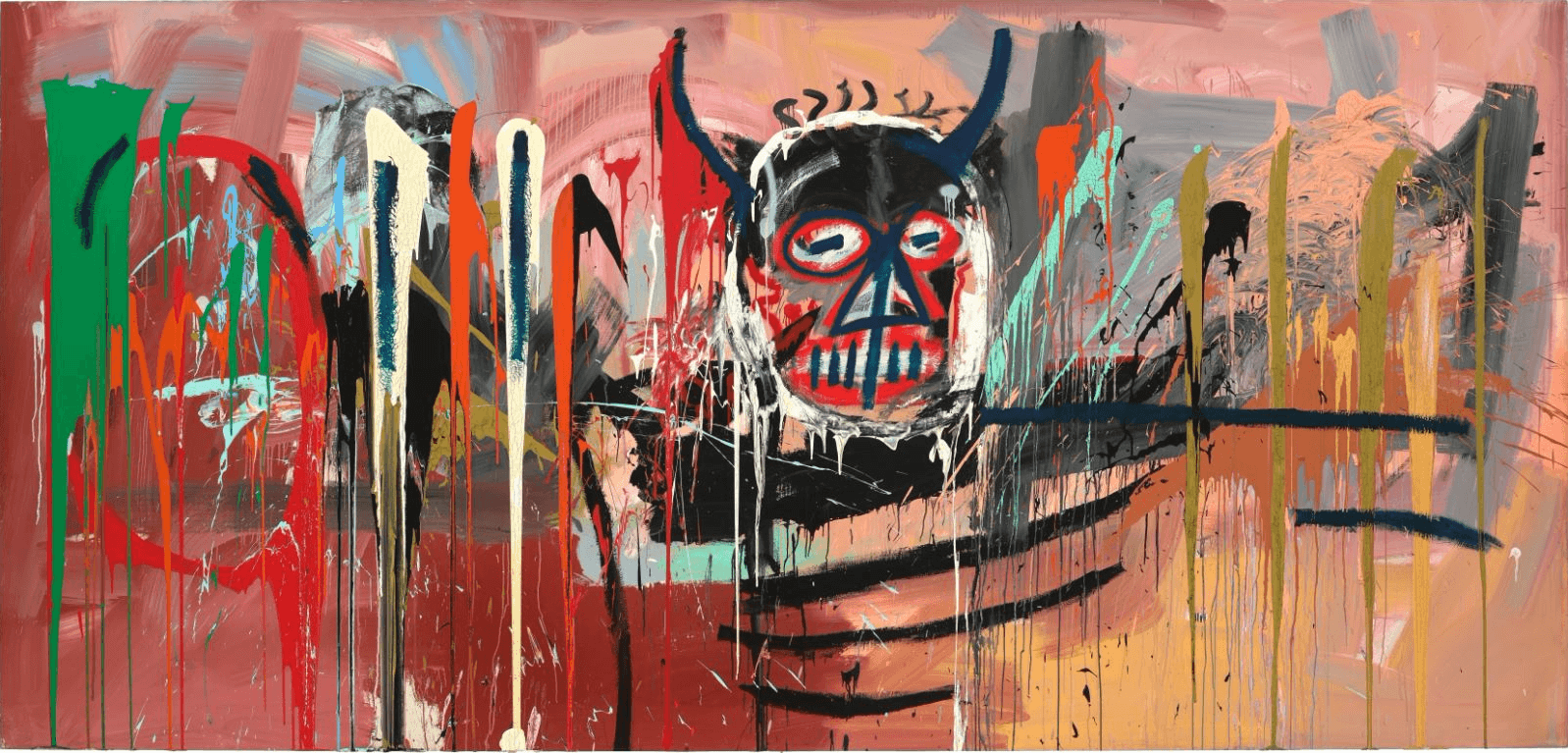 The central figure's primary identifiable characteristic beyond his devilish identity is a head of short, gravity-defying dreadlocks; considering their resemblance to the artist's distinctive hairstyle which he began to wear after cutting off his blonde mohawk around this time, Untitled is certainly at least partially a self-portrait. However refracted, it is a manifestation of a pivotal moment when his image of himself—and the art world's image of him—was rapidly evolving. Untitled is unequivocally one of the finest examples of the distinctive iconography and painterly prowess that triumphantly marked the peak of his all-too-short career.
Basquiat first came to prominence in early 1981, a year before the execution of Untitled, when he was included in New York/New Wave, a groundbreaking multi-disciplinary exhibition surveying the city's burgeoning avant-garde scene at P.S.1, Institute for Art and Urban Resources, Inc., in Long Island City. Still billed under "SAMO©," he was the only artist to be given a prominent space in the show to exhibit paintings.
The show propelled him to overnight success. Not only did his raw, expressive dynamism win the admiration of nearly every critic, but he also caught the attention of gallerists Emilio Mazzoli, Annina Nosei, and Bruno Bischofberger—an international cohort of dealers with strong collector relationships who would become virtually responsible for catapulting his career. Mazzoli soon invited Basquiat to Modena, offering the young artist—still known as "SAMO©"— the first one-man show of his career in the spring of 1981 at his gallery. In addition to introducing him to the European art world, the sold-out exhibition endowed Basquiat with a fresh confidence in his transition from street culture to the commercial art world.
Basquiat returned to Modena in spring of 1982, where he began work on a series of approximately eight career-defining paintings in preparation for a second planned exhibition at Galleria d'Arte Emilio Mazzoli. Set up by the gallerist in a massive industrial working space, he was able to work on a much larger scale than Nosei's basement studio allowed. It was during this time that he executed three of the groundbreaking pictures, almost certainly self-portraits, that have made this chapter one of the most sought after of his oeuvre: Untitled, Profit 1, and Boy and Dog in a Johnnypump. Later feeling pressured to work at an unreasonable pace in order to satisfy the dealer's expectations and complete the remainder of the show, Basquiat canceled the exhibition, returning to the U.S. and soon after severing ties with both Mazzoli and Nosei.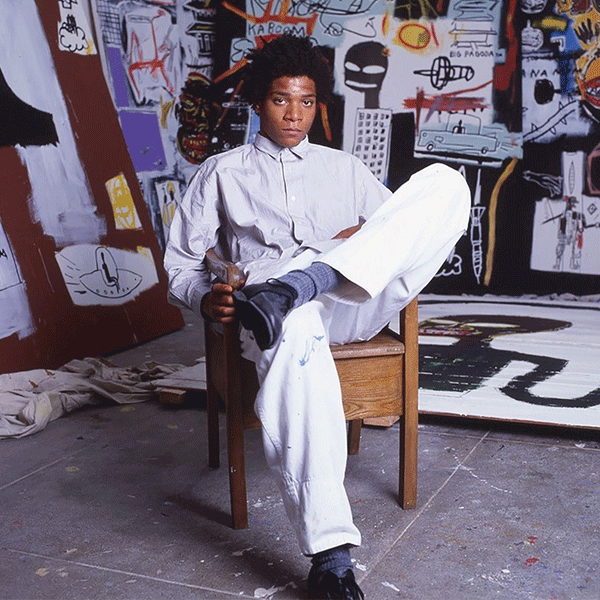 Characterized by their monumentality, bold palette, and large foregrounded figures, these three masterpieces emanated self-assurance from his newfound international success. "His peers had already anointed him as the best artist in the community, and he had the accolades of 'New York/New Wave,'" which inspired "an increased confidence in the painting: in the strength, in the line," according to Deitch.[] They reflect an artist not only working at his prime, but one coming into his own: unwilling to acquiesce to dealer demands, Basquiat executed these works when he was finally becoming assertive enough to work at his own pace and on his own terms.
These Modena self-portraits are replete with such juxtapositions that blur the lines between goodness and evil: while in Profit I, Basquiat rendered himself as a sacred figure crowned with a nimbus, arms raised against a jet black expanse, in Untitled he is a devil ironically surrounded by an ebullient rush of color. These unexpected contexts, heaven and hell exchanged, underscore the duality that Basquiat considered to be central to humanity. Evoking Picasso in its disruption of set notions of good and evil, the present work serves as a reminder that these distinctions are porous, interrelated, and inherently defined by each other.
One of Basquiat's greatest works, Untitled epitomizes the fresh vigor and idiosyncratic visual language that marked an unparalleled moment in his career. Since its execution, it has been renowned as one of the most iconic examples of Basquiat's radical approach, even gracing the cover of the artist's 1996 catalogue raisonné.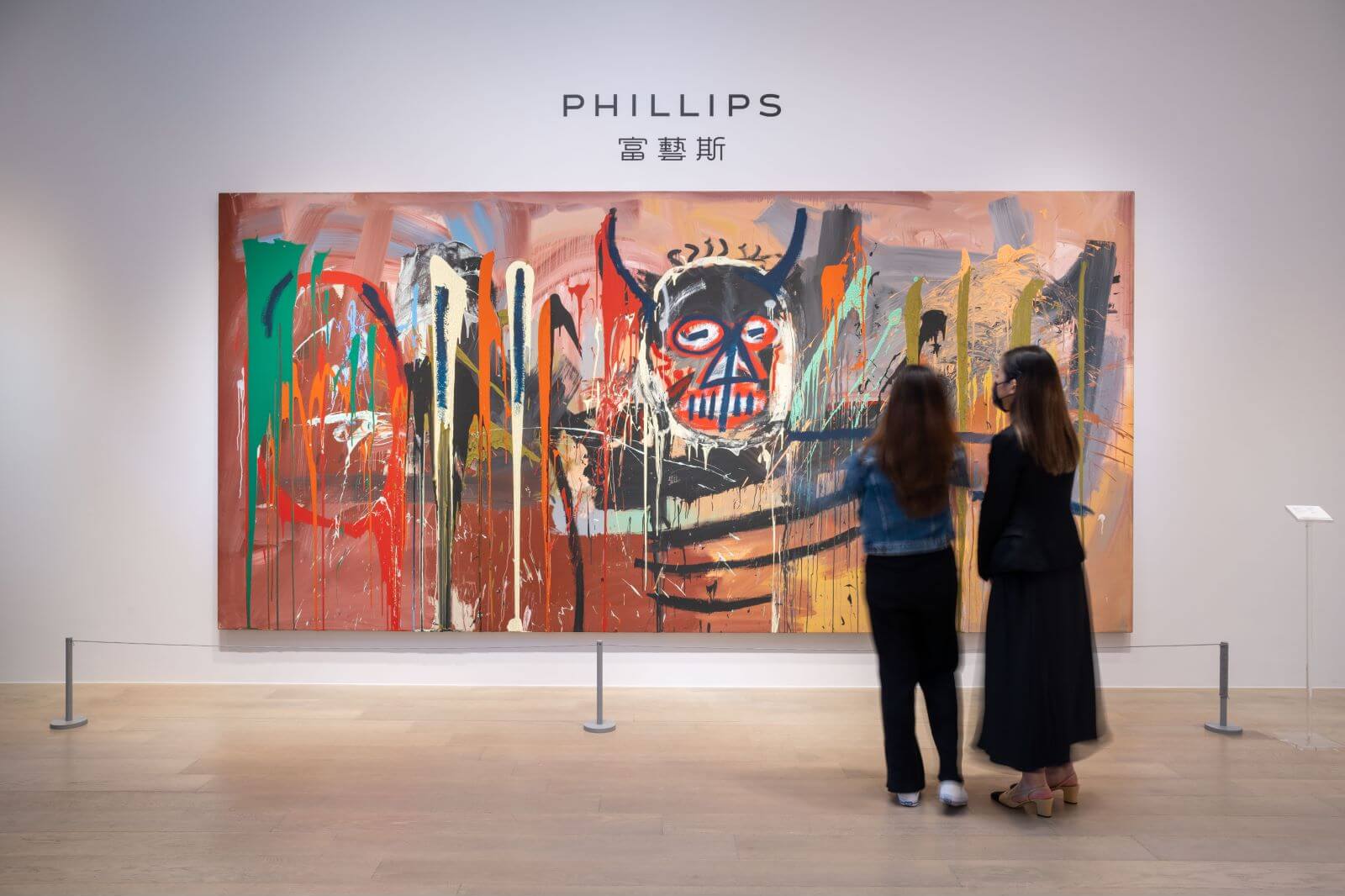 Despite its monumental size, the work has traveled around the world as a centerpiece in several of the artist's major retrospectives. From Taiwan to France and Brazil to Italy and Germany, this masterpiece has awed Basquiat devotees across the globe and has stood as a symbol of his extraordinary oeuvre for art historians and the public alike. Its singularity was again solidified when it set the world auction record for the artist in 2016, igniting a renewed market appreciation for the artist's work.
Returning for the first time to Japan since it was first exhibited at Akira Ikeda Gallery in Tokyo in 1985, the work has been a focal point of Maezawa's collection for the last six years. "When standing in front of Untitled, it is overwhelmingly powerful yet melancholic, and this makes me feel a sense of euphoria and despair at the same time," Maezawa reflected. "I believe that art collections are something that should always continue to grow and evolve…Living with this art piece has made my love and interest for art deeper and stronger. I cannot begin to explain the influence that this masterpiece has had in my life, and I am certain it will be an unforgettable work for me."
Stay tuned for more highlights.