Yusaku Maezawa's Prized Basquiat to Lead Phillips' New York Spring Auction, Touring Taipei April 2 – 3
29 Mar 2022, 14:20
Yusaku Maezawa's Prized Basquiat to Lead Phillips' New York Spring Auction, Touring Taipei April 2 – 3
Also on exhibit: works by Alexander Calder, the forefather of kinetic art, and Matthew Wong, the modern-day Van Gogh.
These works will be up for auction on May 18 at Phillips' Evening Sale of 20th Century & Contemporary Art.
Basquiat's Untitled 1982

Phillips will be holding its Evening Sale of 20th Century & Contemporary Art in New York on May 18. Coming from the esteemed collection of Yusaku Maezawa, Jean-Michel Basquiat's Untitled, is poised to lead this auction. Executed in 1982, this tour-de-force is estimated in the region of $70 million USD (2 billion NTD). Basquiat's pure brilliance is on full display in this monumental canvas, which meansures almost 240 cm tall and over 500 cm wide, one of the largest of the artist's all-too-short career. Gracing the cover of the artist's 1996 catalogue raisonné and featured as a centerpiece in several of his major retrospectives, Untitled has since been renowned as one of the most iconic examples of Basquiat's radical approach. This masterpiece is set to tour Taipei from April 2 through 3. Two other works from the New York auction will also be on exhibit in Taipei: 39=50 (1959) by Alexander Calder, the forefather of kinetic art, and Day 1, a landscape by Matthew Wong, a shooting star blazed in the contemporary art history just like Basquiat.
Jonathan Crockett, chairman for Asia at Phillips, said, "Phillips' global sales reached a record high last year in the company's 225-year history. A siginificant contribution was from asia. Auction sales in Hong Kong set a new benchmark, nearly doubling previous year's number. On the heels of the company's continous success, we are honored to be entrusted by such an extraordinary collector of international vision as Mr. Maezawa, with the sale of Untitled, a rare masterpiece. With a strong cultural heritage, Taiwan has also been an important market in the Greater China region. Over the past two years, despite challenges from the pandemic, Phillips' business grew significantly in Taiwan, up 127% on 2019 before the epidemic. We are seeing an increasing number of new collectors entering the market, bringing more diversity and international taste. We believe Taiwan still has great potential and energy for growth."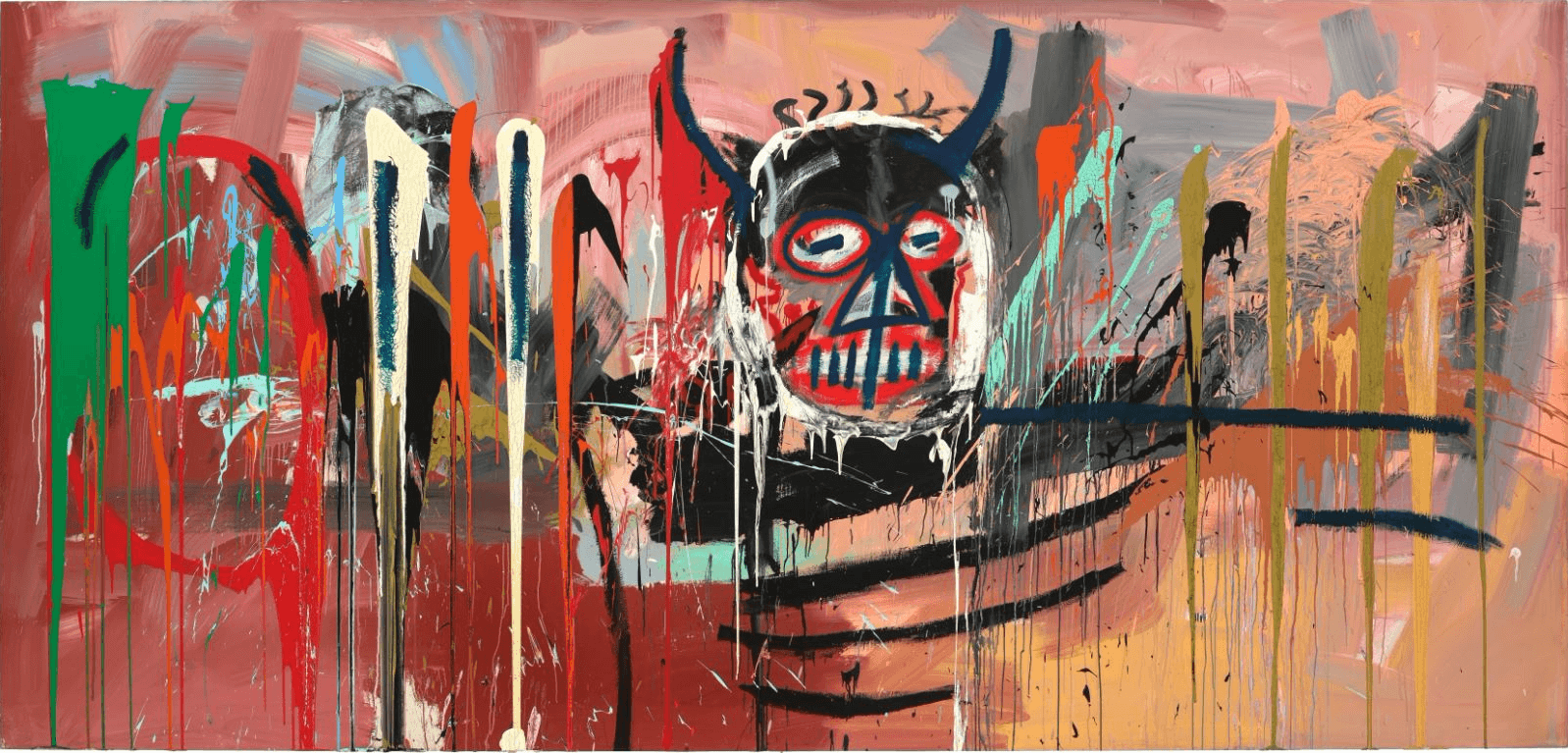 Jean-Michel Basquiat, Untitled
Untitled was painted in 1982, the watershed year which shot Basquiat to international stardom. More than half of the artist's top ten auction records come from this year, and this particular work set a world auction record for Basquiat in 2016. During two periods in the early 1980s, Basquiat visited and exhibited in Modena, Italy, at the invitation of the dealer Emilio Mazzoli. In his second trip, Basquiat painted three groundbreaking self-portraits, including Untitled, which have made this pivotal chapter one of the most desirable of his career.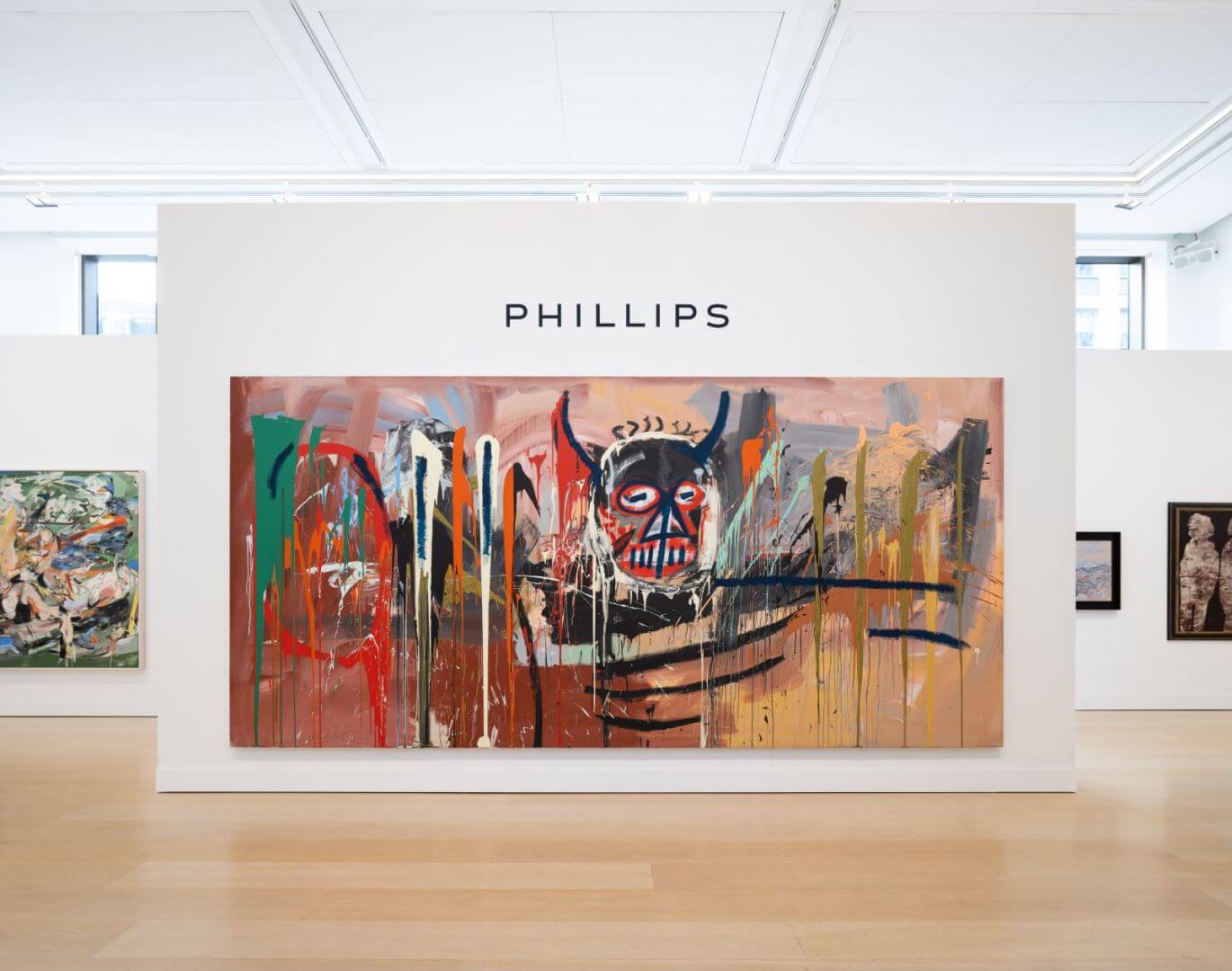 Untitled's triking horizontal format is likely a nod to another landmark image of the 20th century, Pablo Picasso's Guernica, which Basquiat saw at the Museum of Modern Art in New York as a child and later recalled left a strong impression on him. Immediately recognizable by his short, vertical dreadlocks, Basquiat takes the guise of a demonic figure in Untitled, his violent rage declared by the blood red paint dripping from his horns. Rising against a fiery expanse of gestural color evoking the physicality of Abstract Expressionism, the devil subject is a distinct contrast to the artist's depictions of martyrdom and embodies his interest in the dualities of heaven and hell, good and evil, and sacred and sinful. This masterpiece is unequivocally one of the finest examples of the distinctive iconography and painterly prowess that triumphantly marked the peak of his all-too-short career.
Untitled debuted at Akira Ikeda Gallery in Tokyo in 1985, and has since been included in many major exhibitions around the world, and mentioned in numerous important literatures, setting a distinguished record. For the past six years, Untitled has drawn the greatest attention among the Yusaku Maezawa collection. Speaking of this work, Yusaku Maezawa said, "When standing in front of Untitled, it is overwhelmingly powerful yet melancholic, and this makes me feel a sense of euphoria and despair at the same time. I believe that art pieces put fire to one's imagination and creativity and they are essential to our lives. The past six years of having Basquiat's Untitled was nothing but a great pleasure and it has become a memorable piece in my collection. I believe that art collections are something that should always continue to grow and evolve as the owner does. I also believe that it should be shared so that it can be a part of everyone's lives. I hope that Untitled will continue its great journey in good hands and that it will bring smiles to many people all around the world."
Phillips announced that the auction will accept cryptocurrency (ETH or Bitcoin) for this work.

Alexander Calder's kinetic sculpture 39=50, created in 1959, has remained in private hands for over three decades. The French collector and founder of the Kering group François Pinault was the owner for ten years. The mobile was included in the landmark retrospective of Calder's work in 1964 at Guggenheim Museum in New York in 1964.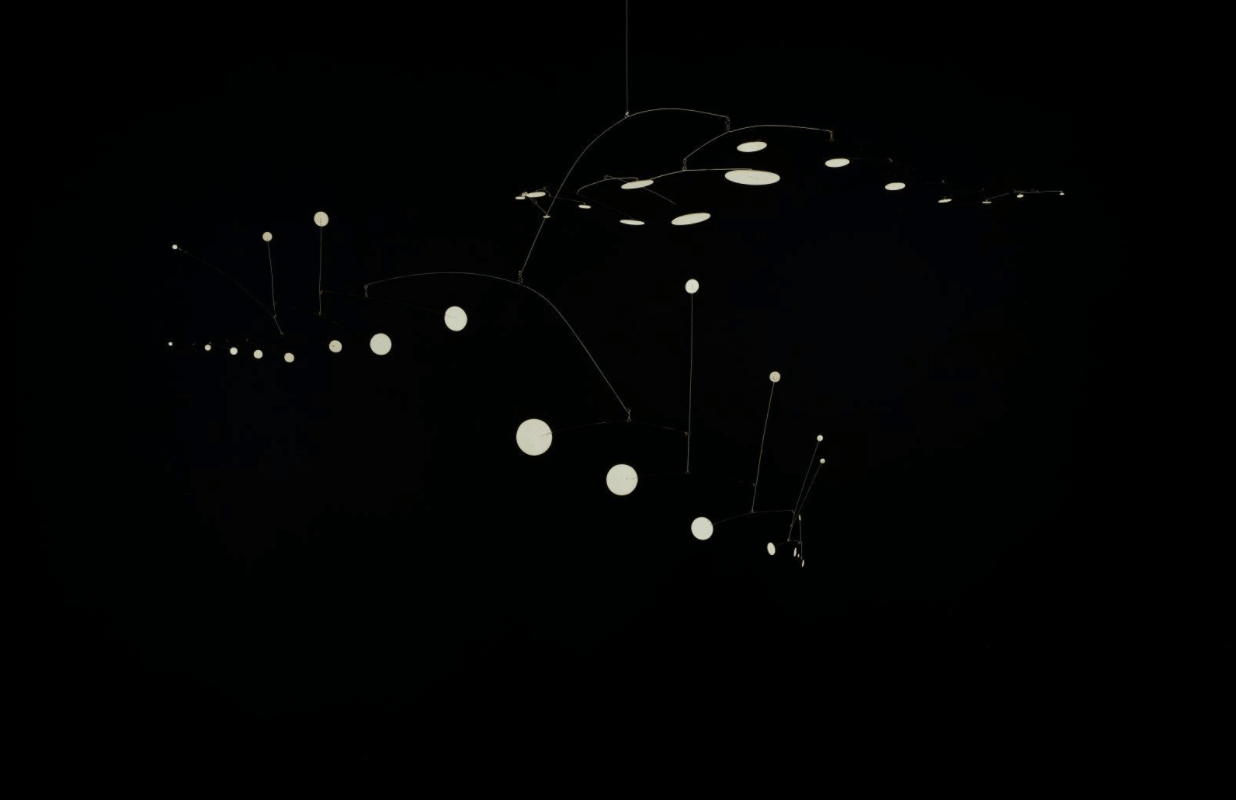 Between 1946 and 1959, Calder created approximately eleven Snow Flurry mobiles based on the snowfall at his home in Roxbury in the northeastern region of the United States. The present work 39=50 is distinguished from the series with its distinct title. 39=50's singular title encapsulates both the number of elements and the intimate story behind the work's journey from the artist's studio. In 1961, Calder's close friend Peter Bellew requested a mobile with 50 white elements in celebration of his wife's 50th birthday. Since the artist did not have a sculpture with 50 elements available, he gave the present work to Bellew with its current title. The work comprises 39 white discs that delicately flutter in space in a masterful triumph of balance and kinetic poetry. 39=50's cascading discs, like the natural forms they so cunningly emulate, dance before the viewer's eyes as the slightest gust of air or beam of light arouses the sculpture's infinite visual possibilities.
Alexander Calder
Snow Flurry, 1948
wire Metal | 152.4 x 213.4 cm
Estimate USD 3,500,000-4,500,000
Price: USD 10,386,500
8 May 2012
Christie's New York
Ten of the 11 works in the series are held in museums in Europe, and North and South America. Unlike those, 39=50 is arrriving to auction for the first time in nearly 30 years. In 2012, Snow Flurry (1950) of the same sereis was sold for US$10,386,500 (approx. NT$299,000,000) in New York - the highest price ever achieved for a hanging mobile at the time and currently within the artist's top ten auction records to date.
By the late Chinese-Canadian artist Matthew Wong, who is often compared to Van Gogh and Henri Matisse, Day 1 is similar to River at Dusk, which was created by the artist in the same year and set the artist's auction record when it was sold for over 4.8 million USD at the Phillips' Hong Kong Autumn Auction in 2020, both in size and in the artist's exploration of colour harmony and varying lengths of brushstrokes to capture the effects of natural light.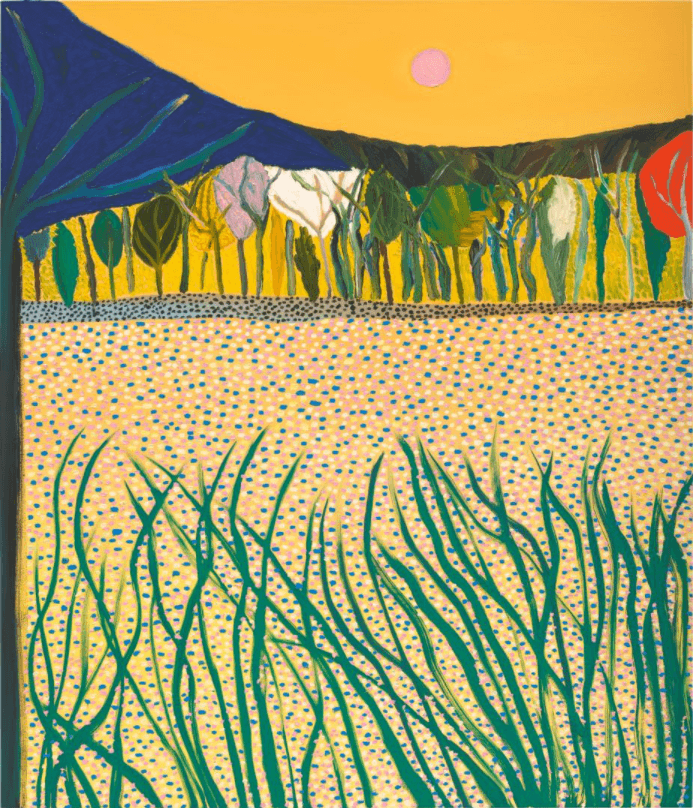 Day 1, the first of the artist's Day by Night series, was exhibited at Massimo De Carlo Gallery in Hong Kong. This series consists of eight paintings of day and night views that correspond to one another. Wong's inventive grasp of colour is able to summon the perceptual sensation of watching the light change as a day wears on. The expansive fields in the paintings are reminiscent of Georges Seurat and Paul Signac's "Pointillist dabs" and Yayoi Kusama's "Infinity Nets", while the brushwork depicting grasses evokes traditional Chinese scrolls, a moving testament to the artist's highly personal language that is a synthesis of Eastern and Western artistic elements.
Follow ArtPro for more highlights from the 2022 art market.