"San Yu Fever" Will Continue In 2020, The Nude Paintings Contributed, Price Increased By 9 Times in 10 Years
In the October autumn auction in Hong Kong, which temporarily ends in 2020, San Yu had significant performance. Bonsai and nude women are both leading the way, with more than 100 million turnover of each. They have become the subject of much-anticipated hot discussion. As we all know, San Yu's "bonsai" series have been on an important position at market for a very long time. In the past two years, nude women paintings have caught up from behind and their market value has shone brightly. Quatre Nus sold for USD $33.32 million at the spring auction, and the work NU gained USD $21.75 million in autumn auction. The nude painting was once again been pushed under the spotlight of Asian modern and contemporary art stage. Now, let us explore the market value behind these nude paintings.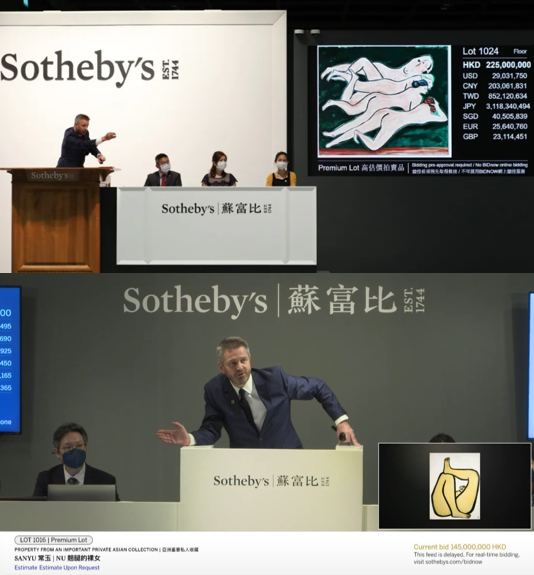 2020 Spring Auction Site Scene
Part I: Market Data, San Yu and Nudes
1. The market continues to be strong in 2020, the contribution of nude paintings are significant
Taking this year's total turnover as the dimension, by of the end of the Hong Kong autumn auction in October 2020, San Yu is on Top2 in the 2020 Artist of the Year with a total turnover of USD $112 million. Only 44 lots were on auctions, 42 pieces were sold, and nude women subjects accounted for more than 50%. The turnover of nude women paintings reached USD $58.35 million, which made a significant contribution.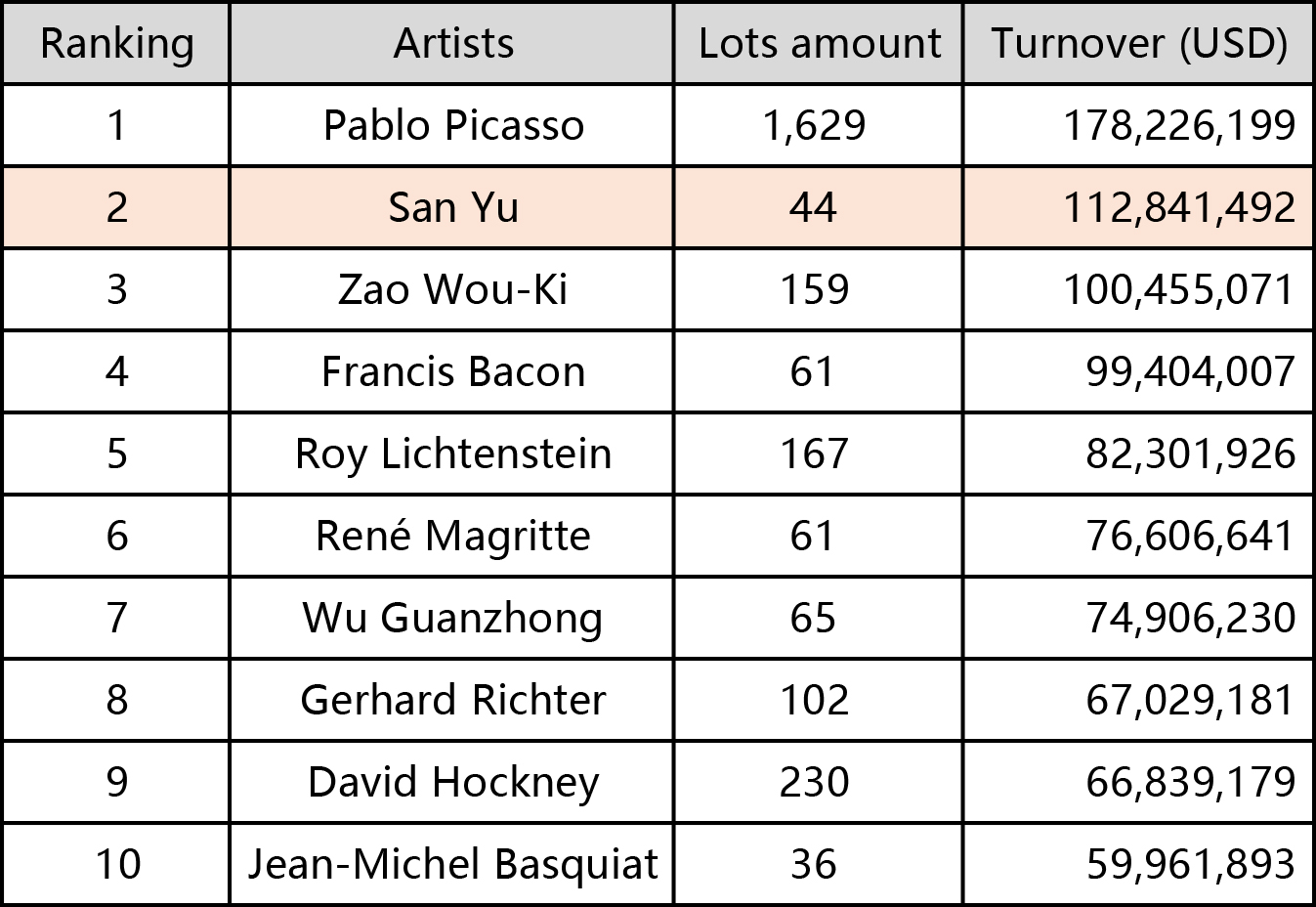 2020 Artist of the Year ranking
Nude women and bonsai are the most representative subjects in San Yu's works. He had always loved painting flowers throughout his life time. There are only more than a hundred bonsai paintings. Because of the small quantity they have been the classics and always occupies a place in the market; while the value of nude paintings only shined for several years of market excavation, they are even surpassed the "bonsai" series for a time. The proportion of naked women has become more prominent in the market. In 2019, it accounted for 60%, and in only 10 months in 2020, it occupied half. The value and importance of them today is self-evident.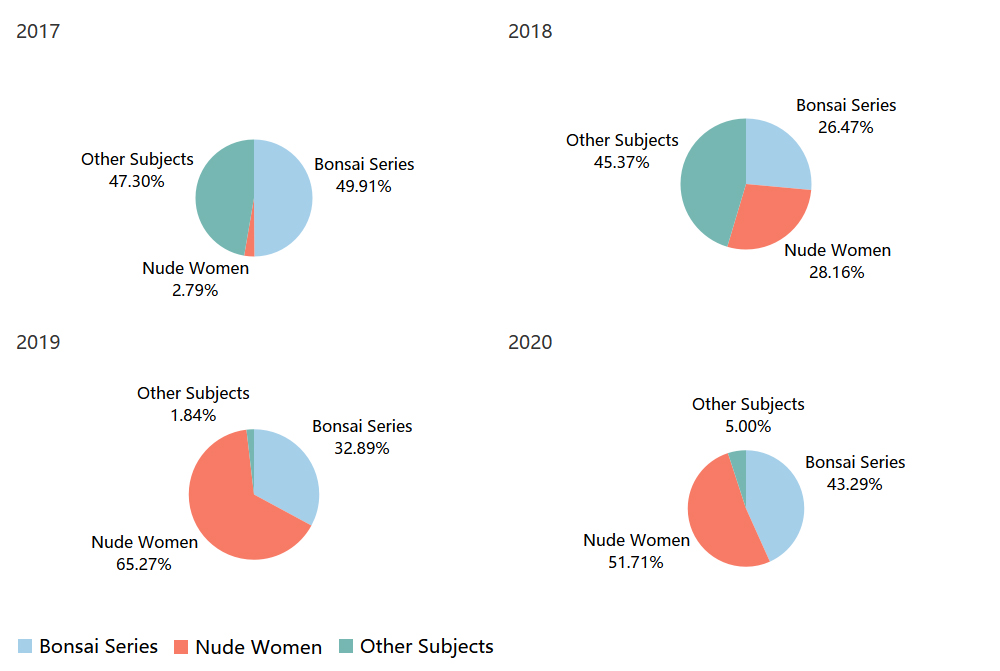 2017-2020 turnover proportion of nude women, bonsai and other works
2.The San Yu Fever on market, the value of nude paintings increased by 9 times
In the past ten years, San Yu's price index has risen steadily especially in the past two years. The price index has been steady throughout the "bonsai" series, and the market is relatively stable. In another hand, the price index of naked women has surging up since 2018, from 1 to 9.42, and the market is changing rapidly. The result of out breaking of San Yu in the past two years is also inseparable from the promotion of market value of naked women.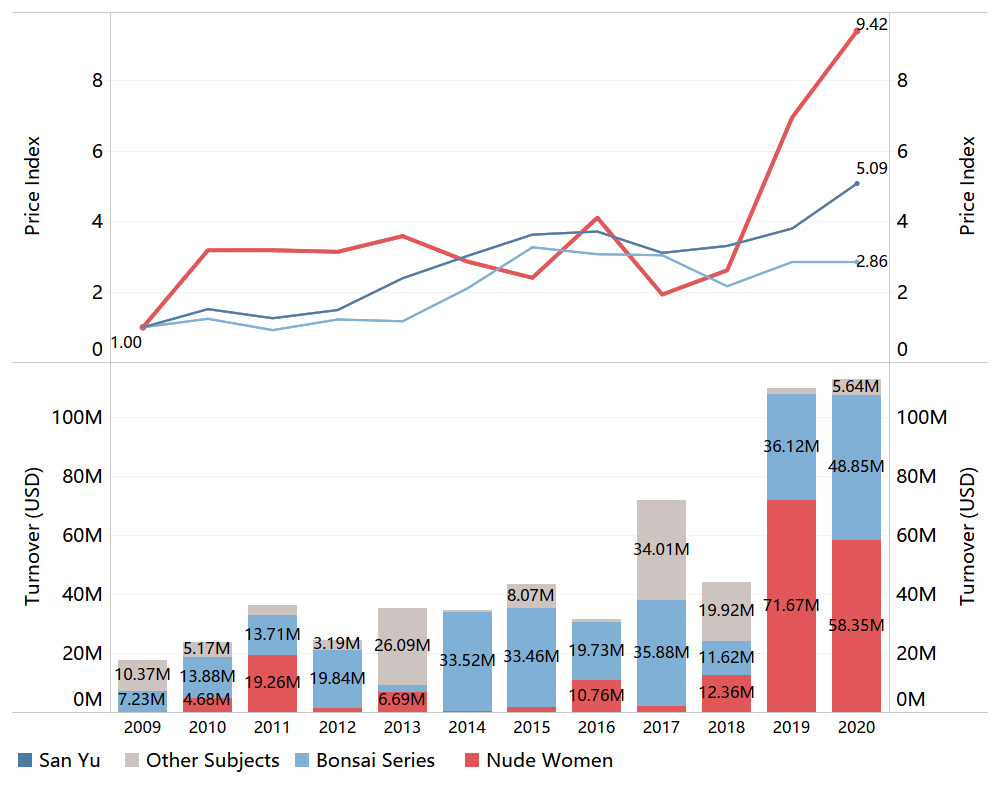 Price Index & Turnover of San Yu's Representative Works
From the perspective of total turnover, the contribution of bonsai paintings in overall market of San Yu has been far ahead before 2018. The nude women has skyrocketed in recent years, which market value should not be underestimated. Especially in the San Yu Fever in 2019 it reached its climax. Both nude women and bonsais in auctions risen up, and the turnover of nude women reached the top, which helped San Yu's total turnover to break through 100 million dollar in 2019. In 2020, the nude paintings has occupied for half of the total turnover in only 10 months, and the bonsai paintings has also reached with USD $48.85 million as icing on the cake. San Yu's total turnover has exceeded 100 million dollar once again.
Nude paintings have been ranked as Top1 in the past ten years of San Yu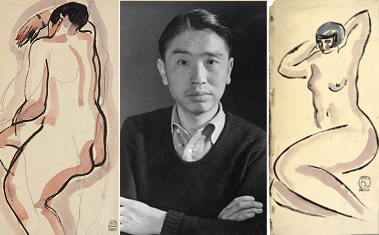 San Yu & Nude Women
From 2011 to 2019, Five Nudes ranked as first with USD $16.52 million.
In October 2019, NU broke the record with USD $25.24 million.
In November 2019, Five Nudes returned to the first place with USD $38.83 million
Part II: Three important periods: nude paintings developed into maturity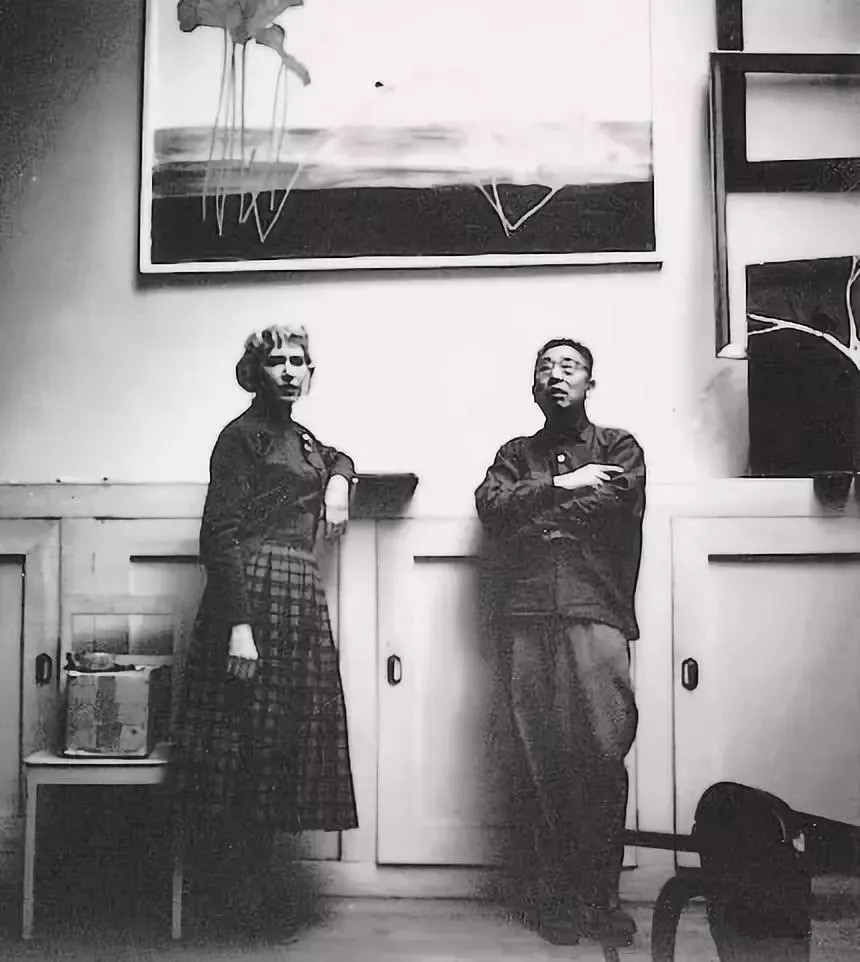 San Yu and Helen Gee in Paris (1956)
According to the period of creation, San Yu has experienced three stages: The Period of La Grande Chaumière (1920s), the Pink Period (1930-40s) and the Black Period (1950 and later), and the nude paintings of these three stages have their own advantages. Gradually developed due to San Yu's personal experience and artistic accomplishment.
San Yu moved to Paris around 1920, and nude paintings began to be a frequent theme in his creation. Until his death in 1965, his nude women continued throughout more than 40 years. At first, he was deeply influenced by Chinese painting and calligraphy, he often used brush and ink to outline his paintings. In the 1930s, it was a pink nudes with strong sentiment, and in the 1950s and 1960s it evolved into a nudes with clear and thick outlines.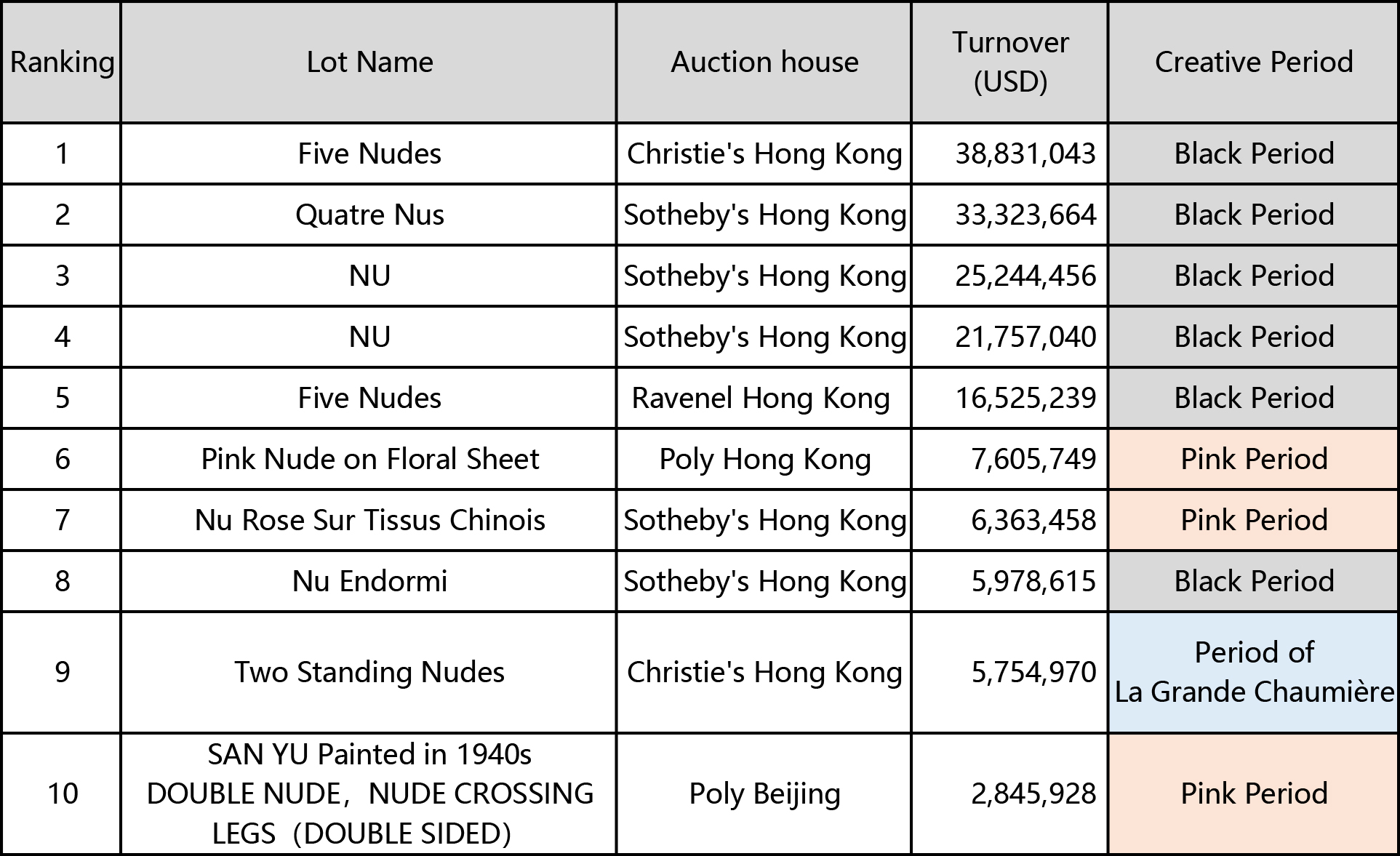 Top10 Nude Paintings
Top1 Nude in The Period of La Grande Chaumière
Top1 Nude in Pink Period
Top1 Nude in Black Period
Part III: Two representative subjects: Supine nude women and group nude women
The nudes in San Yu's works have various poses, including standing, sitting, and supine positions. His continuous exploration of supine and group nude women has an indelible influence on his artistic creation. Their artistic value is also the most significant, and they have always been the focus of auctions. In 2020, his nude women are leading the spring and autumn auctions, the supine position nudes and group nudes will continue their brilliant record in 2019.
Autumn Auctions: 168 million NU(1950) set off a wave again with lay back nudes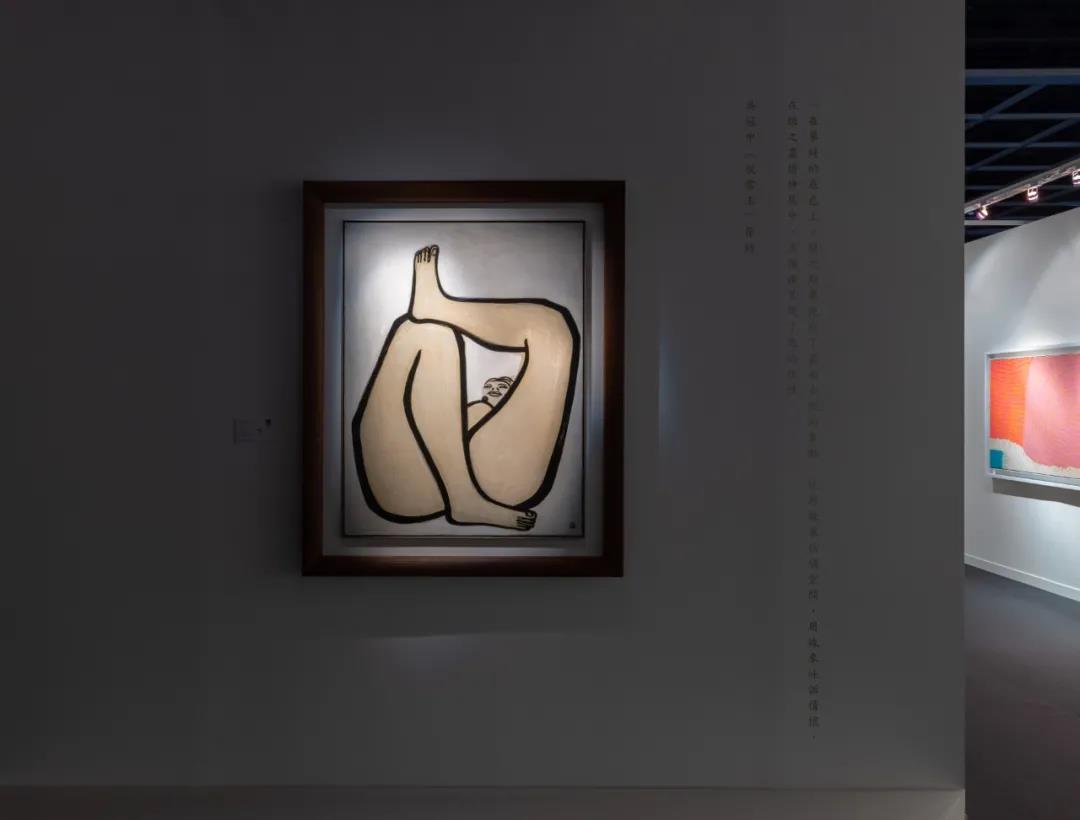 NU(1965)
NU(1965) and NU(1950) are in Top3 and Top6 of San Yu's personal list respectively. From the time of creation, both of them are from San Yu's classic works of the black period; from the creation theme, the two works are similar in concept, with the naked woman lying on the back, the upper body lying on the back and the bending knees are the same. However, the two pieces also have their own unique features.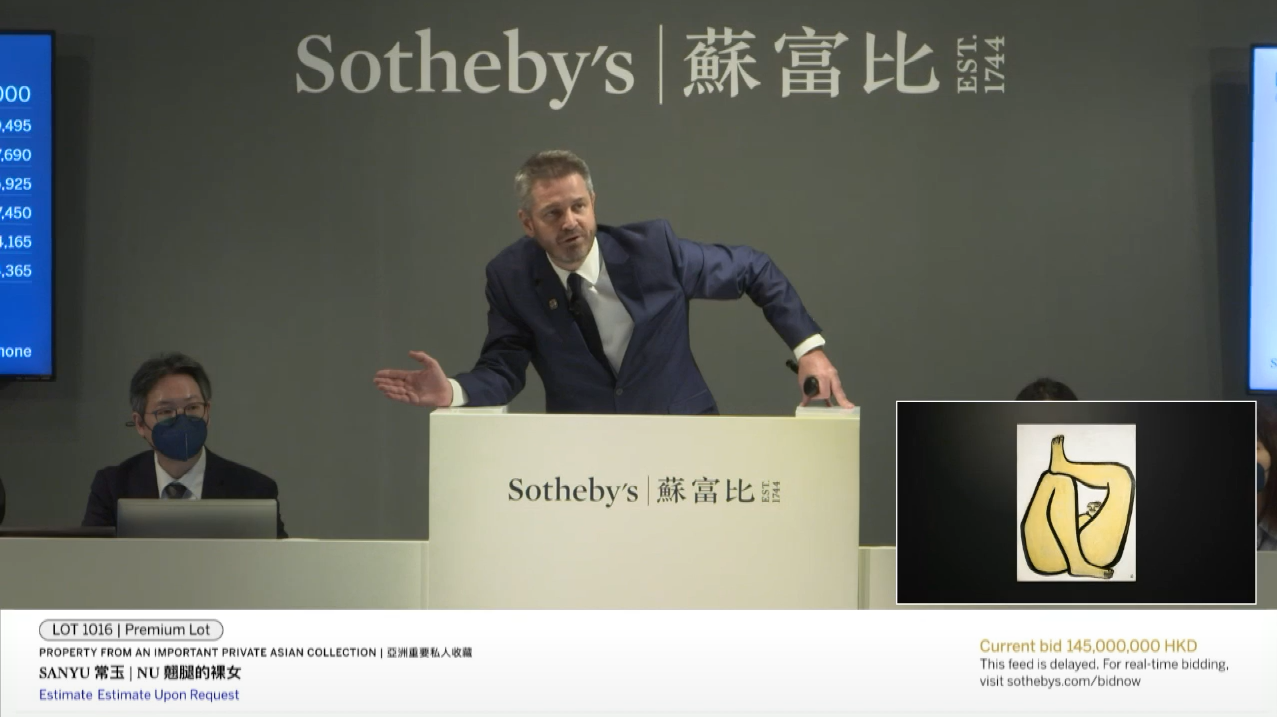 Auction Scene
NU(1950) was sold for USD $940,000 in 2004, which was San Yu's most expensive sale. Now it has been auctioned again and sold for HKD $168 million (21.75 million US dollars) 16 years later, an appreciation of nearly 22 times. NU(1950) was first auctioned at Sotheby's in October 2019, and finally sold for HKD $197 million (25.24 million US dollars), broke the global auction record of San Yu at that time.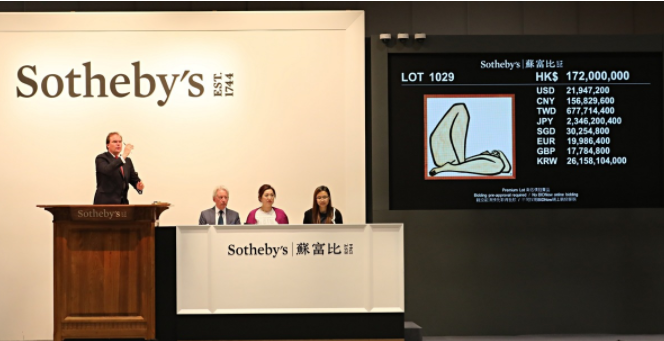 Auction Scene
The two paintings of nude women are comparable in creation. NU(1965) emphasizes the erecting right leg, which highlighted the essence of the Song Dynasty landscape; while NU(1950) focusing on the overlapping legs, that looks more like a cave. In addition, the size and price of the two works are also slightly different. NU(1965) is 122.5 x 135 cm, and the square meter price is USD $15.29 million; while NU(1950) is 125 x 95.5 cm. The square meter price is USD $18.28 million, although the size is slightly smaller than the former, the square meter price is higher.
Spring Auction: 250 million Quatre Nus achieves great record as group portrait of nude women
Five Nudes and Quatre Nus are the Top 1 and Top 2 of San Yu's personal list. Both are group nudes that has been sold in the past two years, and both are from the 1950s. It is reported that San Yu painted only 6 pieces of the group portraits of nude women of three. Since they are particularly rare, once they are on auction will receive fierce competition.
Five Nudes was auctioned at Christie's in November 2019 and was sold for HKD $300 million (approximately 38 million US dollars). Compared with the USD $16.5 million turnover at Ravenel in 2011, its price increased twice over 8 years that broke the artist's personal record. In 2020 Quatre Nus became the focus of the auction again with a price of HKD $258 million (33 million US dollars). Compare with the USD $2.15 million in 2005, it increased by 15 times in 15 years and the annualized rate of return is 20%, which is a extraordinary.
San Yu's nude paintings leave a strong impression on auctions, and the achievements of the nudes over the years have also witnessed the rise of "San Yu Fever". These great works are describing he vigor of traditional Chinese landscape, calligraphy and painting that combines the simplicity and tenderness of Western modern art. Let us continue to pay attention to the performance of his nude women in the future.