Gerhard Richter | Auction Market Personal Report
In this rapidly fluctuating art market, some artists are like a flash in the pan while some artists are holding their ground firmly. Gerhard Richter is a German artist who was growing up during the Second World War. His annual turnover has reached over 100 million in 9 continuative years. He had several impressive performance at auctions, and collected many important international awards. In 2020 until now, Richter had 115 pieces in auctions with 90% sold-by-lot rate. In July, both "Frost (1)" and "Wolken (Fenster) (Clouds (Window))" achieved over ten million dollar. In October 6, the work "ABSTRAKTES BILD (649-2)" was sold with HKD $215 million that leads the Contemporary Art Evening Sale of Sotheby's Hong Kong, and became the highest priced Western artwork that has ever been sold in Asian.
Now, please follow ArtPro to approach this great master in art world, analyze his market transaction and review his career path.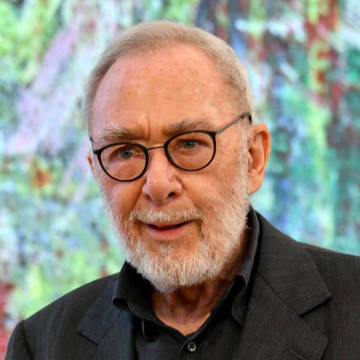 Gerhard Richter was born in 1932 in a family of intellectualists in Dresden, Germany. He studied at Dresden Academy of Fine Arts between 1951 and 1956, then work and studied at Düsseldorf Art Academy from 1961 to 1963. He was hired as professor since 1971 and worked at Düsseldorf until he retired in 1994. Richter was famous by his photographs and paintings, he is also an abstract master. In his art career he has always swing between abstraction and concretization, and has never been restricted in a certain form or style. He used different mediums like photographs, installations even architects to explore the possibilities of art expression.
Market Overview
1.Annual turnover has reached over 100 million in 9 continuative years, price index hit the top in 2015.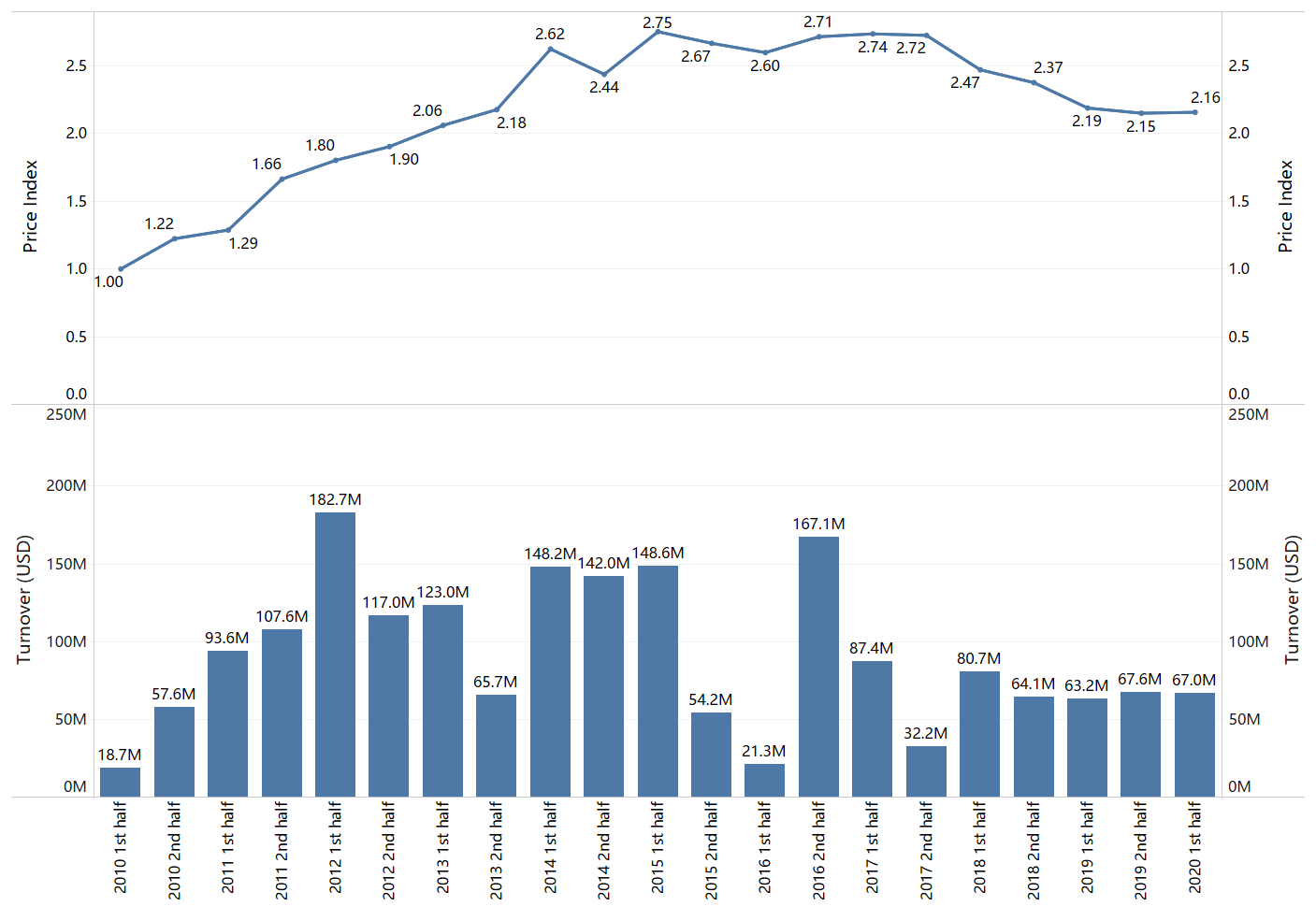 2010-2020 Gerhard Richter's price index and turnover
Data collected by October 8th 2020
Gerhard Richter's price index raised up quickly between 2010 and 2015. Since 2012, Gerhard Richter broke his record 3 times within 4 years. After reached top in the first half of 2015 and has maintained at a high position for several years. Then his price index slightly decreased at 2018. In 2020 (until October 8th), Richter became the Top8 artist in global wide with over 67 million dollar turnover. His price index stayed steady while fluctuating.
2.Most of high priced works were created in 80s and 90s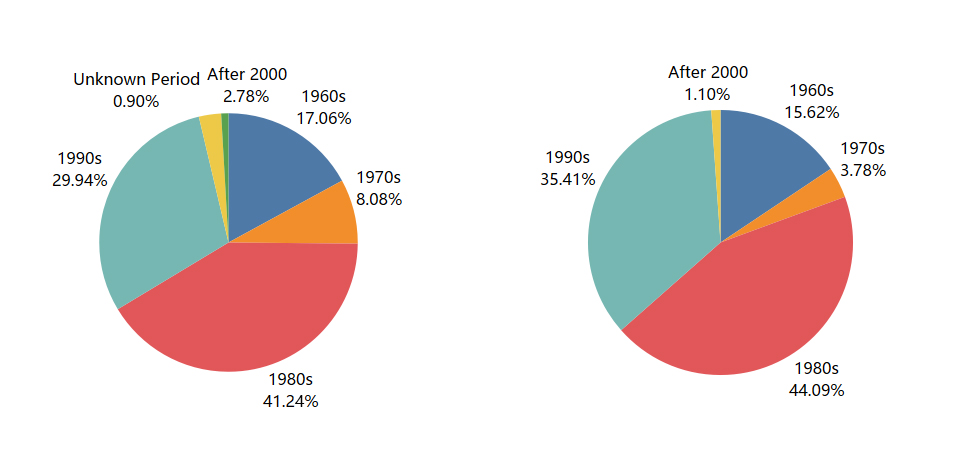 Left:Total turnover proportion of different time period
Right:Proportion of works sold over 10 million dollar
From the total turnover proportion, works created between 1980 and 1990 by Gerhard Richter, were the most popular on market. Most works sold over 10 million dollar were made in 80s and 90s, then 60s and 70s. In the 80s, his abstract paintings and photographs had great achievements that let him gained an international reputation. In the 90s, Gerhard Richter went a further step to develop his works with better skill and creativity.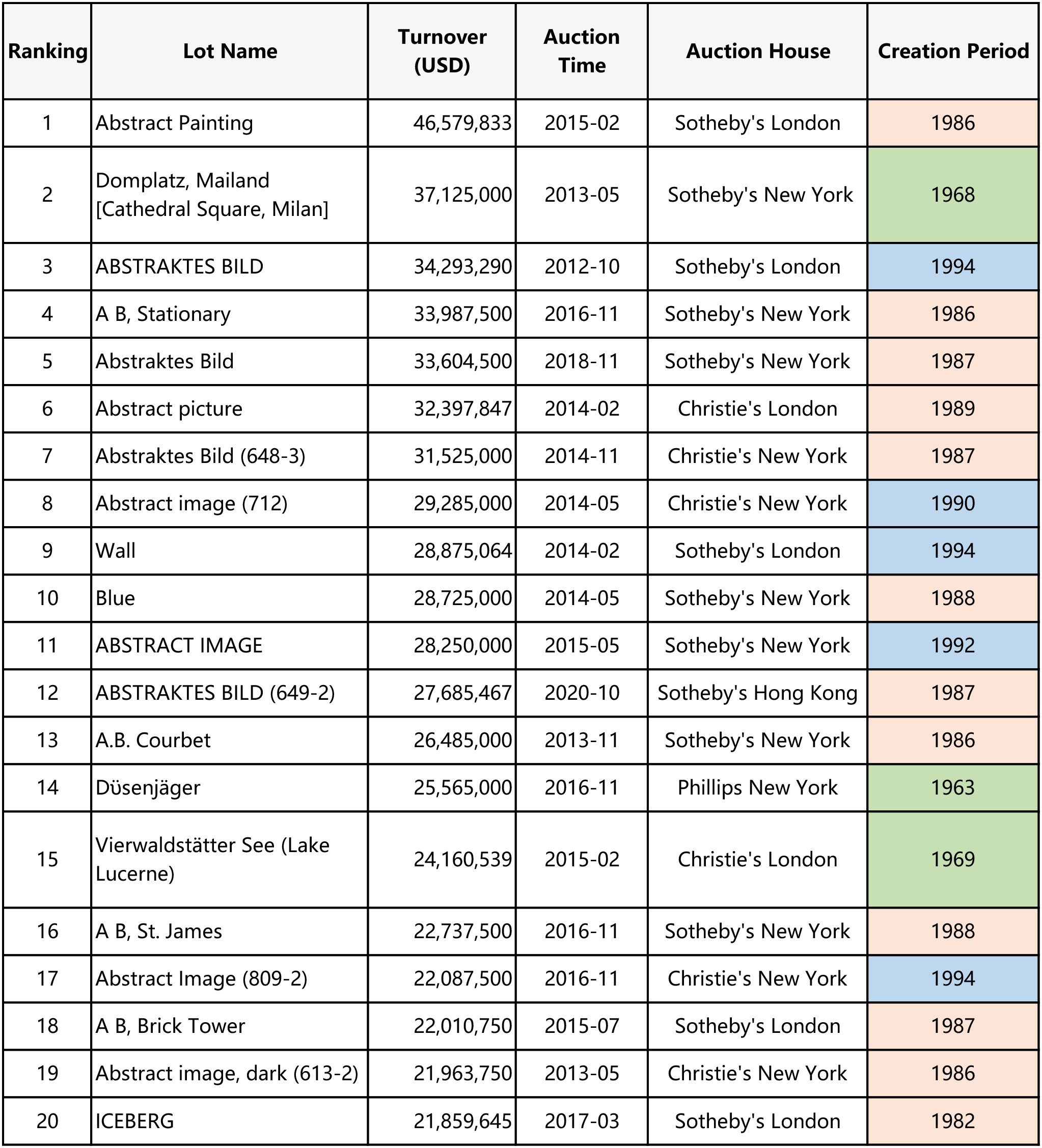 List of Gerhard Richter Top20 works
Looking at Richter's Top20 works in auctions, there are 12 of them from 1980s, 5 pieces from 1990s, and other 3 are from 1960s. "ABSTRAKTES BILD (649-2)" was sold in October 6 as Top12 of the list, and it's the only work that sold in Hong Kong among his first 20 pieces.
3. Return Rate of Part of Richter's Works Auctioned Repeatedly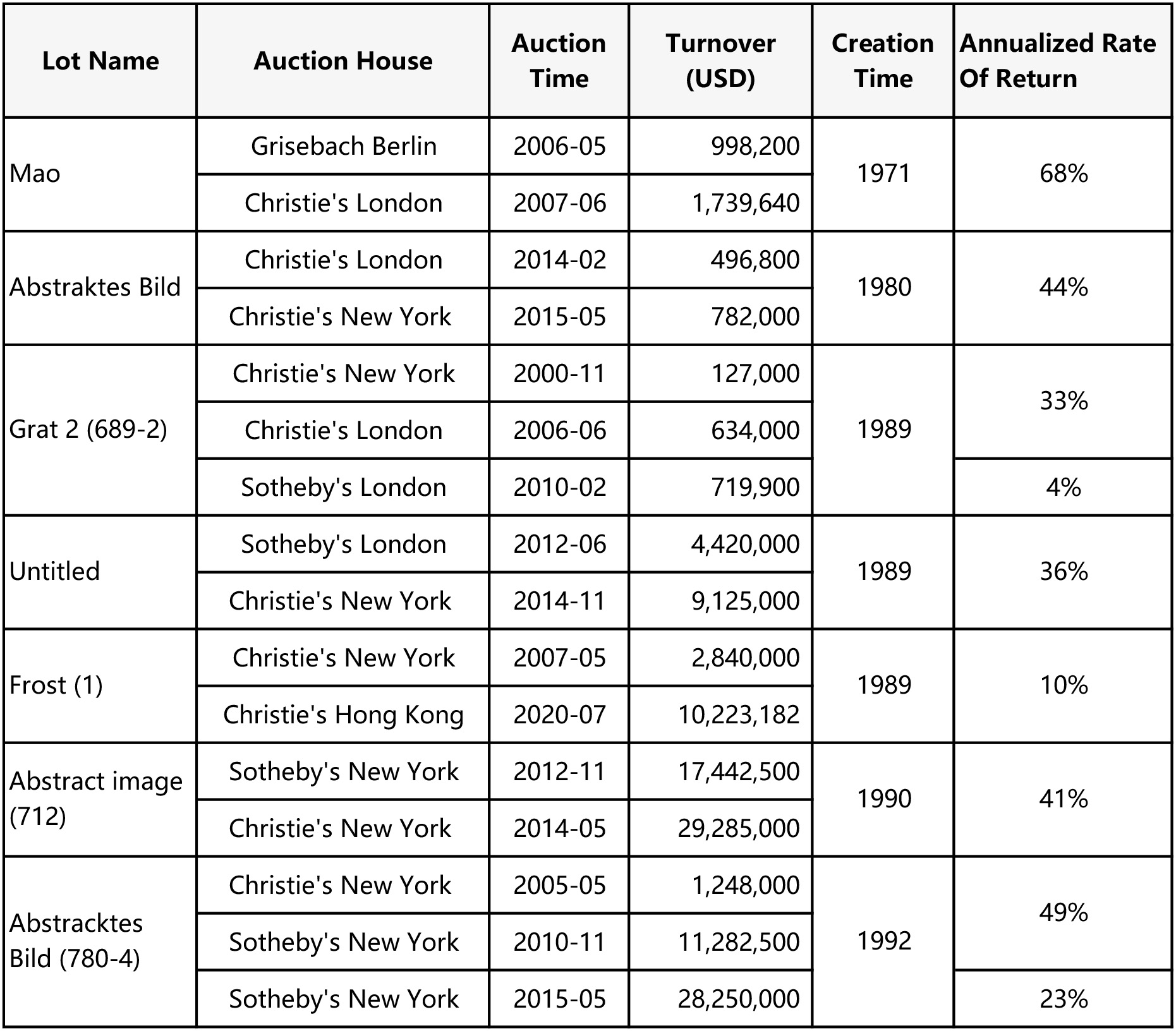 Part of Richter's Works Auctioned Repeatedly and the Annual Return Rate
Analysis of Works in Different Periods
1960s: Start "Photography Painting"
In 1960s, after Düsseldorf join the art movements in post-war period that swept Europe, there were many new art waves alternating at this time. Artists in Europe abandoned traditional painting technique, started to experiment with installations and conceptual art. Richter used "Photography Painting" to let people revisited the power of painting and history, which also set the cornerstone for his art works that are going be world-wide renowned. He deliberately blurs the details on the images in order to distinct paintings and photography.

Left:Dϋsenjäger Oil Canvas, 1963
Right:Neger (Nuba) Oil Canvas, 1964
The work "DOMPLATZ, MAILAND [CATHEDRAL SQUARE, MILAN]" created in 1968, is a representative piece of Richter's "Photography Painting". This piece were sold at Sotheby's New York in May 2013 with 37.125 million dollar. It broke Richter's record in that year, and remains his Top2 priced work in auction.
1970s: Exploring Abstraction
Richter's abstract paintings are the most well-known series on market. The first time he starts to practice geometric abstract painting was in 1966, then he stopped for couple years, and re-started the exploration in this field at 1971. With "Color Charts" series, the single colored grayish paintings and the enlarged photography paintings, he explores the possibilities from concretization to abstraction. In this period of time, the relationship between Richter and his wife Ema was in tension, the gloomy and single colored paintings suggested his mental state.

Left:1025 Farben Mixed media, 1974
Middle:Vermalung (Grau) Oil Canvas, 1972
Right:Cloud Oil Canvas, 1970
Till 1977, he created large amount of color abstract paintings, he started to use bright colors instead of the smudged colors. In 1979, Richter broke up with Ema. In these 10 years, his works began with gray and ended with bright colors.
1980s: Invented Scraping Technique in Abstract Painting Practice
After ended the marriage with Ema, Richter got closed with artist Isa Genzken, they were married at 1982. In the 80s, Richter explores the abstract works with passion, until 1987 his was still focusing on abstract paintings and developed a unique style.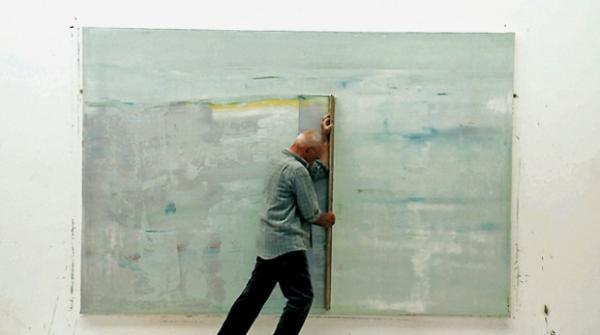 Gerhard Richter at work
Richter uses wooden plank and squeegee to rub and scrape the paints on canvas, in order to create different layers and texture. This method let him goes beyond the limitation of brushes, and started a new chapter for abstract art. The following work "Frost (1)" and "ABTRACT IMAGE (679-2)" is an example of this technique.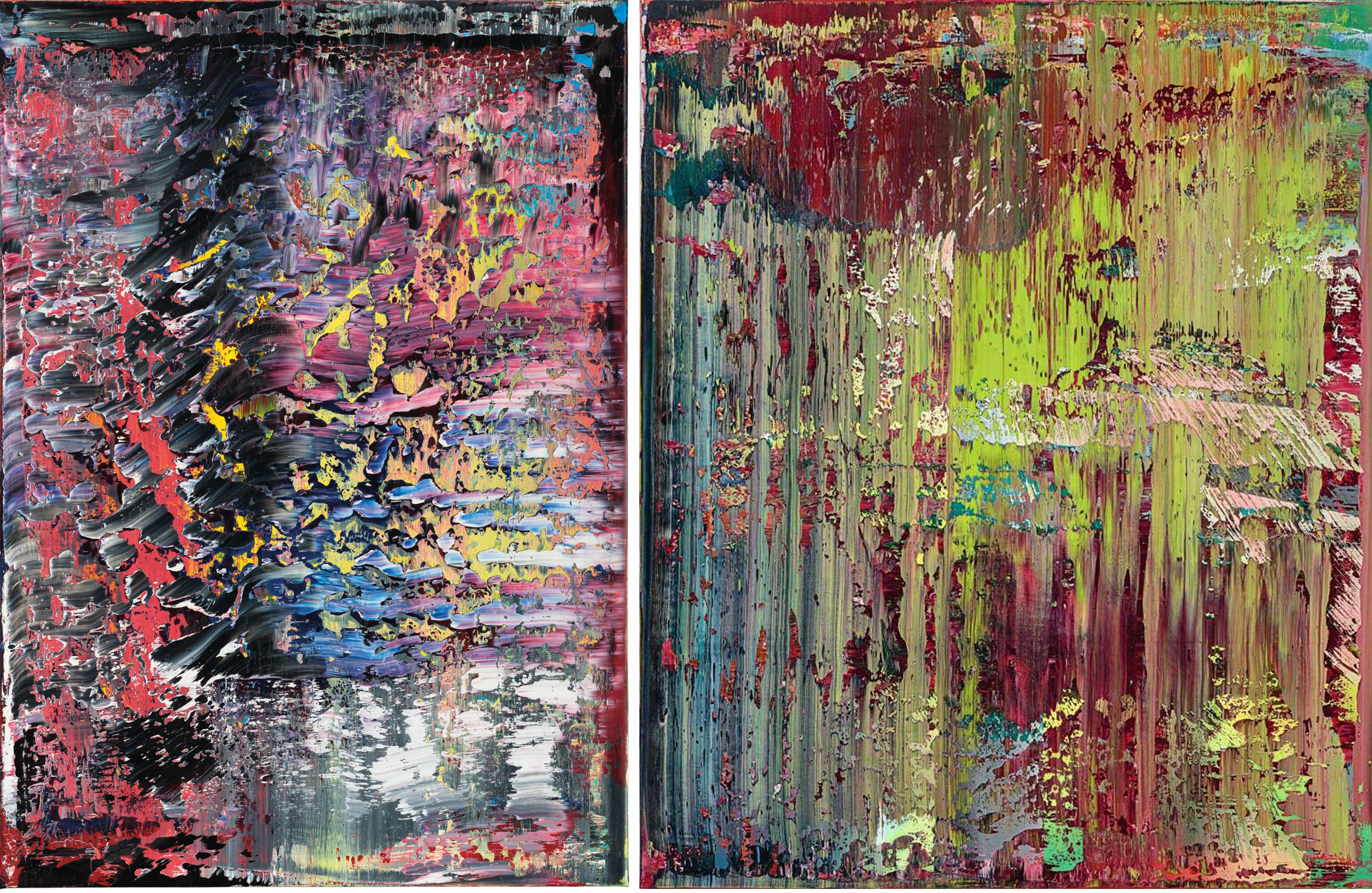 Left:Frost (1) Oil Canvas, 1989
Right:ABTRACT IMAGE (679-2) Oil Canvas, 1988
In the middle of 80s, Richter has already achieved international celebrity, his first major retrospective, which started in 1986 at the Städtische Kunsthalle Düsseldorf and travelled to Berlin, Bern and Vienna, was greeted with critical acclaim. The work "Abstract Painting" was created in 1986, and was sold with 30.389 million pounds at February in 2015. That price sets the record for the most expensive piece and broke his new record until now.
1990s: Consolidation and Creation
In the 90s, Richter is still focusing on abstract paintings, and occasionally make photography works. In this period, how to achieve a cohesion of bright and smudged colors became the center of his exploration. He used to experiment with mixing the three primary colors to create different tones at 1972. With the experience of many years creation, Richter finished one of his most important work, which is a quadriptych called "Bach".

"Bach"
Abstract painting has become Richter's main practice in his daily life, and also the best series in his art career. The work "Abstract Picture" was created in 1994 which later became the most valuable works by living artist in 2012. In top-ten list of the most expensive paintings by Richter it occupied 3rd place.
21 Century: Continue Focusing on Abstract Works, International Prestige Consolidated
By entering 21 century, Richter continue focusing on the abstract works. Themes that the artist had worked with for a long time - transparency, translucency, opacity and reflection - took the center stage. In this period of time Richter completed his largest commission work- a large stained-glass window for Cologne Cathedral, and he spent 5 years on it. An abstract work created in 2004, sold with 8.44 million pounds at Christies London in 2013.
In 2002, a retrospective exhibition of Gerhard Richter was opened at the Museum of Modern Art (MoMa) in New York that confirmed his position as a top international artist. Between 2011 and 2012, Richter had another important retrospective show that traveled from Tate Modern in London to Neue Nationalgalerie in Berlin and Centre Pompidou in Paris. In auction market, the values of Gerhard Richter's works are also increasing.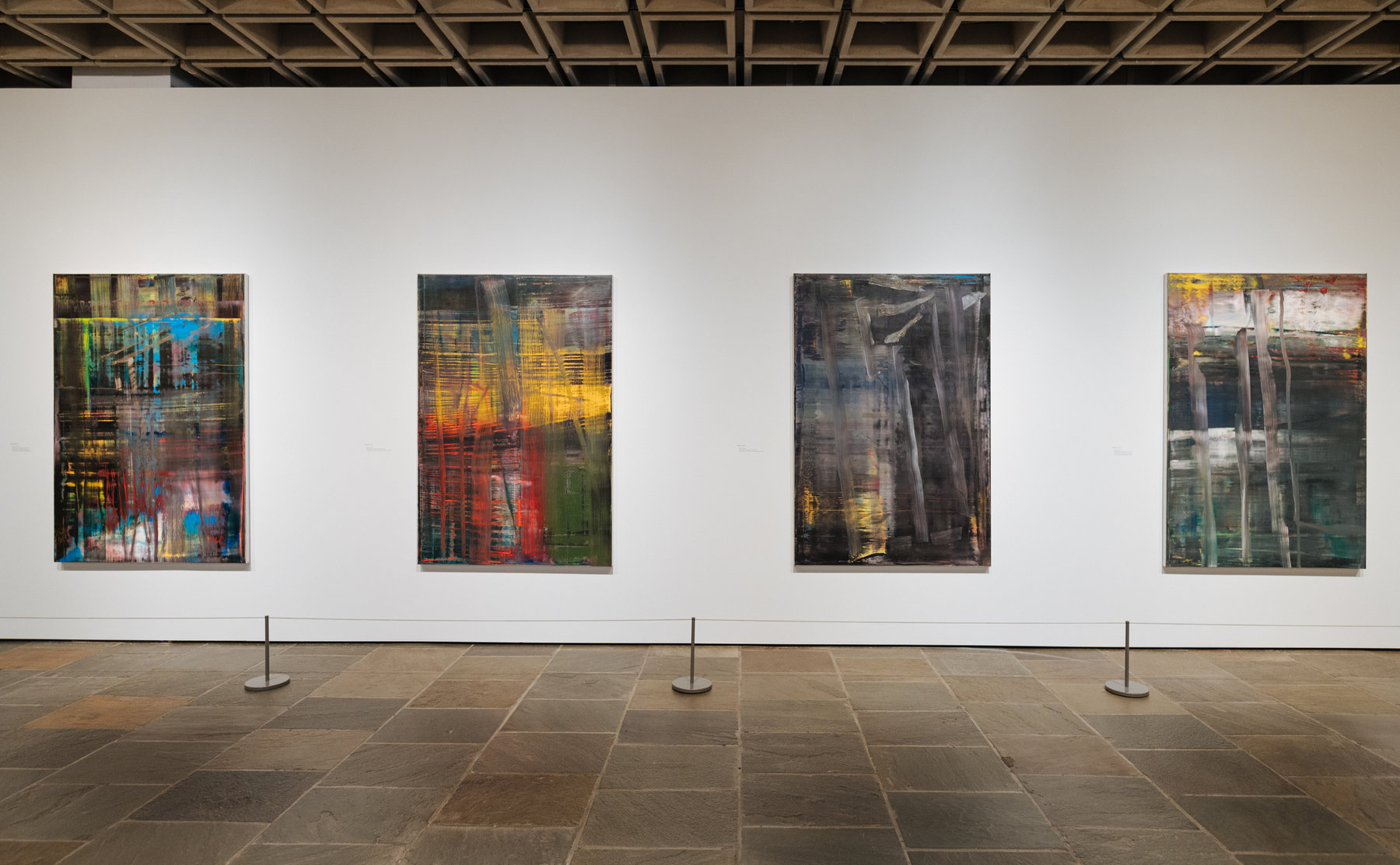 Exhibition site at The Metropolitan Museum of Art in New York in March 2020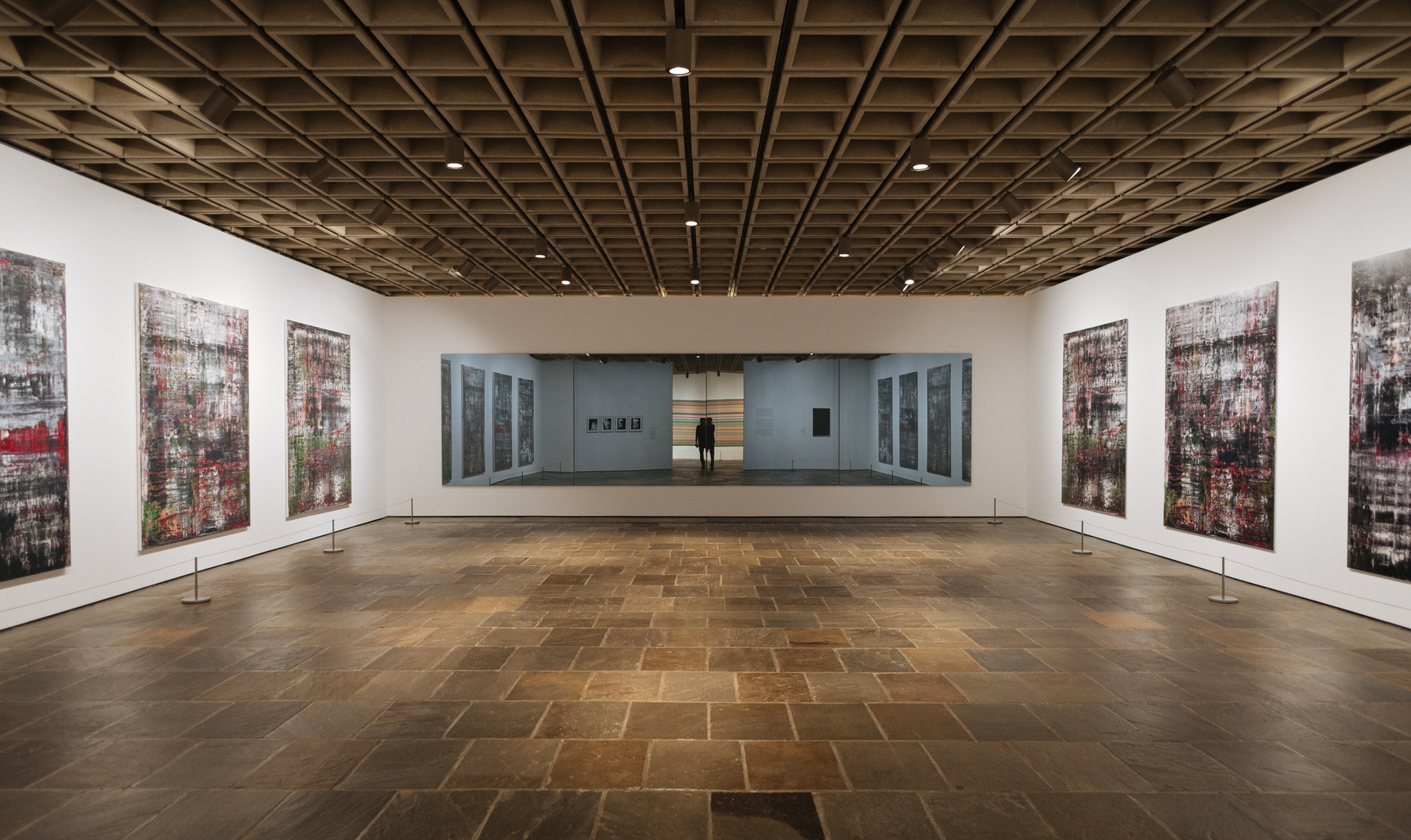 Exhibition site at The Metropolitan Museum of Art in New York in March 2020
In over 60 year's art career, Gerhard Richter diligently explores the possibilities of visual art language. Metropolitan Museum in New York held a retrospective exhibition for him at March 2020, this was his first large exhibition in US in about dozen of years, which enhanced his influence on market.To acquire more information, please contact ArtPro customer service.