[The summary of the 2021 Autumn Auction]Sotheby's Hong Kong 2021 Autumn Series alone achieved HK$3.08 billion
20 Oct 2021, 17:56
Collectors around the world turned their focus to Hong Kong as Sotheby's held its big biannual week-long auction series in the city, offering the opportunity to bid on the very best of fine art and luxury. The auctions were nothing short of thrilling as rarities went under the hammer in the week – from all categories of Chinese ceramics and paintings, modern and contemporary art, jewellery, watches and wine. Sotheby's Hong Kong 2021 Autumn Series alone achieved HK$3.08 billion (US$397 million) bring the year-to-date total in Asia to HK$8.5 billion (US$1.1 billion), in ten months surpassing 2020's full year total. Here are the key takeaways from the series.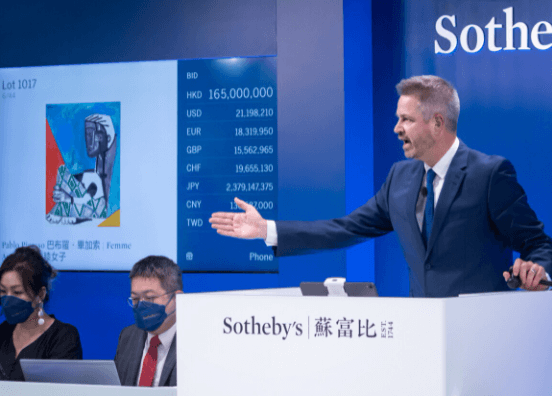 Strongest Year Ever for Western Art in Hong Kong
Hong Kong's emergence as an important international hub for the market was evidenced by the results of the modern and contemporary art auctions which extended two days over the weekend of 9-10 October. New generations of international bidders added to the composition of more established collectors, snapping up works by blue-chip artists as well as emerging talent. The evening sales saw high demand as the impeccable quality and provenance of the works on offer boosted competition among bidders from all over the world with specialists on phone banks taking bids in real time from New York, London and Hong Kong.
Key Numbers. The five auctions of modern and contemporary art achieved HK$1.4 billion (US$185 million), bringing the year-to-date total in the two categories for Sotheby's Asia to HK$4.7 billion (US$600 million). Compared with the previous year, that's 35% higher than the entire 2020 total for modern art and contemporary art. Sales in both categories were higher than projected. In the details, Western art sold in the two days accounted for HK$887 million (US$114 million), together achieving a record HK$2.57 billion (US$330 million) in the ten-month period. The fact that this is close to triple the 2020 figure demonstrates that the international competition for Western art in Asia is now at an all-time high.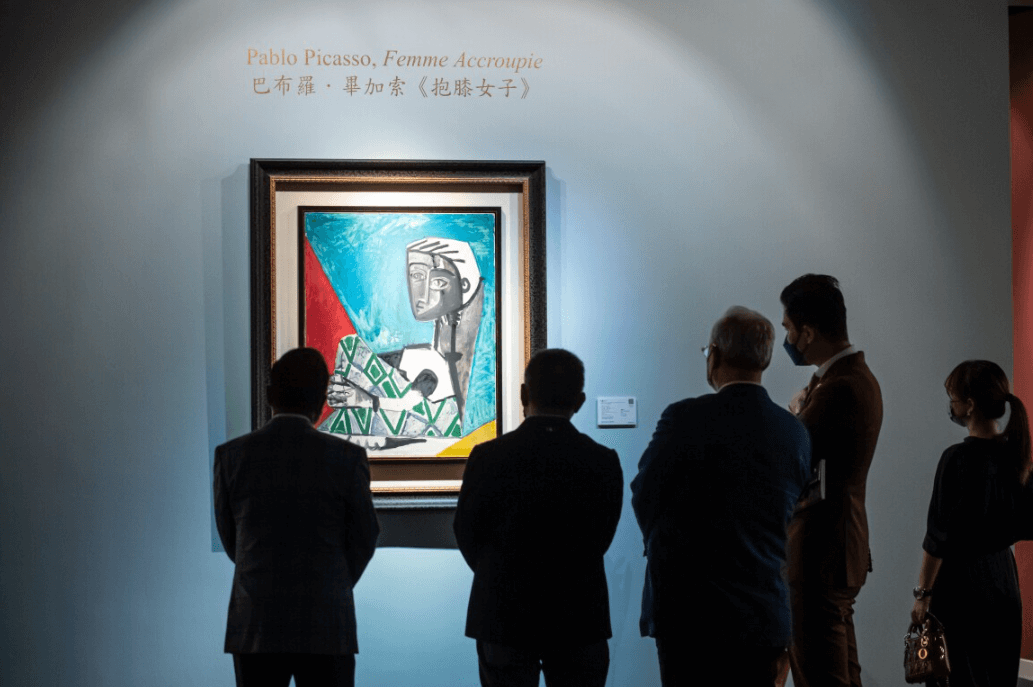 Picasso and Basquiat set auction records, plus a Van Gogh first. Among the most memorable highlights of the Modern sale was Pablo Picasso's Femme Accroupie. With exceptional exhibition history and having remained in the collection of American philanthropists Kate and Allan Emil since 1957, the portrait of Jacqueline Roque sold for HK$191.7 million (US$24.6 million), topping the auction record for Picasso in Asia. In the same sale, the first painting by Vincent van Gogh ever offered at auction in Asia realised HK$71 million (US$9.1 million). Painted in 1886, during the artist's Paris period and at the crux of the most transformative stage of his career, Nature Morte: Vase Aux Glaïeuls is the only early period flower still life by Van Gogh to appear at auction in more than two decades. Leading the Contemporary evening sale was Untitled (Red Warrior) which was created by Basquiat in his 'golden year'. Coming to the market just months after Basquiat's Warrior, also from 1982, the rarely seen work offered in Saturday's auction brought in HK$162.9 million (US$20.9 million), becoming the most valuable Western artwork ever sold in Asia.
Vincent van Gogh
Nature Morte: Vase Aux Glaïeuls, 1886
Oil Canvas | 51.2 x 38.8 cm
Estimate HKD 70,000,000-100,000,000
Price: HKD 71,006,000
9 Oct 2021
Sotheby's Hong Kong
Demand reflects wider scope of collectors. Exceptional provenance and exhibition history attracted competition worldwide, with American collectors accounting for about 30% of the total amount bid in the Modern Art Evening sale, where both the quality and previous ownership of the works on offer was of great appeal. Works by Pierre-Auguste Renoir, Auguste Rodin, Bernard Buffet, Picasso, Marc Chagall and many others had great provenance, and strong prices were achieved for Joan Mitchell, Roy Lichtenstein and Cecily Brown. Paintings by Asian masters continued to excite demand, including highlights Sanyu's Nu endormie, Yoshitomo Nara's Under the Hazy Sky, and Zhang Xiaogang's Bloodline - The Big Family No.1. Film auteur Wong Kar Wai's first ever NFT creation, In The Mood For Love - Day One established a new benchmark for any Asian film NFT.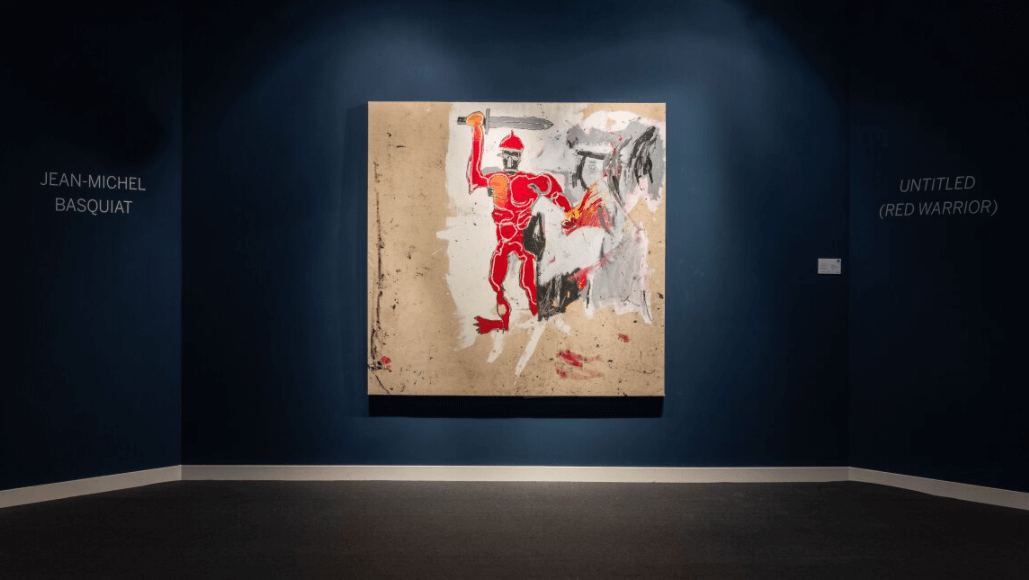 Rising stars emerge. The contemporary art auctions also saw standout performance of today's most promising artists including, Jadé Fadojutimi, Loie Hollowell, Rafa Macarrón, Shara Hughes, and Louis Fratino. 'Our Evening Sale undoubtedly started with a bang, with the first four offerings setting new auction records for the hottest new names,' says Max Moore, Head of Contemporary Art Sales, Sotheby's Asia. 'Not only does this speak to the ever-increasing appetite from collectors for new talent, it also reaffirms Asia as one of the shining bright spots for platforming today's most exciting artists emerging onto the market.'
Jean-Michel Basquiat
Untitled (Red Warrior), 1982
Acrylic oilstick Linen | 195.6 x 198 cm
Estimate HKD 150,000,000-200,000,000
Price: HKD 162,926,000
9 Oct 2021
Sotheby's Hong Kong
"We set out to put together a sale that simply speaks to what our clients across Asia are looking for. In our case, this means important pieces by storied Contemporary masters, as well as buzzy young artists who have recently started taking art fairs, or indeed Instagram, by storm."
Wong Kar Wai
The Last Man Standing - Vertical Poster (Autographed And Hand-painted By Wong Kar Wai), 2021
Acrylic Inkjet print Canvas | 186 x 110 cm
Estimate HKD 200,000-300,000
Price: HKD 529,200
10 Oct 2021
Sotheby's Hong Kong
Zhang Daqian Inspires Fierce Bidding at Fine Chinese Paintings Sale
Sotheby's Fine Chinese Painting Sale concluded with a total of HK$441.6 million (US$56.7 million), with about 90% of the lots on offer sold. The moment of the day was when Zhang Daqian's Mist at Dawn went on the block. Inspiring a thrilling fifteen-minute battle generating more than twenty bids, the painting from the M K Lau Collection fetched HK$214.6 million (US$27.6 million), establishing work as the second most valuable painting by the artist ever sold by Sotheby's. The current auction record for Zhang Daqian was set by Sotheby's in 2016.
Zhang Daqian
Chun Yun Xiao Ai, 1968
ink and color on paper Picture frame | 100.5 x 140 cm
Estimate on request
Price: HKD 214,631,000
11 Oct 2021
Sotheby's Hong Kong
Standout Results for Gong Xian's Landscape and Other Classical Works
From the Tsao Family Collection, a rare set of four hanging scrolls by Gong Xian took the spotlight at the Classical Chinese Paintings sale. Bidding for the lot was brisk, ultimately bringing in HK$14.7 million (US$1.9 million), the highest price for a work in the auction. Other highlights of the sale include: Two Ming dynasty works by the brothers Wen Peng and Wen Jia, a rubbing mounted in an album of 56 leaves Stele for Shi Chen, and the manuscripts by the Qianlong Emperor of the Qing Dynasty.
A Big Night for Qing Imperial Porcelain, Buddhist Bronze Statues
Two single-owner sales THE THREE EMPERORS: Imperial Porcelain of the Kangxi, Yongzheng and Qianlong reigns from the Yidetang Collection and Reflection and Enlightenment: Chinese Buddhist Gilt-Bronzes from the Jane and Leopold Swergold Collection on 12 October showed strength for Chinese Works of Art.
Wine and Spirits: Phenomenal Results Across the Board
Extending across three days, auctions of wines and spirits achieved HK$196 million (US$25 million), exceeding the combined pre-sale estimate. That's the third highest total for an auction series of wine and spirits in Asia, making 2021 a record-breaking year for Sotheby's Wine in Asia, with a HK$515 million (US$66 million) total year to date.
The first part of Sotheby's Magnificent Jewels drew to a close with a total of HK$389.3 million (US$50 million). Diamonds, in particular coloured diamonds, continue to be in hot demand, with a Fancy Vivid Blue and Pink Diamond Ring leading the results, selling for HK$35 million (US$ 4.5 million), and a Fancy Intense Green and White Diamond Ring achieving HK$23.8 million (US$ 3 million).
Anonymous
An Exceptional Fancy Vivid Blue, Fancy Pink And Fancy Intense Pink Diamond Ring
Blue Diamond |
Estimate HKD 33,000,000-45,000,000
Price: HKD 35,023,000
12 Oct 2021
Sotheby's Hong Kong
Highest Watch Sale Total in Sotheby's Asia History
At the finale of the auction series, the sale of Important Watches achieved the highest total in the history of Sotheby's Asia, coming in at HK$261 million (US$33.6 million). Among the top lots was an F.P. Journe limited edition platinum Tourbillon Souverain 'Souscription' which set an auction record for the model when it soared to more than double its estimates and realised HK$15.9 million (US$2 million). All thirteen lots from the independent watchmaker fetched prices higher than predicted, together coming to a combined total of HK$36 million (US$4.6 million).
F.P. Journe
Tourbillon Souverain Souscription, 1999
yellow gold Brass |
Estimate HKD 6,500,000-9,500,000
Price: HKD 15,905,000
13 Oct 2021
Sotheby's Hong Kong
For more exciting information about the 2021 art market, please follow ArtPro.