Data Assets and Service Rights Upgrading, VIP Function for International Users Now Online
ArtPro is focusing on global art auction market since established. We have been recognized by the art collectors and art enthusiasts with professional database and comprehensive market information. ArtPro has made some upgrade of expending the historical data that covers tenth of thousands of auctions and tenth millions of lots information in over 20 years, to show a comprehensive growth and changes of the global art market. Now, ArtPro is presenting brand new VIP function, to provide you with a more professional and private experience.
Tips: Users had registered before will receive 30 days VIP tryout for free; New users will be giving a 7 days tryout after registered.

Keywords No.1: Unlimited reading of massive data
From displaying, ArtPro has collected history data from over 200 countries and places with thousands of auction houses since 1994. You are free to browse more than 30 thousands of auctions, previews and auction results by just one click. From searching, we provide multi-dimensional searching of auctions and lots by timeline, locations and price ranges, to present the most accurate results. Unlimited reading of massive data will be provide for VIP users.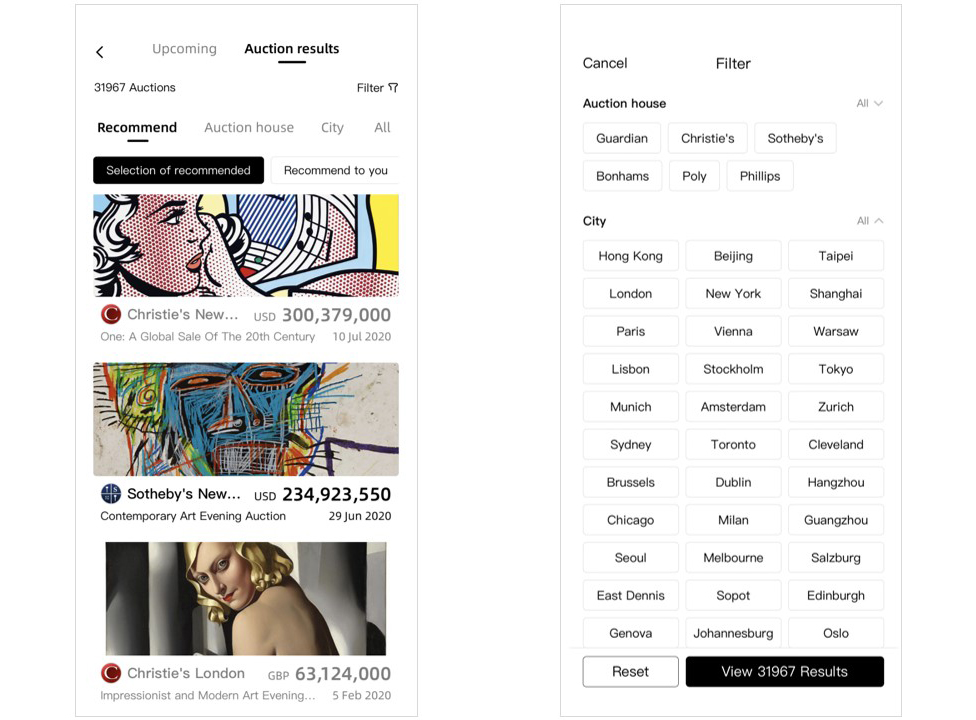 Massive Auctions
Keywords No.2: Live- stream playbacks to reproduce auction scenes
No need to worry about missing the real-time live streaming of auctions, the playback functions will bring you back to the scene, to view the global auction sites without stepping out of the room. Intensive competition at the ground, and the bidding process of your favored pieces, you won't be missing any exciting moment.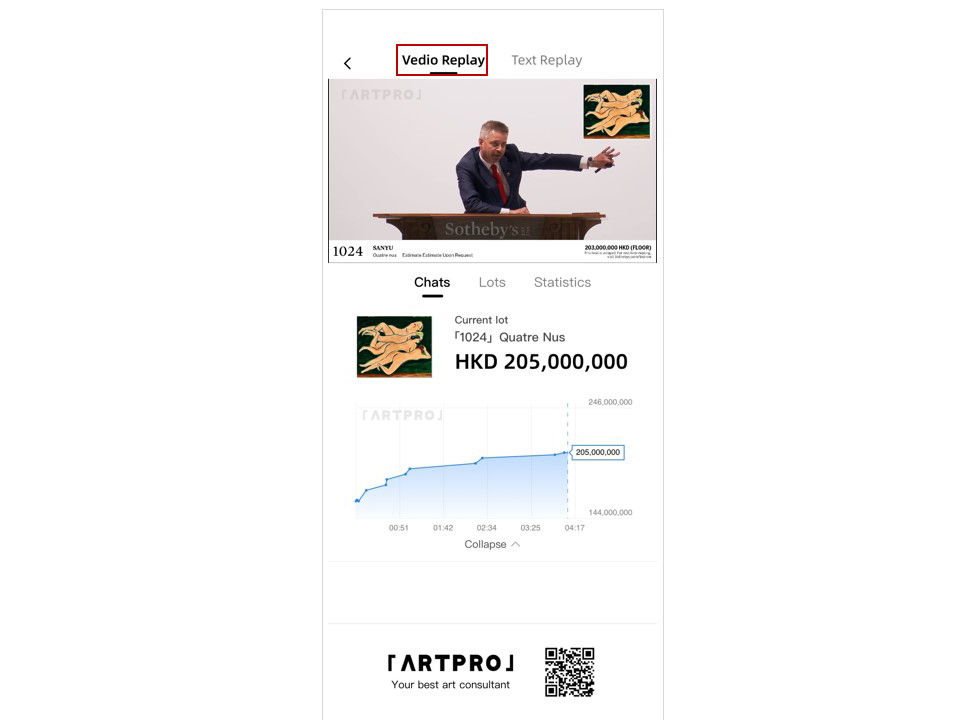 Live- stream playbacks
Keywords No.3: Reports optimizing with huge discounts
Based on a more inclusive data resource, the report service of ArtPro is getting more accurate, more normalized and more comprehensive. VIP users are able to customize their personal report of artists, market trends and more, with huge discount. These unique market analysis will bring new references for you art investment.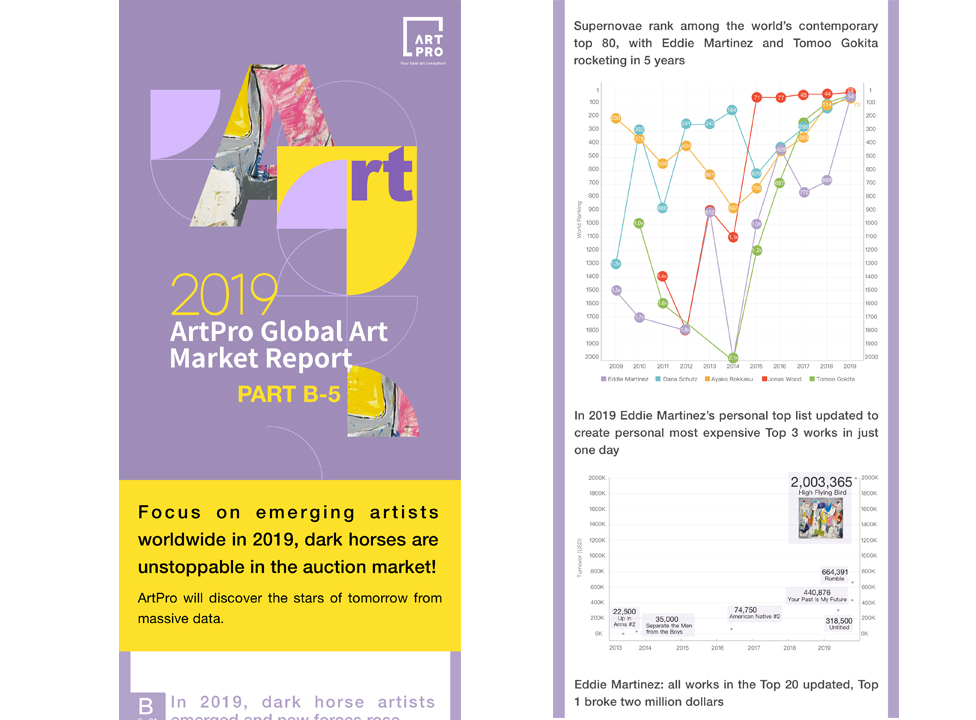 Data Reports
Keywords No.4: Exporting function, easy to transport on social media
To disseminative and share of the high quality contents on App, has been the same requires for many customers. After the VIP functions uploaded, lots information and in-depth news are able to export in one click. High quality PDF files will present you with the lots information of your concerns among all disarray. And available to share on different social platforms.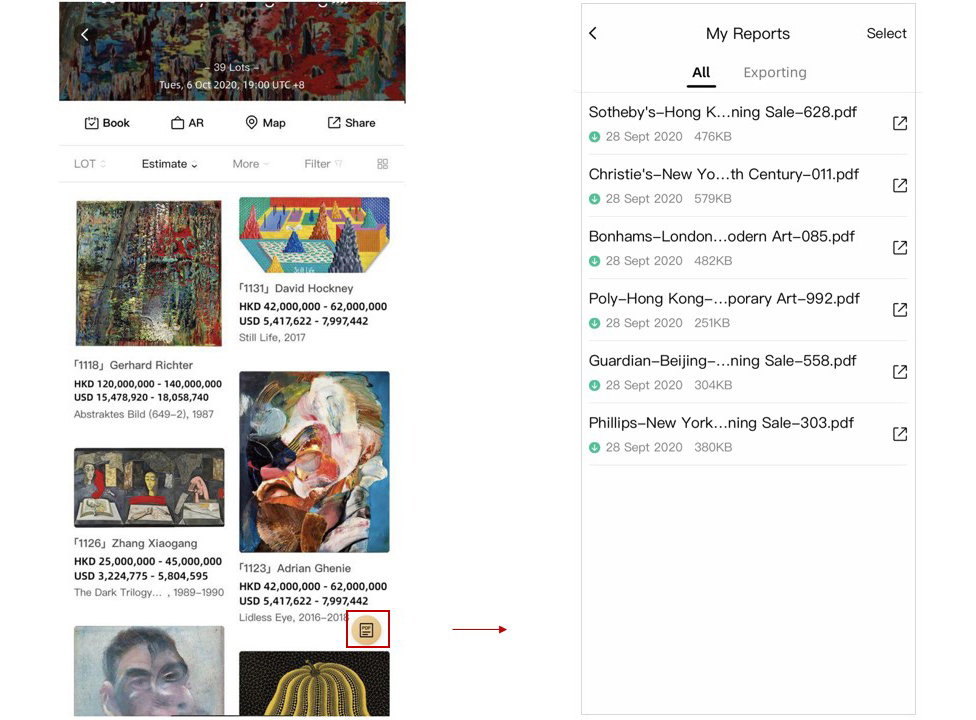 Exporting function
Rights of Regular & VIP Users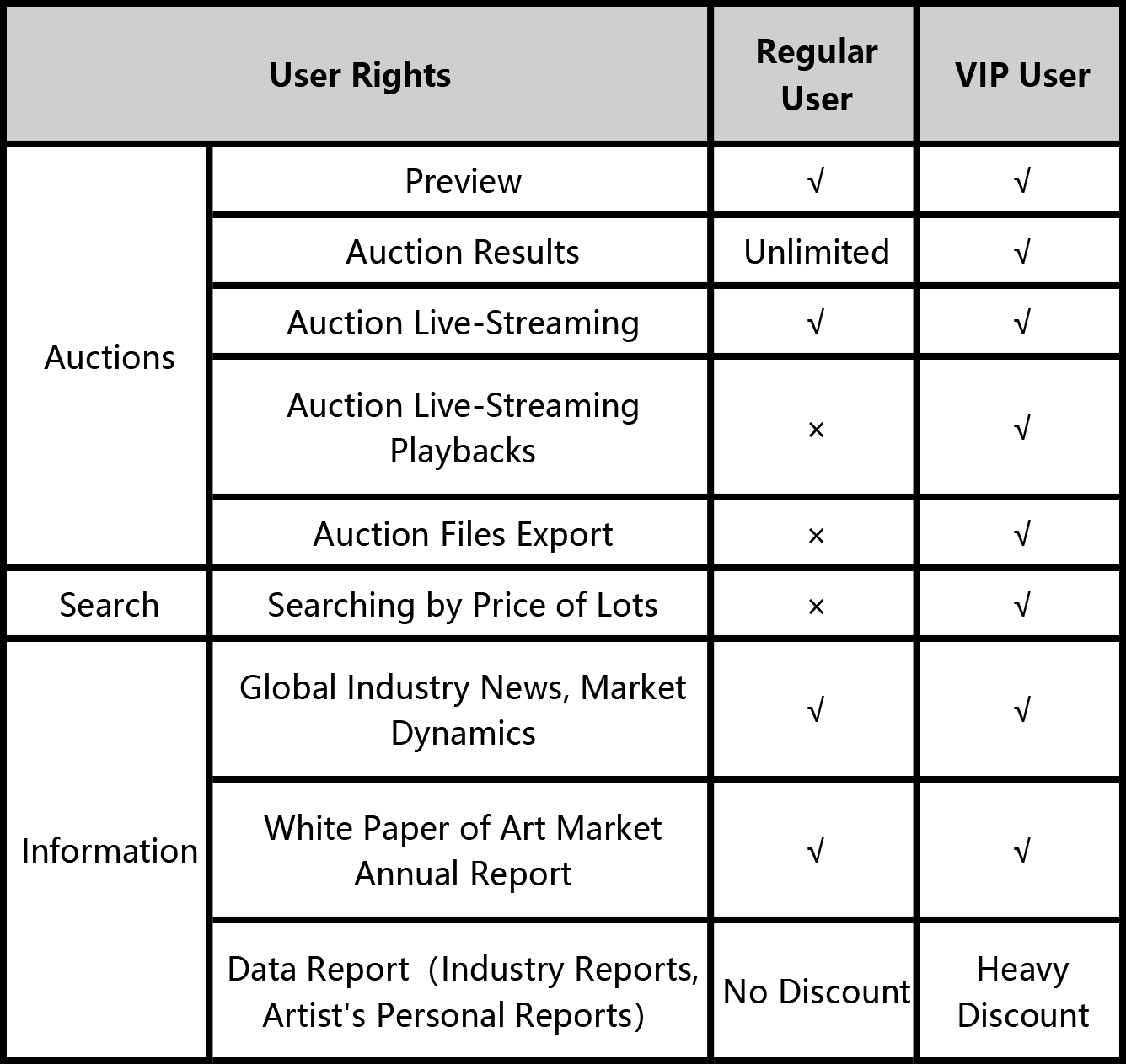 Note: Regular users are still able to looki at all preview information, searching auction results, watching auction live-stream, browsing the art market news and purchasing data reports.

With more users joining in from worldwide, and more regular customers. ArtPro is keeping closely watch of the user dynamics and listen to their requirements. We have been constantly improving and upgrading our service ability into a much professional level. We hope that this upgrading of data and customer rights will being you better experience to explore the global art market. ArtPro has always been with you to help.