【Review of 2021 Autumn Auction Live】 Femme Accroupie sold for HKD 191M, Picasso's New Asian Auction Record
9 Oct 2021, 18:19
This October, the Modern Art Evening Sale of Sotheby's Hong Kong has offered masterpieces of eastern and western modern art. Picasso's Femme Accroupie, a private collection since 1957, has made its debut in Hong Kong this time. The painting was estimated between HKD 150M -230M, and after fierce bidding, No.69 dropped the hammer with HKD 165M (USD 21,196,725), and altogether with the commission sold for HKD 191M. A new record of Picasso's Asian selling was born (beating the previous record of HKD 139M (USD 18.05M) set by Matador at Sotheby's Hong Kong this April).

Exhibited in many Galleries and Museums
Femme Accroupie of Picasso has been exhibited many times at his individual exhibitions, including "Picasso: Late Works 1938-1961" in the Worcester Art Museum in 1962. Serving as the cover of the exhibition catalog, it was also arranged at the same place with Les femmes d'Alger (Version J), demonstrating the close connection between the two works.
Pablo Picasso
Femme Accroupie, 1954
Lacquer Oil Canvas | 92.2 x 73 cm
Estimate HKD 150,000,000-230,000,000
Price: HKD 191,651,000
9 Oct 2021
Sotheby's Hong Kong
Portrait of his second wife, Jacqueline
Femme Accroupie is a wonderful portrait depicting Picasso's late Muse, also his last wife. The face of Jacqueline began to permeate Picasso's works since 1954, and gradually became the only muse of the master in his late years, contributing to the his greatest and longest thematic series.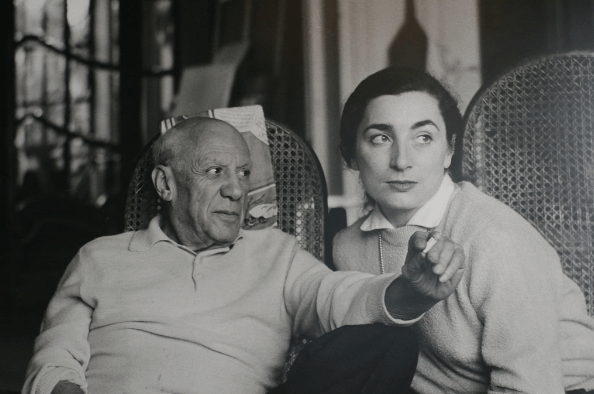 Jacqueline's debut was made in two works painted in June of 1954. After several months, Picasso again took her as inspiration and created seven oil portraits in October in the same year. Not only the painting style got more mature, but the emotional implication also became more hot. Five works, including Femme Accroupie and (Malaga Picasso Museum), all depict profile with knee hugged, confirming the artist's interests in this particular composition. Femme Accroupie, painted in October 14th, 1954, was the last painting in the series and also the final master presentation.
Femme Accroupie achieves the top record of Picasso in Asia
Femme Accroupie has achieved a brilliant score, breaking the previous record kept by Matador which brought HKD HKD 139M (USD 18.05M) set at the Spring Sale of Sotheby's Hong Kong this April.
Pablo Picasso
Buste De Matador, 1970
oil painting Canvas | 130 x 97 cm
Estimate HKD 100,000,000-150,000,000
Price: HKD 139,946,000
18 Apr 2021
Sotheby's Hong Kong
2021 Modern Art Evening Sale of Sotheby's Hong Kong is on live now. Please click "special" to get more details, and stay tuned to ArtPro for more latest auction news.
Modern Art Evening Sale
Sotheby's Hong Kong
Hong Kong Convention and Exhibition Centre 1 Expo Drive, Wanchai Hong Kong