Roy Lichtenstein | Auction Market Personal Report
Roy Lichtenstein is an American Pop art master. He was born in a well family in 1923. He received proper education since young and became the co-founder of Pop art movement. He uses Ben-Day dots and ink screen printing technique to create a unique art style. Lichtenstein has changed traditional visual art language, his works are images from other ready-made pictures. From Mickey Mouse to Picasso, everything can be his subject with Lichtenstein's special creative expression.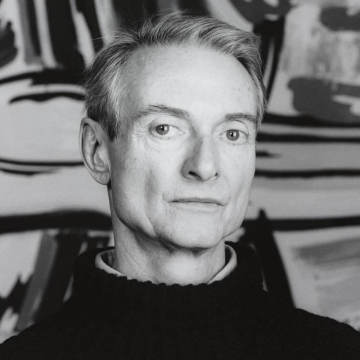 Created in 90s, Nude With Joyous Painting by Roy Lichtenstein were in New York auction at July. This is an important painting of his later career. Different from his early works that were consisted with only red, yellow, blue and black, this piece used nearly 50 different colors. It was sold with an extraordinarily high price of 46 million dollar and achieved as his Top3.
A reviews shows Roy Lichtenstein's career is a process of broadening the limitation of art. It could be divided into five stages: Before 1960s (Exploration Period), Cosmic Cartoon Period in 1960s, Still life & Landscape Period in 1970s, Expressionism Period in 1980s and Interior Design Period in 1990s. This division can bring us a better understanding of Roy Lichtenstein's market value and his art styles.
Works: Most turnover from works in 60s, highest square meter priced works are from 90s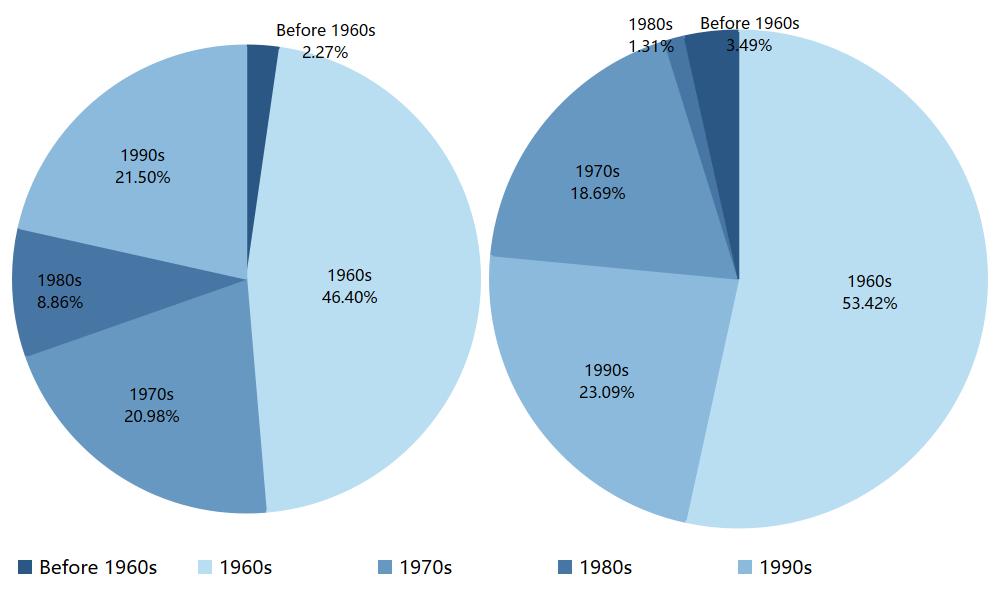 Left:Turnover proportion in different periods
Right:Works above 5 million dollar in different periods
From Roy Lichtenstein's Top10 list, we can see that the time between 2010 and 2015 is his peak on market. Eight pieces from the Top10 list were sold during these years. By looking at the periods, 7 paintings on Top10 list are from 1960s, 1990s took two places and 1 is from 1970.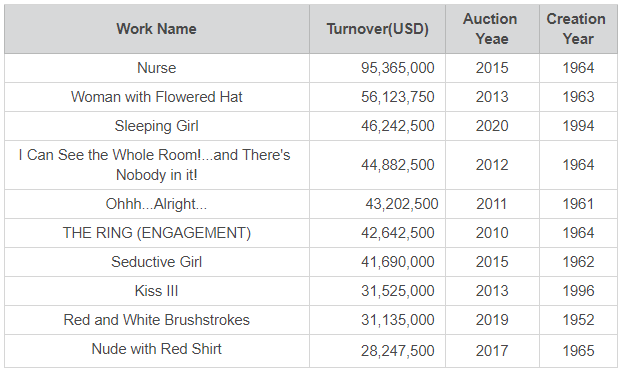 Top10 list of the artist
By viewing deals volume and square meter price data, although the deals volume and sold-by-lot rate of works in 1960s are far ahead than the others, works from 1990s still sold good price in 2020. Nude With Joyous Painting made the square meter price of works in this period the most expensive in the season.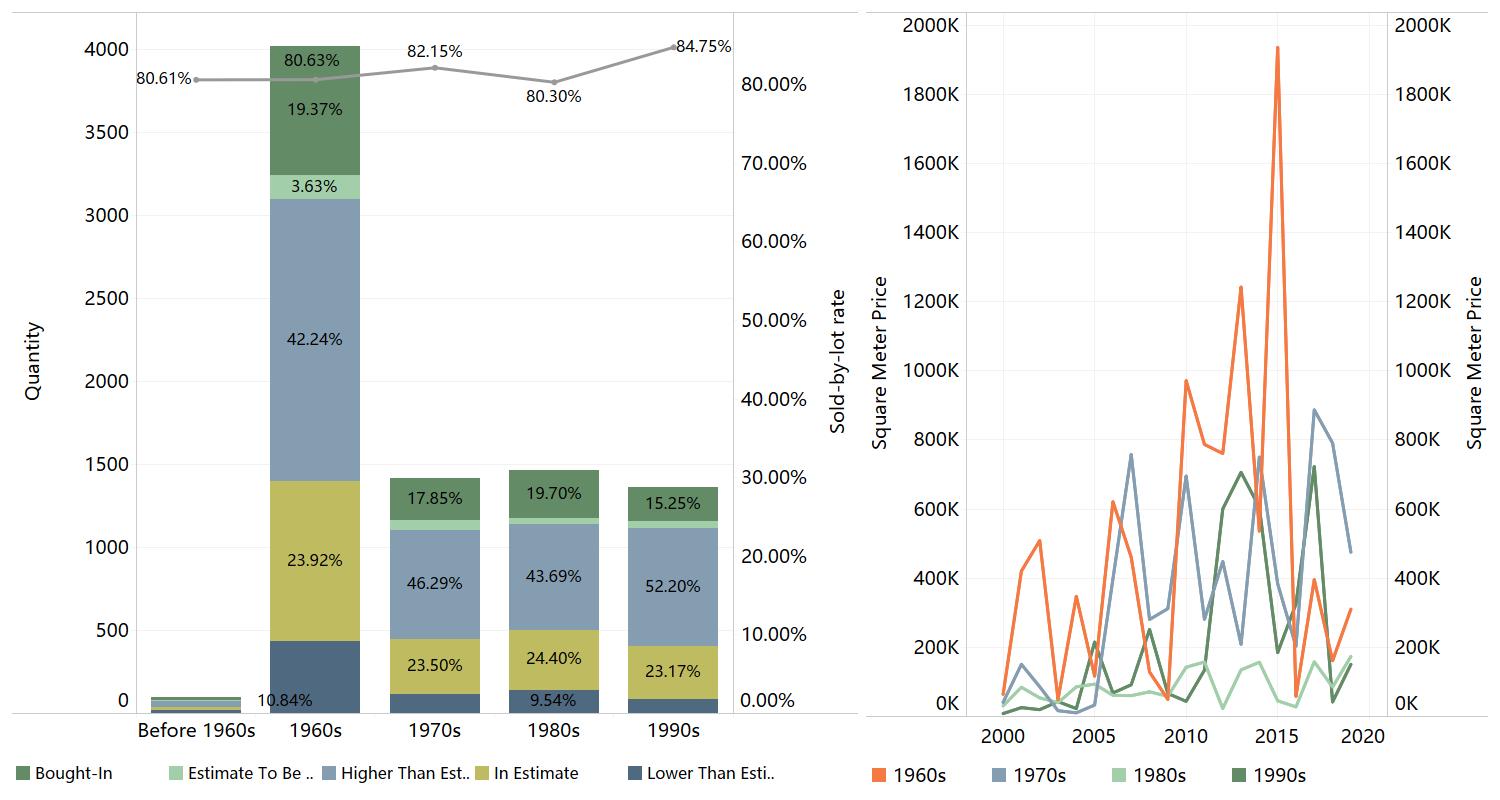 Sold-by-lot-rate and square meter price in different periods
Price Index: Fluctuating in 20 years, second peak in career at 2020
Roy Lichtenstein's price index went from 1 to 15.64 in 20 years, it increased substantially from 2010. Since 2011, Roy Lichtenstein has exhibited in many famous institutions like Whitney Museum of American Art, Los Angeles County Museum of Art, School of the Art Institute of Chicago, National Gallery of Art and Tate Modern, with more than 20 exhibitions in 4 years. This has greatly increased his exposure, the price of works are steadily rising up. Both of his price index and turnover reached peak in 2015.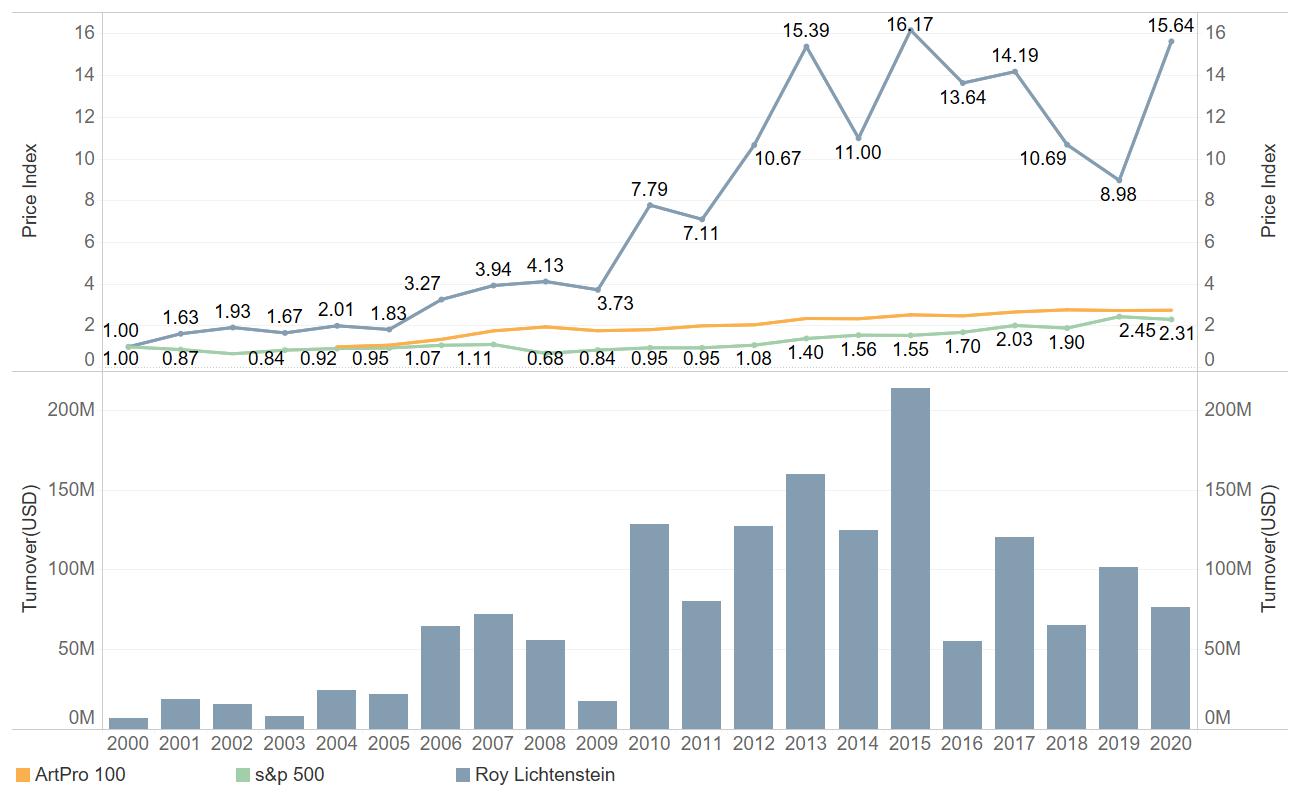 The market environment in 2020 is not ideal, his personal index is growing against the stream which shows the fact that good works will still be appreciated in auctions even under unfriendly environment.
Styles in different years and representative works
Before 1960 (Exploration Period)
Roy Lichtenstein are interested in drawing since he was young, he is from an upper-middle-class family that let him received well education on art from a private high school. He attended College of the Arts in Ohio State University, and received degree and a teaching position after World War II ended. Roy Lichtenstein met his beloved wife Isabel Wilson during this period, they married in 1950. Also in this year, he had his first solo exhibition in Ten Thirty Gallery at Cleveland.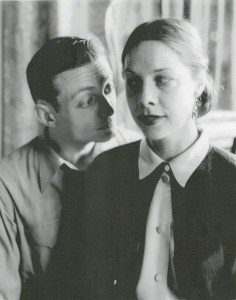 Roy Lichtenstein and his wife
Roy Lichtenstein's works at this time fluctuated between Cubism and Expressionism, he explored both abstractive and figurative art. Weatherford Surrenders to Jackson in 1952 is a painting based on the story of William Weatherford, "Red Eagle," surrenders to Andrew Jackson in 19 century. By using neo-Cubism style to tell stories of American locale, his started the way "quotation".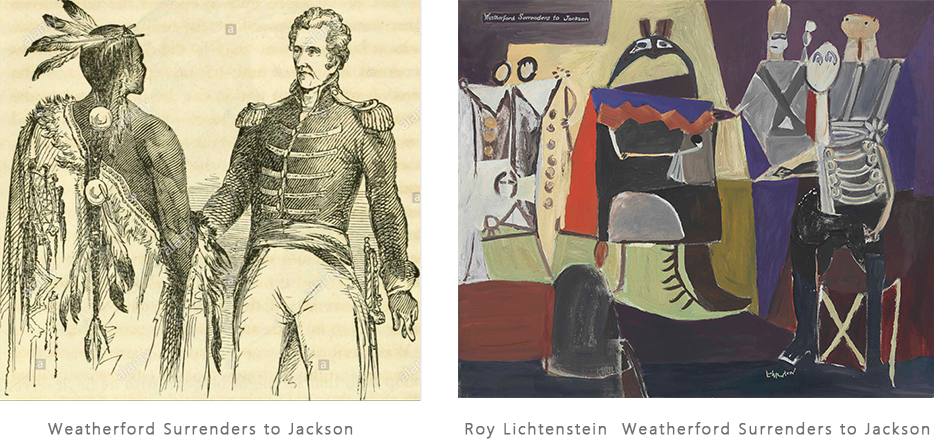 Cosmic Cartoon Period in 1960s
After Second World War, public medias like movies, TV, still images, picture albums, advertise and comic strips are growing fast in the urban area and draws people's full attention. Under such environment, artists start using those ready-made images for their art works. Under the influence of his son, Roy Lichtenstein created his first pop art Look Mickey (1961). After that cartoon figures like Mickey Mouse, Donald Duck and Popeye become the theme of his paintings for a time.

Left: Roy Lichtenstein and family
Right:Look Mickey (1961) by Roy Lichtenstein
In this period, his imitates the printing process of comic strips by hands, using the most simple and flat way and abandoned traditional painting techniques after Velasquez and Rubens. Roy Lichtenstein did not used ready-made images directly. He made sketches from cartoon pictures then enlarge and projected on canvas, and imitated the outlook by his hand. He carefully re-created the dot patterns from prints, these dots are called "Ben-Day dots". They are round shaped dots of different colors and shades lining up or overlapping, to consist large blocks of colors and patterns and created the whole image.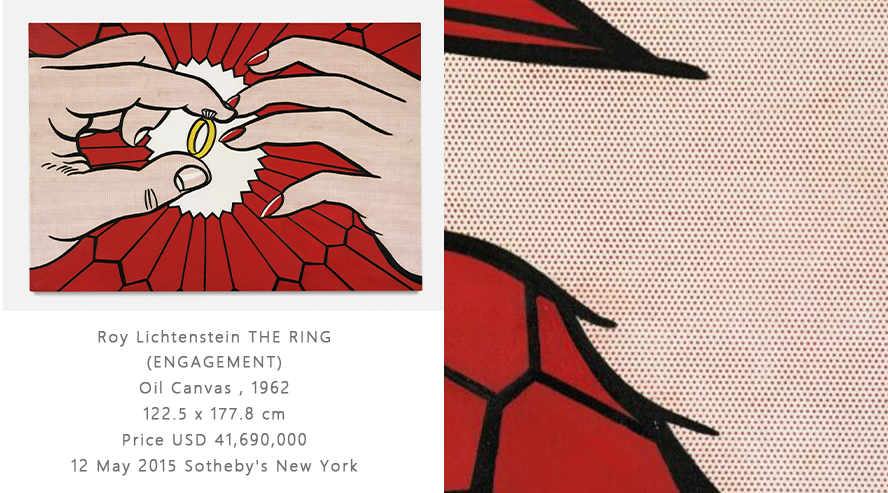 Ben-Day dots on hand (zoomed in)
The Ring (Engagement) is an experimental work from this period, a quotation of romance comic strips. The lines in this painting are not as smooth as his later works, the Ben-Day dots he imitated of the print matters are created by using stencils. These stencils have smaller holes than the larger ones later.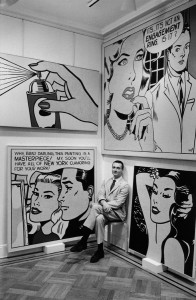 Roy Lichtenstein and his Engagement Series
Top1 from 1960s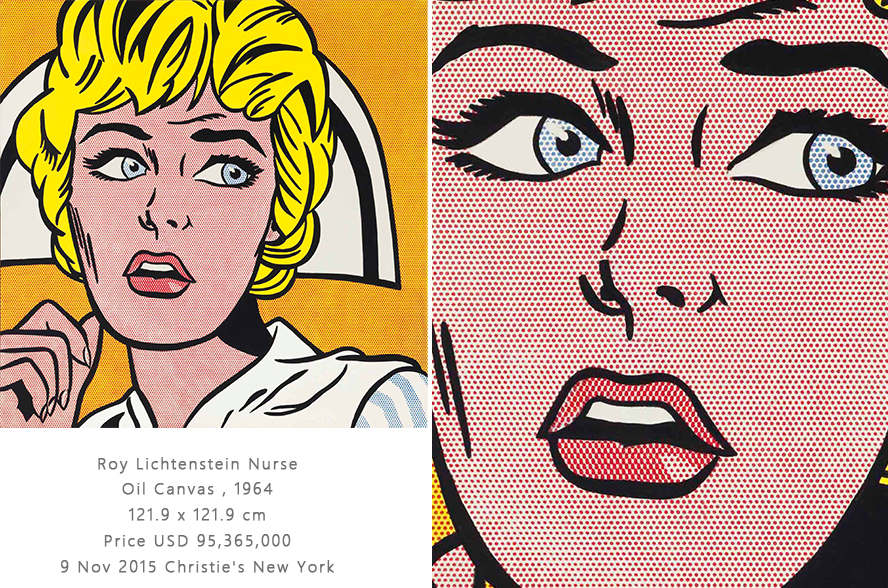 Ben-Day dots on face (zoomed in)
By improving the using of Ben-Day dots, he absorbed the essence of "systematic dots" in neo-impressionism and developed the mature form of Roy Lichtenstein works, a perfect combination of bright colors and different Ben-Day dots.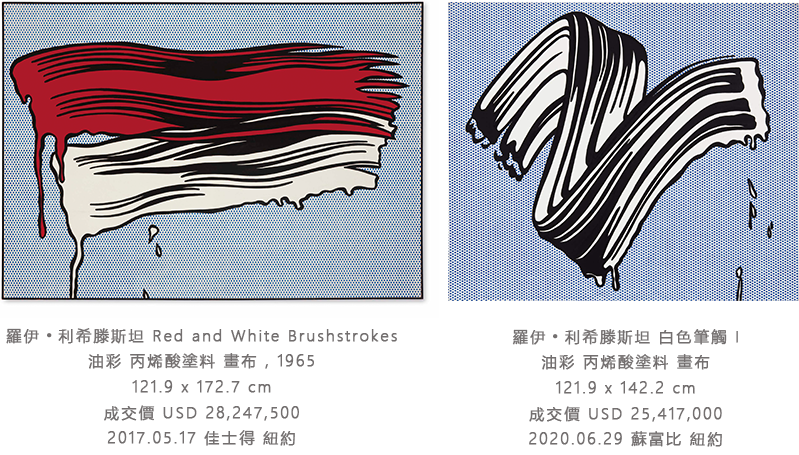 After that, he participated the Venice Biennale in 1966, his works became the main focus on the retrospective exhibition in Guggenheim Museum at 1969. In 1966, he become the first American artist exhibited at Tate Modern Museum in Britain.
Still life & Landscape Period in 1970s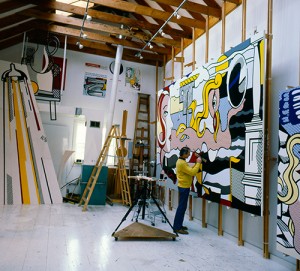 Roy Lichtenstein at work in 1977
After consolidated his position in comic field, Roy Lichtenstein moved to still lives and landscapes. In those works, the images are separated from outside reality. The three dimensional space in the paintings disappeared, instead, thick and smooth outlines were applied to the subjects. The game of imitation were replaced by separations of the style and subjects.
Roy Lichtenstein created series of paintings in 1977, based on the works of surrealism artists (include Salvador Dali, Max Ernst and Joan Miro) and some surreal works of Picasso. He still used Ben-Day dots in the creation, and adjusted brightness by changing tones of the dots. Landscape with Figures is an oil painting in 1977, a Henry Moore's sculpture liked figure with red lips of a woman and a strand of hair that forms a head portrait in surrealist style. A huge signature brushstroke with clear outlines of his 1960s style is on the background. This repeating of theme has solidated the image system of Roy Lichtenstein.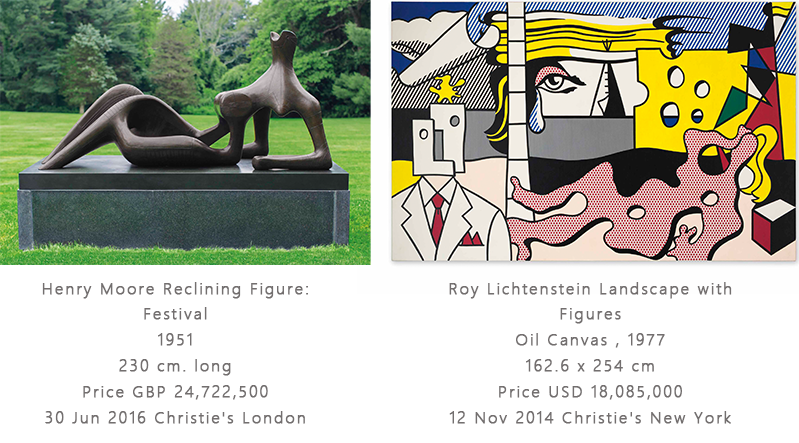 Expressionism style in 1980s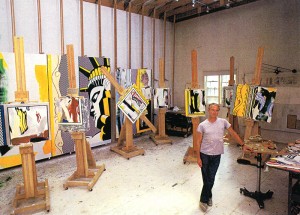 Roy Lichtenstein at work in 1980s
During 1980s, Roy Lichtenstein starts getting away of borrowing images from surreal arts, instead he turns to expressionist styled painting. Woman No2. is an oil painting that directly came from Willem De Kooning's work. The movement style in Willem De Kooning's painting were replaced by accurate and detailed colors and textures, its result is interesting.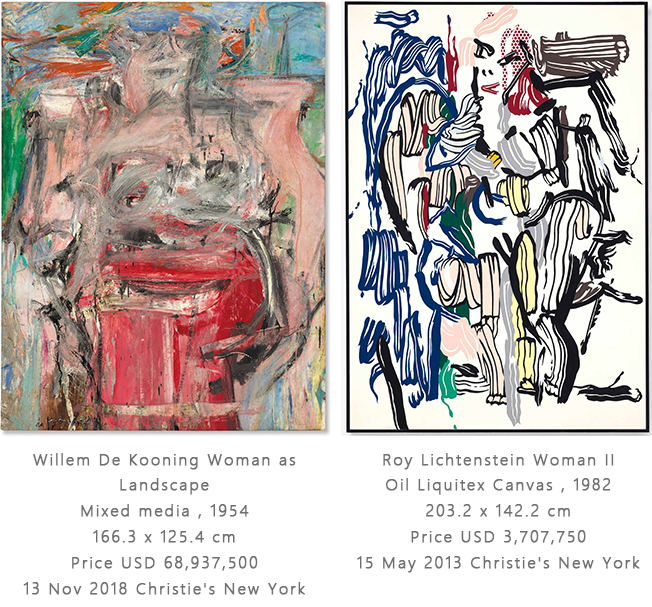 Interior Decoration Design Period in 1990s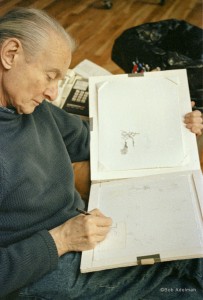 Roy Lichtenstein is working during the last year of his life
Roy Lichtenstein turned his focus to interior decoration at the beginning of 1990s. The image he used here is an ordinary mid-class bedroom, everything is solid and over neat, nothing but a symbol of place for living. There are no shadows on image, the space has nothing creative. The Ben-Day dots, aligned lines, the primitive and secondary colors also emphasized this affect.
In the middle of 1990s, Roy Lichtenstein become interested in the Song Dynasty landscape paintings, and used Western painting techniques to depict the Eastern subjects. These paintings reproduced traditional Chinese landscape theme: cloudy mountains, twisted pine trees, bridges and rivers, old man in crutch and man fishing on boat.
Roy Lichtenstein using strong black outlines and aligned lines, irregular shaped light colored blocks represent leaves and plants, the gradient colored Ben-Day dots represent cloudy mountains. In his visuals style, the repeated Ben-Day dots, clear outlines, light colored blocks are the corresponding element of Chinese traditional ink paintings. The different shades of orange, yellow, blue and green also emphasized the sense of non-perspective space. These paintings look as simple as his usual works, but the sarcasm disappeared. There landscape painting of Roy Lichtenstein provide a mysterious space to the audience.
Roy Lichtenstein is a productive artist, pictures are his subjects, his art were images created from ready-made pictures. He uses Ben-Day dots, aligned lines, flat brushstrokes to consist different pictures. These continue productions are different from other pop artists, his works are rational and stand aloof.To acquire more information, please contact ArtPro customer service.