Jia Aili | Auction Market Personal Report
Jia Aili's large sized work "The Wasteland" was sold at Christie's spring auction in Hong Kong at 2019 with a price of USD $2,309,433 that set as his new Top1 record at the time. The painting "Blue Mountain" achieved UDS $3,083,188 in the 2020 August sale at Mainland China which broke his record again and made him one of most popular young artist in China.
Jia Aili was born in 1979 and graduated from LuXun Academy of Fine Arts. He has great performance since his works entered secondary market from 2011. In 2017 Jia Aili was represented by Gagosian and become the second Chinese Mainland artist who is represented by this gallery after Zeng Fanzhi. He is now showing his works on an international stage with masters like Yayoi Kusama, Jeff Koons and Takashi Murakami. Now, ArtPro is going to lead you to take a close look at this Chinese artists under spotlight.
1. Jia Aili Market Overview
Chinese "Young Artists" had a rising popularity between 2013 and 2015, although the market trend had some correction and call backs later. Jia Aili as one of the Chinese artist who has most potentials, his total turnover start increasing since 2012 and reached top at 2015. Then he had a downtime at auctions due to market correction and new representative gallery changed the focus on selling. The market renounced in recent two years, his price index went from 1 to 3.5 in about 10 years.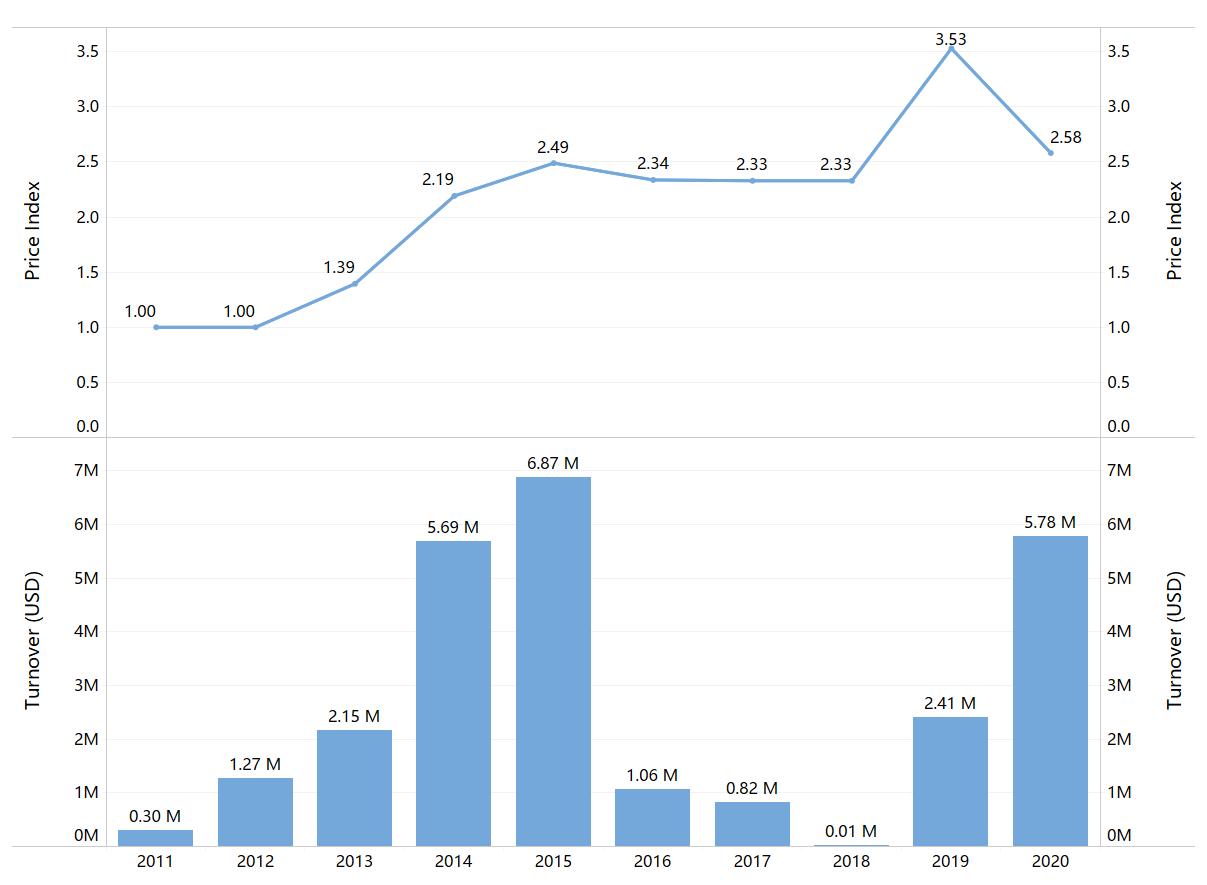 Jia Aili price index & turnover
According to the data, Jia Aili's annual turnover ranking among Chinese young artists group is increasing in general, he reached a peak at 2015 as Top1. Although his ranking went down because of some objective reasons like call backs on market and less amount of works in secondary market, his ranking raised up fast after 2019 and still having great popularity.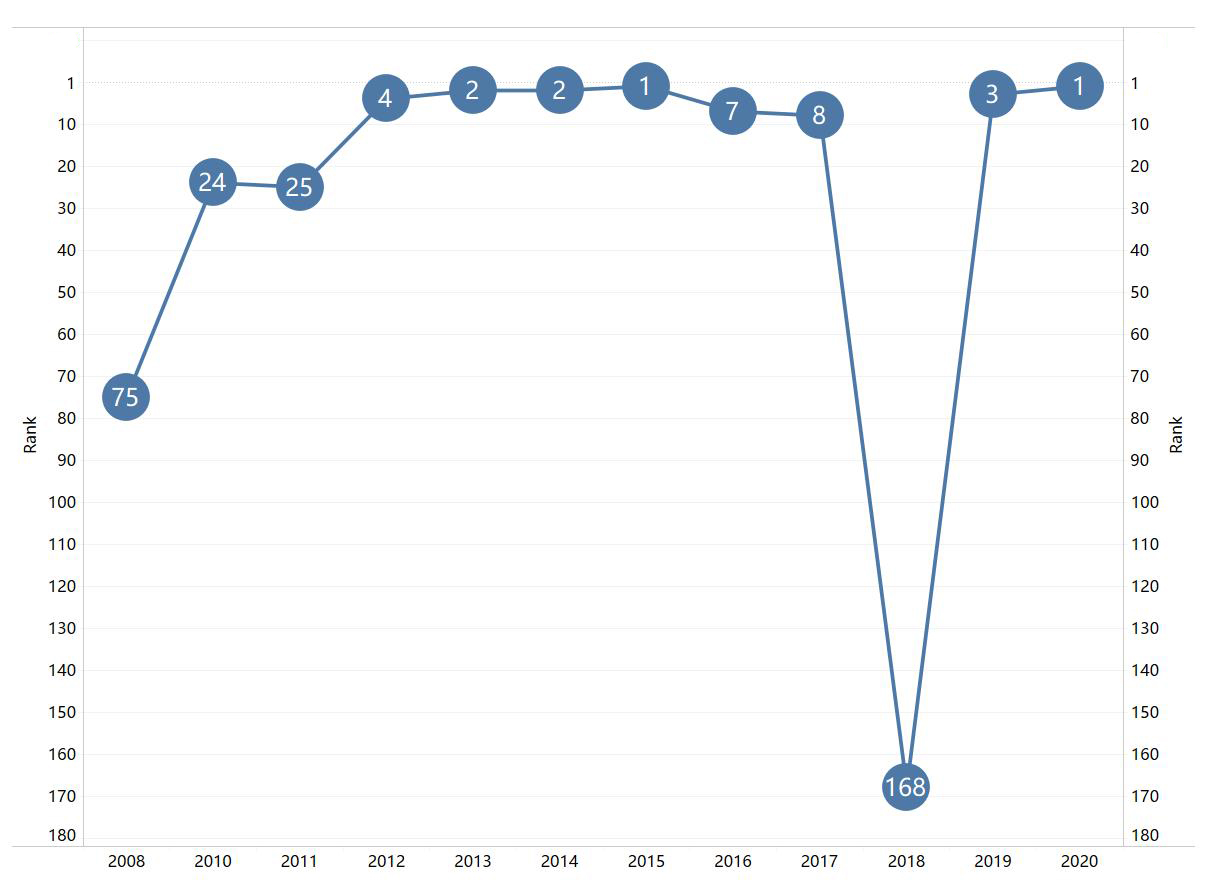 Jia Aili's annual turnover ranking in Chinese young artists
Jia Aili's works were collected by many important international organizations like Smithsonian National Museum in Washington and CAC Malaga in Spain. The auction areal distribution are mainly focused in Hong Kong, but he also had certain proportions in European market. His turnover at Mainland China is increasing in 2020 till now.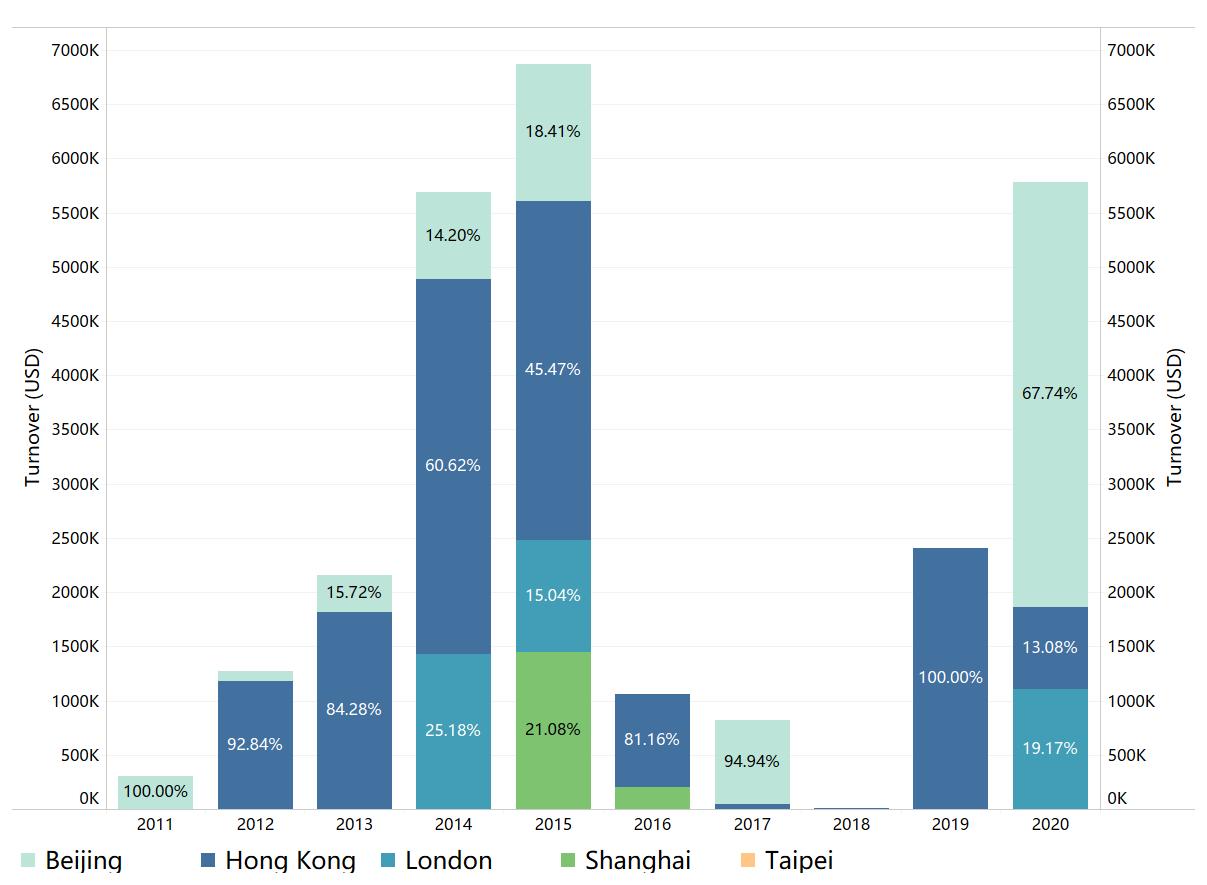 Areal distribution of Jia Aili's auction location in 2011-2020
2. Three Important Series Works Analysis
With an academic background,Jia Aili has solid painting skills. His works are mostly large sized paintings about 2 meters high or wide. Beside this capability of handling large works he is also able to portraying details. His works have strong personal style under certain historical context that reflects his critical perspective towards society issues and lives of the commons.
"The Wasteland" Series
"The Wasteland" is Jia Aili's most representative series, it is also his first solo exhibition after graduated from LuXun Academy of Fine Arts. This series established his artistic style. These works are based on his pessimistic imagination towards the lost industrial society. With a messy environment that shows the sense of helplessness and desperation even death. Man with gas mask is a classic element in his works, through disordered lines and strokes Jai Aili created an atmosphere of sudden explosion and fissuration that spread into the whole image. By releasing his inner painfulness and exaggerating the private emotion, Jia Aili expressed his dissatisfy about the society issues. This way of expression gives a contemporary quality to the art works.
"The Wasteland No.1" is another piece from this series, it was sold in October 2014 at an auction in Sotheby's Hong Kong, with USD $1,521,114 that settled as his Top4 priced work, and made this series one of the most popular in all Jia Aili's works.
"Nameless Day" Series
"Nameless Day 2" was created during times when Jia Aili taught at LuXun Academy of Fine Arts as a teacher. He use the landscapes of Yalu River in his hometown Dandong as background, to create this masterpiece that pays tribute to the poetry "The Wasteland" by T. S. Eliot. A naked man with gas mask sitting on a wasteland, a rocket that injecting smokes at the end of horizon that creates an explosive power at the silent environment. This image is representing the fallen of human's inner spiritual world and his desperate questioning about the economic slump of whole industrial districts in northeast China. This work has been sold at Christie's Shanghai in April 2015 with USD $1,513,808 and it is taking the 5th place at Jia Aili's Top10 list.
Same as "Nameless Day 2", "Nameless Day" also depicted a group of people who are desperate and lost on wastelands with restless emotion. It came from Jia Aili's childhood experience when a dramatic change happened on this land. The revolution at the industrial area in northeast China made many state-owned enterprises bankrupted and closed down. There was a larger amount of abandoned factories and desperate people who lost their jobs. Growing up in a society with crimes and local gangsters, these are the memory from his teenage years and left him a profound impression.
"Good Morning, World" Series
From left to right, the first image shows an astronaut in a space cabin, looks like he is on a journey to the universe. The second picture is a whole grey canvas of silence. And the last one is a wasted laboratory that shows Jia Aili's empathy toward human ambitions of conquering. The painting style of "Good Morning, World (Triptych)" is different his previous works, in terms of either specific figure, articulate perspective projection, the holiness in images of triptych form. This painting reminds of the ancient European religious paintings in history, with unique critical perspectives of Jia Aili. The work was sold at Sotheby's Hong Kong in 2015 with USD $1,713,332 and settle as his Top3 on the list.
Jia Aili was born in 1979 when Cultural Revolution just ended, China started to reform and open to the outside world. Socialism ideology still had influence on his creation. "Good Morning, World" is a painting of a Lenin statue laying on ground in a forest with an insect sweep net besides it. The gentle sun light shining upon grass, the whole atmosphere is soft and quiet. After the fanaticism of idol worship, it is difficult for new generation to understand the idealism from the past but they still yearning for it at certain level. This work is different from other fantasy scenes of Jia Aili, it represents an angle of how artists of the new generation are looking at Chinese modern history, which shows a total different style than the last generation.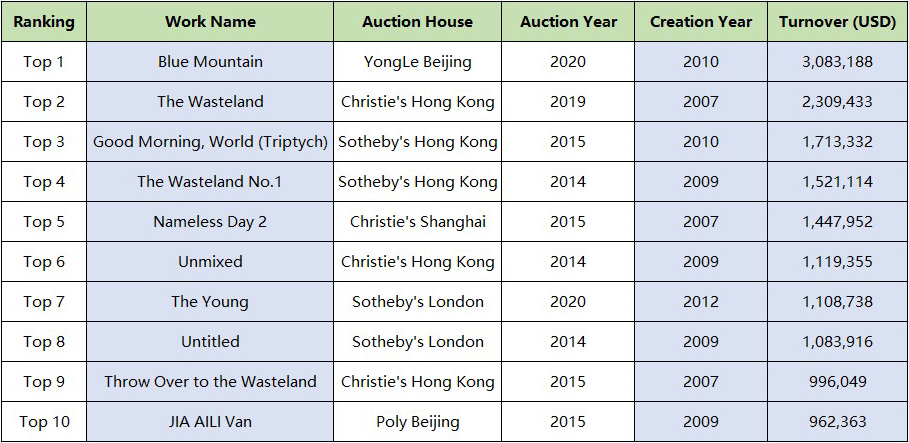 Top10 works of Jia Aili
Jia Aili only produce very few works each year, due to the large size paintings and long term working period. He didn't just finish one painting then go next to another, he used to do multi tasks by adding layers one after another onto each paintings. Creating every layer takes time, some works takes two to three years to complete. He is also staying alert to the business, didn't want to be driving by the market. This also leads to the result of less works circulating on market, but it doesn't affect his top status among Chinese young artists group.