"2020 Mid Term Summary" Global Art Market Overview, Fierce Competition In Western and Asian Market
From the beginning of 2020, with the pandemic break out in world-wide, US stocks trigging circuit breaker multiple times, and other issues. Under such circumstance, the global art sales in worldwide was deeply influenced and all most shutdown. With the international situation is recovering from the pandemic, and quantitative easing of US currency, the financial market rebounded strongly. Global capital mobility accelerating, the international auction market in June and July is recovering and start active. Until now, the global art market shrunk in some level, but the auction results are exceeded expectation. Both Western and Asian market had steady performance. Now, let us review the international auction market in the first part of 2020.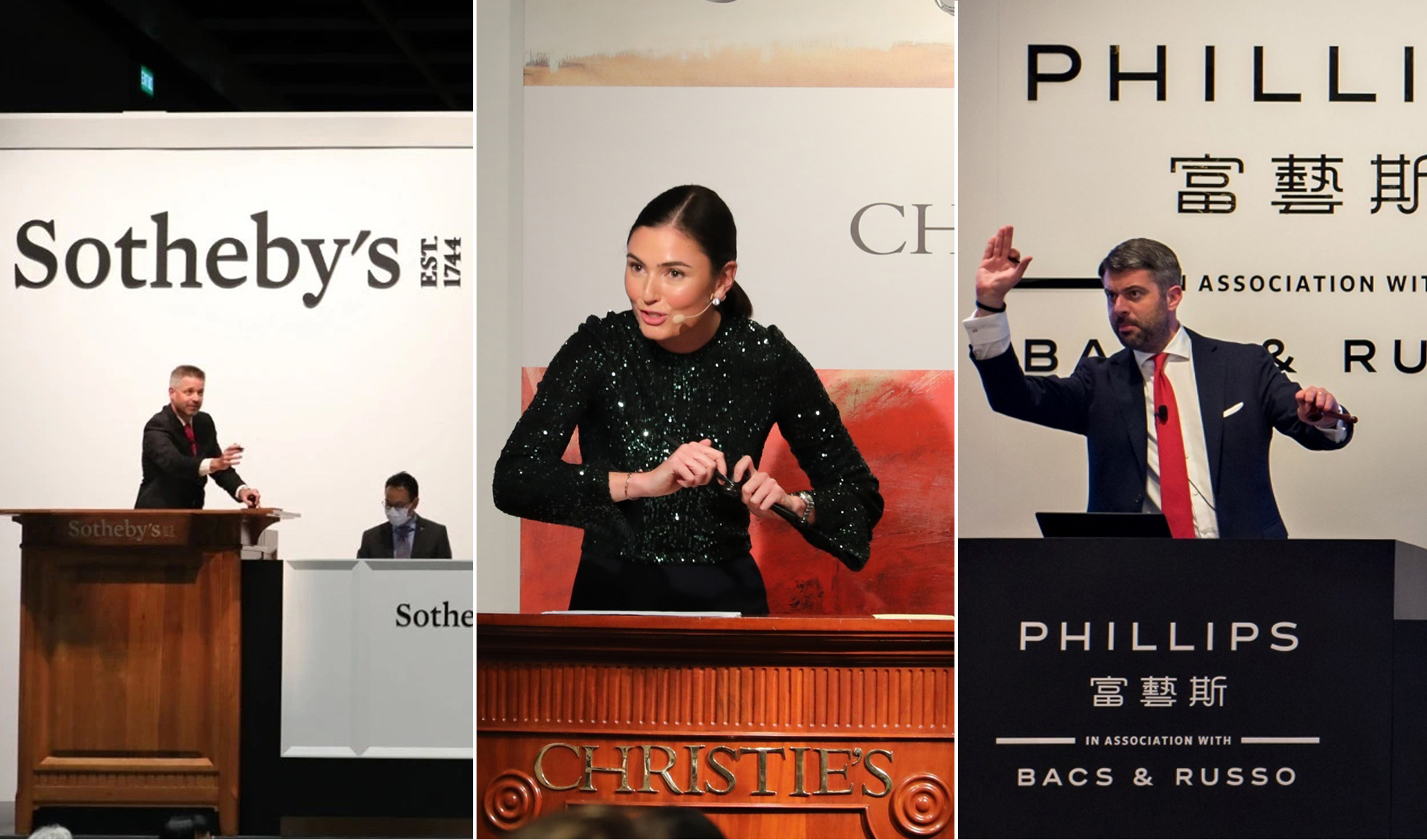 The Intense Auction Scene
Part I Art Market——Review The Intense Auction Scene
First part of 2020, who is most sought after
By the mid-term of 2020, we are looking at the ranking list of artists with theirs total turnover in the first half of year. Artists like Pablo Picasso, Andy Warhol and Zao Wou-Ki who have long been the auction house favorites are still holding significant position under the challenging situation. Their most expensive work sold in this first half of year occupies less than 30% of their total turnover, but since they have large number of lots and the average price is high, they created a decent amount of transaction. These ever hot masters are still in dominant positions.
(Note: The List Top10 Artists Of The Year is a list of the top10 artists that we selected based on their total turnover in the first part of 2020. Top1 proportion is the proportion of the artist most expensive work sold compare to their total turnover in first half of year.)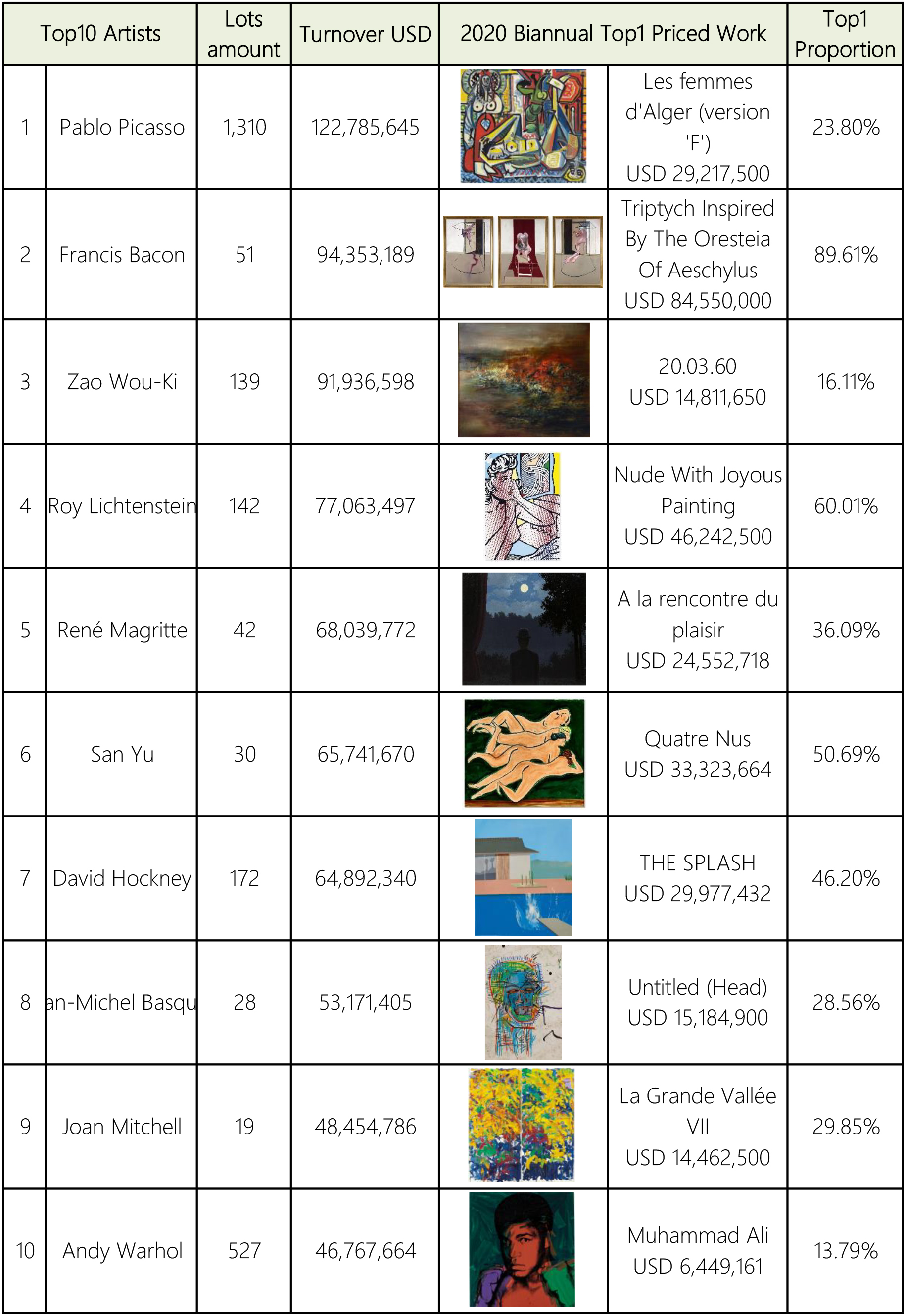 Proportion of Top1 works in artists' total turnover
Francis Bacon, Sun Yu and David Hockney are the focus on market. In the last half of 2020, their Top1 lots had great contribution to the total turnover. Especially for Francis Bacon, the triptych takes 89% of his turnover and it's the only work sold over 10 million dollar. This high priced single work is a highlight in Bacon's record, but it also reflects the lower price of his other works. His integrated performance are not significant.
In another hand, Joan Mitchell was in 36th at the world ranking list in 2019, she is now jumping into the Top9 in 2020 with extraordinary record. In the first part of this year, Joan Mitchell only had 19 works in auction, but all received good results. There are 2 pieces sold over 10 million dollar, 3 pieces over 1 million dollar. Top1 work takes 29% proportion, the overall performance on market is impressive.
By mid-term 2020, which works are under spotlight?
February——London auction season beginning: Setting the tone with "Happiness", Creating big "Splash"
The auctions in Europe as a beginning, the global auction market starts active. February auctions in London were not affected by pandemic at the time yet, that produced some great sales. From the choosing of lots, it also sets a good start. In the first quarter of year, the work "A la rencontre du plaisir" by Rene Magritte was sold with USD $24.55 million, that became a highlight in the field.
Top1 Work by Mid Term Year In London
"The Splash" by David Hockney was at auction in February 11th. This painting is not only a classic and representative work of artist, it is also a focus of the whole week in London's auctions. It was sold with USD $29.97 million, and became the Top1 art piece by mid-term in London.
June——New York is leading the global auction market with the most classics
Most expensive work in first part of 2020
New York had worse pandemic crisis than most part of US, but its auction market is still active. "Triptych Inspired By The Oresteia Of Aeschylus" of Francis Bacon is the only work that were inspired by "The Corfu Trilogy" in the world and was his 6th triptych on market. It was sold with USD $84.55 million and occupies the third place in artist's most expensive works. This piece is the highest priced work in first half year in New York, also the Top1 priced artwork dealt in 2020.
Top2 work in first half of 2020
In the following July auctions, the American artists are creating extraordinary records. "Nude With Joyous Painting" by Roy Lichtenstein is first time in auction and sold with USD $46.24 million. These two works above showed respect to the classics, the first one is coming from the most classic tragedy drama, and the last one used 50 different colors to reproduce the classic nude topic in art history and pay tribute to the master like Henri Matisse.
July——Hong Kong auctions setting off under clouds, contemporary art in Mainland China shows the value.
Under the pandemic crisis, the spring auction season in Hong Kong is setting off in a rough time. "Quatre Nus"of Sun Yu leading fierce competition, and created extraordinary record of USD $33.32 million and became the Top3 work of the year in 2020, also pushing his nude series to a level.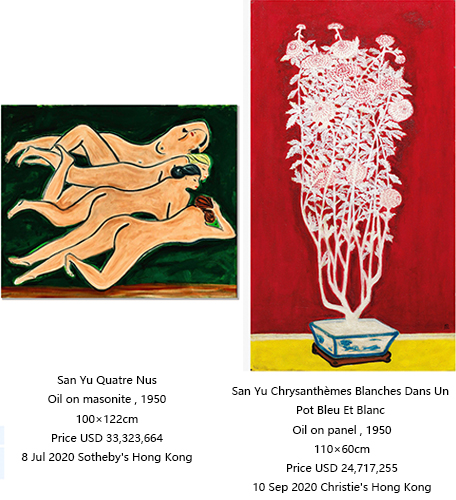 "Les Éléments Confédérés (Pentaptych)" by Chu Teh-Chun was sold at USD $14.66 million, broke his most expensive record.
The contemporary arts start to shine at auction season in Mainland China. Zhou Chunya with USD $12.17 million of "Spring is Coming" broke his personal record. "Mask Series 1996 No.6" by Zeng Fanzhi was sold with USD $22.17 million that become the highest priced work at Chinese contemporary art market.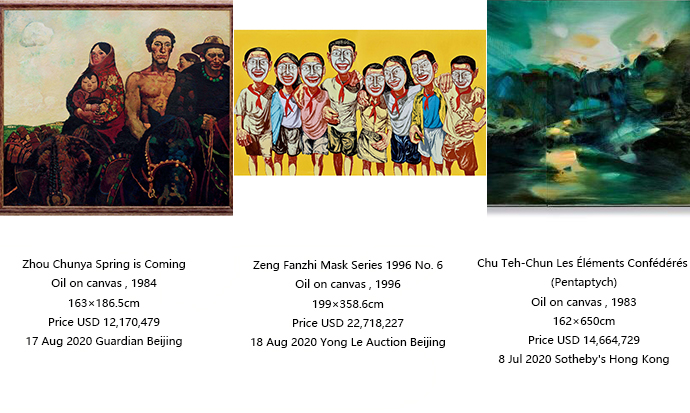 Group picture
In first part of 2020, which pieces are going with the market trends and received high profit?
The 2020 art market was cloudy, market is rational but many works still received good annualized rate of return. Only the works that going with the flow and understanding the requires of collectors are able to achieve high priced returns.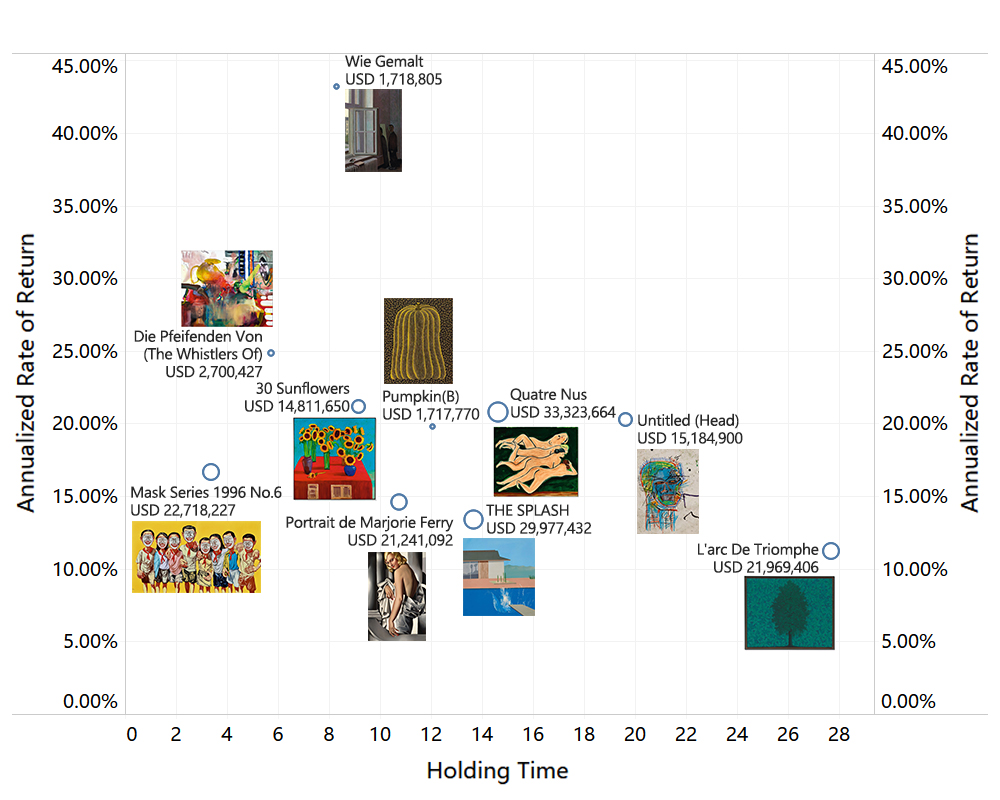 Annualized rate of return of part of works in 2020 by now
1."Wie Gemalt" by Liu Ye, increased by 20 times in 8 years
Liu Ye's "Wie Gemalt" was sold with USD $80.8 thousand at Sotheby's Hong Kong in 2012. This year in Christie's Hong Kong it was dealt at USD $17.1 million with 292.86% over-low-estimate rate, increased by 20 times in 8 years.
2."Untitled (Head)" of Jean-Michel Basquiat, increased by 37 times in 20 years
"Untitled (Head)" was sold with USD $40 thousand at Philips in New York in 2000. After 20 years, it was dealt at USD $15.18 million with 45.56% over-low-estimate rate. From 10 thousand to 10 million, the previous collector understand its value.
3."Quatre Nus" of Sun Yu, increased by 15 times in 15 years
"Quatre Nus" was at Sotheby in Taipei at April in 1994, with estimate of USD $98 to 130 thousand, and was sold at USD $123 thousand. The collector got this painting within its appraisal. In November 2005, this work is at auction again in Christie's Hong Kong, was sold with USD $2.15 million with 142.17% over-low-estimate rate. July 8th in 2020, this painting is on Sotheby again without appraisal, and sold with USD $33 million. It's price increased by 15 times in 15 years, the annualized rate of return is 20%, that shows its great values on market.
Part II —— Focusing on the trending with data information
1.Turnover and price index
The global turnover in 2020 is less than third of total in 2019, the market is conservative, with fluctuation the turnover is also been influenced and start decreasing. From the price index in Europe, Asia and America, the market in those three regions shows steady performance under the pandemic. Especially the price index in Asian area is continually raising up, and exceeded the ArtPro 100 price index in recent two years. With this extraordinary record, Asian market still have a lot potential.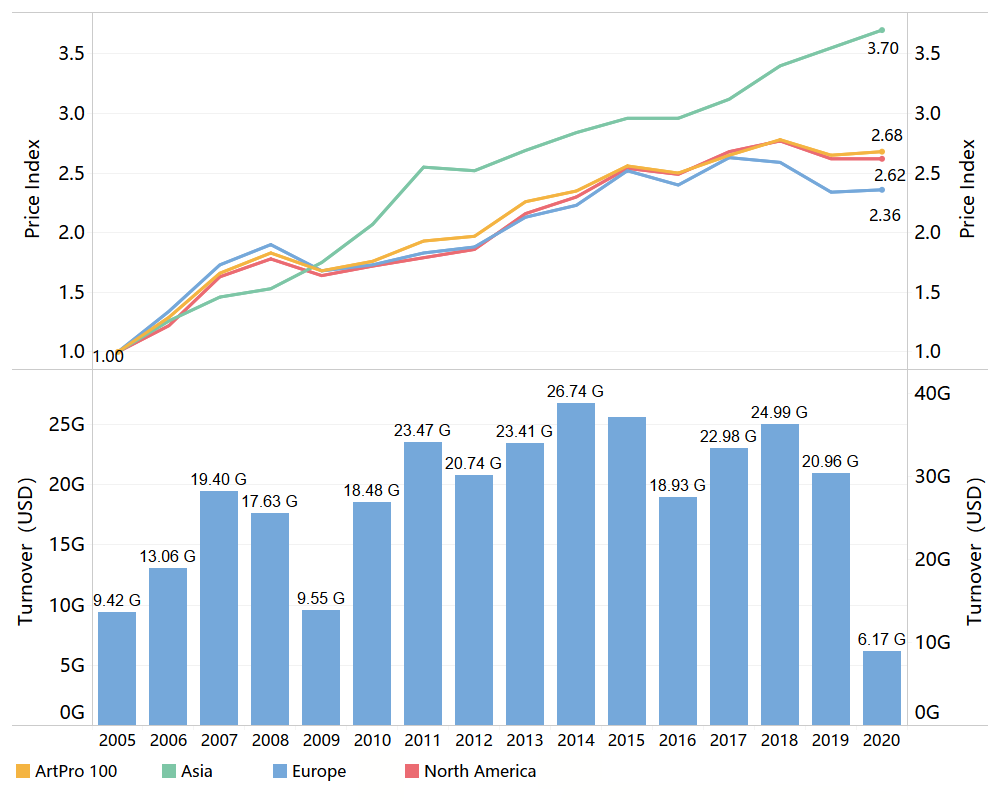 Global turnover and price index in Europe, Asia and America
2.High priced artworks on different market
Focusing on works over 1 million dollars, European, Asian and American market is almost same. Europe and America had over 30% proportion, while Asian area had 26.57% right after. The amount of Top100 artworks, America has a lot more than Europe and Asia. The price and amount of high valued works in Asia is relatively less the others. This has something to do with short history of market, and less participating that need time to develop its potential.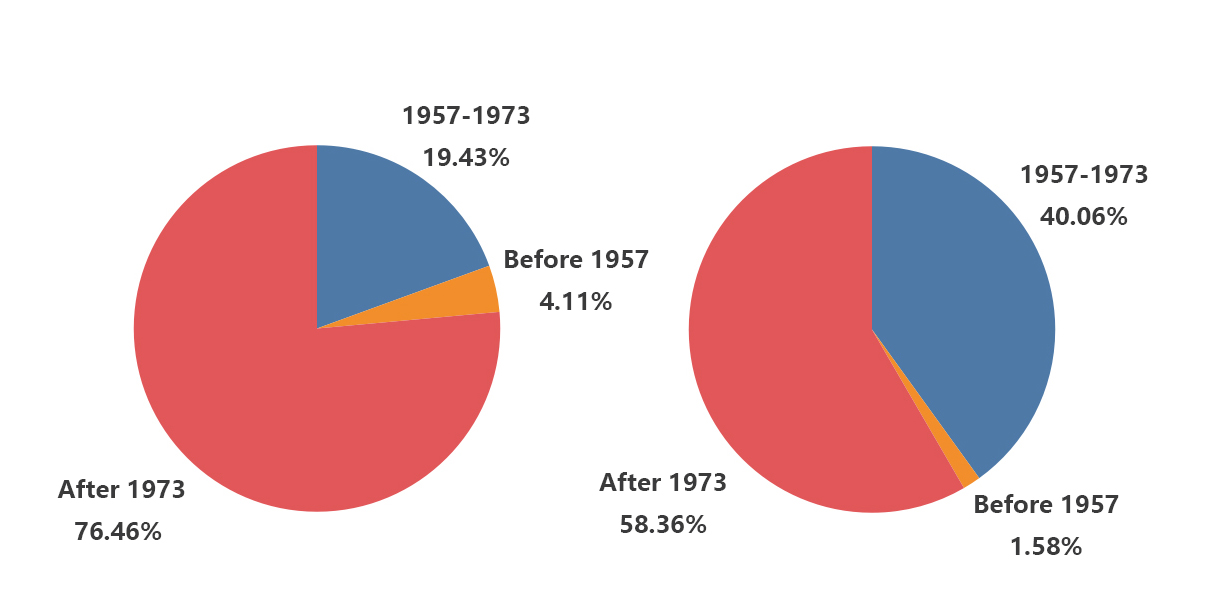 Left:Proportion of works over million dollar Europe, America and Asia
Right:Top100 artworks in first part of 2020 in Europe, America and Asia
3.Works over 1 million dollar in first half of 2020
The art market is continually producing new stars, there are many artists broke their record in first half of the year. We selected the Top20 paintings that broke the record in global-wide. On this list, there are 16 pieces from Europe and America, and 4 of them are from Asia. These artists have great potentials.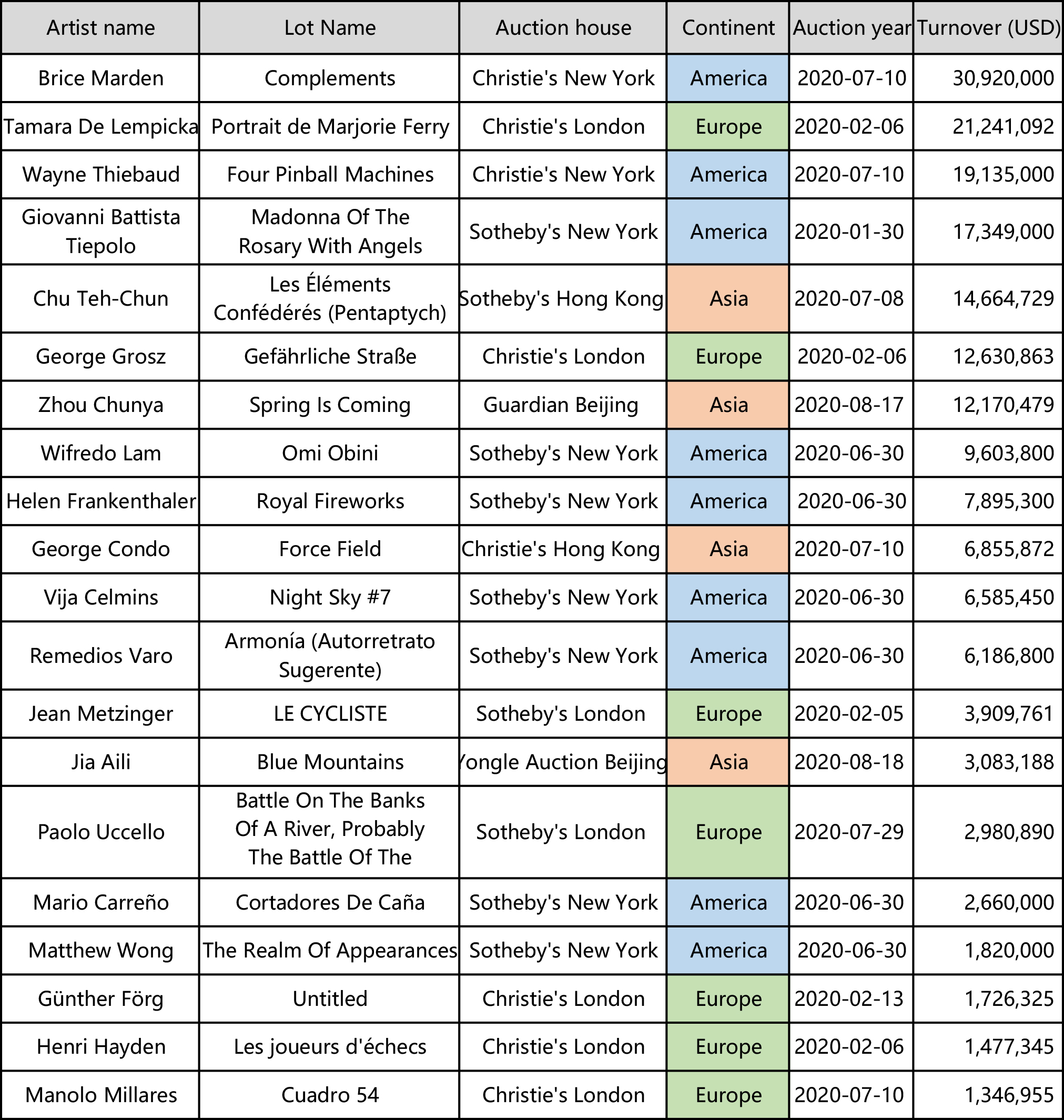 Top20 list of global record breaking painting works in the first half of 2020
Conclusion: Everything has passed is a past. The art market in the first part of year is still active under the unsettle situation. This 6 months is full of challenge, auction houses and galleries are looking for new ways of survival, and created many new forms of auctions. The European and American market is conservative, without any miracles, only the best can achive high prices. How would the situation goes in the next half of year, ArtPro is going to observe the global art market and share the most comprehensive and professional information.