August Auction Season in Mainland China Performs Beyond Expectation, Price Index Increasing Against Stream
The August auction season in Mainland China is coming to an end. Although the entire industry is facing challenges that has never met before, the auction results still exceeded market expectation. The average price index of Mainland China is continually increasing, and reached a new level in the last 10 years, which inspired the morale of the art market.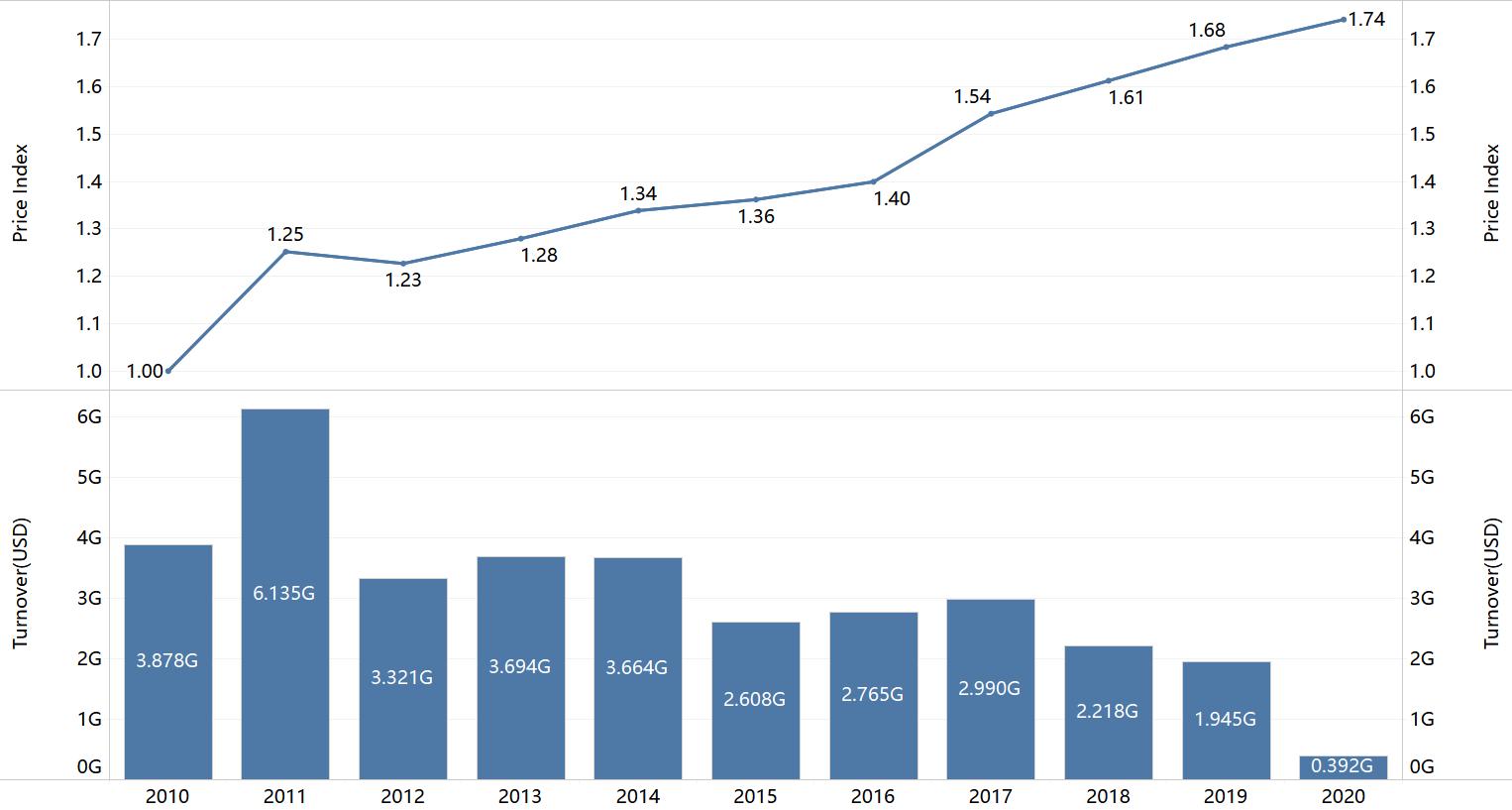 Price Index and Turnover in Every Year at Mainland China
Focusing on the August contemporary art auctions in Mainland China,there are several contemporary art auctions have reached over USD $100 million turnover and exceeded the appraisal price about USD $30 million with 87.3% sold-by-lot rate. Sixteen works sold over USD $1 million and 42.2% of works sold higher than estimate. (the monetary unit in this article is US dollar)
Young Artists Catching Up Among Top10, Zhou Chunya Occupied Third Places On The List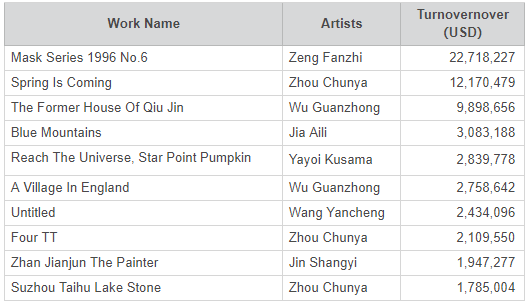 Lot Top10 in Mainland China
In the Top10 art works sold in August at Mainland China, the work "Mask Series 1996 No.6", a rare group portrait in "Mask" series of Zeng Fanzhi, has sold with USD $22,718,227 and become the most expensive contemporary art in this season.
Another work "The Former House Of Qiu Jin" by Wu Guanzhong sold in USD $9,898,656 and become the top3. Young artsit Jia Aili's work "Blue Mountains" break his personal record in this season.
The Top2 work is Zhou Chunya's "Spring Is Coming", it break his personal record with a price of USD $12,170,479. Zhou Chunya had 3 pieces among the Top10 list in this season. One of his most important work "Taihu Lake Stone" created in 2000 and "Four TT" in 2007 is performing steadily with USD$2,109,550 and USD $1,785,004. In top-ten list of the most expensive works in this season they occupied 8th and 10 place separately.
In addition to this, the work "Reach The Universe, Star Point Pumpkin" created in 2011 by Yayoi Kusama, has been sold with USD $2,839,778 and became the Top5 in this season. It is also the highest priced pumpkin sculpture of Kusama. The August auction season of contemporary art performed well. There are works like "Zhan Jianjun The Painter" a classicism portrait by Jin Shangyi, "Spring Ease" by Liu Xiaodong, "Lonely" by Yuan Yunsheng and "River Vortex" by Young artist Huang Yuxing who is born in the 70s. "You like smoking?" by Liu Wei and "Sorghum Field And Draft" (Set Of 2), a representative work of Wang Xingwei 's early career, they all received good results at auctions.
Zeng Fanzhi's Turnover Is Leading The Top Of Contemporary Art On Market At Mainland China In This Season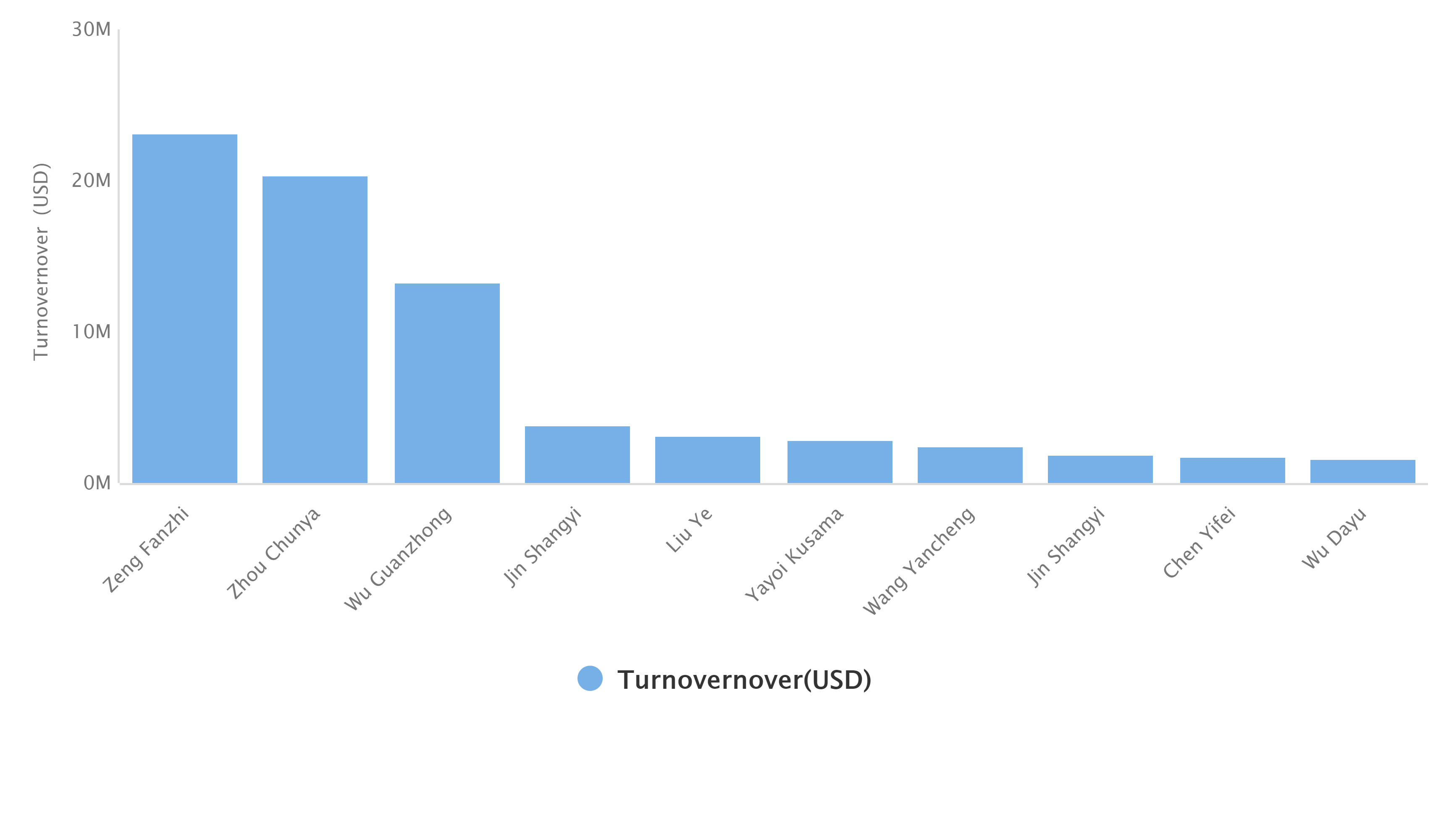 Artists Top10 in Mainland China
In this auction season of Mainland China, Zeng Fanzhi, Zhou Chunya and Wu Guanzhong is taking the top3 places. The auctions also presented works of Jia Aili, Yayoi Kusama, Wang Yancheng, Jin Shangyi and Wu Dayu. Many of them achieved great performance.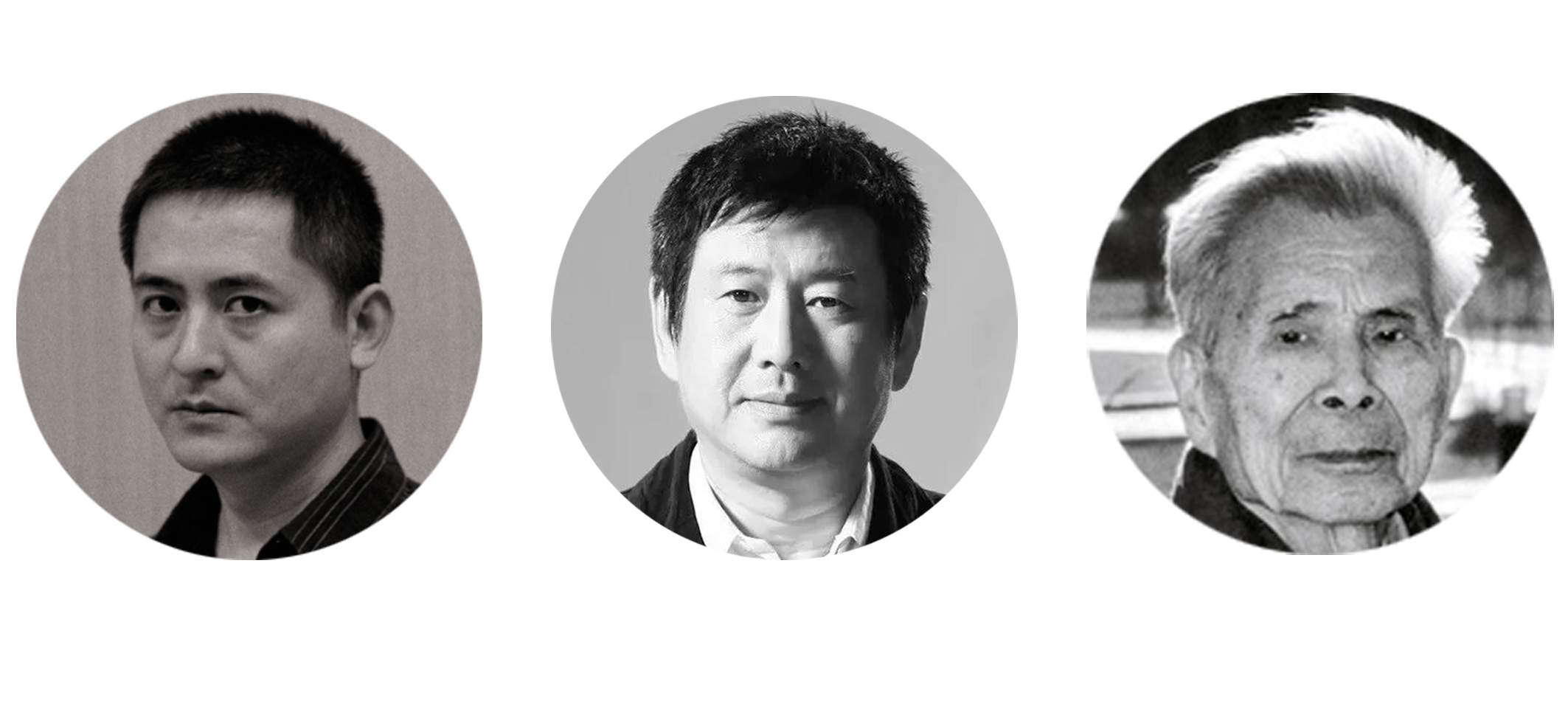 left:Zeng Fanzhi
Middle:Zhou Chunya
right:Wu Guanzhong
Zeng Fanzhi has 4 pieces in auctions this season, with total USD $23,249,183 turnover leading the top at contemporary art field. Meanwhile, Zhou Chunya has 19 works in auctions and all been sold. Four of them received over USD $1 million, total turnover is USD $20,436,828. He is closely behind Zeng Fanzhi as the Top2 in contemporary art field this season. Two landscape paintings of Wu Guanzhong were sold over USD $1 million which made him Top3 on the list.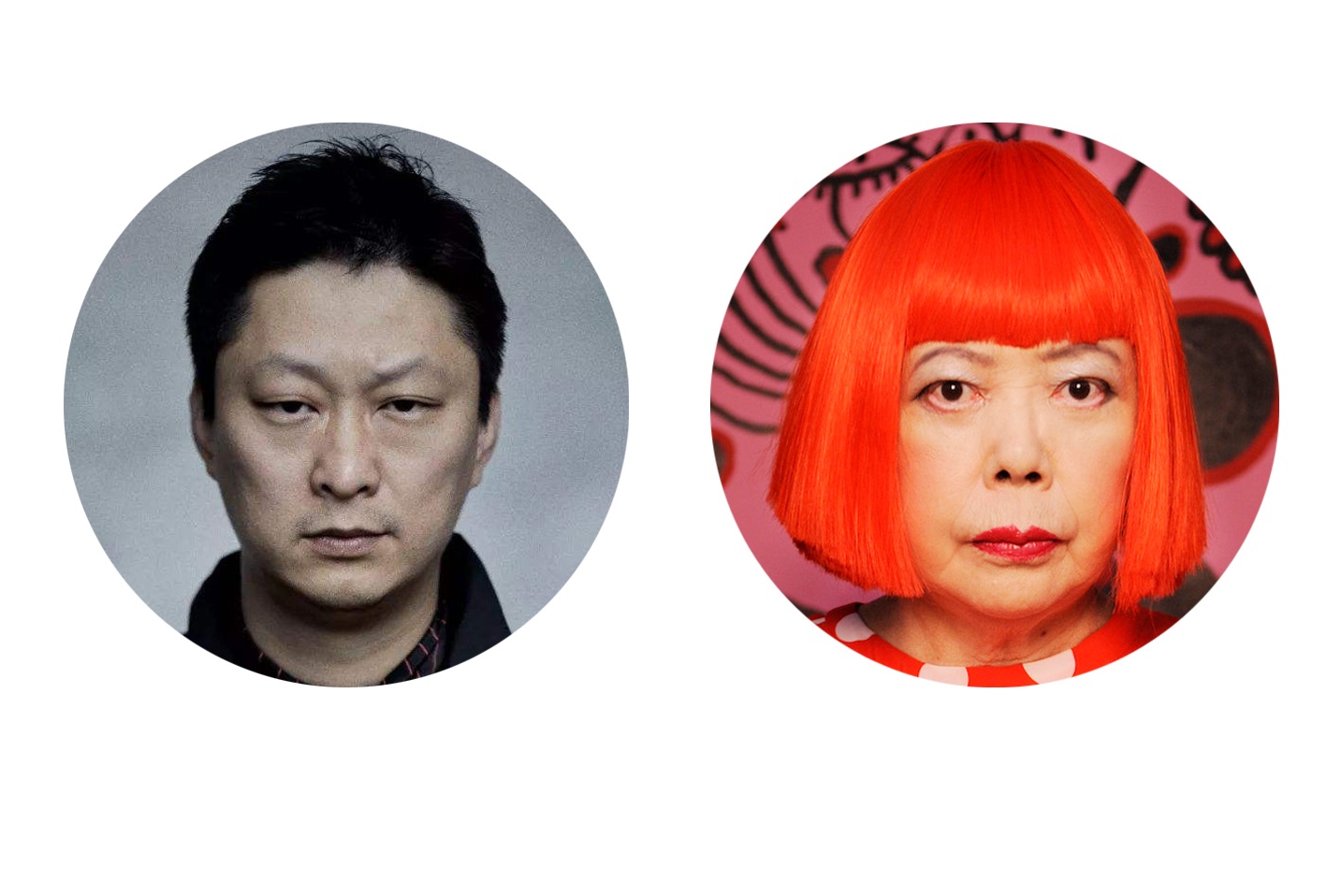 left:Jia Aili
right:Yayoi Kusama
Jia Aili is the black horse in this season, with USD $3,083,188 turnover price of his work "Blue Mountains" which renewed his personal record, and made him the Top4 in this season. Yayoi Kusama, Wang Yancheng, Jin Shangyi, Chen Yifei and Wu Dayu is also in top-ten list and attracted much attention.
Top Trending Artists like Liu Ye And Hao Liang Are Less Popular In The Season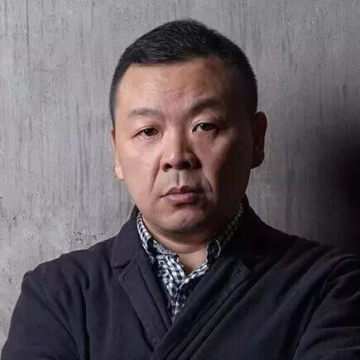 Liu Ye was popular at Hong Kong's market in previous times, but in this season at Mainland China, his performance are not as good as expected. The painting "The Little Sailor" with appraisal of USD $3,521,100-4,929,600 was given a lot of attention before auctions, was bought in due to lack of bidders. But his four other small paintings all sold in auctions.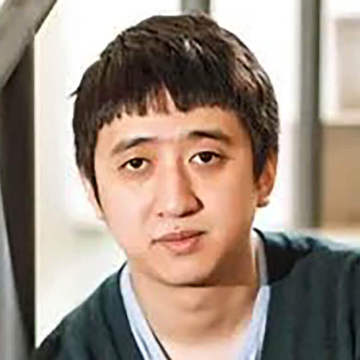 Hao Liang broke his personal record in July Hong Kong this year, he has become the popular one among the young artists on market. His work "Poison Buddha 2" in this season is the same subject and same sized painting as his work "Dim", but it didn't end up reached estimate.
By looking at the auctions in this season, although the number of works decreased in some level, we are certain that the classic works are still receiving wide attention by collectors under the uncertain circumstances. Even with the economic damage situation, good arts will be appreciated.
All works mentioned above are from the auctions below. Click to enter the auctions and enjoy the masterpieces.
20 Th Century & Contemporary Art
Guardian Beijing
No.1 Wangfujing Street, Dongcheng District Guardian Art Center Beijing
20th Century & Contemporary Art Evening Sale
Guardian Beijing
No.1 Wangfujing Street, Dongcheng District Guardian Art Center Beijing
Yongle Summer Sales | Modern & Contemporary Art Evening Sale
Yong Le Auction Beijing
No. 48 Liangmaqiao Road, Sanyuan Bridge, Chaoyang District Four Seasons Beijing Beijing
Yongle Summer Sales | International Trendy Play Art
Yong Le Auction Beijing
No. 48 Liangmaqiao Road, Sanyuan Bridge, Chaoyang District Four Seasons Beijing Beijing