Yayoi Kusama | Auction Market Personal Report
Yayoi Kusama is one of the most important female artist in contemporary art history. A wired old lady with wigs, red lipstick and her queen of polka-dot motif, these all her tags. She is a celebrity artist on exhibitions and has a lot of young people as fans. Her works often sold with extremely high prices at auction market, and was favored by major collectors. Today ArtPro is going to take you to observe the market quotation of Yayoi Kusama in recent years and her career path.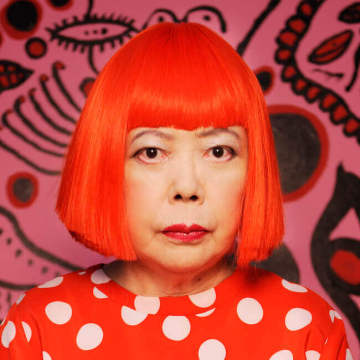 Yayoi Kusama was born in Nagano in Japan at 1929. She is a writer and artist. Her works include paintings, sculptures, installations, videos, fictions and poems. Kusama went to US in 1957, and started her avant-garde practice. She has exhibited with masters like Andy Warhol and Jasper Jones. In 1973, Kusama returned to Japan. The repeated dots and lines are the key elements to her works, the unique "Infinity Net" and "Pumpkin" series works are world-renowned. Next, we are going to divides her art career into three periods: "Early Stage"(before 1957), US period (1957-1973) and "Return to Japan" period (after 1973), in order to explore her creation.
Part I Market Overview In Recent Years

1. Yayoi Kusama's deals volume and turnover increasing in 10 years
In the auction market between 2010 and 2019, the price index of Yayoi Kusama was continually increasing, the turnover also keep increased for years then became steady. Under the pandemic in 2020, her total turnover in first half of year shows a falling trend.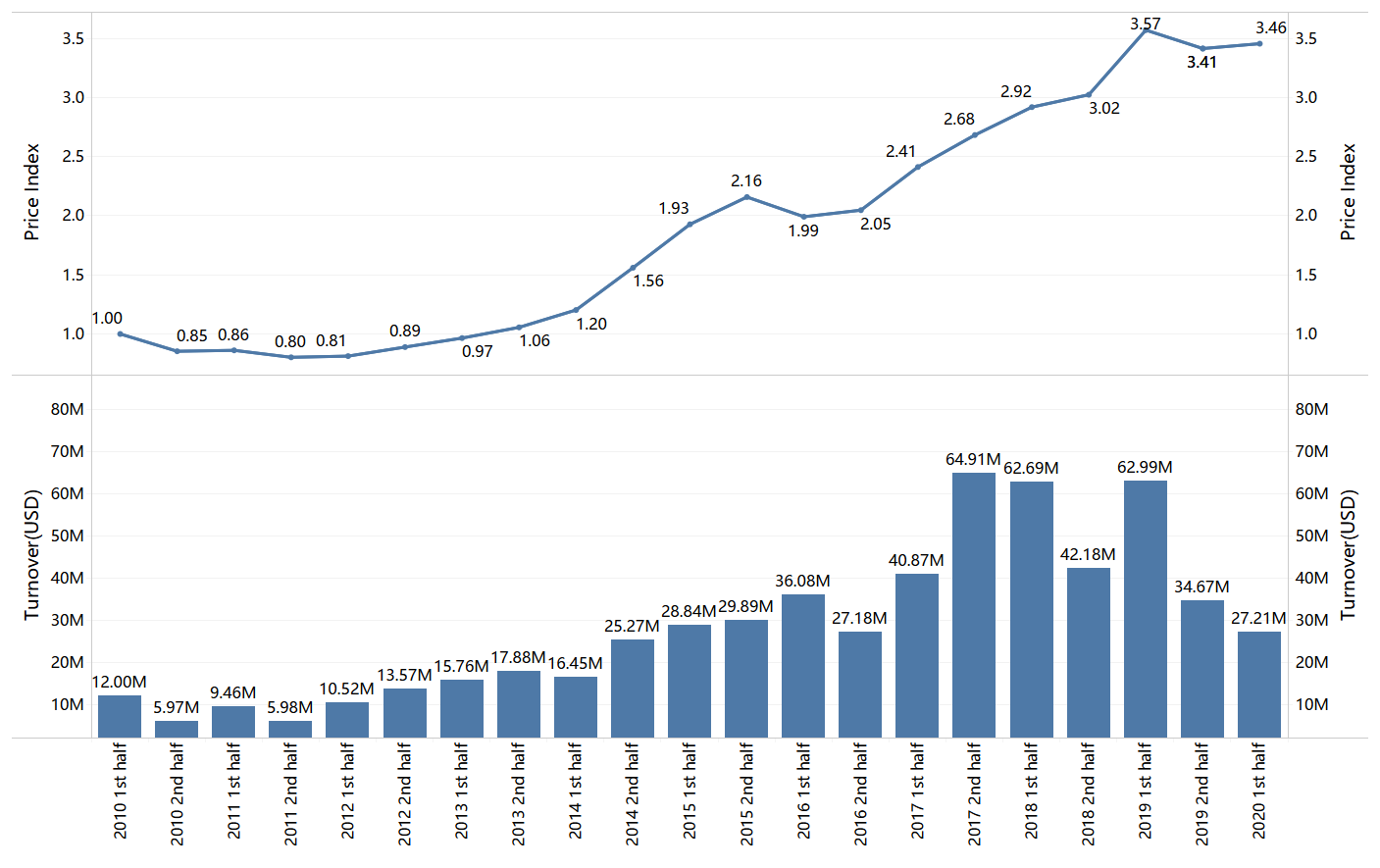 2010-2020 price index and turnover of Yayoi Kusama
2.Works created after she went back to Japan occupies the largest turnover proportion, works created in US have the highest price.
From her auction history, works created after 1973 by Yayoi Kusama have the largest proportion in total turnover. In this period of time, she was backed to Japan for recovery from her mental illness, while she could also focusing on creation. On the list of all her works sold over USD $1 million, works from 1957-1973 has 40% of total turnover, only less than the period when she was in Japan.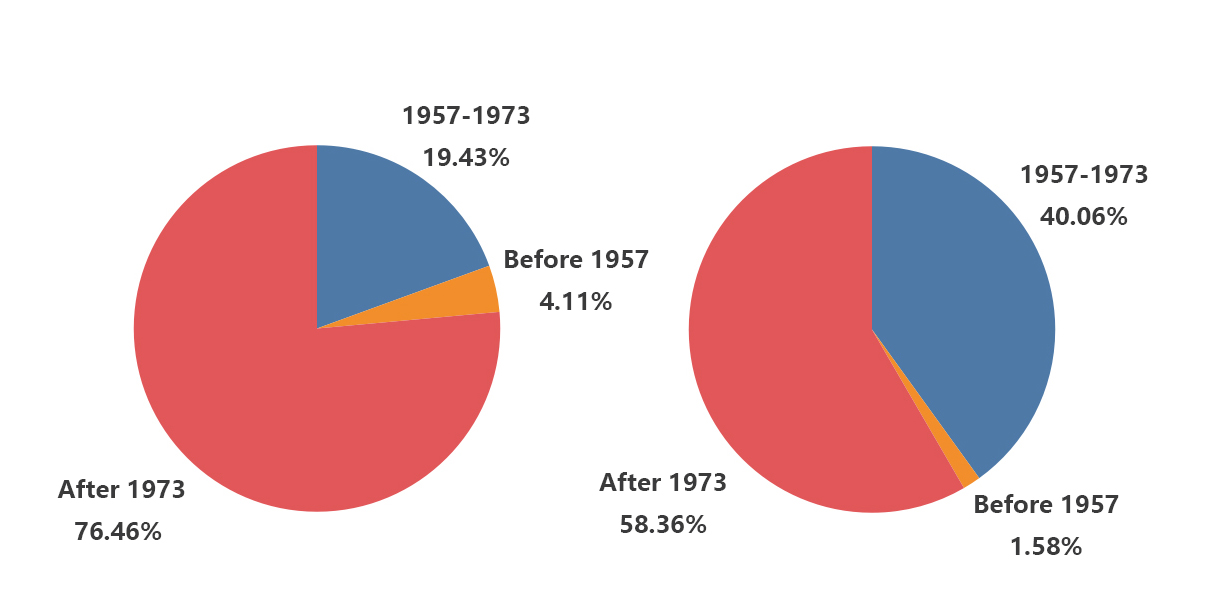 Left:Turnover in different period of times
Right:Turnover proportion of works sold over USD$1 million in different periods
3.Top20 list of works: "Infinity Net" in US period take 12 places
In the Top20 list of Yayoi Kusama, there are 15 of them are "Infinity Net" series, 4 of them are pumpkin themed works. It is obvious that there are 12 "Infinity Net" works are from US period, and all created between 1959 and 1960. The high priced pumpkin works are from the period when she was backed to Japan. From the years of sales, there are 6 works in 2019 on the list, and 1 is at 2020.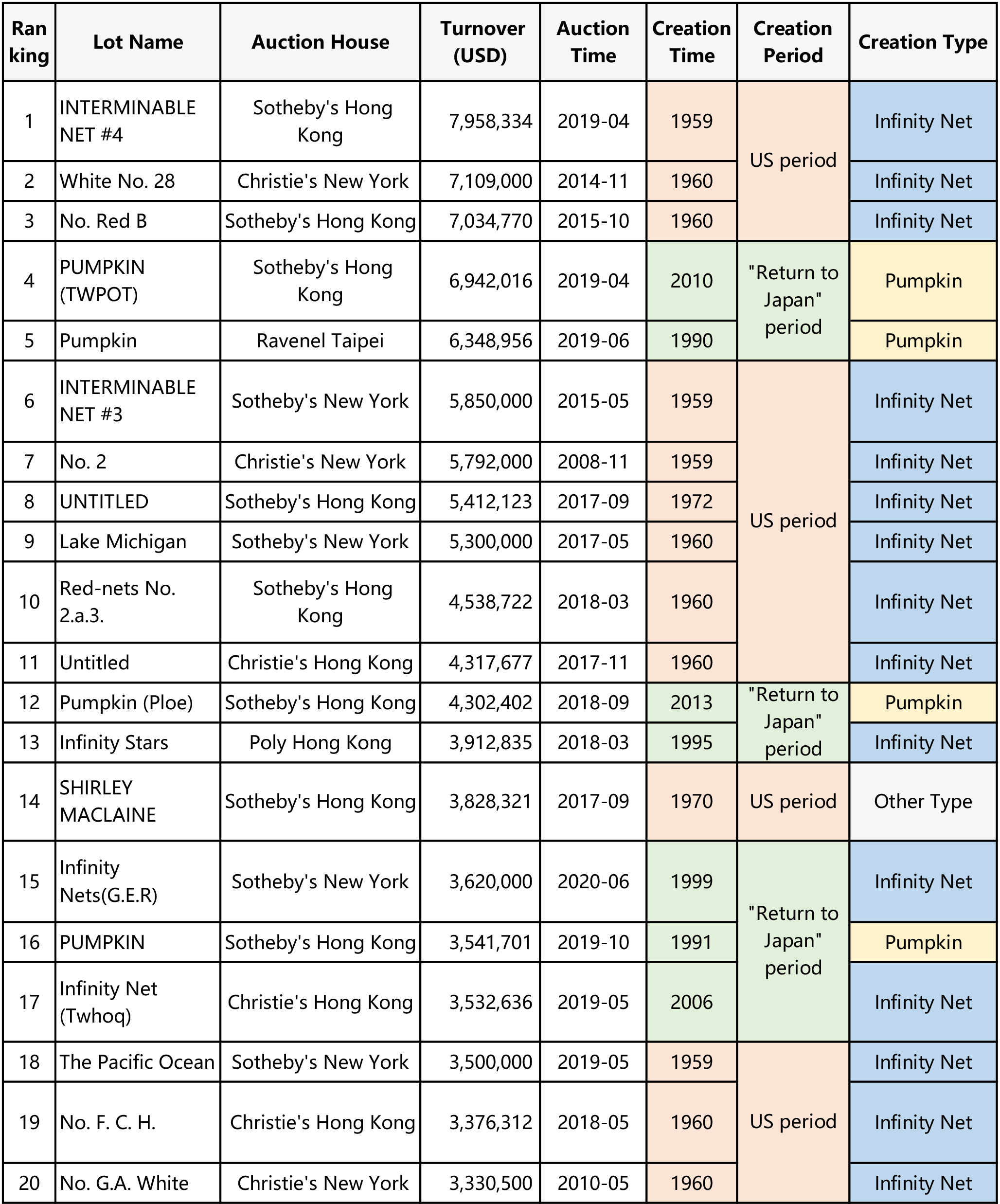 Top20 list of Yayoi Kusama's works (Until August 2020)
Part II: Creation Background Analysis
(一) Early Stage (Before 1957)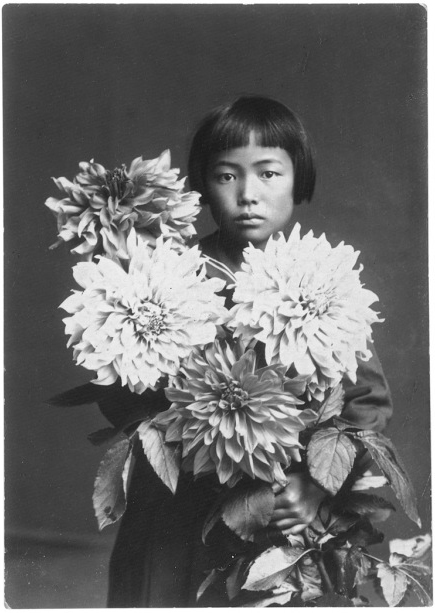 10-years-old Yayoi Kusama
Yayoi Kusama was born in a rich family in Japan, but she had a difficult childhood. When she was a little, her mother asked her to spy on her father, who had affairs frequently. At the age of 10, Kusama was confirmed of neurotic disorder. The world in her eyes was covered by dots and patterns. This mental illness is the inspiration of Kusama 's art creation, the repeated colorful dots is the key element. At the early stage her works are focusing on drawings and paintings of magical life forms.

Fig 1. Untitled a portrait of Kusama's mother by Kusama when she was 10, the drawing is full of dots
Fig 2. Lingering Dream, oil painting, 1949
Fig 3. Untitled, Gouache Pastel Paper, 1953
(二)US period (1957-1972)

As a rebellion to her parents' traditional moral perspective, Kusama went abroad to US in 1957. She arrived at Seattle then headed to New York and started one of her most productive period of time. She created large amount of works and extreme art performance to provoke traditions. In 1962, Kusama started a Platonic relationship with artist Joseph Cornell. In 1964, she presented an exhibition of "Aggregation: One Thousand Boats Show" that shocked the art world in New York. Kusama sold her works with UDS $2000 at the Venice Biennale in 1966 and she was banned from the activity. In 1968, she leads a group of hippies to protest against the Vietnam War with nudity performance. In 1969, Kusama planed "Happening", a nudity performance art, then became the cover of "New York Times" in that year. Kusama was defined as "Shame of Nation" by Japanese media, but she was crowned as "Queen of the Avant-Gardes" in US.
Fig 1:Aggregation:One Thousand Boats Show
Fig 2:Kusama at 33th Venice Biennale
Fig 3:Nudity protest at Brooklyn Bridge and burning American flags
Fig 4:Curating nudity performance Happening
The key point to this period——"Infinity Net" series was born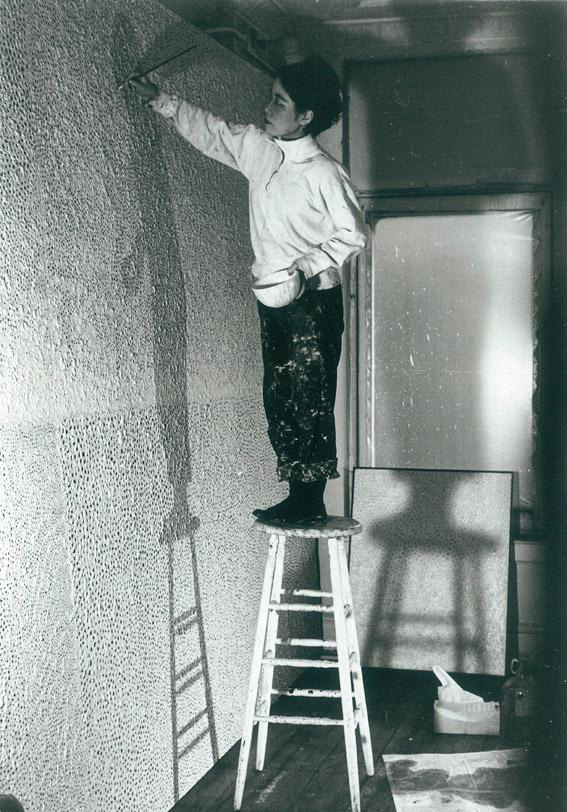 Kusama working at her studio in New York, photographed in 1961
In this period, Kusama started creating the unique "Infinity Net" series. She used brush strokes to create these complicated nets, her art style turns into repeated and obsessive-compulsive creation that combined both expressionism and minimalism styles. The infinitely expanding nets that were consisted with repeated dots, are full of potential. The 70s in 20th Century was Kusama 's best years in New York, the "Inifinity Net" series are works that established her position in Western art world.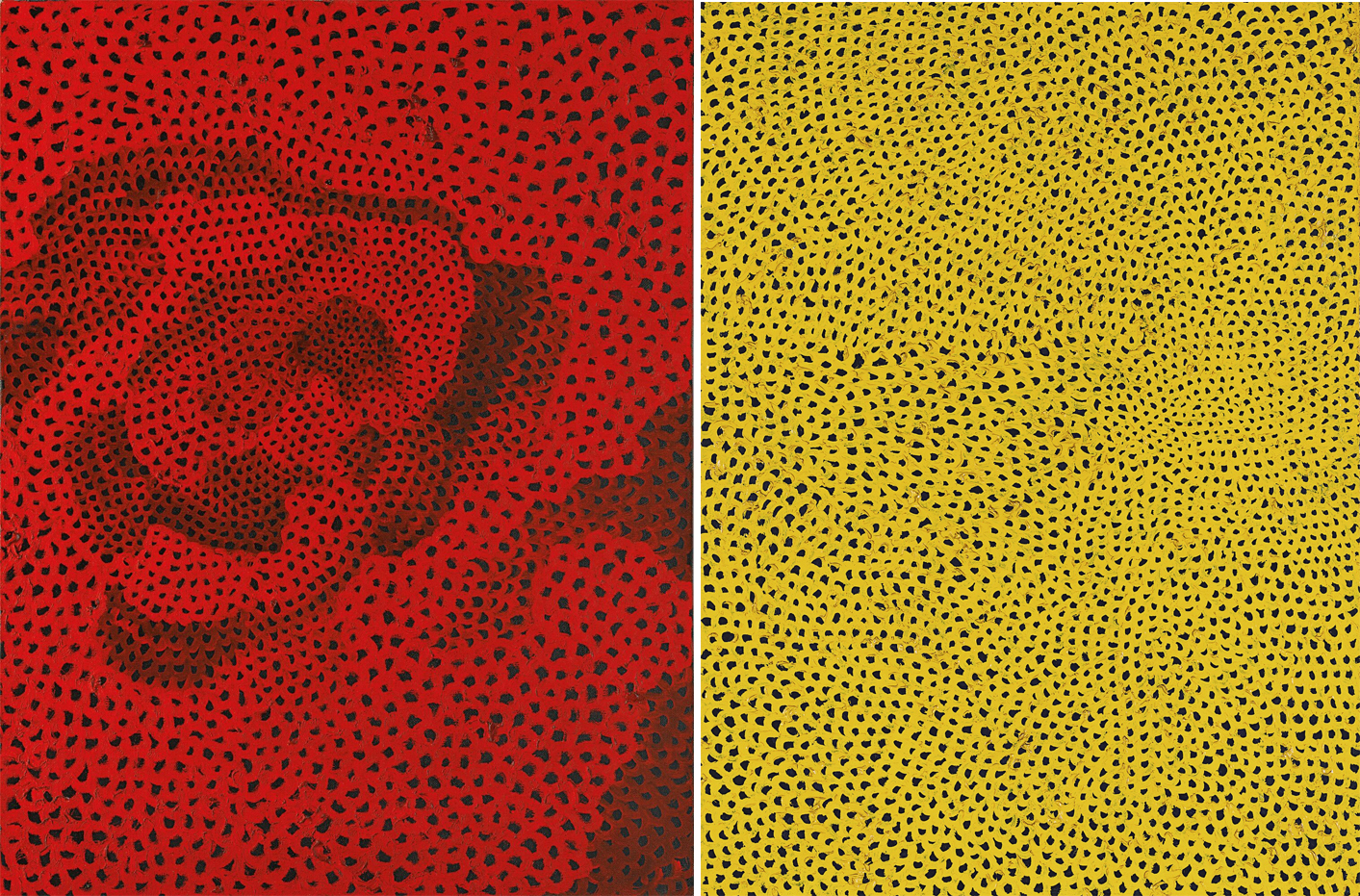 Left:Red-nets No. 2.a.3. Oil Canvas , 1960
Right:NET-NO.2 YELLOW Oil Masonite , 1960
Among this series, the white nets that were created between 1950 and 1960 are the most popular. Part of them were collected by Guggenheim Museum, Princeton University Art Museum, Museum of Modern Art, Museum of Contemporary Art in Tokyo and other famous organizations. In April 2019, the white " INTERMINABLE NET #4" in 1959 was sold at Sotheby's Hong Kong with HKD $62.433 million that broke Kusama 's personal record, and become her Top1 lot at the secondary market.
"Infinity Net" on market overview
1)The price index of "Infinity Net" series went from 1 to 18 in 20 years.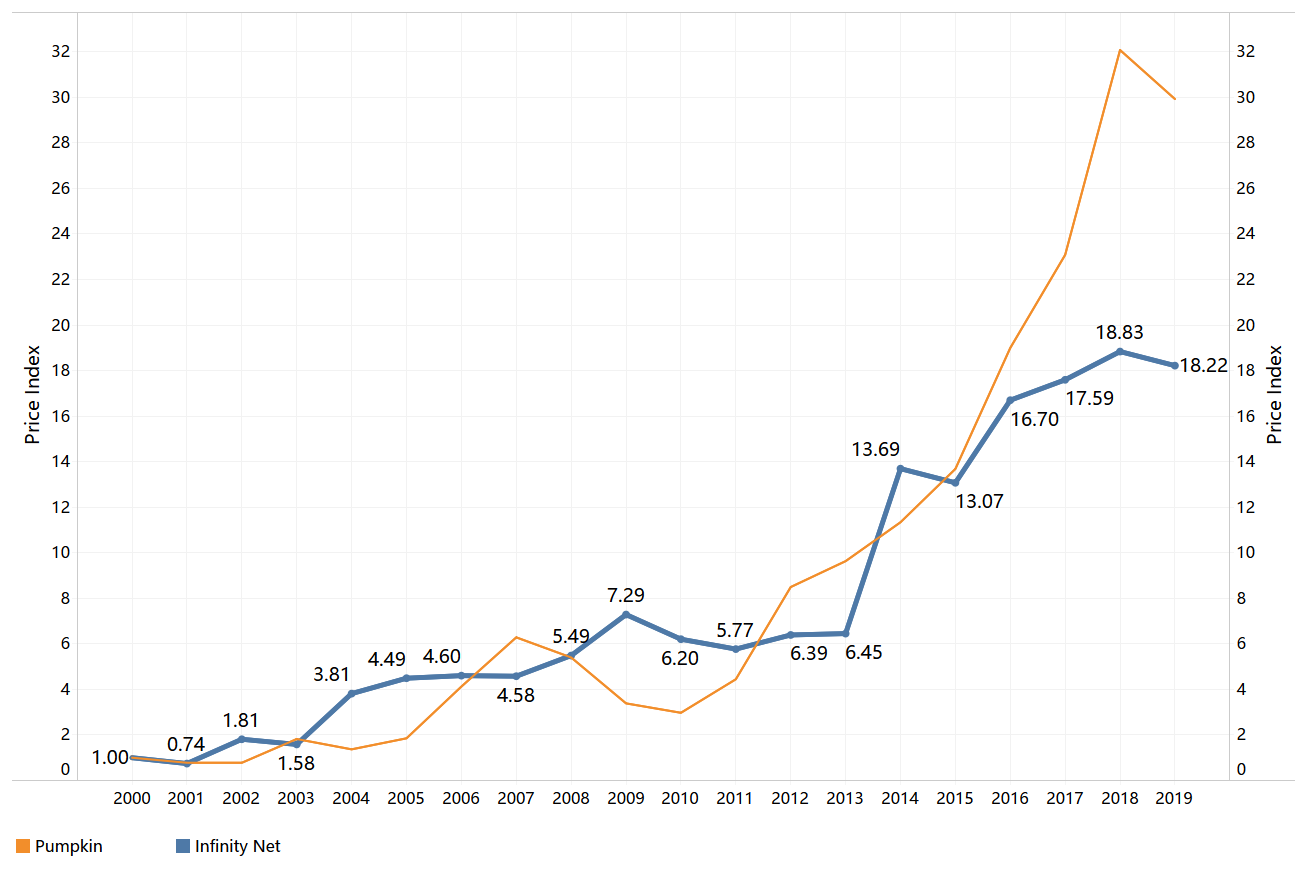 Price Index of Infinity Net series and Pumpkin series between 2000 and 2019
In the auctions between 2000 and 2019, the price index of "Infinity Net" was steadily increasing while fluctuating. The price index of this series works had an impressive promotion in 2014, it went from 6.45 to 13.69. This increasing trend is slowing down in recent two years.
2)Works completed in 2000s had highest amount of turnover, 1960s is right after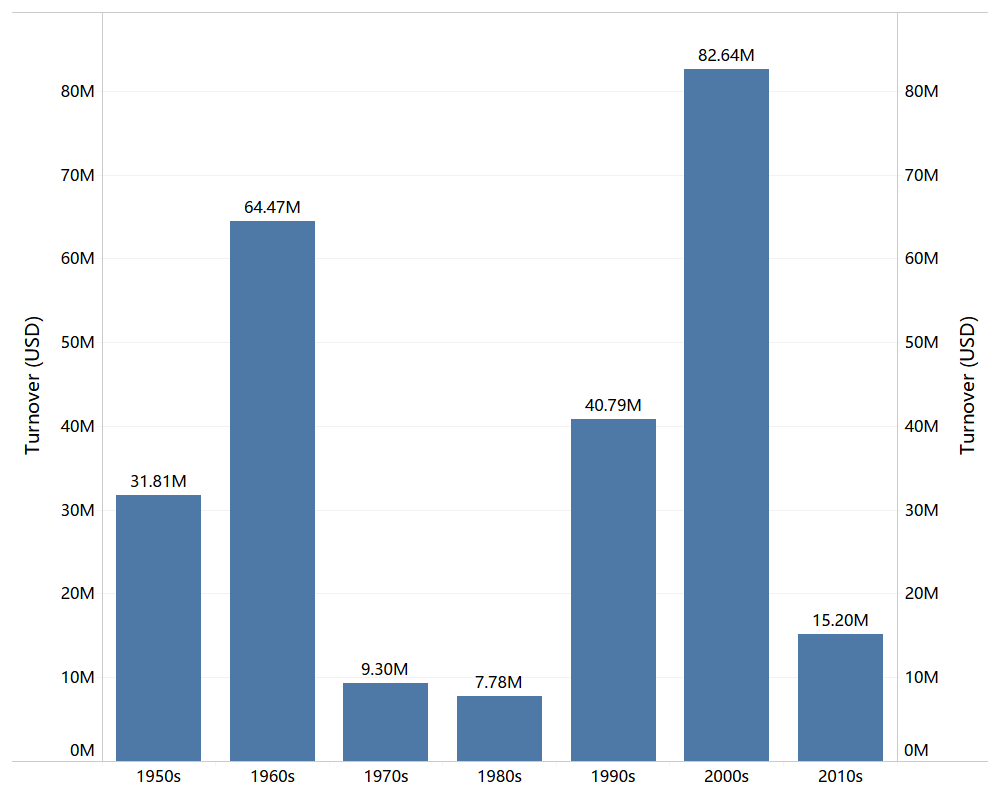 Deals record of Infinity Net series works in different years
3)Average price index of "Infinity Net": Surging in recent years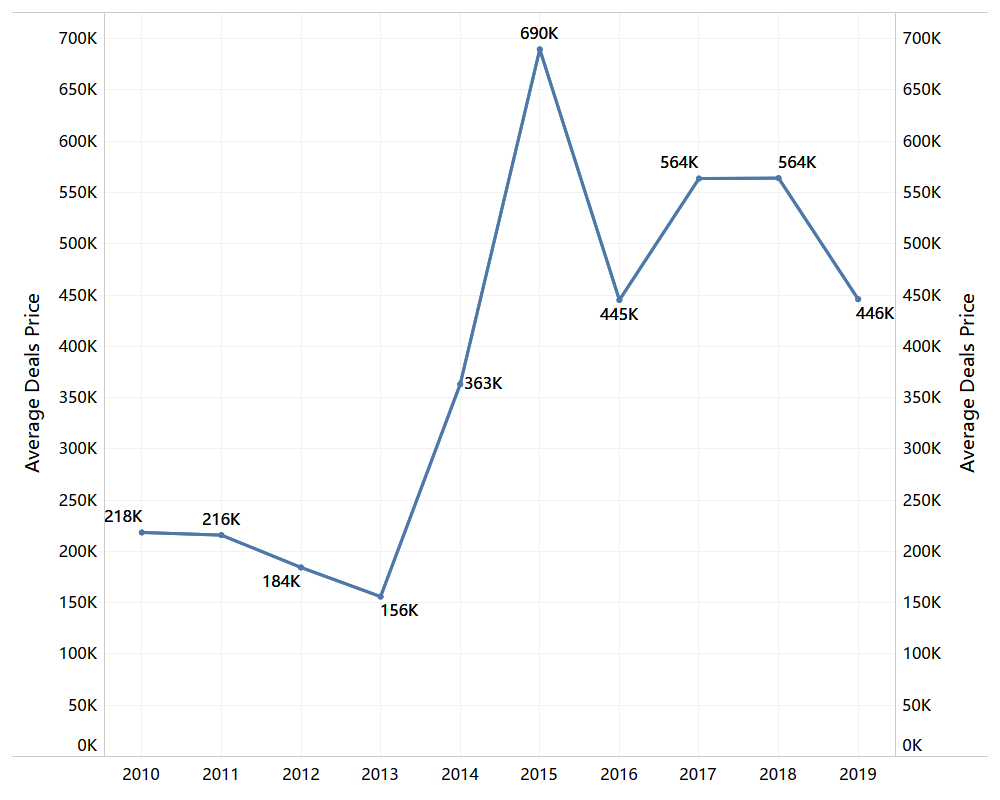 Average price index of "Infinity Net" from 2010 to 2019
4)"Infinity Net" - Square meter price of the paintings: Stepping up in fluctuation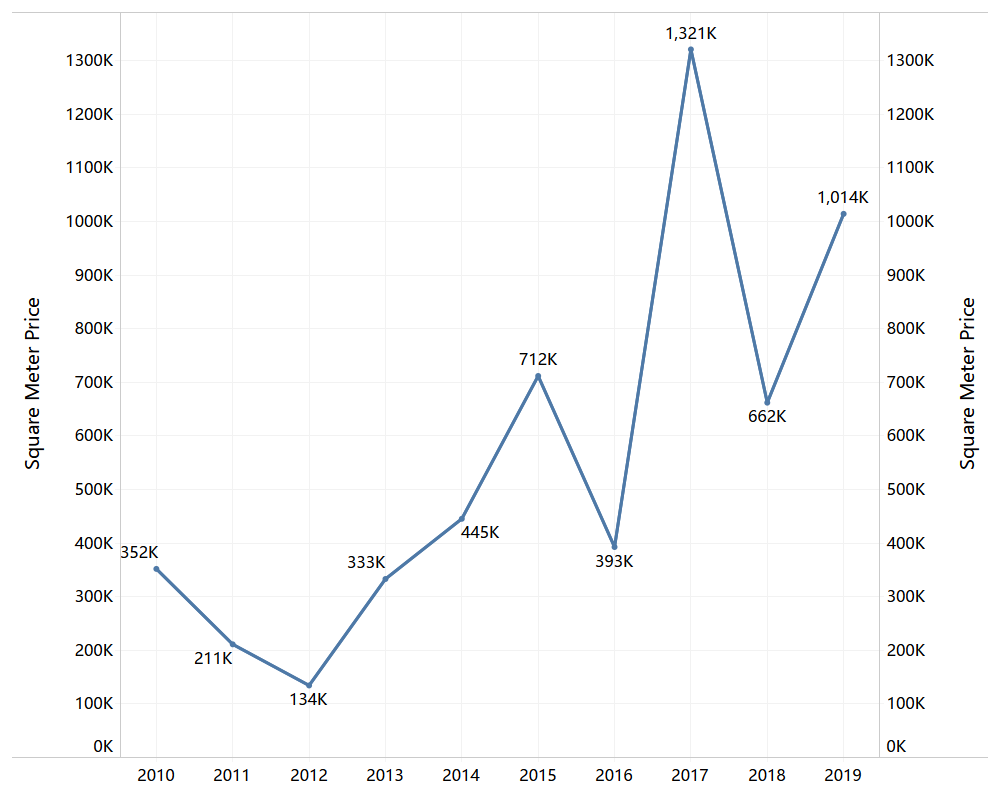 Square meter price of the paintings in Infinity Net series from 2010 to 2019
(三)Return to Japan (after 1973)

The second day after Joseph Cornell passed away in 1973, Kusama 's mental illness got worse due to sadness, she had to go back to Japan. At 1977, Kusama started to reside in a mental hospital in Tokyo. She temporarily disappeared from the public sight, but she was still creating art works. In 1993, Kusama attended the Venice Biennale as a representative of Japanese artists and received an international recognition. Then she started opening exhibitions at important museums in world-wide, and stepped into the Western art world once again. She was granted the Order of Culture by the Emperor of Japan in 2016.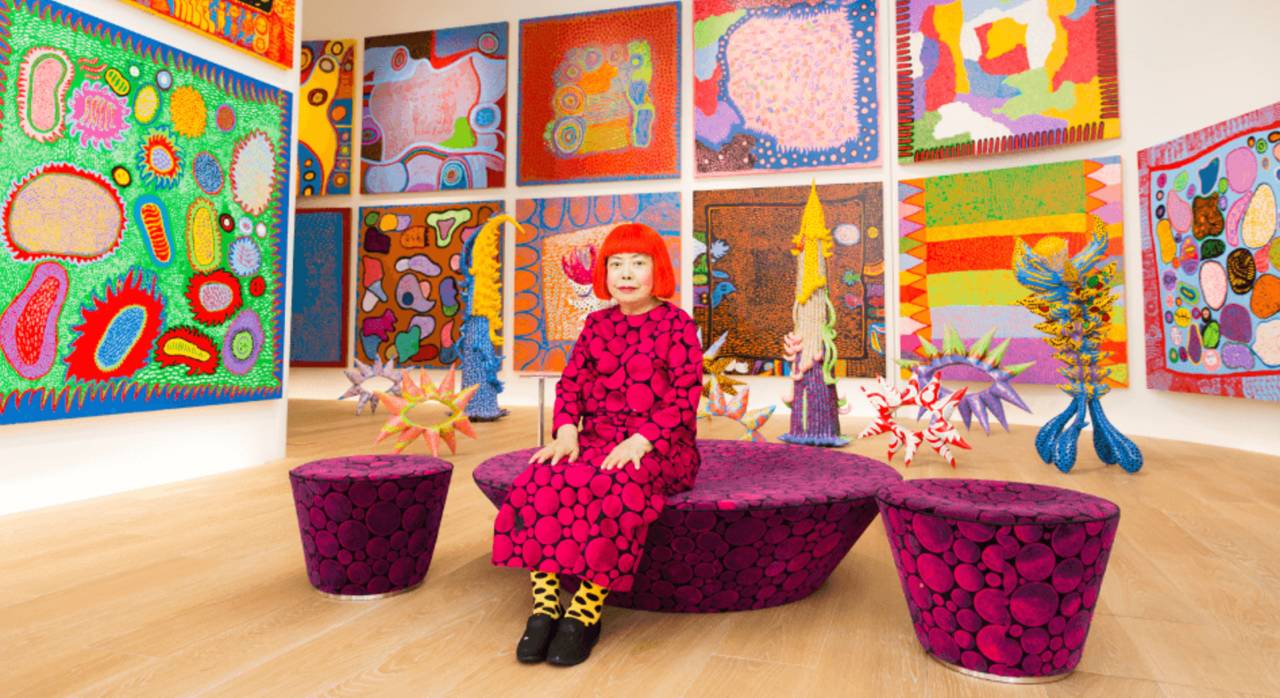 Yayoi Kusama and My Enternal Soul series
The key to this period——Pumpkin themed works bring diversity
Pumpkins bring peace and comfort to Kusama and companioned her through her childhood. In the 40s when she was a student, pumpkins are showing at many of her works. Kusama continued creating her pumpkin works for many years. After she returned to Japan, she created more pumpkins of divertive style, that include oil paintings, print makings, watercolor drawings, sculptures and installations. The pumpkins usually have bright colors with dots in her later period, which are very distinctive.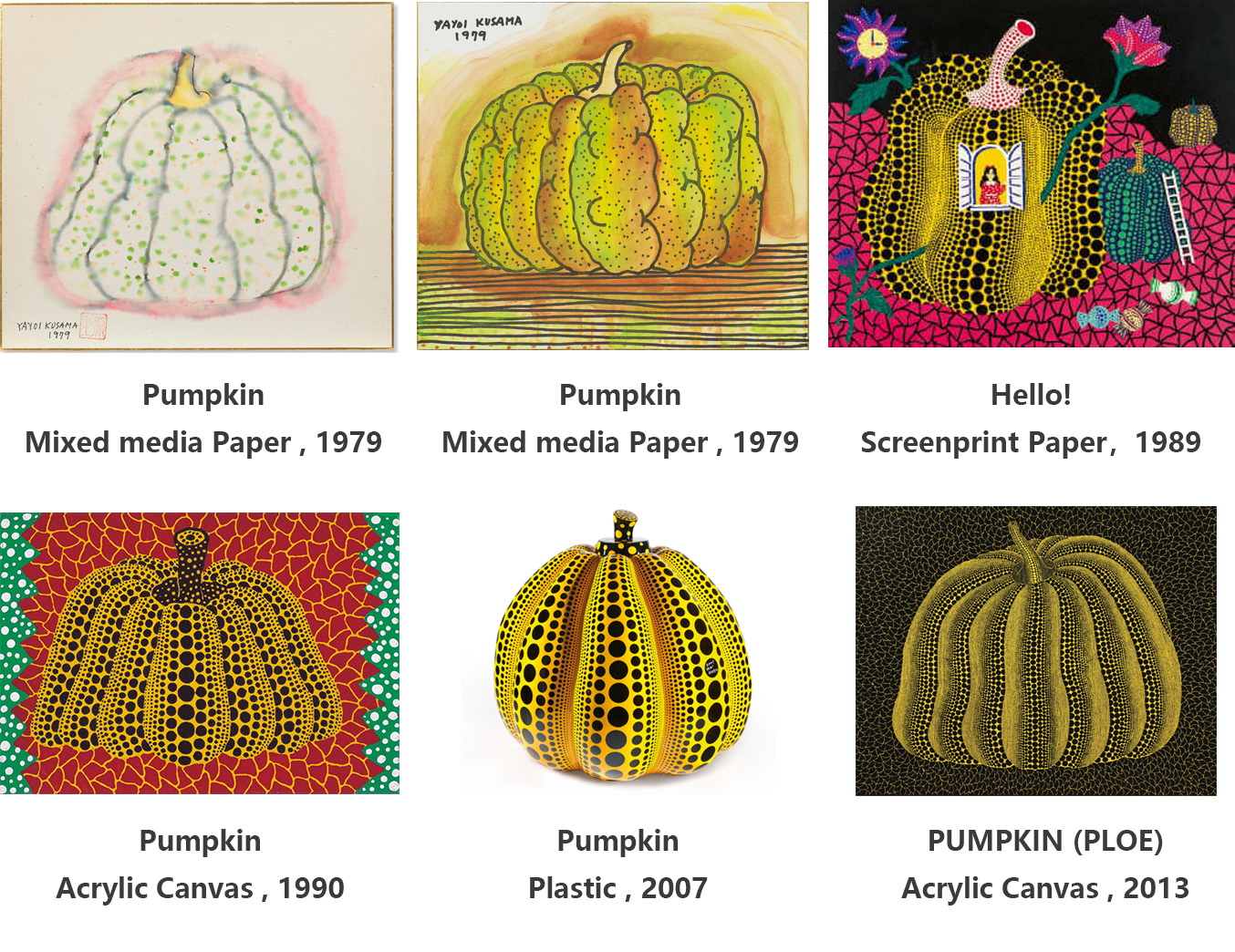 Different pumpkin works
In April 2019, the "PUMPKIN (TWPOT)" work made in 2010 was sold with HKD $54.46 million, become the Top4 of Kusama's high priced works, also become the Top1 in her pumpkin series.
"Pumpkin" works on market overview
1)The price index of "pumpkin" works went from 1 to 30 in 20 years, higher rose than "Infinity Net" in recent years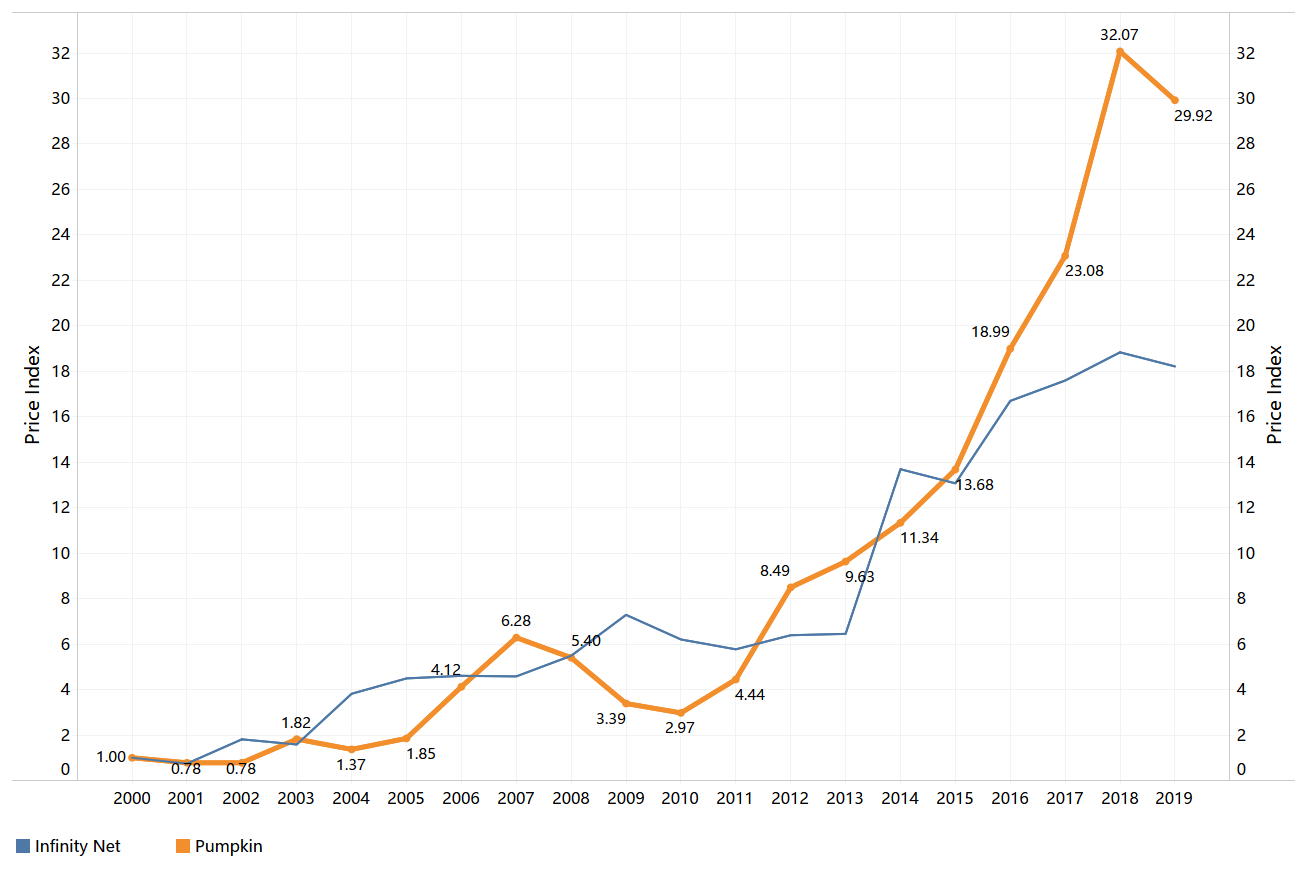 Price index of Pumpkin works and Infinity Net series from 2000 to 2019
Through the auctions between 2000 and 2019, the price index of pumpkins works was rapidly increasing. With the price index of "Infinity Net", they goes ups and downs one after another. But in recent years, the price index of "Pumpkin" works raising up quickly and already higher than "Infinity Net".
2)Works made in 90s have the highest turnover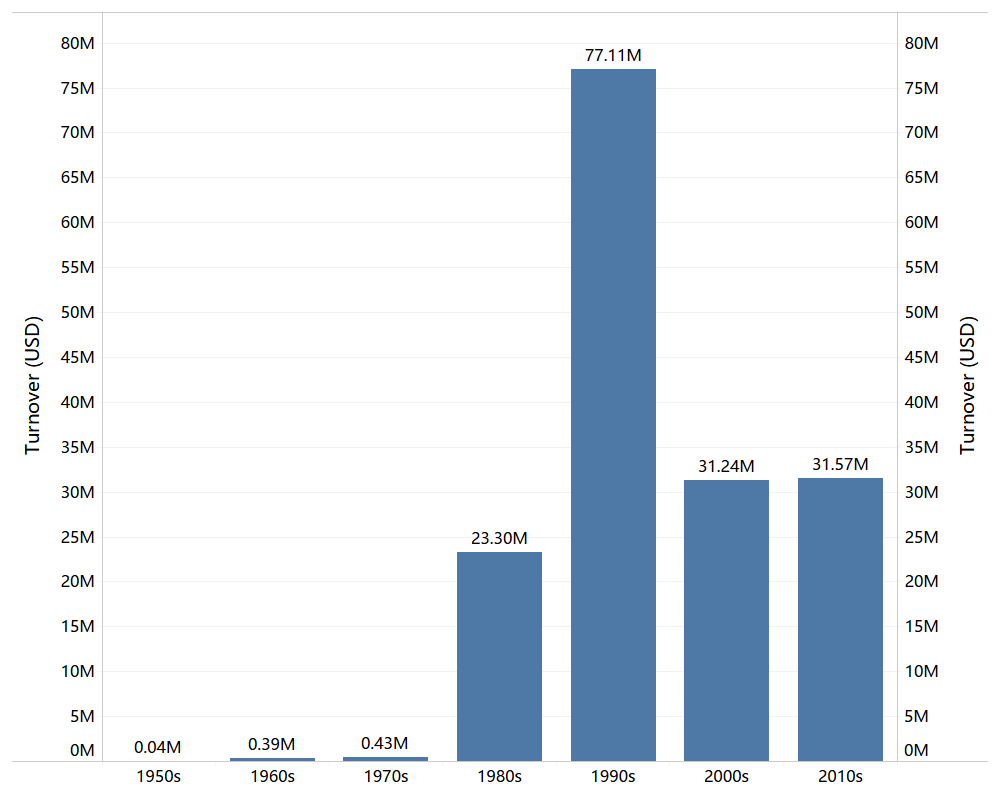 Pumpkin works in different period of times
3)Average turnover of "Pumpkin" works: Keep stepping up in 10 years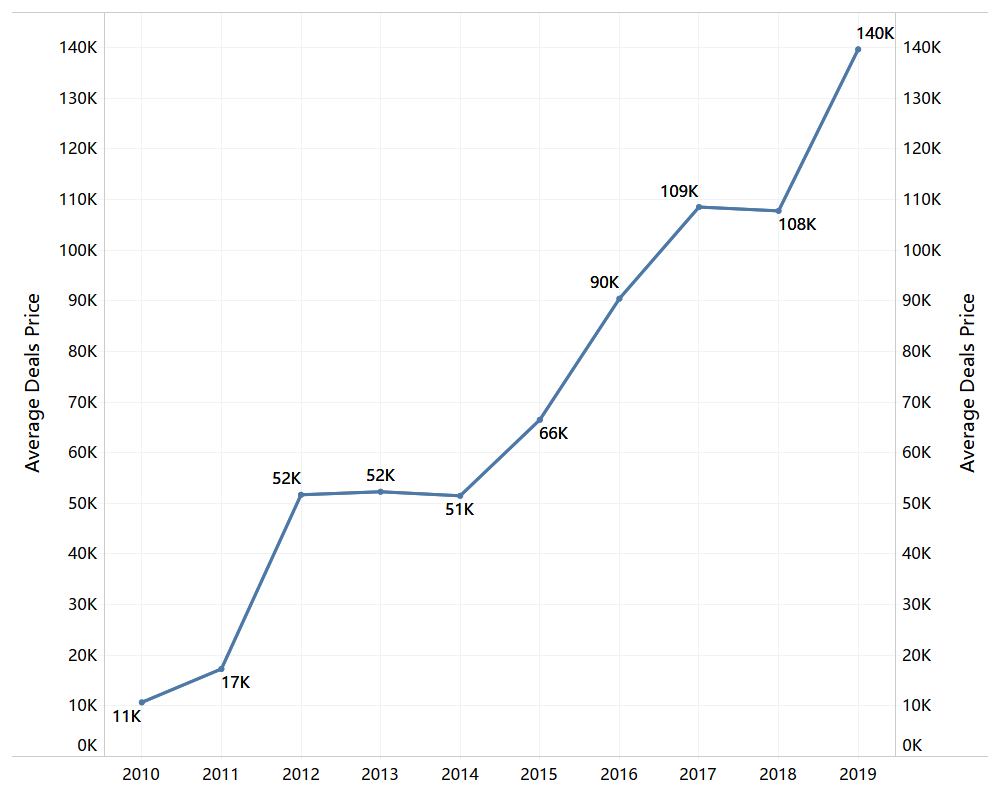 Average turnover of Pumpkin works from 2010 to 2019
4)Square meter price of "Pumpkin" drawings and paintings: Surging in recent two years
Square meter price of Pumpkin drawings and paintings from 2010 to 2019

Beside all these, Kusama using mirrors transformed the intense repetition of space with colorful LED lights to create a magical installation——Infinity Mirror Rooms. These installations are keeping updating and displayed at many spaces, driven a large number of fans and visitors to take photographs.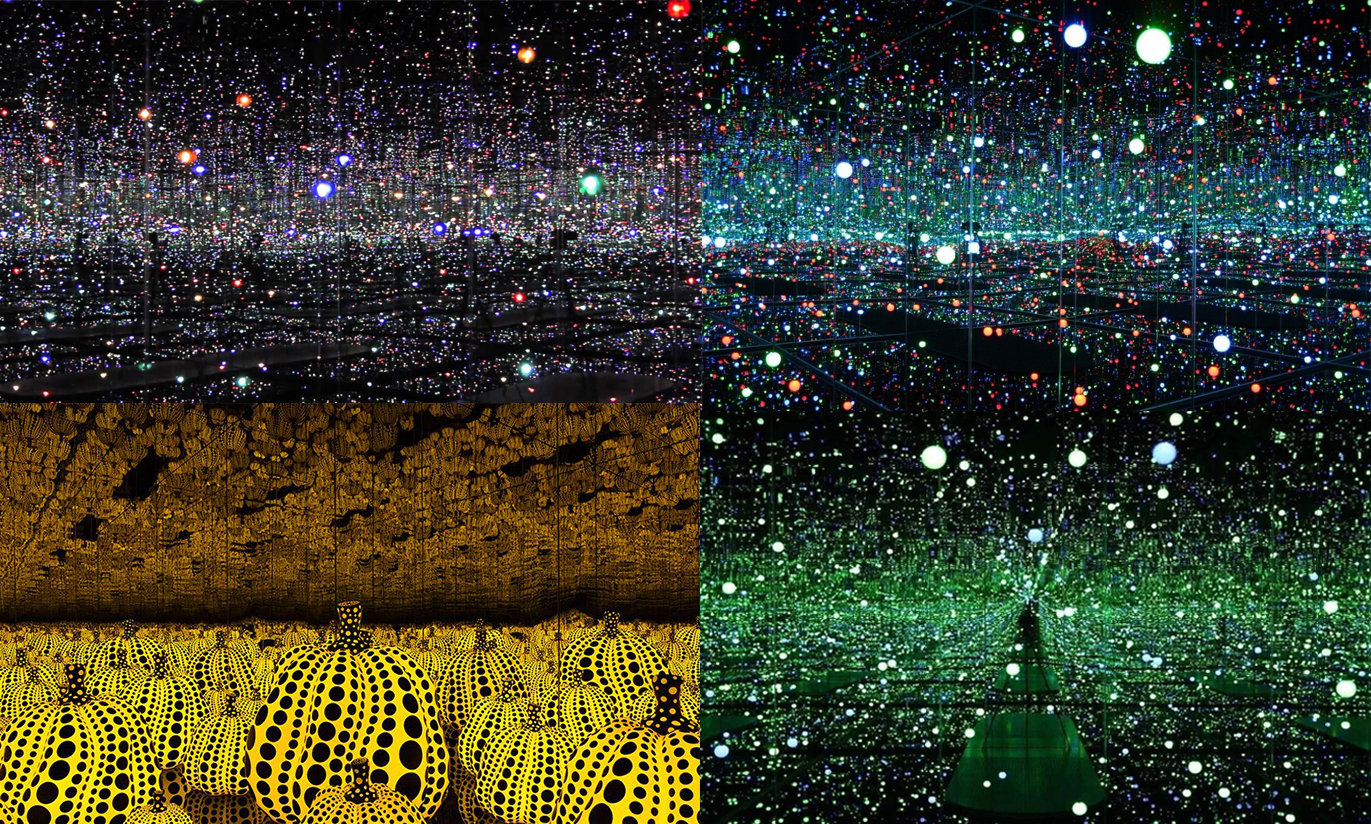 Yayoi Kusama, "a wired old lady", is leading the fashion trends with her unique style. Besides her art practice, she also set up her own fashion company and collaborated with many large brands like Louis Vuitton and Lancôme. This famous "Queen of Dots", not just created her own history in art world, she also brought her unique aesthetic perspective to the public.To acquire more information, please contact ArtPro customer service.