[Video] "Jay Chou X Sotheby's" Basquiat's "Untitled" of HK$289 Million Has Become The Second Most Expensive Western Art Sold In Asia
18 Jun 2021, 20:21
In June 18, 2021, Contemporary Curated: Asia Jay Chou x Sotheby's evening sale had officially started, and a global live broadcast of the auction was conducted. Basquiat's Untitled (in three parts) created by Jean-Michel Basquiat in 1985 is the most expensive lot in this auction, started at HKD 210 million, after fierce bidding, it was sold at HKD 250 million, plus a commission fee of HKD 289 million, making it the second most expensive Western art sold in Asia (the most expensive art sold in Asia is on March 23, 2021. The record is held by Warrior of Basquiat with HKD 323 million) which was commissioned by Hong Kong to the No. 100 buyer.
This is the second auction of Untitled (in three parts). In February 2005, this lot was sold at Christie's London for US$1.91 million.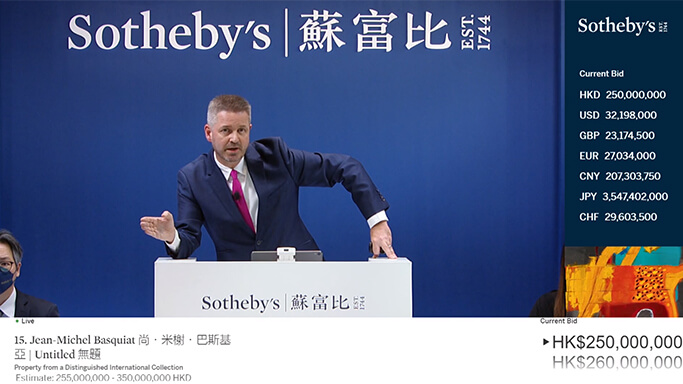 The current records of the most expensive Western art in Asia are all come from Basquiat:
On March 23, 2021, Basquiat's Warrior was sold for HK$323 million.
On June 18, 2021, Basquiat's Untitled was sold for HK$289 million.
On May 24, 2021, Basquiat's Untitled was sold for HK$234 million.
Untitled (in three parts) is a very typical work of Basquiat giant painting and one of the most representative and well-known works of the artist. It was once on the cover of the "New York Times" magazine in 1985.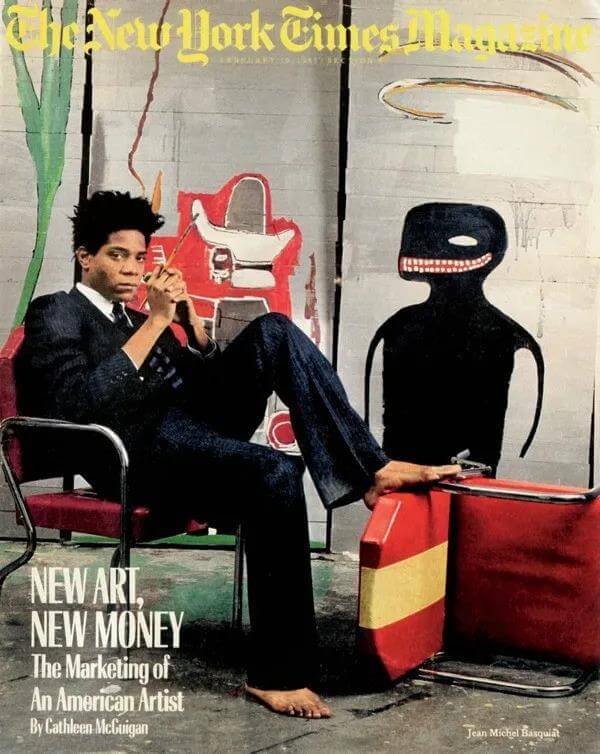 1985 was the culmination of Basquiat's entry into the ranks of internationally renowned artists. He appeared on the cover of the international publication "New York Times" shows how famous he was then. In this cover photo, he decided to sit in front of the painting, which established the status of this painting as a symbol of his career achievements.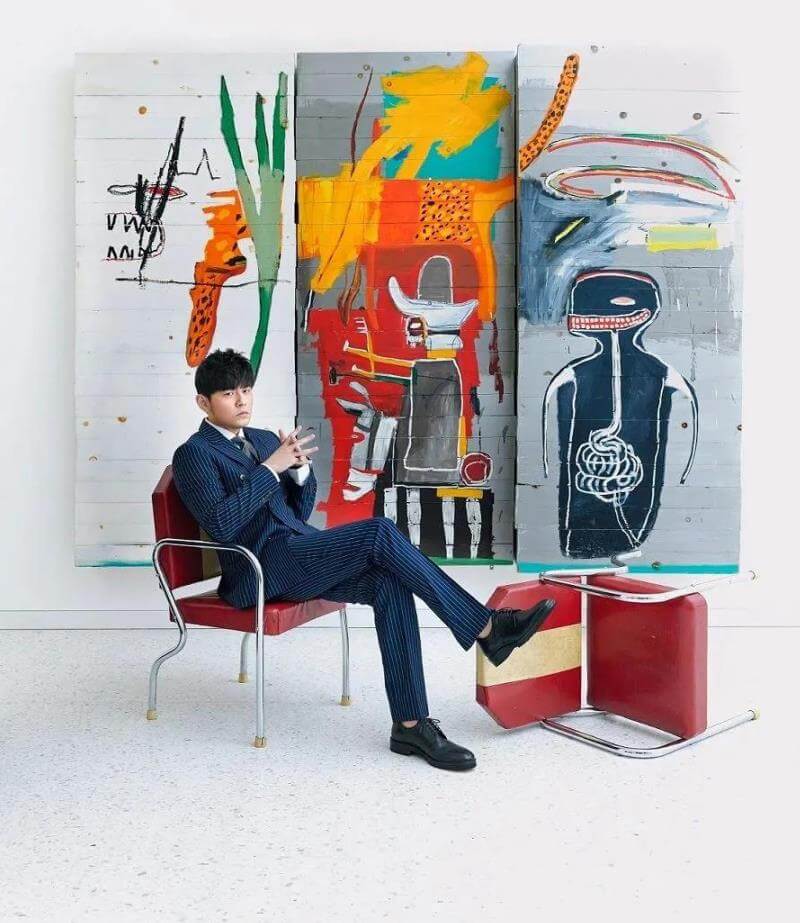 Untitled (in three parts) is a tripartite screen composed of wooden panels. The painting juxtaposes three elements, including the iconic black warrior of Basquiat, which borrows the visual vocabulary from African masks; in Aztec legends A jaguar incarnate of bravery; and a character who resembles the knight Don Quixote. Basquiat contrasts the primitive ferocity of the visual culture of Africa and Central America with the grandeur of European chivalry and tradition.
Warrior of Basquiat became the top 5 of his personal auction list
So far, the first 10 works of Basquiat's personal sales list are all created in the New York market. Only Warrior and Untitled (in three parts) were sold in the Hong Kong. It can be seen that The market potential of Hong Kong will not be underestimated.
ArtPro will continue to focus on the 2021 spring auction, please stay tuned for more auction news.
For more details of the lots, please click on the session to view
Contemporary Curated: Asia | Jay Chou X Sotheby's | Evening Sale
Sotheby's Hong Kong
5/F One Pacific Place 88 Queensway Sotheby's Hong Kong Gallery Hong Kong