Zeng Fanzhi | Auction Market Personal Report
Although the auction season in Mainland China has been delayed due to the pandemic, the dealers are still passionate. In August 18th, One of Zeng Fanzhi's most important works "Mask Series 1996 No.6", one of the largest and representative works of his "Mask" series, has been sold with RMB¥161 million(commission fee included)and a hammer price of RMB ¥140 million, which broke his personal record and become the highest priced work on Chinese contemporary art market. This is his another exorbitant priced work after "The Last Supper" in 2013, it put Zeng Fanzhi under the spotlight again after 7 years.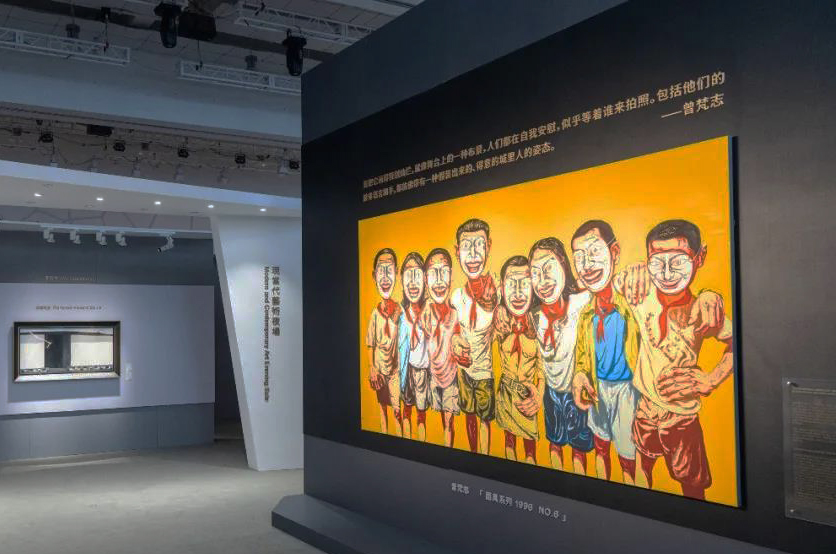 In over 30-years artist career of Zeng Fanzhi, "Mask" series is one of his signatures and also a tag that he was trying to get rid of in his later years. To him "Mask" is only a part of his art career, not all of them. This time, ArtPro is going to take Zeng Fanzhi's creation timeline as lead, by analyzing his market data and art style we are going to explore the artist's career and his value.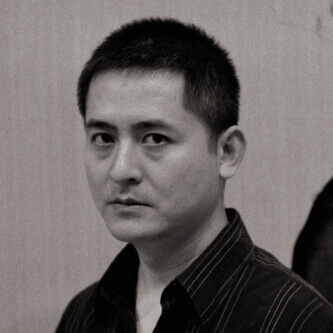 Zeng Fanzhi was born in a normal family in Wuhan, Hubei. He is the highest priced Chinese contemporary artist in history. He is represented by Hauser & Wirth, Gagosian and Shanghart gallery. He is well known by the mature expressionism style and unique artistic language. The painting "Mask Series 1996 No.6" breaks record of single Chinese contemporary art work at auctions in 2008 and 2020. Zeng Fanzhi always challenges traditions, provoking and creating new things. He has experienced "Xiehe Hospital" period (1987-1993), "Mask Series" period (1994-2004) and "Wild Strokes" period (2005-2020). In these 3 periods he has changed style in multiple times.
Part I : Zeng Fanzhi Market Data Analysis
"Mask" series is leading the top with overpower, highest square meter priced work is in "Xiehe Hospital" period.
We set the year of 1987 as beginning of his art career, and make the most outstanding art style as theme. We can divided Zeng Fanzhi's art career into 3 period: "Xiehe Hospital" period (1987-1993), "Mask Series" period (1994-2004) and "Wild Strokes" period (2005-2020).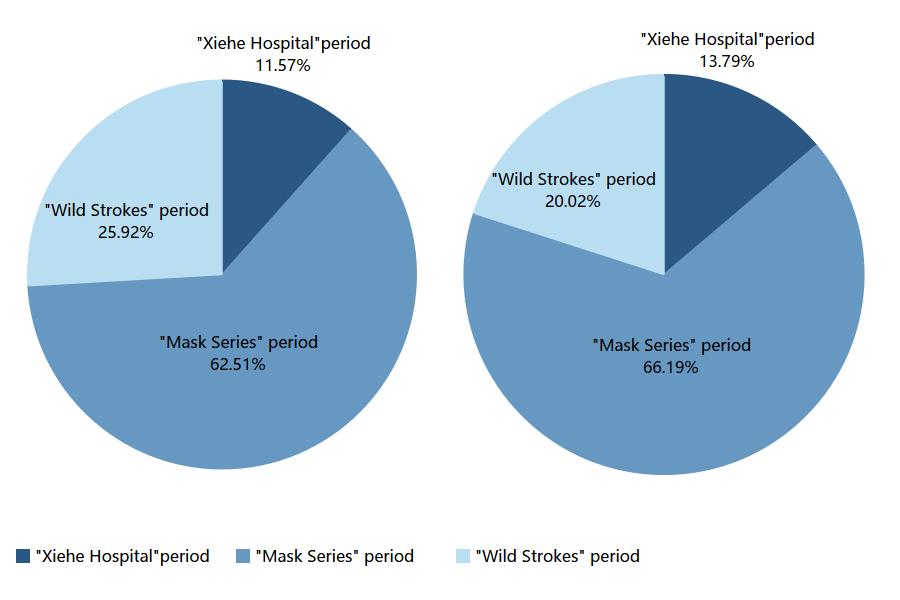 Turnover Proportion in Each Period
From deals volumes and square meter price, although "Mask" series is at the leading position of both deals volumes and sold-by-lot rate, "Xiehe Hospital" series is still expensive. The square meter price in this period is always above the other two periods, and the square meter price of "Mask" series is continually increasing in fluctuation.。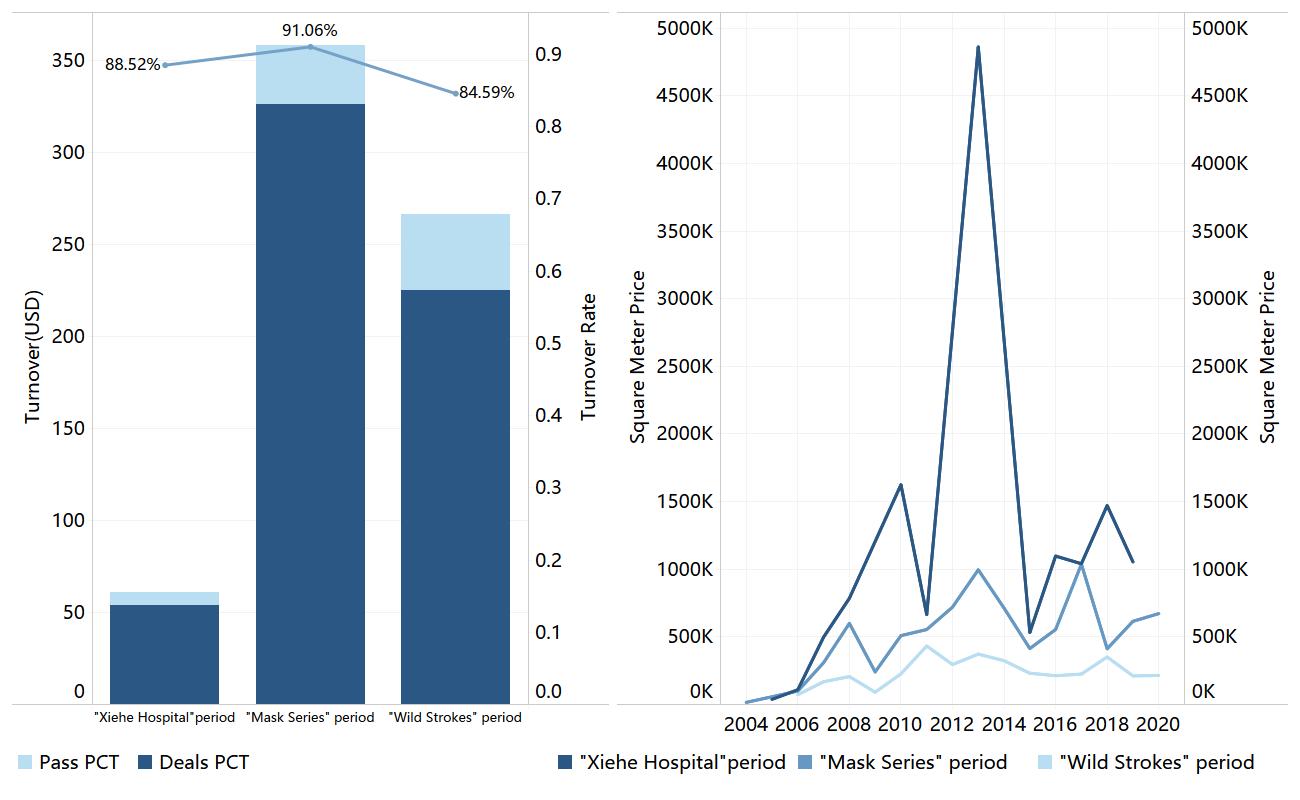 Appearance volume, Sold-by-lot rate and square meter price in different periods
From his personal top10, the 2010-2013 market is his top, because there are 5 out 10 works are came from this period of time. In the Top10 works, there are 5 are from "Mask" series, 4 of them from "Xiehe Hospital" series and the last one is from "Wild Strokes" period.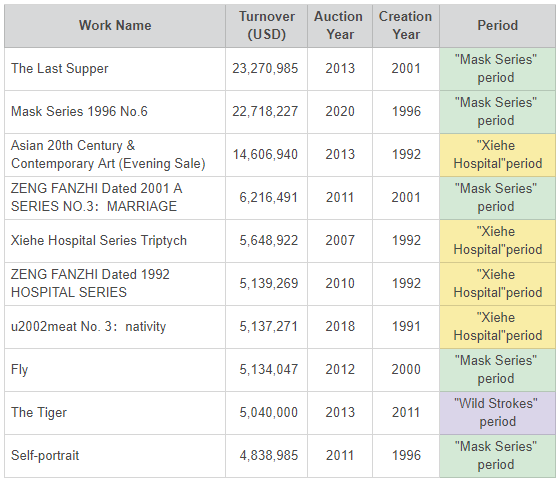 Top10
Hundred million priced work show up again after 7 years, price index from 1 to 20 within 16 years.
Zeng Fanzhi's price index is increasing since the first time in auction, it went from 1 to 20 in 16 years, and turnover reached top at 2013. Due to the development and maturity of the art market, collectors are improving their choice of Zeng Fanzhi's works. Although his turnover after 2013 is not as high as his top period, the price index is slightly decreased but still in high position and is showing upward trend in 2020.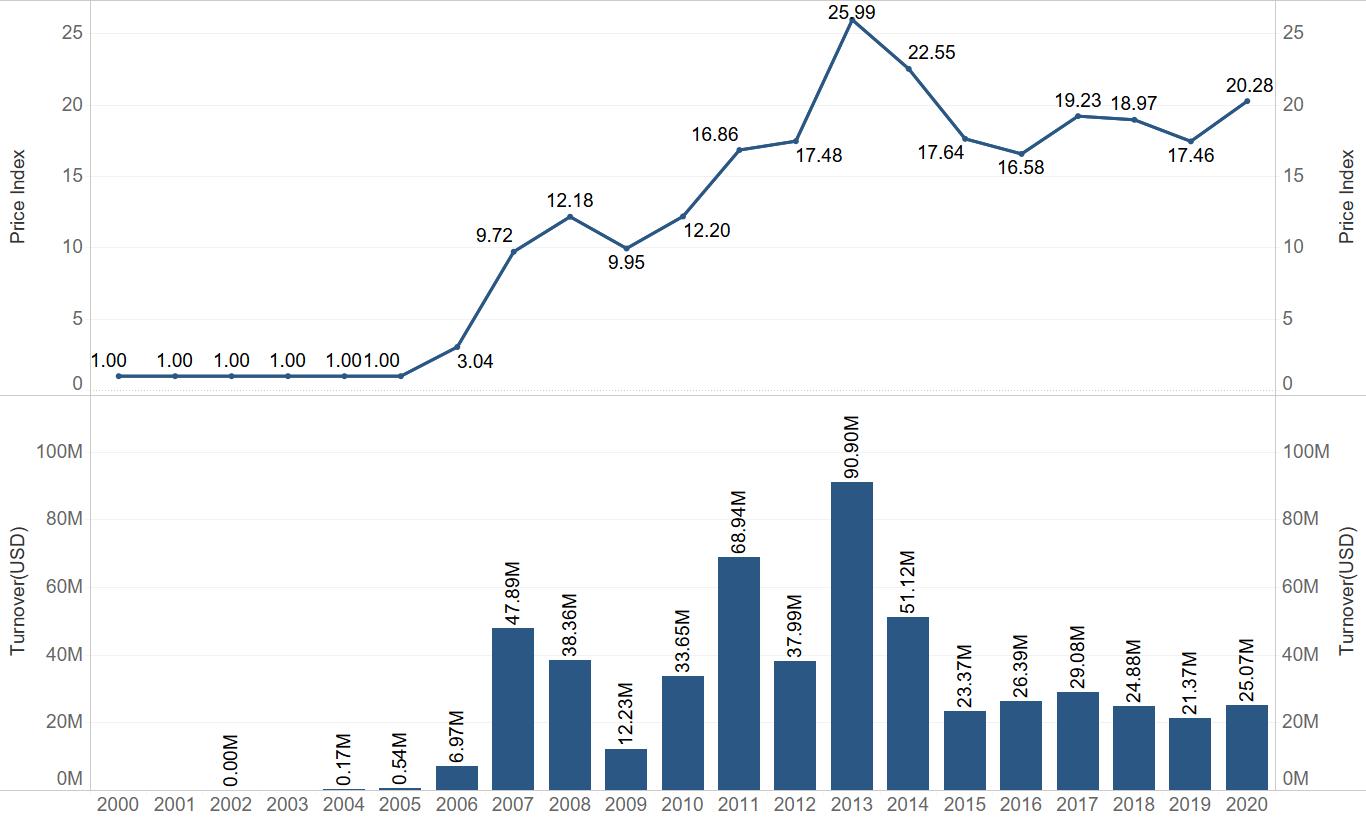 Zeng Fanzhi's price index
Part II: Zeng Fanzhi's Art Styles in Different Period of Times
"Xiehe Hospital" Period: Taboos and Sickness
After entered the art school in 1987, Zeng Fanzhi found the way of teaching and their standards to a good student is very different from his idea. He starts looking for a better way to express himself. At the time he lived by a hospital in Wuhan. Because he doesn't have a bathroom in the house, he has to borrow the hospital's bathroom every day. The patient in wards, or wondering on the lounge with their infusion bottles became the daily views in Zeng Fanzhi's life. So the operating table, human bodies and their cramping facial expression became the inspiration of his works, and turns into a series works "Xiehe Hospital".
Top1 work in the period:
In this period, the gigantic hands and sharp gaze of the figures become the symbol of Zeng Fanzhi. While creating the "Hospital" works, he observes people in Wuhan sleeping on frozen meat to cool themselves because the extremely hot summer in local and they had no air conditioning. This special way of getting cool inspired him to create "Meat" series. From these works we can see that Zeng Fanzhi was deeply influenced by expressionism artists like Chaïm Soutine and Max Beckmann. The images vividly expressed loneliness, prohibition, sadness and sickness.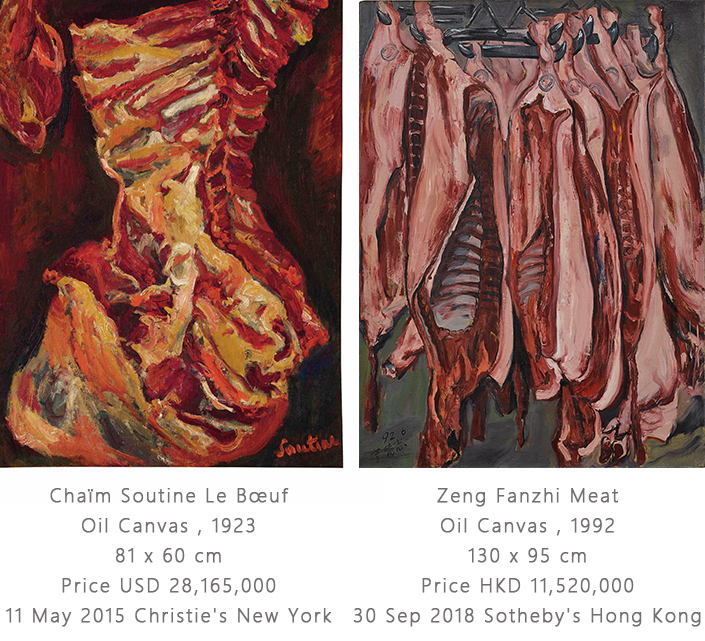 Chaïm Soutine's and Zeng Fanzhi's work
"Mask"Series Period: Indifference and Isolation
Zeng Fanzhi came to Beijing in 1993, he doesn't has much friends when he first came, and he had to see a lot people in many occasions. He has been put into a total unfamiliar environment than he was in Wuhan before. This pushed him to a transaction, to let him expressed the loneliness and estrangement on canvas
All figures in these paintings have big bright smiles on their faces, but there is a sense of unreal like they have been staged for a show. Everyone is wearing masks and look pretentious like that they are proud of been a city people, the fake gestures shows that they are living in a dream. This sense of universal loneliness strongly resonate with audience that makes "Mask" series become one of his most important works.
Top1 work in the period:
For Zeng Fanzhi, "Mask" series is not just portraits of people wearing masks. In fact he also created many figures without masks in his later "Mask" period. The people take off their masks, each of them has specific identity with unique faces and gestures. Most of them are staring at audience with frowns. Their bodies are incomplete, the outlines blurred into surroundings, like the light of film screen dims into darkness.
"Wild Strokes" Period: Dissolves Concretion and Abstraction, a Peculiar Blend
Everything will pass through time, the "Mask" series has brought glories to Zeng Fanzhi, but he will continue explore new subjects that he is interested.
Zeng Fanzhi started to paint some abstract painting, but they are not completely abstract, they are more like a blending of abstraction and concretion. In this period of time, his images zoom into landscapes, animals and people, everything were covered by dried out plants, things are overlaid on top of each other with retrograding brush strokes. These painting are making people feel depressed and frustrated.
The strokes look like spirals on the images was created by using different sized brushes retrograding on already finished paintings on canvas. This unique technique is also come from his daily life. There was a wisteria by Zeng Fanzhi's house, its branches will fall off the tree in winter. This sense of suddenly breaking inspired him to start this "Wild Strokes" period, and become the subject in his later art creation.
Top1 work in the period:
After "Wild Strokes" period, Zeng Fanzhi also created "Salute" series. During this time, Zeng Fanzhi was trying to go back to the source, find his original inspirations, and created these works. The work "Hare" is a representative piece in this period. He did not just copy the "Young Hare" painting of Dürer, instead he covered his hare with another abstract landscape. The rabbit becomes a symbol as part of the landscape, the lines and brush strokes are weaving together.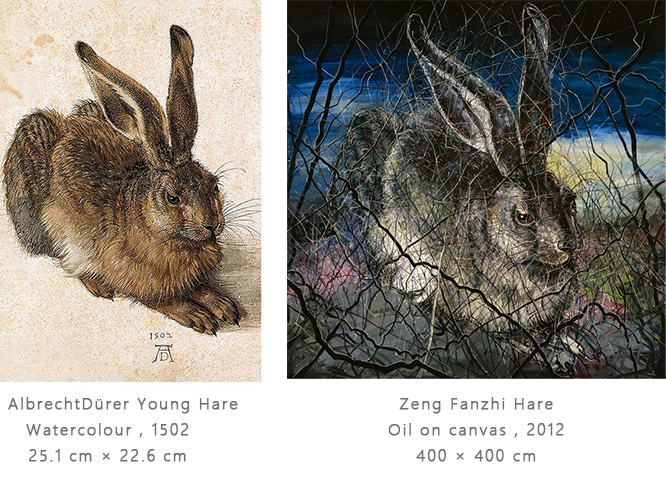 Zeng Fanzhi sub verses himself in each period of times, in order to create new arts. Every change he made was from his heart, and inspired by his life. The unique art style and solid painting skills make him achieved his position on today's market. To acquire more information of artists, please contact ArtPro customer service.