Liu Ye | Auction Market Personal Report
In 2019, Liu Ye has been exceptionally smooth in the ever-changing art market. He tops the list of Chinese contemporary artists with a turnover of more than 50 million US dollars. And in the 2019 sales, Liu Ye made it into the Top 10 with seven works. Since 2020, 37 of his works had been auctioned with a sold-by-lot rate of 97%. Of these, 83% of the works have been changed hands over the estimating price, and 6 pieces exceed 1 million US dollars. On July 9, the large-scale oil painting Leave Me In The Dark jumped to the personal list of Top2, which continued Liu Ye's popularity in 2019. Today, ArtPro will take you closer to the focal artist of the auction market.
Liu Ye was born in Beijing in 1964, majoring in Industrial Design at the Arts and Crafts School of Beijing and Murals at the Central Academy of Fine Arts. He graduated from the Berlin Academy of Fine Arts in 1994. Until now, Liu Ye has recorded more than 600 auctions, covering oil paintings, watercolors, prints and sculptures. And the typical images in his works include the child with round head, Miffy rabbit and Piet Mondriaan's grid. Liu Ye combines the quintessence of Eastern and Western cultures from the techniques of classical giants to the style of minimalism. His creation has gone through four stages: the early stage (1994 and before), the first transformation (1995-1999), the second transformation (2000-2009) and 2010 to the present, showing a unique Liu Ye Language.
(一)Observation of Liu Ye's Auction Market
1.Market Fluctuation in Ten Years: deals volume and price soared in 2019, price index continued to rise in 2020.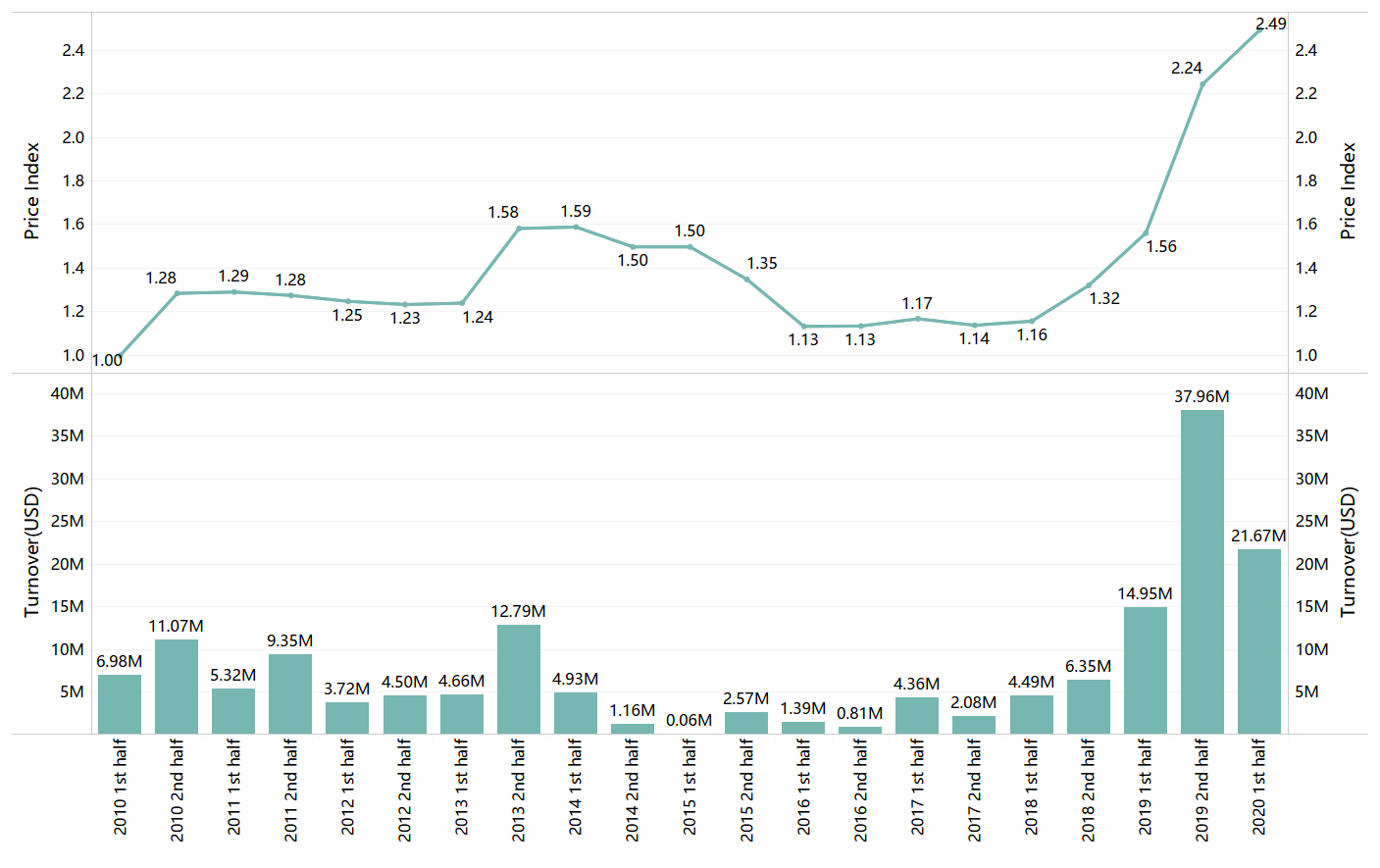 Price Index and turnover of Liu Ye from 2010 to 2020 (As of 18 August)
2.The creation time of high-priced works is concentrated in 2000-2009, followed by 1995-1999.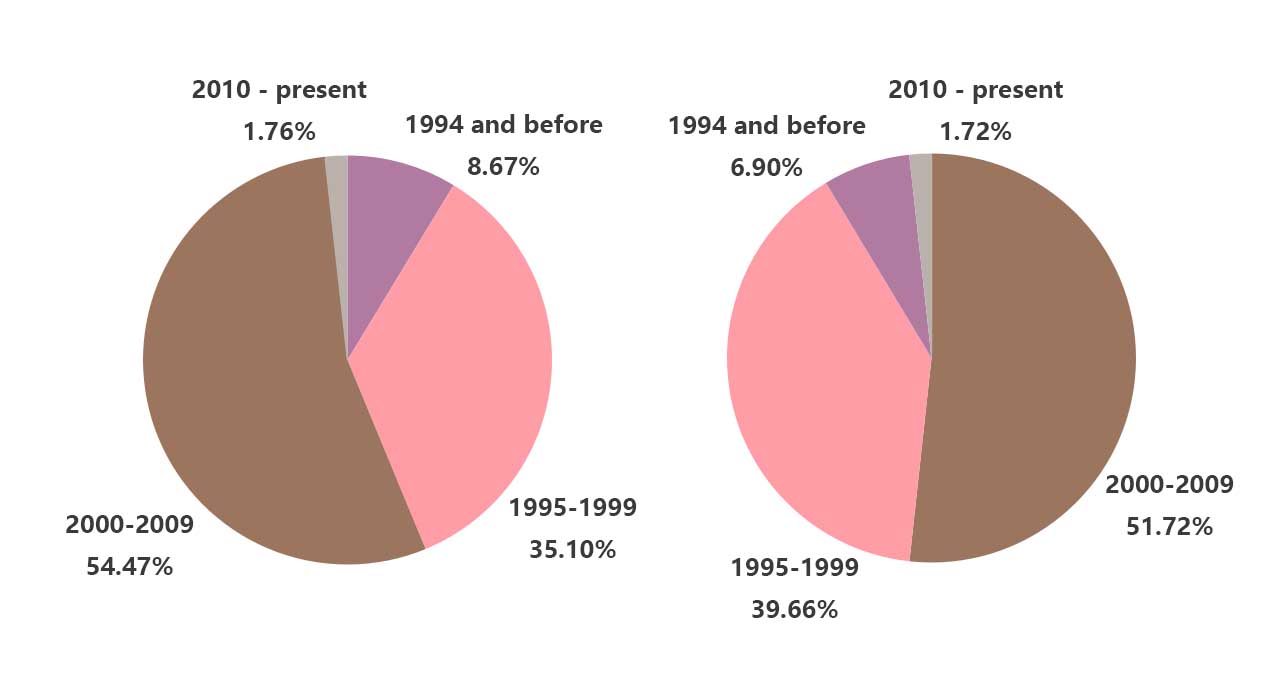 Left:the proportion of turnover in different periods
Right:the proportion of multimillion-dollar works in different periods
3.Top20 Works List: 12 seats in 2019, 3 seats updated in 2020.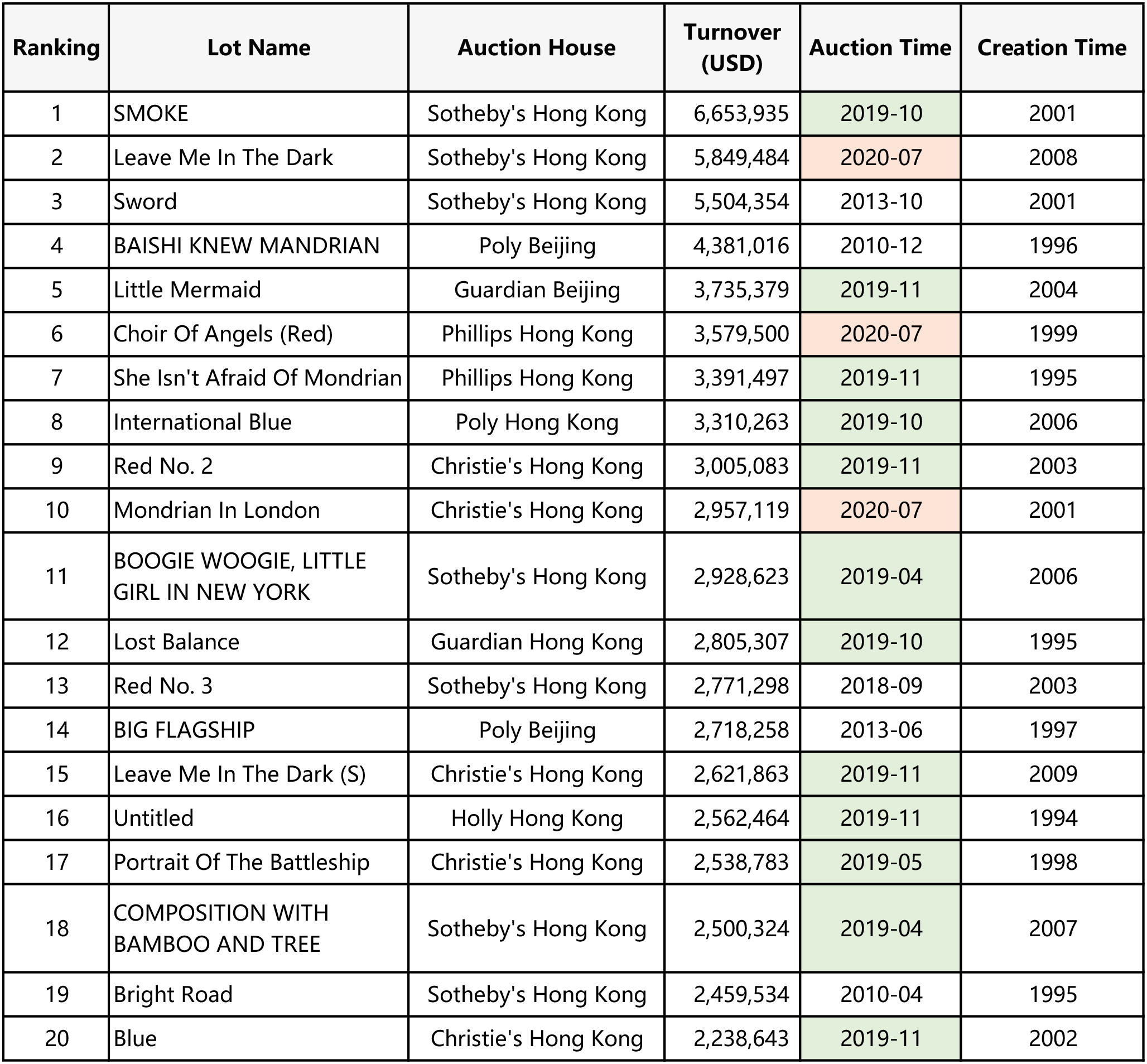 Top 20 Works List of Liu Ye
4. The main battlefield of sales is concentrated in Hong Kong for years, and the pattern remains unchanged in 2020.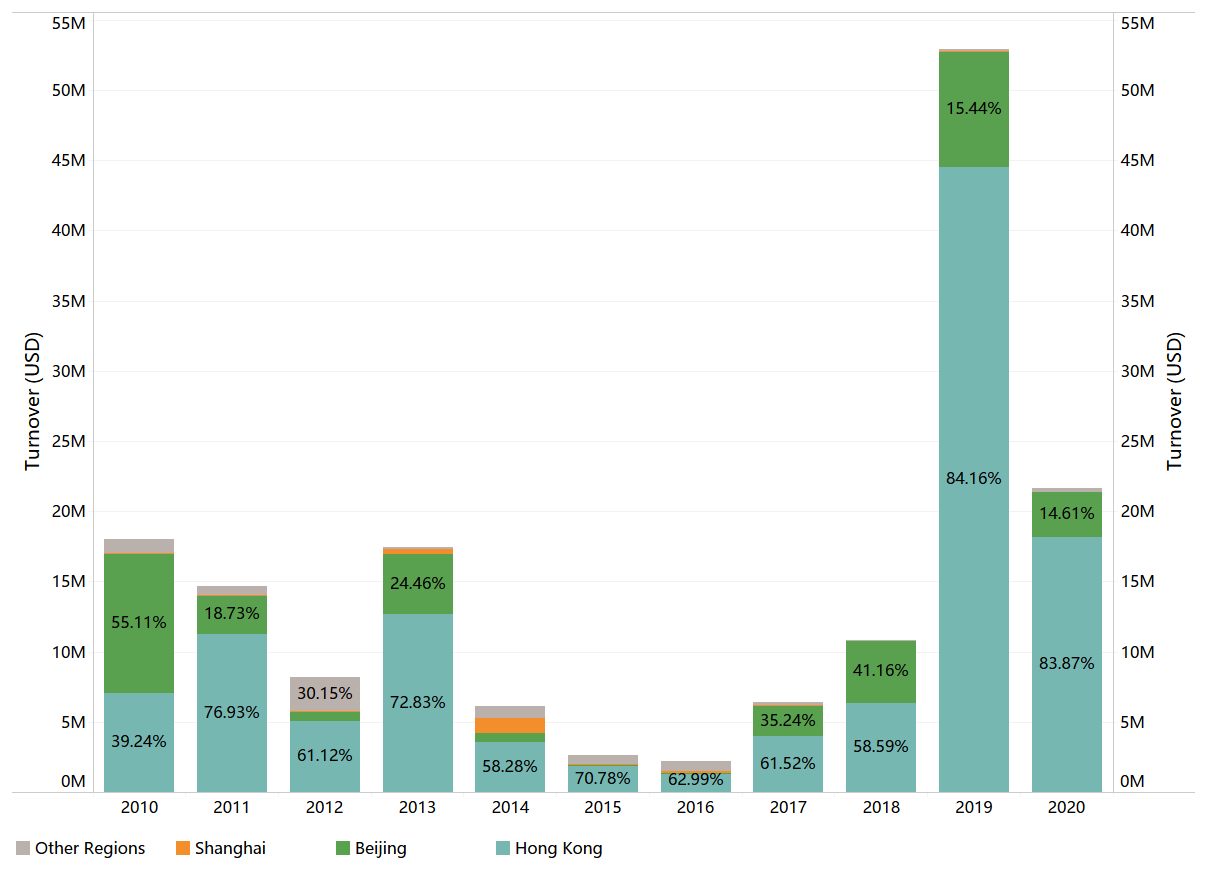 Regional distribution of Liu Ye's Auction from 2010 to 2020 (As of August 18)
5.Annualized rate of return about recurring works.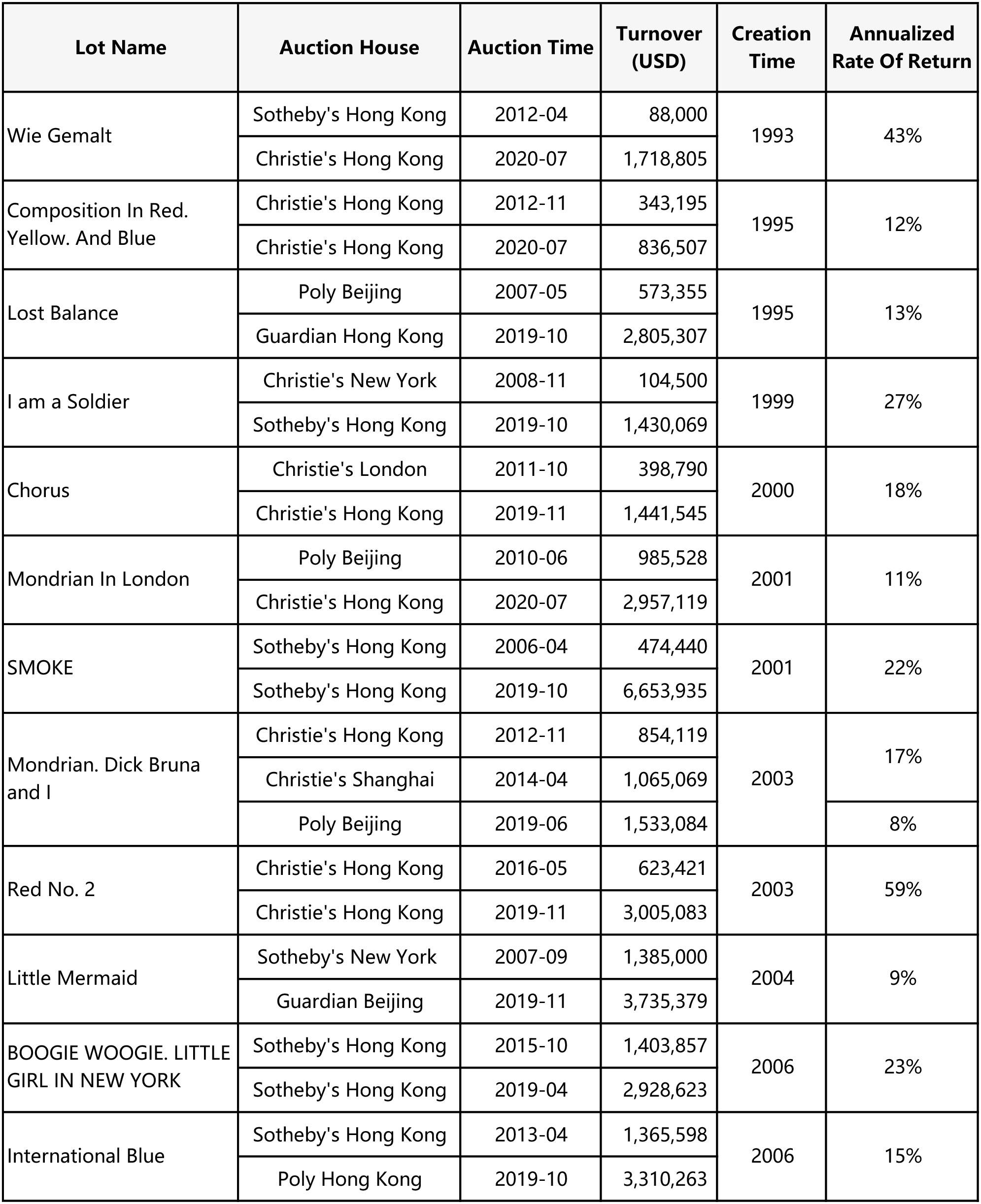 Some of Liu Ye's Works Auctioned Repeatedly and Annualized Rate of Return
(二)The Analysis of Liu Ye's Works in Different Creation Periods
1. Early period: 1994 and before
Liu Ye's father is a children's literature writer and screenwriter, and his mother is a high school Chinese teacher. Growing up in such an environment, Liu Ye had a happy childhood. From an early age, he began to read some classic children's literature works such as Hans Christian Andersen's Fairy Tales and the Secrets of Bao Hulu. From 1990 to 1994, Liu Ye studied in Berlin. In a foreign land, he fully realized the loneliness of "speaking Chinese in front of a mirror" in Bei Dao's poem. Therefore, he depicts the inner fairytale world with a paintbrush and uses the mirror as a way of self-expression. At that time, most of his characters were imaginary himself.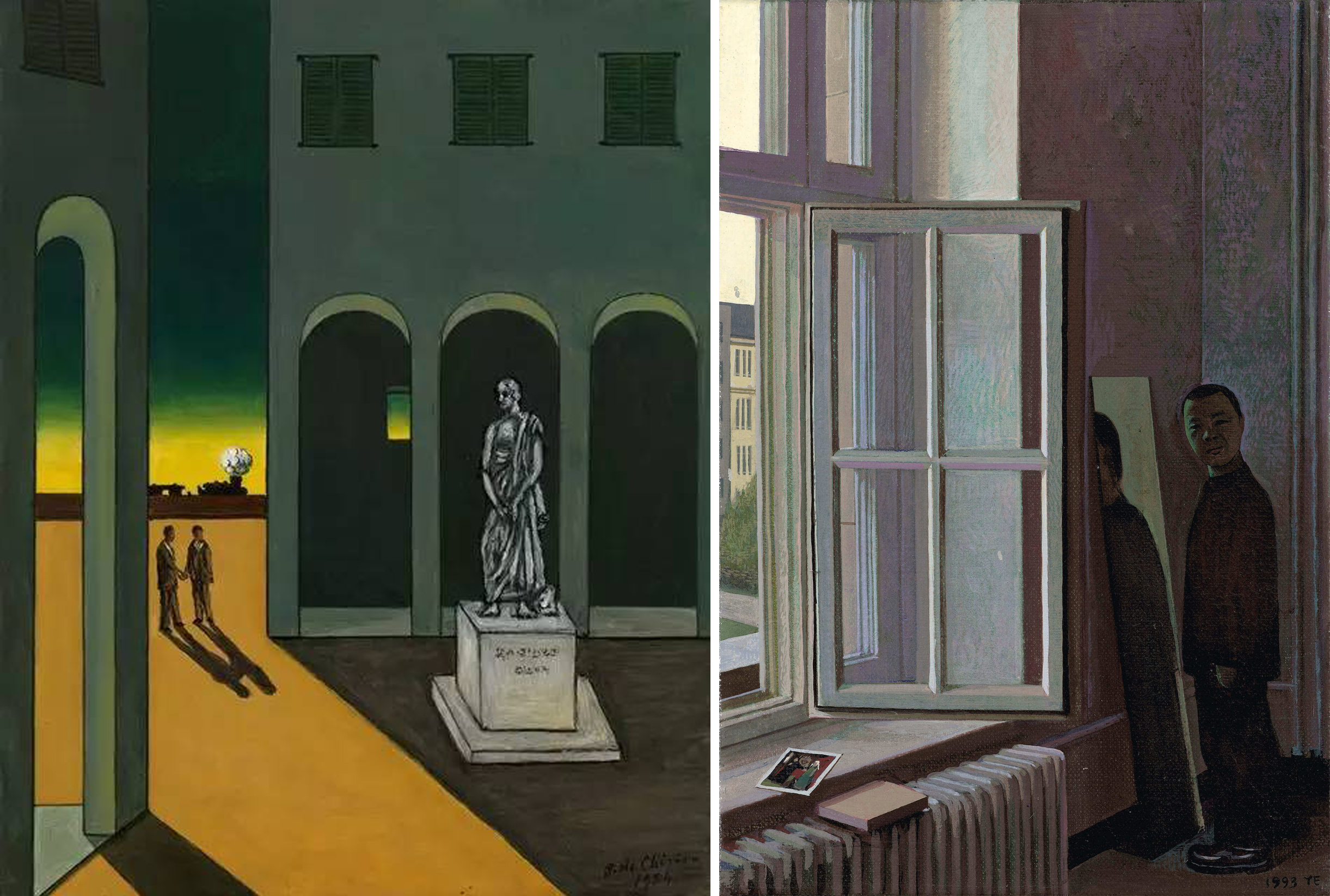 Left:Giorgio De Chirico Piazza d'Italia Oil Canvas, 1954
Right:Liu Ye Wie Gemalt Acrylic Oil Canvas, 1993
During Berlin period, Liu Ye studied the history of western art and the theory of architecture deeply, and got inspiration from the works of western art giants. In the paintings of the early 1990s, the influence of Europe on Liu Ye was visible. Paintings with calm colors, rich strokes and strong narrative are easily reminiscent of Giorgio De Chirico, Baltusz Klossowski, René Magritte and even the older Nordic Renaissance paintings.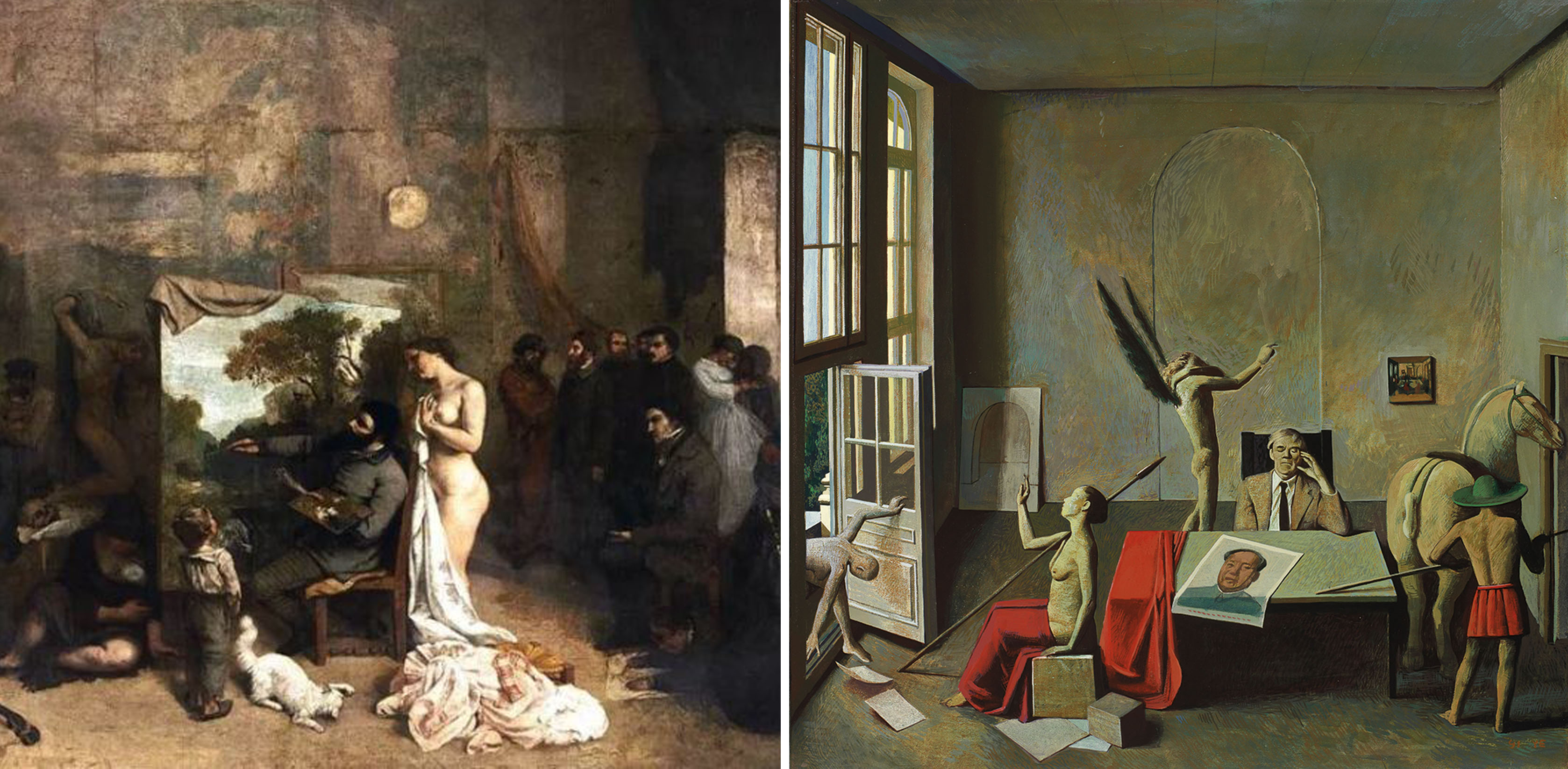 Left:Gustave Courbet L'Atelier du peintre (Part) Oil Canvas, 1855
Right:Liu Ye The Studio Oil Canvas, 1991
Among them, the Dutch painter Piet Mondriaan had the most far-reaching influence on Liu Ye —— the bright and saturated colors, the minimalist composition between vertical and horizontal lines greatly inspired him. Piet Mondriaan's grid appears in Liu Ye's creation frequently.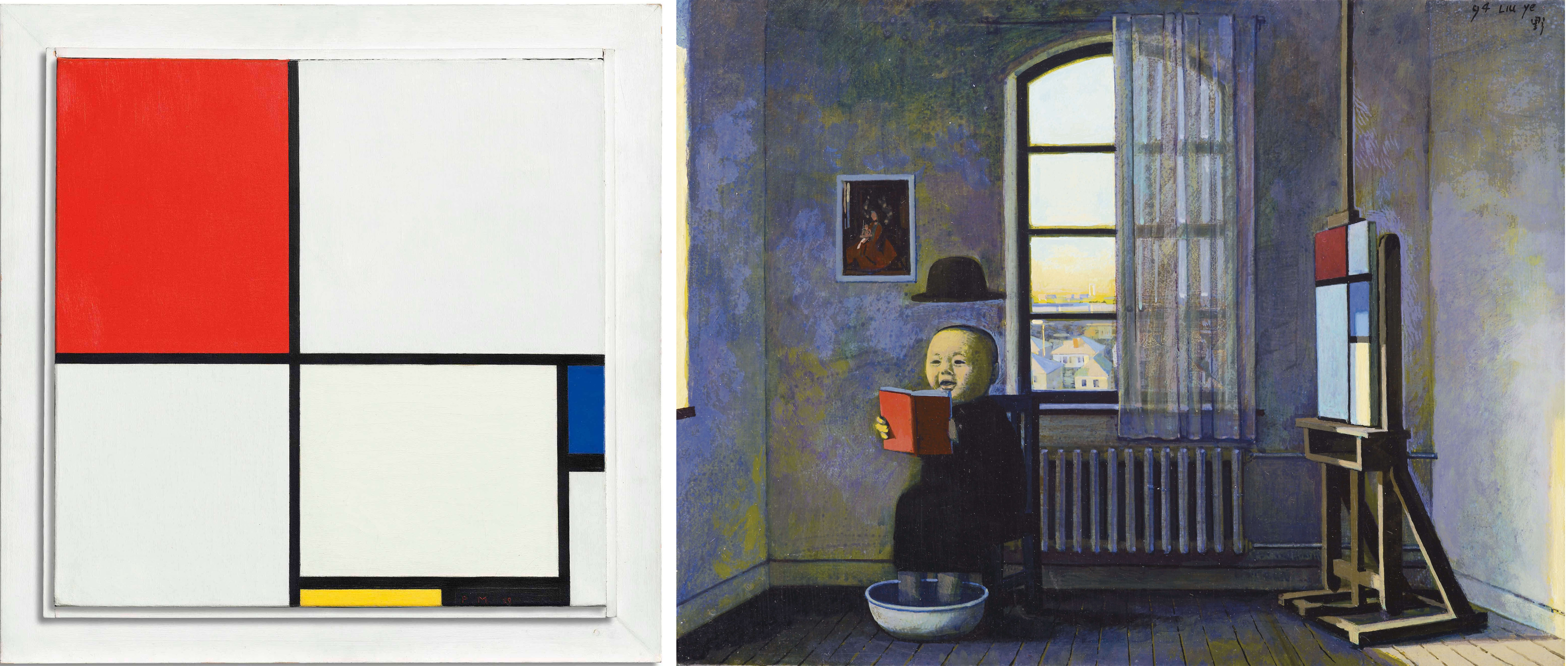 Left:Piet Mondriaan Composition No. III, with Red, Blue, Yellow, and Black Oil Canvas , 1929
Right:Liu Ye Born in 1964 Oil Canvas , 1994
Between 1991 and 1994, Liu Ye's paintings rarely exceeded 50 × 50cm. II Riassunto, created in 1993, is a masterpiece of this stage. Referring to the techniques of western masters and combining his own perspective, Liu Ye created an artistic schema with distinct personal style. In 2013, II Riassunto sold 9.43 million yuan ($1.54 million) in Guardian Beijing.
2.The first transition period after returning to China: 1995-1999
When Liu Ye returned to China in 1995, he began to create large-scale paintings, and the style and theme of his works also changed. He began to portray himself from a young man as a little boy, and the background of the painting moved from the room to the theatre. In addition, there are more female images in the works. During this period, choir, fleet and sailor boy are recurring themes in Liu Ye's works. Lovely and vivid images staged lots of mini stage plays.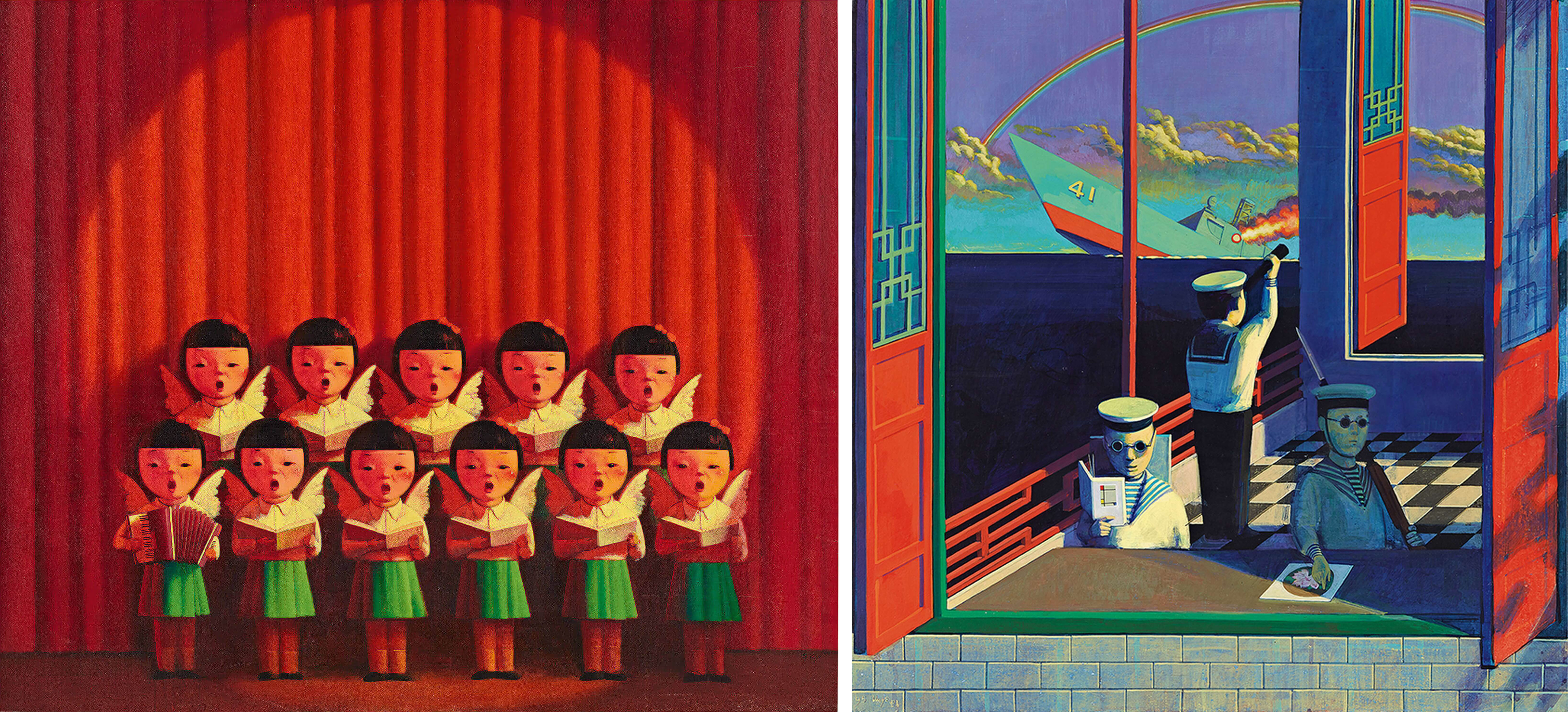 Left:Liu Ye Choir Of Angels (Red) Oil Canvas , 1999
Right:Liu Ye Lost Balance Oil Acrylic Canvas , 1995
Liu Ye often sets the tone of his paintings in the primary colors of red, yellow and blue, while the appearance of red in a large area is related to his childhood memory. He used to recall "I grew up in a world covered with red, with red sun, red flag and red scarf." LIU YE QI Dated 1996 BAISHI KNEW MANDRIAN set Liu Ye's personal high price in 2010 with 29.12 million yuan ($4.38 million).
3.The second transition period after returning to China: 2000-2009
By 2000, Liu Ye began to lean towards minimalism and abstract painting style. He turned his attention away from himself and began to depict the characters he was interested in, such as Maggie Cheung, Zhou Xuan, Ruan Lingyu, Zhang Aling, Teresa Teng and so on. Liu Ye combines classical and similar cartoon ways, showing the strong emotions of the characters.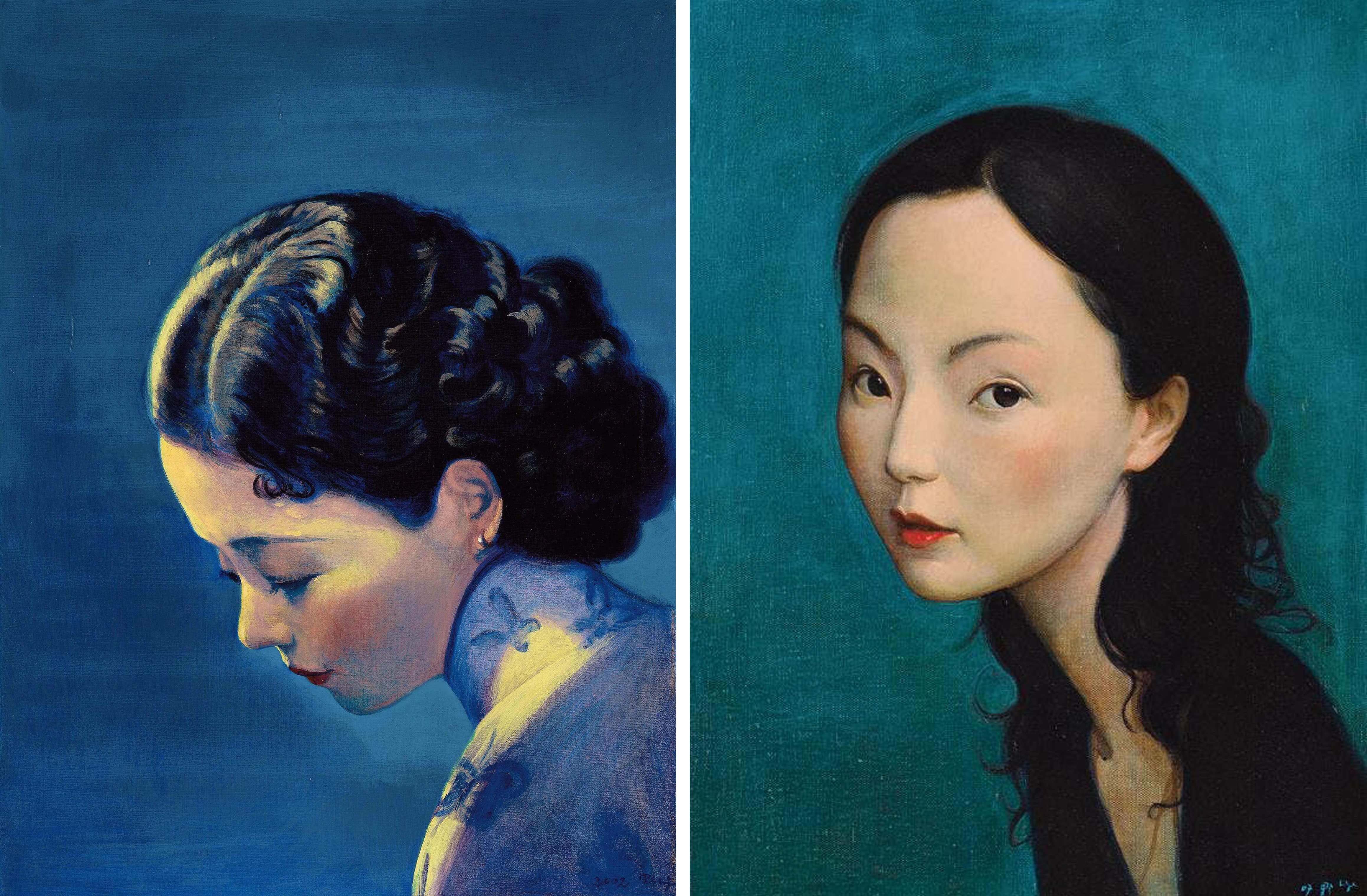 Left:Liu Ye Ruan Lingyu No. 3 Oil Canvas , 2002
Right:Liu Ye Maggie Cheung Oil Canvas , 2007
During this period, the images from children's literature classics which Liu Ye has been nurtured since he was a child, such as the mermaid, Hans Christian Andersen and the little match girl, were also rewritten in his increasingly mature painting style.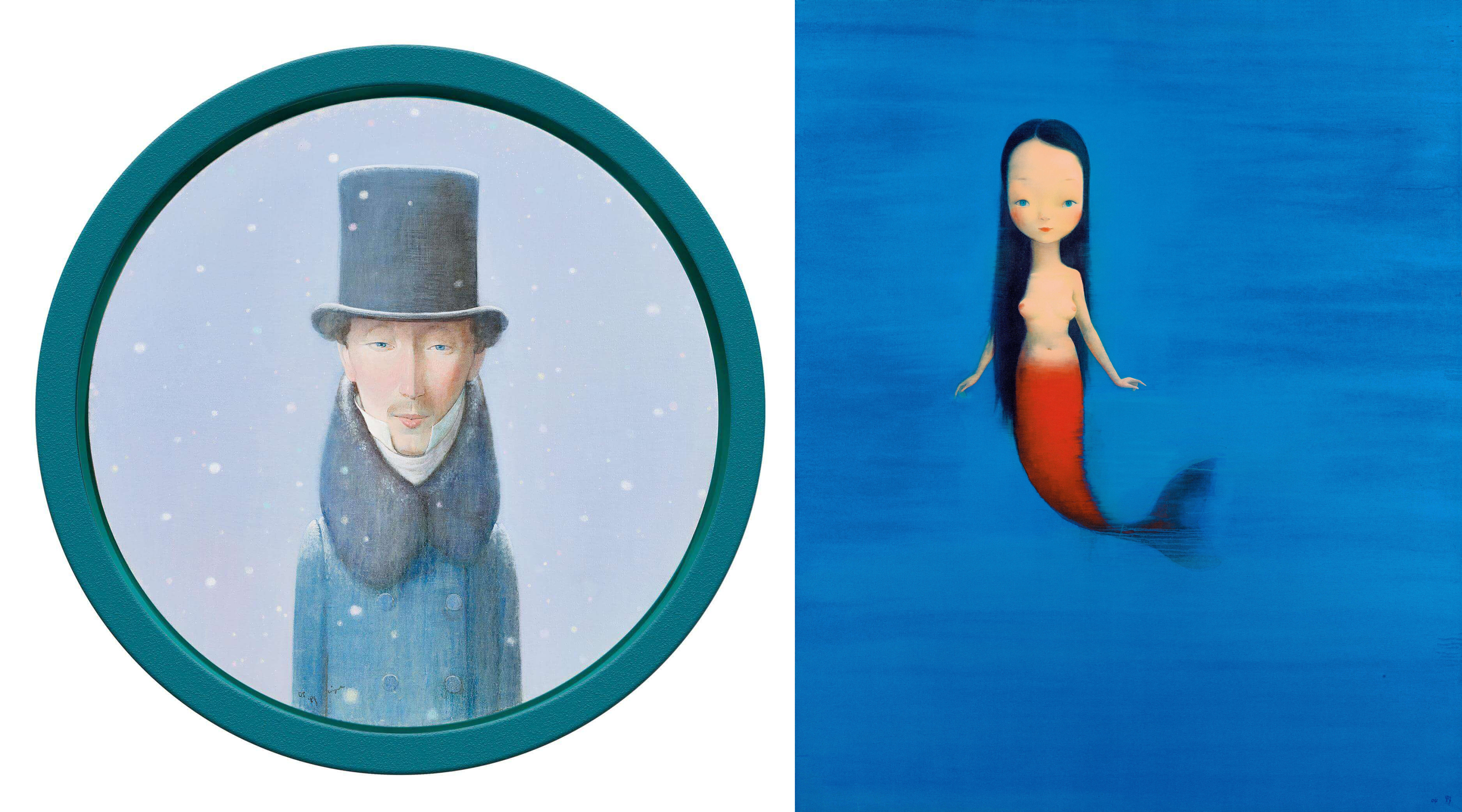 Left:Liu Ye Hans Christian Andersen In The Snow Acrylic Oil Canvas , 2005
Right:Liu Ye Little Mermaid Acrylic Canvas , 2004
In 1998, Liu Ye first saw Dick Bruna's Miffy in the Netherlands and thought they were lovely, simple but unfathomable. Since then, as a kind of self-image projection, Miffy rabbit began to appear in Liu Ye's paintings. The Piet Mondriaan symbol also reappears, depicting with a little girl, a boy, or Miffy.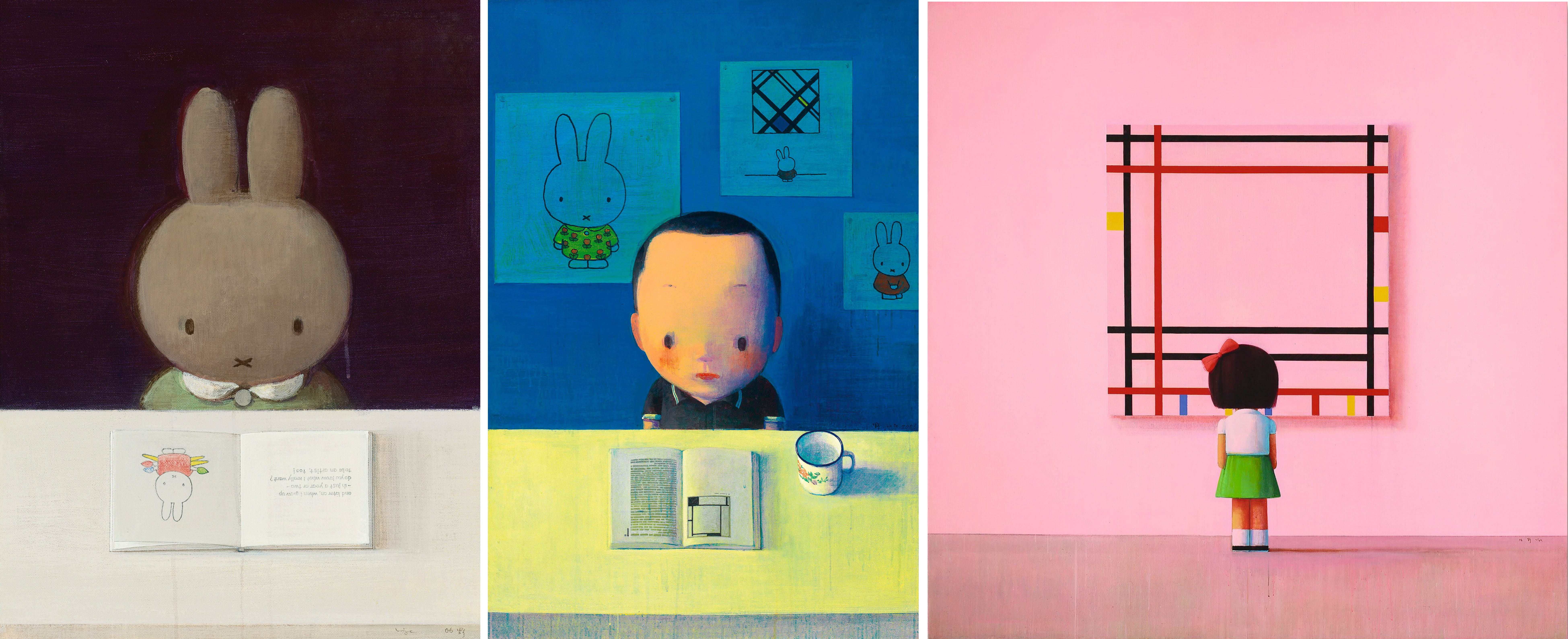 Left:Liu Ye MIFFY WANTS TO BE AN ARTIST Oil Canvas , 2006
Middle:Liu Ye MONDRIAN,DICK BRUNA AND ME Acrylic Canvas , 2003
Right:Liu Ye BOOGIE WOOGIE, LITTLE GIRL IN NEW YORK Oil Acrylic Canvas , 2006
In 2000, Liu Ye also began to create elf-like girls and women with extremely slender limbs and waists, always posing in provocative postures and various bold nudity movements of undressing. Over the next decade, Liu Ye painted many similar erotic themes.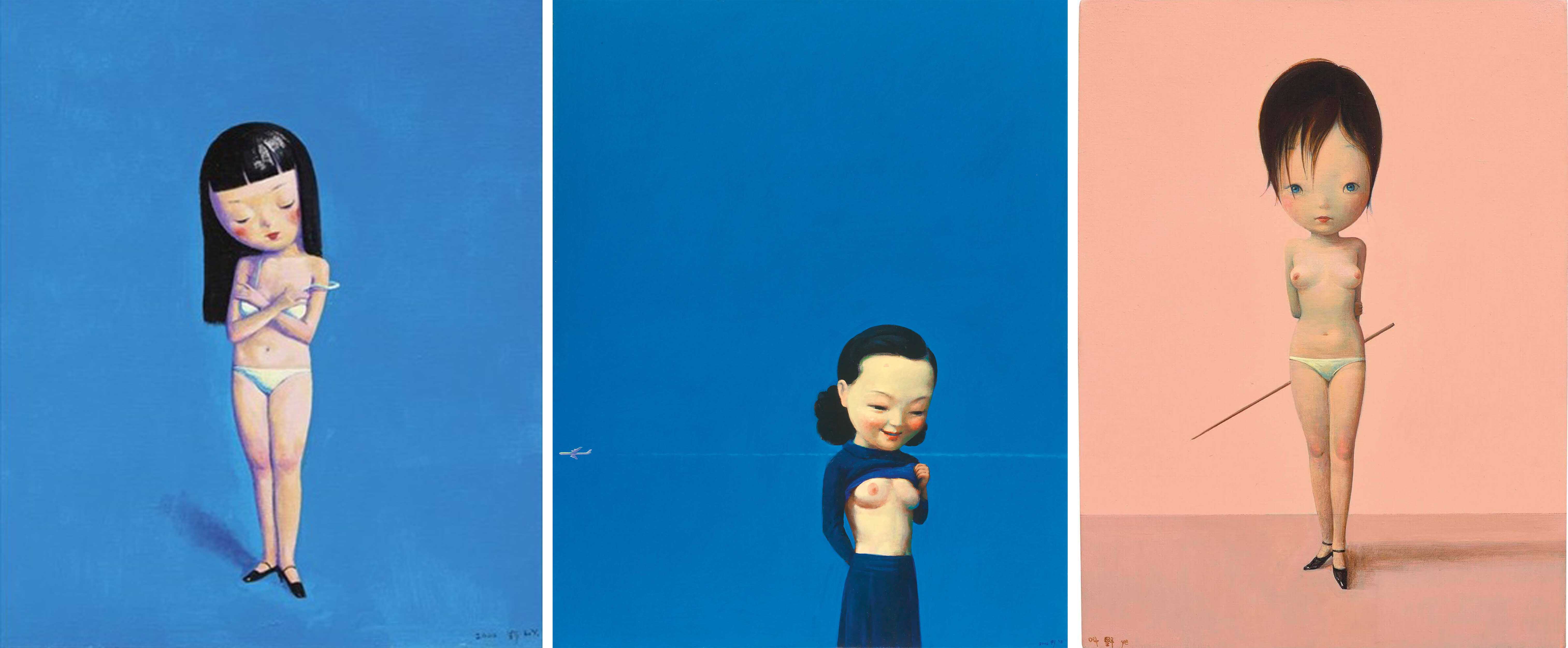 Left:Liu Ye Beautiful Girl Acrylic Canvas , 2000
Middle:Liu Ye Blue Oil Acrylic Canvas , 2002
Right:Liu Ye Girl! Acrylic Canvas , 2004
In the paintings of the late 2000s, an adolescent girl appears again and again, either reading or on a journey. The large-scale painting, Leave Me In The Dark, made in 2008, updated Liu Ye's most expensive personal turnover Top 2 on July 9, 2020.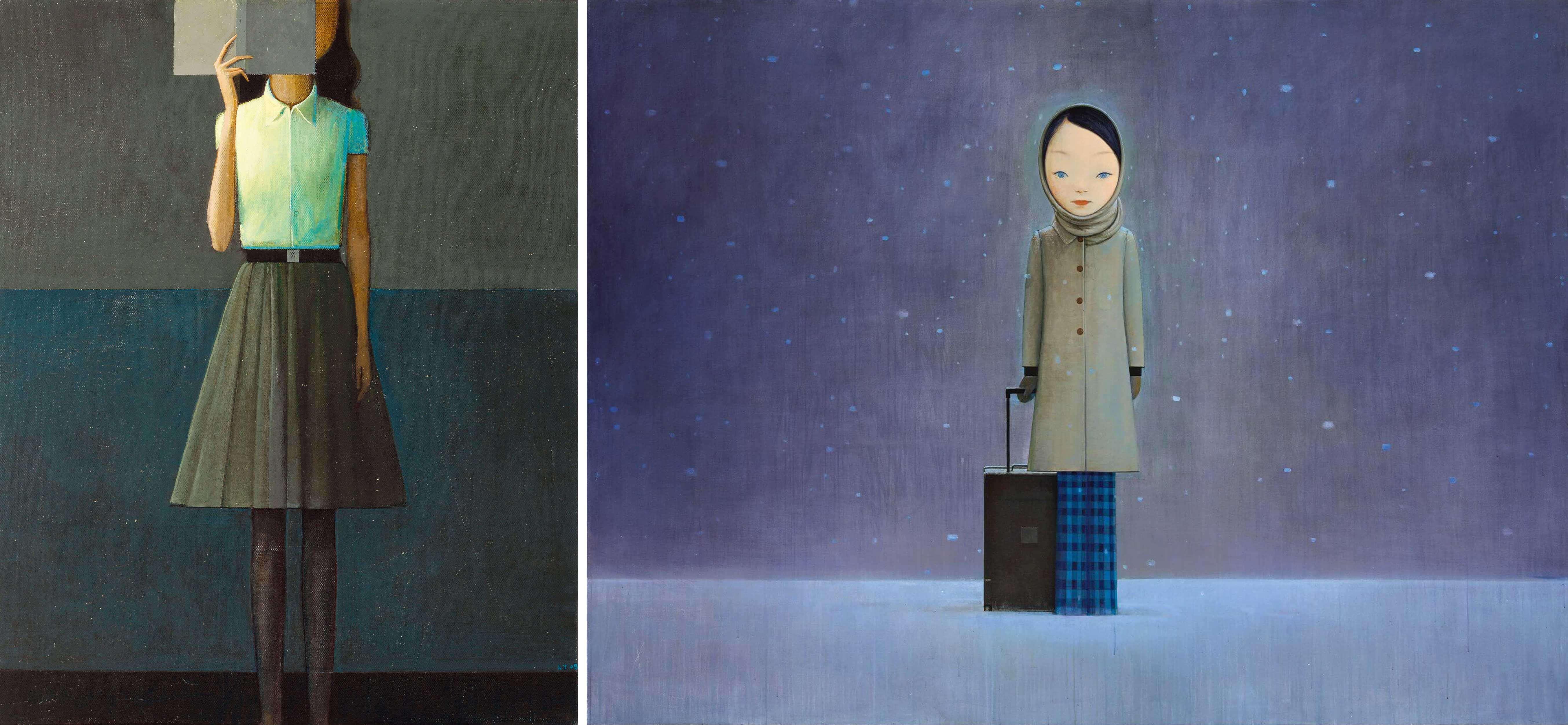 Left:Liu Ye Reading Girl Mixed media Canvas , 2008
Right:Liu Ye Leave Me In The Dark Acrylic Canvas , 2008
Smoke, which was created between 2001 and 2002, is not only Liu Ye's masterpiece after his return to China, but also Liu Ye's current highest auction price lot. It not only combines the classic images of Western masters such as René Magritte and Johannes Vermeer, but also embodies the techniques of Chinese landscape painting.
4.2010 to now
Liu Ye's works completed at this stage are rarely in circulation in the auction market. Among the records of appearances, one work worth more than a million dollars has been created so far in 2010, which is from Painter and Model in 2010. Two spectator-facing Miffy rabbits were close and separated, and they sold for 10.325 million Hong Kong dollars (US $1.31 million) in Christie's Hong Kong in May 2019.
The market explosion seems to be only overnight, but it is the result of years' hard work by artists. During his stay in Germany, Liu Ye received the first funding from a gallery. In 1993, Liu Ye held a solo exhibition in Berlin. After returning to China, Mingjingdi Gallery began to represent Liu Ye's paintings exclusively. In 1997, Liu Ye held his first solo exhibition in China. Since 2001, his solo exhibition has spread to many countries and regions around the world. In 2017, Liu Ye's works appeared at the 57th Venice Biennale. In 2019, the artist was announced as an agent by David Zwirner, which further boosted Liu Ye's performance in the market.To acquire more information of artists, please contact our ArtPro customer service.