Zhou Chunya | Auction Market Personal Report
Zhou Chunya is a Chinese contemporary artist with best control of colors. His works were collected by many important organizations in world wide. He had steady performance on market in many years. In August auction season Zhou Chunya's work "Spring Is Coming" is in auction debut after been a private collection for 35 years. After fierce competition, it was sold at a price of USD $12.11 million with over 400% over-low-estimate rate. This broke Zhou Chunya's new record and ignite the audience. His other works also had great performance, this extraordinary deal has made Zhou Chunya a focus point at the auction market.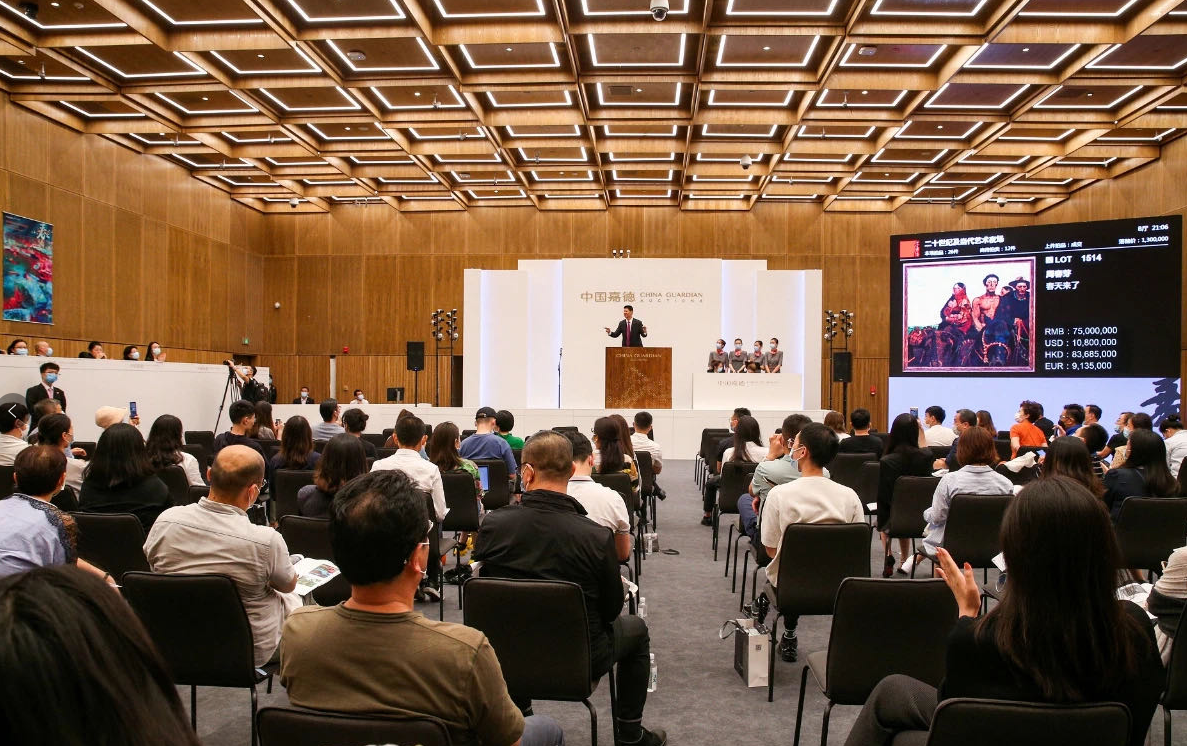 Zhou Chunya's "Spring is Coming" at auction
The auction season in August this year is running late, due to the unsettle circumstance in whole society. In this situation, Zhou Chunya is creating a wave in contemporary art market against stream to show that Chinese artists still have great values on market. What is the charm and potential of Zhou Chunya, one of the most renowned Chinese contemporary artists on the list? Now, please follow ArtPro to explore Zhou Chunya's artistic style and his market data information.
1.Price index stable with three summits, Zhou Chunya is keep increasing
Zhou Chunya's price index is always stable, it didn't break out in a sudden. The peaks of the price index goes from 2.02 to 4.21 then 9.05. In recent years, his turnover is insignificant, but the price index stay in a high position. Until now, the total turnover in first half year of 2020 has already reached USD $20.97 million, and the price index is still increasing.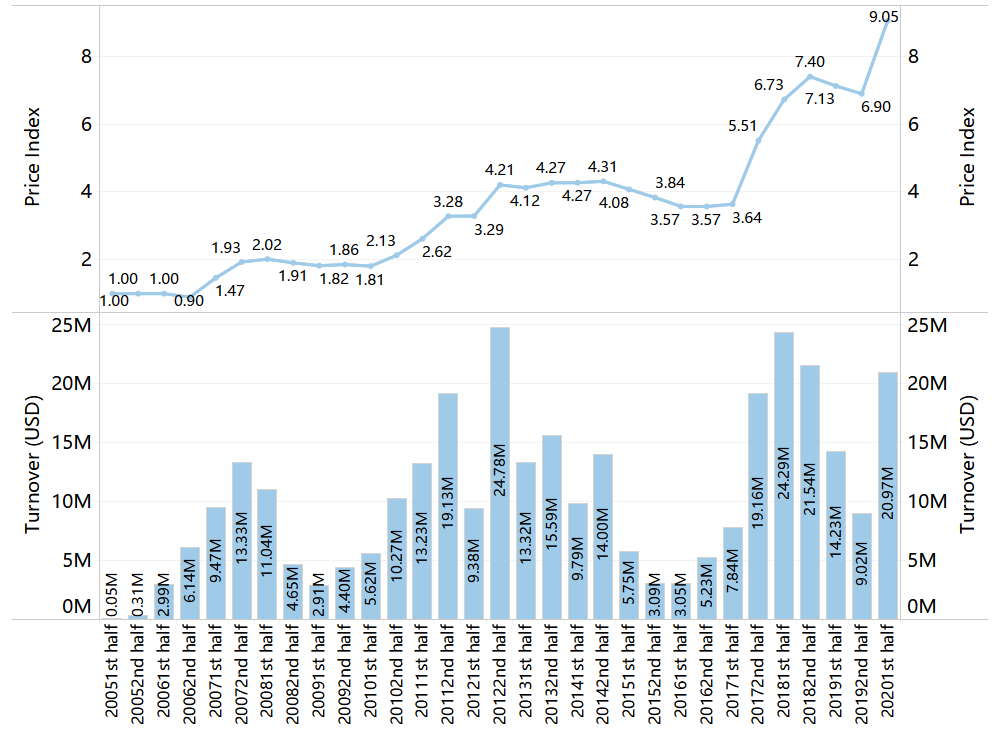 Price index and turnover between 2005 and 2020
2. Series works like "Mountain Rocks", "Tibet" and "Peach Red", which one is the most popular at market?
Zhou Chunya has many impressive series works: The exotic Tibet series with strong colors, the unusual mountain rocks, the luscious peach blossoms, the stunning and funky green dogs and the oddly shaped Taihu rocks. These series of works crossed multiple important period of time in Zhou Chunya's art career, and each period is always refreshing.
Until now, whether it was proportion of total turnover or the amount of works over USD $100 million, "Mountain rock" series is the top, "Green Dog" and "Peach Blossoms" are right after with 23.94% and 19.47%. The proportion in turnover of "Tibet" series is not high because the less amount of works, it only has 10%. But the proportion of works over USD $100 million has reached 17.6%.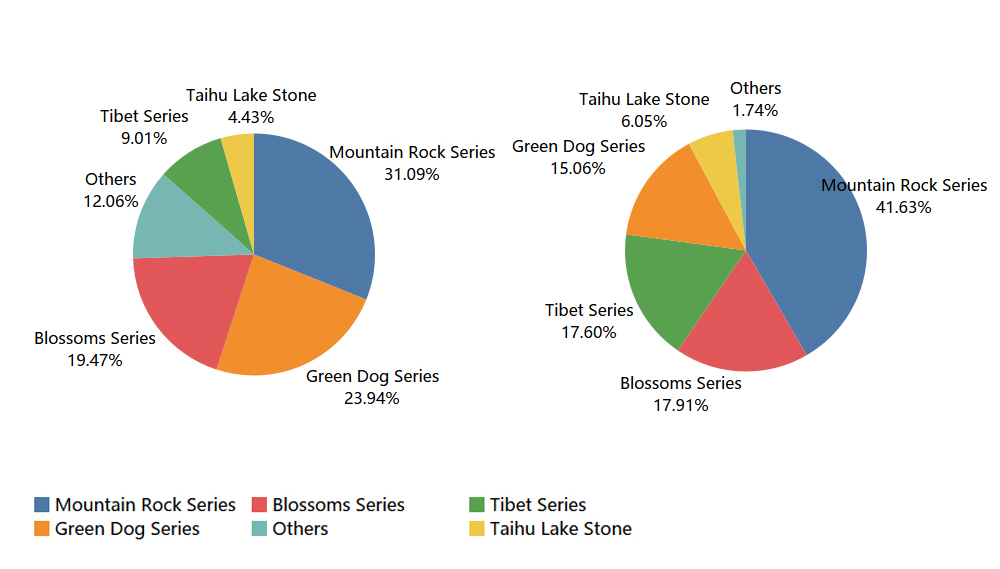 Turnovers in 6 different periods;
Proportion of works above USD $100 million in 6 different periods
3. "Mountain Rock" Series is taking the leading position at both Price index and deals volumes
From both deals volumes and square meter price, the number of works of "Tibet" and "Taihu Rocks" series is relatively less than others. Rare things are precious, especially the "Tibet" series are expensive. Others like "Mountain Rocks" and "Green Dog" have many more works in auction, but "Mountain Rocks" has more than 90% sold-by-lot rate and the works have more typical elements, so the price of "Mountain Rocks" is slightly higher than "Green Dogs".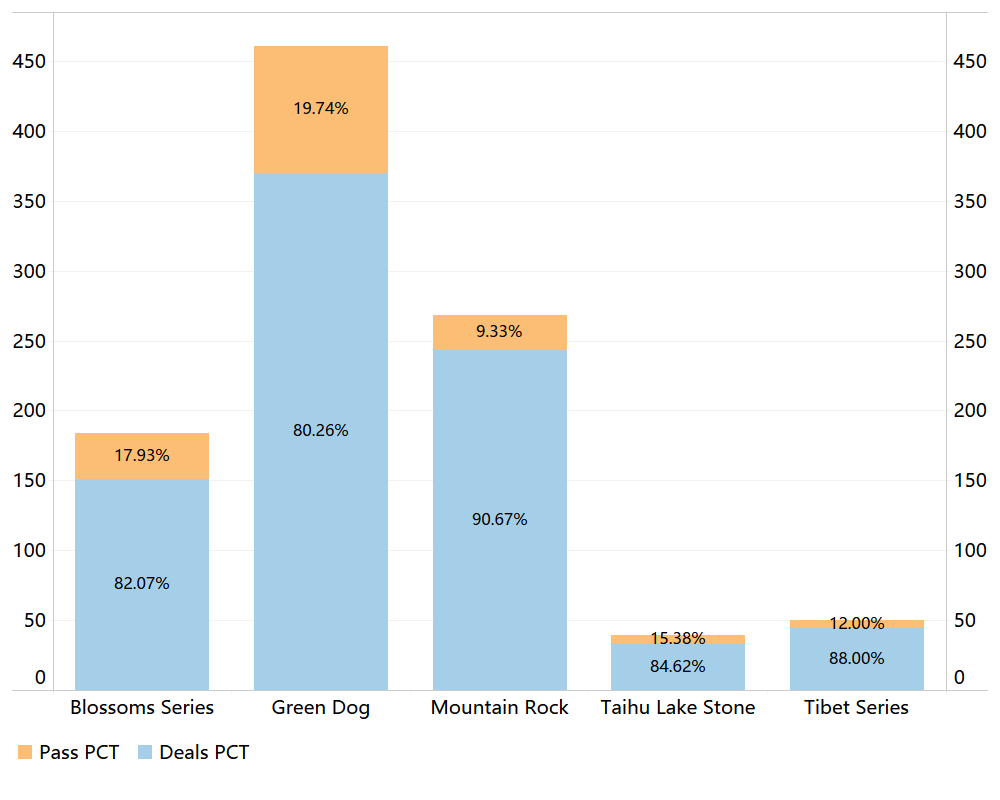 Deal volumes and pass rate of different series works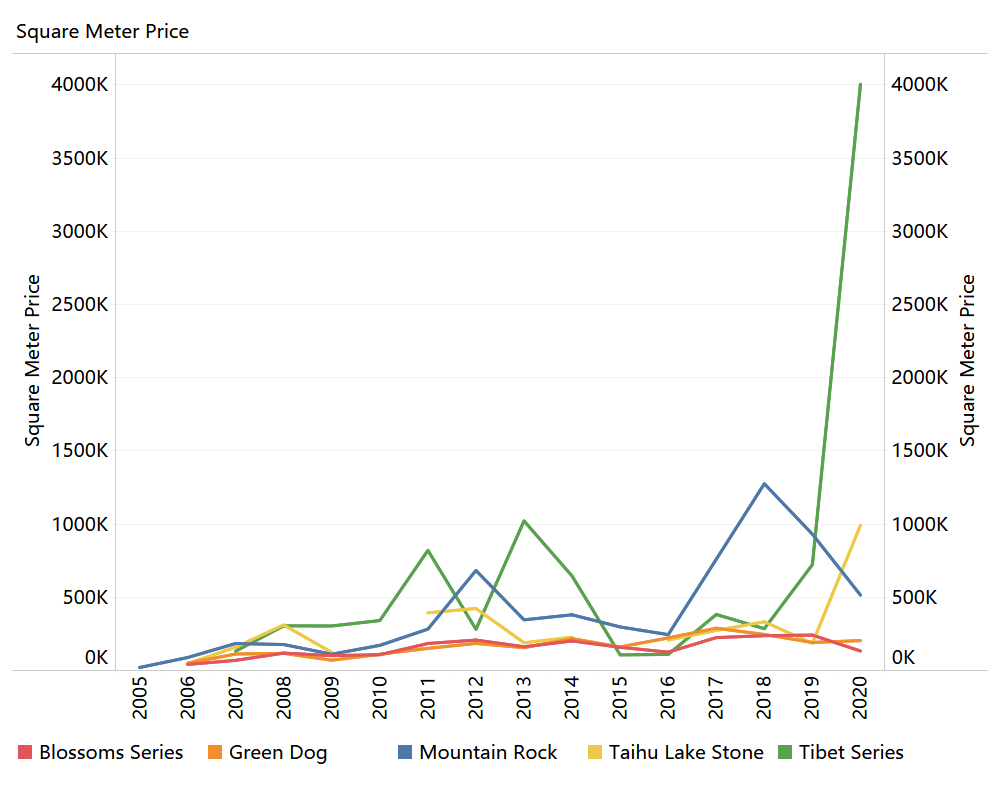 Square foot price of different series works
Zhou Chunya's performance at market has always been considerable in recent years. In his personal Top10 list there are 7 pieces sold in recent 3 years. From the series, there are 6 paintings from his "Mountain Rocks" series and 3 pieces are from "Tibet", which shows the value of these two series in all Zhou Chunya's works.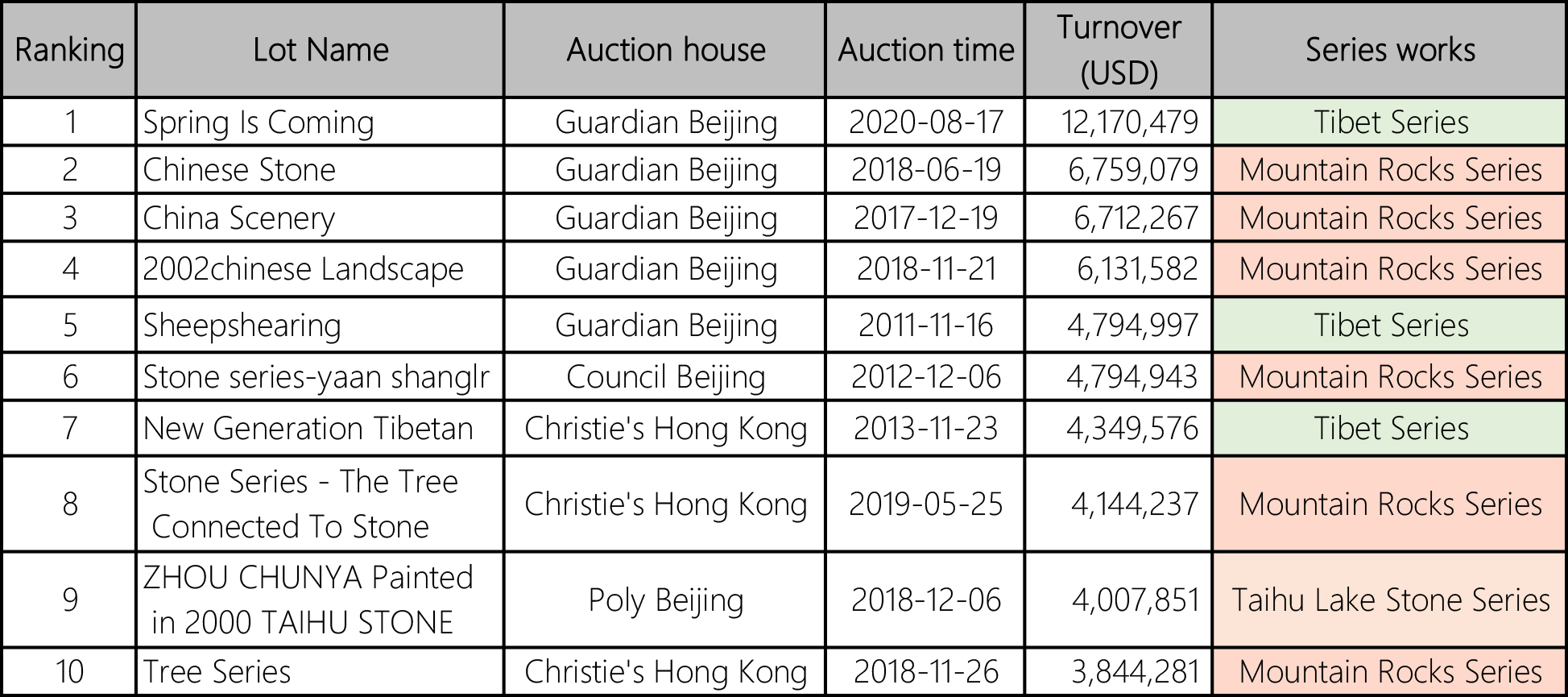 Zhou Chunya's personal Top10 list until the first half 2020
Part II Five Series Works and Their Features
1. Tibet Series——Awaken: Inspired by colors, less amount and precious
The first time Zhou Chunya went to Tiber was in 1980. In the whole 80s, the color of clothing in the inland regions of China was either black, gray or blue. The bright and colorful clothing of Tibetan people, their exotic conditions and customs and the vast landscape excites Zhou Chunya and inspired him from creation. "Tibet" is the most important series in Zhou Chunya's early career, there are only 4 pieces in total. "New Generation Tibetan" is the first one, a year after he created "Sheepshearing" and then "Spring Is Coming" and "Grassland in Spring". The "Tibet" series is concrete that emphasis colors, texture and lines on image, to show a strong and exotic Tibetan style.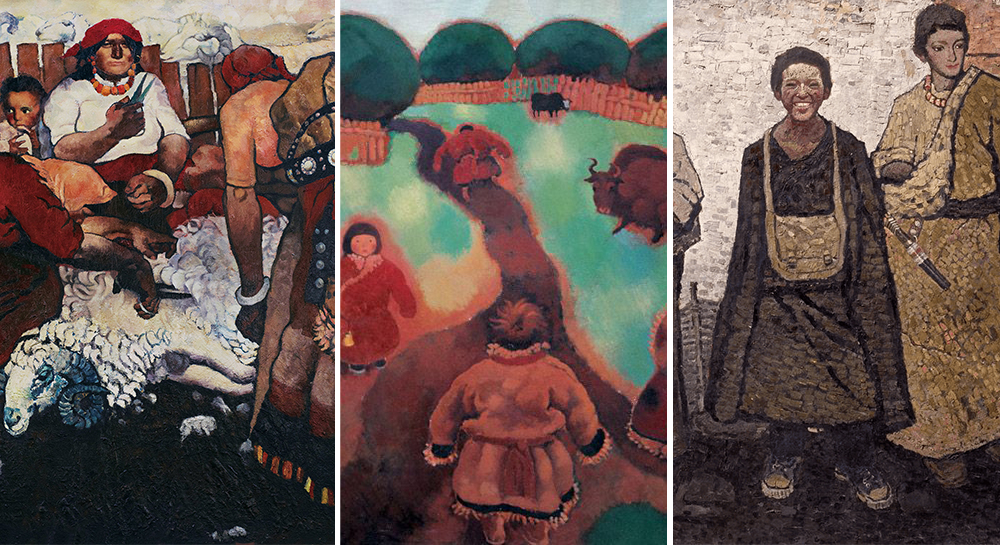 Early "Tibet" series works
It is noteworthy that these four "Tibet" have something in common, which is that they all belong to artist's highlight moment. These four pieces are Zhou Chunya's highest priced works at the years they were sold.

Four "Tibet"works
Four "Tibet"works are Zhou Chunya's highest priced works at the years they were sold.
Top1 in the series: "Spring Is Coming" sold in 2020 with USD $12.17 million
2. Mountain Rocks——Returning: The subjects that always absent from traditional Chinese paintings
Zhou Chunya used to study in Germany at 1987, the experience of study abroad gives a whole new perspective on Chinese traditional art and Western oil painting technique. He was deeply influenced by neo-expressionism in Germany where he saw more possibilities on paintings. In 90s of 20th Centurary, Zhou Chunya started to explore "Mountain Rocks" series, he adopted the essence of traditional paintings like "Four scholastic sects of Yuan dynasties" and "Bada Shanren", then combined with German neo-expressionism style which shows the character of mountain rocks with strong charms and vigorous.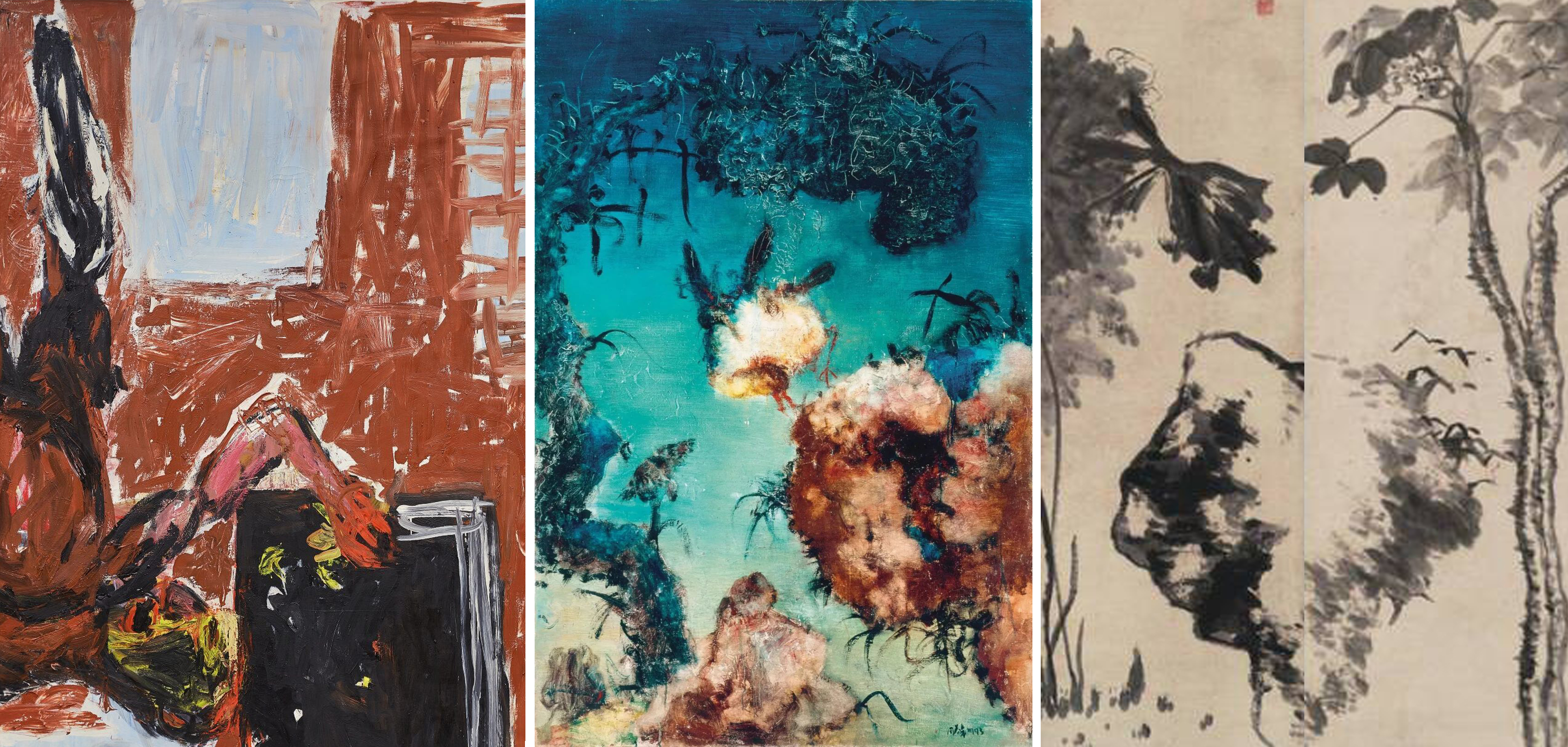 The collision of different artistic styles
In 1994, Zhou Chunya went to Ya An in Sichuan province. The moist rainy season and unique local landscape inspired him to create this artworld of "Rocks". The main color of the subjects in these paintings are brown, which is his favorite, as well as strong and primitive red, green, blue and yellow.
Until 2019, The Top1-3 works of Zhou Chunya are all from "Mountain Rocks" series. The unique style of these paintings have a high sold-by-lot rate and appreciable amount.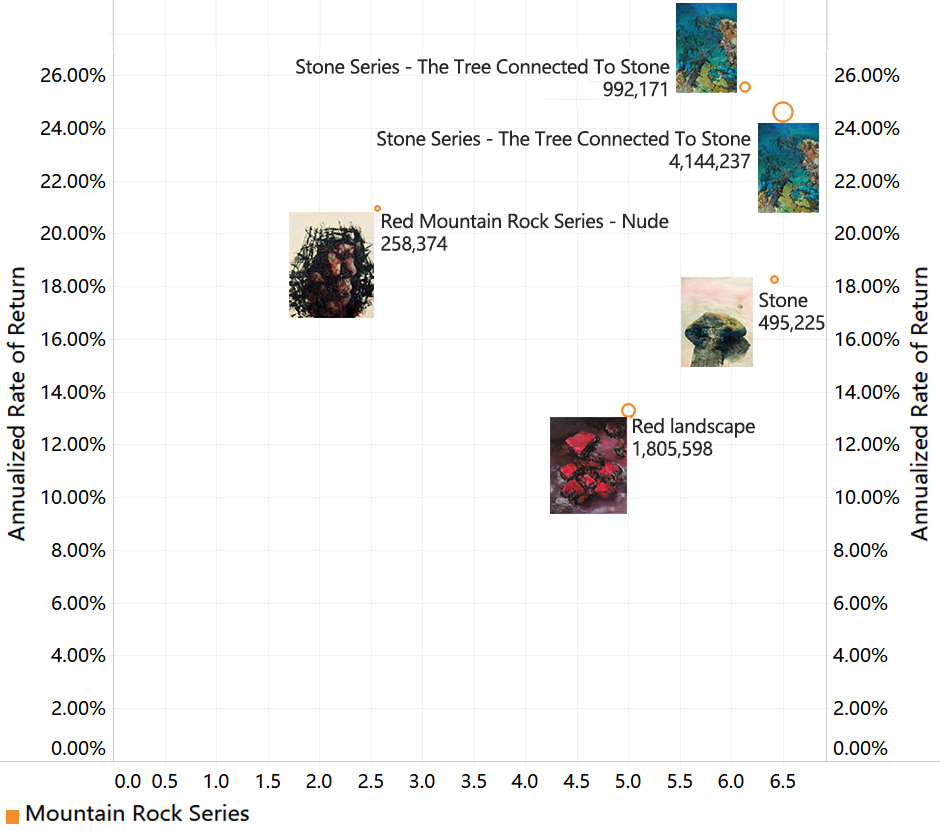 Annualized rate of return of part of the works auctioned repeatedly
Top1 most expensive in the series: "Chinese Stone" sold in 2018 with USD $6.75 million
Top2 most expensive in the series: "China Scenery" sold in 2017 with USD $6.71 million
3. "Green Dog" series——Life: Green Dogs on paper, the innermost feeling is rushing
If the "Mountain Rocks" series is Zhou Chunya's passionate works, the "Green Dog" contains his most soft emotion and tenderness. Zhou Chunya started to draw his German shepherd since 1996. At first he used black to paint the dog, and then it started to change from the figure of Heigen to this "green dog". In the end it became the most unique symbol of Zhou Chunya. The "green dog" represents the life state of artist in some level.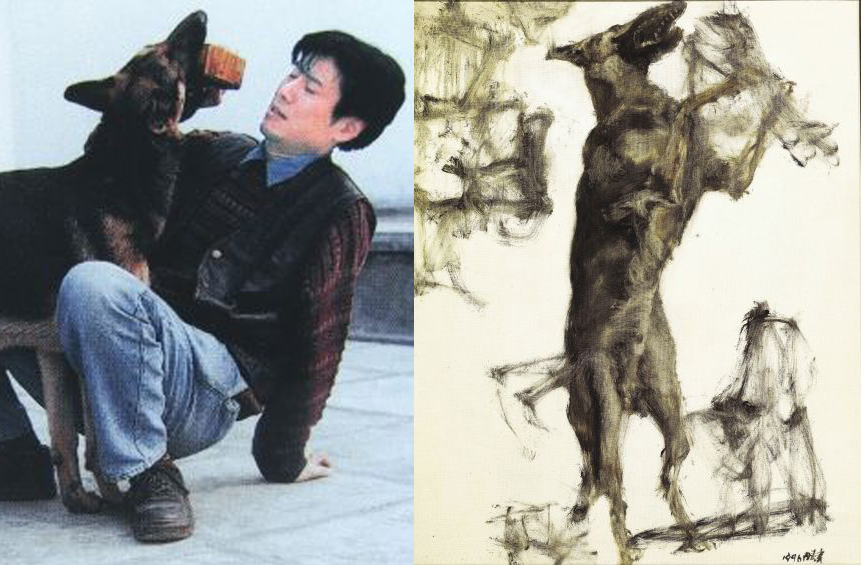 Zhou Chunya and his beloved dog "Heigen"
Top1 most expensive in the series: "Three TT" sold in 2017 with USD $3.75 million
By the time in 1999 when Heigen was dead, the "green dogs" had two different expression in before and after. The "green dogs" in previous period are more lively and nifty with strong vitality, it usually poses in adorable gestures and were set in the center of canvas, while in later period, the "green dog" became dark green, with a exaggerate tongue. Zhou Chunya uses his imagination to create this dog with more aggressiveness, and larger sizes.
Top2 most expensive in the series: "Green Dog 2001 A", sold with USD $2.49 million
4. "Taihu Lake Stone" series——Rebuild: Rocks under artist's gaze
After the "Green Dog" series, Zhou Chunya starts to focusing on rocks once again, but the style of these rock are very different from his previous paintings. In 2000, Zhou Chunya went to Suzhou for relaxing, the oddly shaped Taihu lake stones in those classic gardens inspired him to create. These unusual stones of aggressiveness and charming contradictive tergiversation with a touch of redness makes the stones paintings catching people's eyes.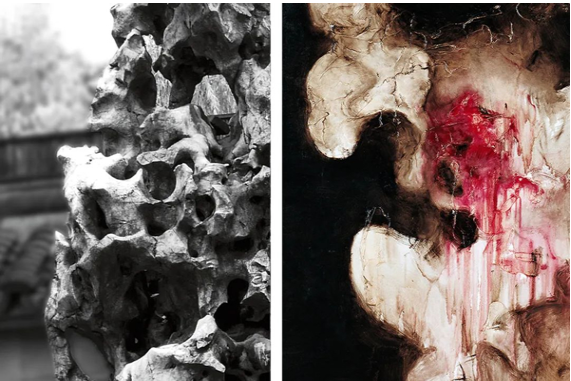 Suzhou Taihu Lake Stone (Part)
The first "Taihu Lake Stone" painting sold over USD $100 million was in 2012, the most expensive one is this "Taihu Lake Stone" that were created in 2000. The painting absorbed the elements in traditional ink painting, with swift and dynamic shapes, and a three dimensional effect. It also combines the technique of expressionism, of bright primitive colors of red, white and black. The exaggerate redness is the center of this painting.
Top1 most expensive in the series: "Taihu Lake Stone" sold in 2018 with USD $4.01 million
5. "Peach Blossom" series——Lust: Passionate love and luscious peach blossoms encountered
"Peach blossoms" is his one of the most famous series works, although its doesn't has a high rate of increased market price, it is still a renowned classic series works and was favored by many celebrities. "Peach Blossoms" is also a prove of his marriage with his third wife Shuang Shuang, the romance encounters are the inspiration.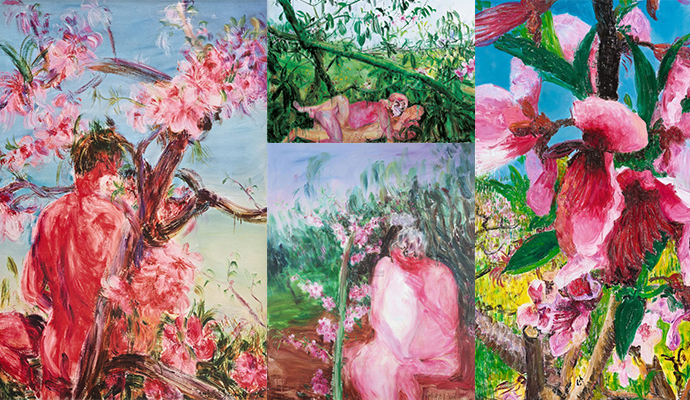 Group pictures of "Peach Blossom" and "Peach Red" (Part)
"Peach Blossoms" series contains "Peach Blossoms" and "Peach Red" series. Not just the luscious peach blossoms, the red lovers under the trees and their romantic date is also an important subject in this paintings. "My works are all about passion and romance, desire is part of humanity, it is part of us since we were born." Zhou Chunya never avoid talking about the erotic desire in peach blossoms and the inspiration it was brought to him.
Top1 most expensive in the series: "Cherry Blossom and Peach Blossom" sold in 2018 with USD $21.3 million
Conclusion: Art market is constantly changing like waves washing away the sands, in the alternating process there are always someone are going stand under the spotlight. In this unusual period of 2020, the value of contemporary Chinese artists have been revealed. Zhou Chunya is leading a wave in the market with his artistic language and unique art style that impressed the audience. We look forward to see whether he will confront with all the difficulties on market in future and receive good result. To acquire more information of artists, please contact our ArtPro customer service.