In 2020, it's obvious that David Hockney has made his works a popular pursuit of contemporary art. The Splash was sold for £24.117m, the highest at London Contemporary Art Evening Sale in February, and later his 30 Sunflowers was sold over HK $114.8m in Hong Kong, the highest bid at one stroke of the evening.
This year is the first time for David Hockney to appear in Asian sales. Created in 1996, 30 Sunflowers is one of the six paintings with the object of sunflowers. The painting is also with the largest size, the most sunflowers, and most complicated composition. While paying tribute to the master, it well expresses David Hockney's outstanding and delicate personal feelings and creative style without any disguise.
"The Splash", painted in 1996, is the second in David Hockney's trilogy on water and pools. The largest named A Bigger Splash is now collected by Tate Modern Art Gallery, while another painting "A Little Splash" is in private collection and has never been seen at sales. The swimming-pool-themed painting is a perfect example of David Hockney's "California Dream", in which the artist uses delicate strokes to freeze the moment a diver plunges into the water and makes a splash.
Now ArtPro will look back with you at David Hockney's whole life and learn more about his creative background as well as his classic works and styles from different periods.
Born in 193 in Yorkshire, England, David Hockney is a talented artist who is the second artist to be awarded the Medal of Merit by the Queen of England in British history, right after Lucian Freud. In his artistic career, his works have utilized almost all available materials, including oil painting, watercolor, photography, and prints. He has been using the most cutting-edge technologies, including fax machines, laser photocopiers, computers, videos, Iphones, Ipads and other devices.
Works of High Prices: Art Works from 1960s-70s Take the Largest Proportion
Till now, David Hockney's artistic career can be divided into 6 stages: pre-1960 - Schooling; 1960s -The California Utopia; 1970s - Realistic Portrait; 1980s – Photo Collage; 1990s – Reflection on Space Experience; Post-2000 – Combining Science and Technology into Painting. Each stage has its own feature. Among all the works, 1970s has the highest total turnover, followed by 1960s, 1990s, 1980s and post-2020. 25 works are sold over USD $5m. Although only 5 pieces over USD $5m are from 1970s, but they all have reasonably high prices. Among the 25 pieces, 6 are from 1960s, 7 from 1990s, post-2000 and 1980s have 3 and 2 respectively. (Data collected by July, 2020)
In David Hockney's TOP20, works from two stages make the majority – 6 from 1960s and 6 from 1990s, 5 from 1970s, 2 from post-2000, and 1 from 1980s, of which 14 paintings are sold in the last 3 years.
Price index: Price Index Rising from 1 to 14 in 20 Years
David Hockney's price index has achieved a leaping from 1 to 14 in 20 years, which has soared since 2014. From 2012 to February 2013, 3 venues including the Royal Academy of Fine Arts in London have organized individual retrospections for David Hockney, leading to a huge increase of exposure and a steady rise in sales.
The total turnover reaches a peak in 2018, thanks to a year-long David Hockney Retrospection organized by Tate Britain, Pompidou and the Metropolitan Museum of Art from February 2017 to February 2018. After this exhibition, David Hockney's works has "taken off" both in deal volume and price. With a record of 478,000 people buying tickets to see it, it has become the most popular personal exhibition of living artist in Tate.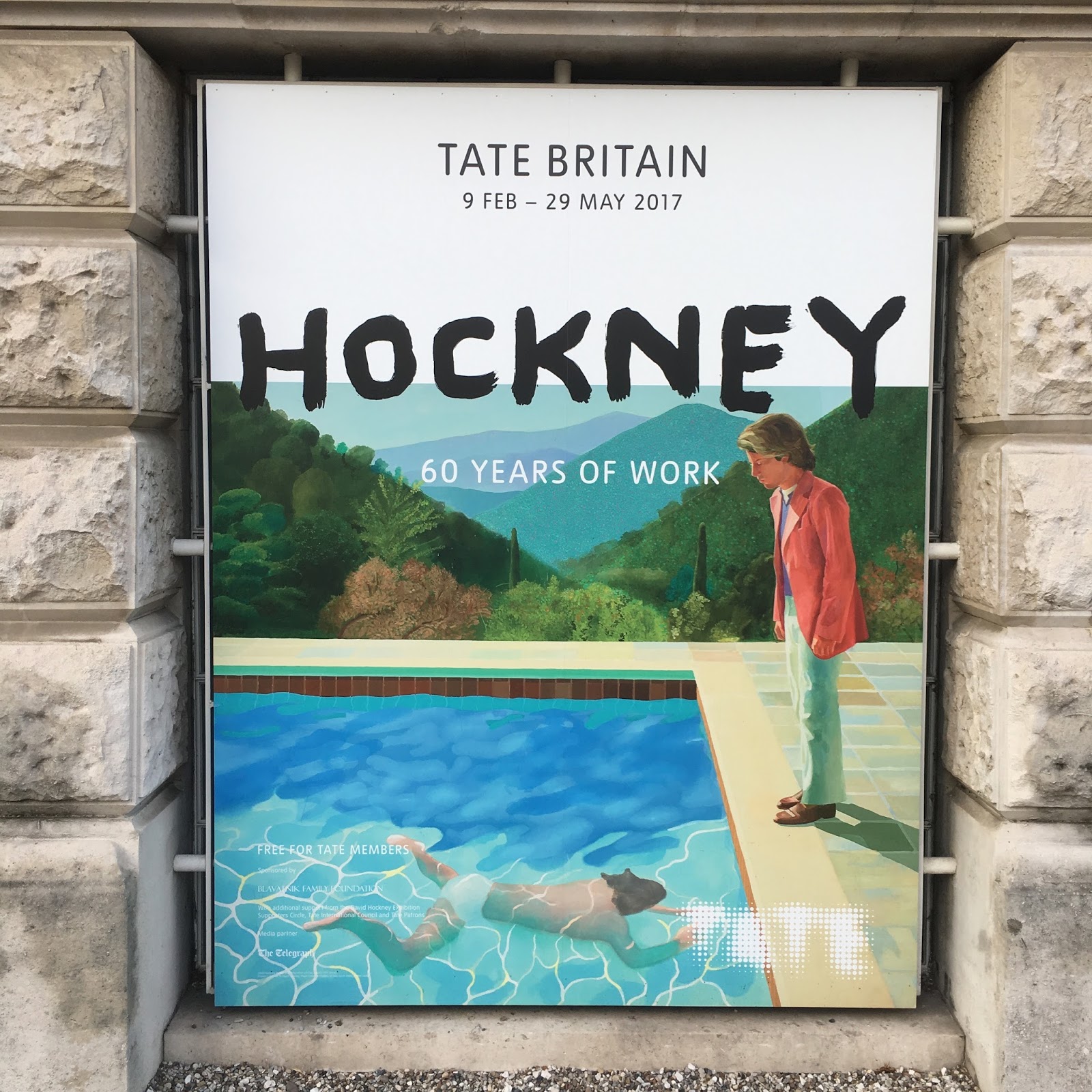 Under unreasonable market environment in 2020, his personal index is still high, indicating that David Hockney's works are loved by collectors even if the market condition is not good enough.
Styles and Representative Woks of Different Periods:
Pre-1960: Exploring Art, Young and Famous
At the age of 16, David Hockney received a traditional realistic painting education at Bradford College of Art, though very different from his later artistic style, leaving a solid foundation for his painting. His artistic career started at the end of 1950, when he was studying art at the Royal College of Art in London, and he was already a rising star in British art world at the age of 23. Abstractionism was dominant in painting then, but David Hockney ignored it. His paintings were full of symbolism, often brightly colored and bold, with a sense of Primitivism School of painting.
1960s: California Utopia
David Hockney had his first personal exhibition in Britain in 1963 at the age of 26. Longing to California life, David Hockney then visited Los Angeles, and officially moved there in 1966. The bright sunshine of Los Angeles contrasted sharply with the gloom of London, and he loved it all.
During this period, swimming pools and people under the sunshine were the theme in his paintings. He was so fascinated by the sunshine's "touching" the water – the real or unreal shattered shadows on the water and waves under the water are all depicted by his unique technique of combining 2D and 3D.
David Hockney met his first lover in 1966 – Peter Schlesinger, whom he described as "the embodiment of you California". On endless Los Angeles summer afternoons, David Hockney has kept the swimming pool, nudity of the young boy, and the splash moment on the canvas. California has become his utopia, where love was free and he was free to be himself.
After 1968, David Hockney took a new approach by focusing more on the people around him, including lovers, friends, relatives and neighbors, and he liked portrait of two people in particular.
1970s: Realistic Portraits Became the Theme
By the end of 1960 Hockbey had begun to turn to naturalistic painting. From the very flat tint of the California Period to the realistic depiction, the reason for this shift was the camera. Since then, the world depicted in David Hockney's naturalistic paintings has not only the visual "seeing", but more the experience and feeling of seeing, which contain more emotional factors, a different point from realism.
Speaking of portraits, as more inspirations are taken from Edward Hopper, and Giorgio Morandi, David Hockney's works are less influenced by literature. Christopher Isherwood and Don Bachardy is the most representative work of his series iconic portraits, depicting the two as America's first celebrity couples coming out to the public: novelist Isherwood and painter Bachardy. Interestingly, the audience shall watch Isherwood via Bachardy's perspective, and the fruit on the central table gives the painting a vaguely erotic quality.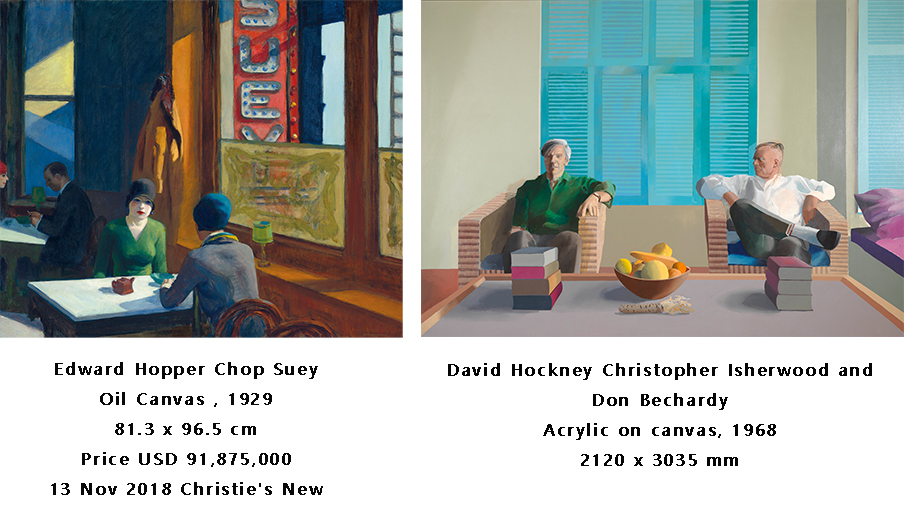 After the breakup, David Hockney's sunny pool took on a different melancholy. Portrait of an Artist (Pool with Two Figures), painted in the same period as the work mentioned above, created another view point with the same composition, leaving a kind of breath-holding atmosphere. It is also by far the most expensive painting of the artist's career.
1980s: Obsession to Photo Collage
In early 1980s, David Hockney became obsessed with Polaroid photographs and gave up almost all his other work to create a series of photo collages. By using Polaroid to collahe, he was able to obtain the continuation and superposition of time and perspective. He used photo collage to explore several key points in his painting practice: he changing relationship between time, action and space – these are the constant boubts about the nature of view angle and the position of the viewer in David Hockney's works.
Meanwhile, David Hockney remained active in painting and underwent a major change in style, turning his interest to perspective and the study of Chinese scroll painting. He began to understand how multiple realities in 3D space could be manifested on 2D picture, reflecting his exploration of "moving focal points" from perspective, memory and space.
1990s: A Return to Landscape Painting
David Hockney began to create a series of large landscape paintings in late 1989, focusing on a rethinking of spatial perception, in an attempt to create an image of "sensory experience" that could be viewed more closely. Pacific Coast Highway And Santa Monica, by extending the line of sight and time to capture the moving action, is an attempt to present the movement of eyesight while appreciating the scenery. It presents not only pure space but also sensory experience of the person in it. We shall sense a strong influence by Chinese scroll painting – David Hockney learned the secret of Chinese landscape painting from Principles of Chinese Painting: the position of the viewer. In other words, the space in the picture contains more "fluid space" outside the frame.
Such representations can also be seen in Double East Yorkshire, which attempts to infuse the image from the driver's point of view with the rapid movement of feet in the action of the engine, reproducing the artist's space sensory experience of "seeing".
Post-2000: Contemporary Landscape Paintings, Moving Images and Ipads
After 2000, Hockey left the fury of Hollywood and returned to his hometown Yorkshire in England, focusing on the landscape of British hills. He carried several canvases outside, depicted the landscape on them, and put them together into a larger painting, such as Woods Forest, October 24, 25, 26, 2006 – a continuation of the photography collage technique from 1980s and continuing exploration of the best approach to represent the world on canvas.
David Hockney had his first Ipad at the age of 73. With a painting App, the artist was able to capture creative inspiration anywhere and anytime without the need for secondary processing on other devices. All the colors, marks and effects are at the fingertips, as David Hockney says: "It's a new medium for painting. The iPad is like a piece of paper with no boundaries." These works have been up for auction since 2016, of which the highest price reaches USD $90,000 per painting.
David Hockney's 6 decades have gone on only in a continuous painting creation; continue to create more, explore more, and never stop, for he just wanted to see more.To acquire more information, please contact ArtPro customer service.