Chu Teh-Chun | Auction Market Personal Report
In recent years, with the increasing popularity of modern art in Asia, artists who studied in France continue to raise up waves in auctions. Whether it is Zao Wou-Ki who gallops ahead in the auction or the peak of San Yu fever in 2019, they all reflect the enthusiasm of collectors for modern and contemporary art. In 2020, Chu Teh-Chun's only piece of "Les Éléments Confédérés (Pentaptych)" was sold with HK $113 million, which helped Chu Teh-Chun join the Hundred Million Club for the first time. This year coincides with his 100th years birthday, and its market trend will be more popular. Next, please explore the market report of Chu Teh-Chun with ArtPro.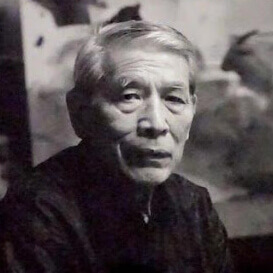 Chu Teh-Chun, born in Xiao County, Anhui Province, which not only influenced him with China's endless and tortuous landscape, but also is one of the inspiration sources of his artistic creation. After that, Chu Teh-Chun studied with Lin Fengmian, and was called "three swordsmen of France" together with Zao Wou-Ki and Wu Guanzhong. His abstract art is unique and integrates the traditional Chinese art style with western modernism. Wu Guanzhong once said, "his paintings look like western paintings from far away and look like Chinese paintings when taking a close look."
In 2020 for the first time to become a member of Hundred Million Club, three times in 10 years
1. Price Index: Price Index from 1 to 4 in Ten Years
From a horizontal perspective, Chu Teh-Chun is not so hot as Zao Wou-Ki and Wu Guanzhong among the three swordsmen studying in France. However, their level is not far from each other. Chu Teh-Chun is the first Chinese French art academician and the second is Zao Wou-Ki. As the first Chinese French artist recognized by the west, his academic achievements are beyond doubt.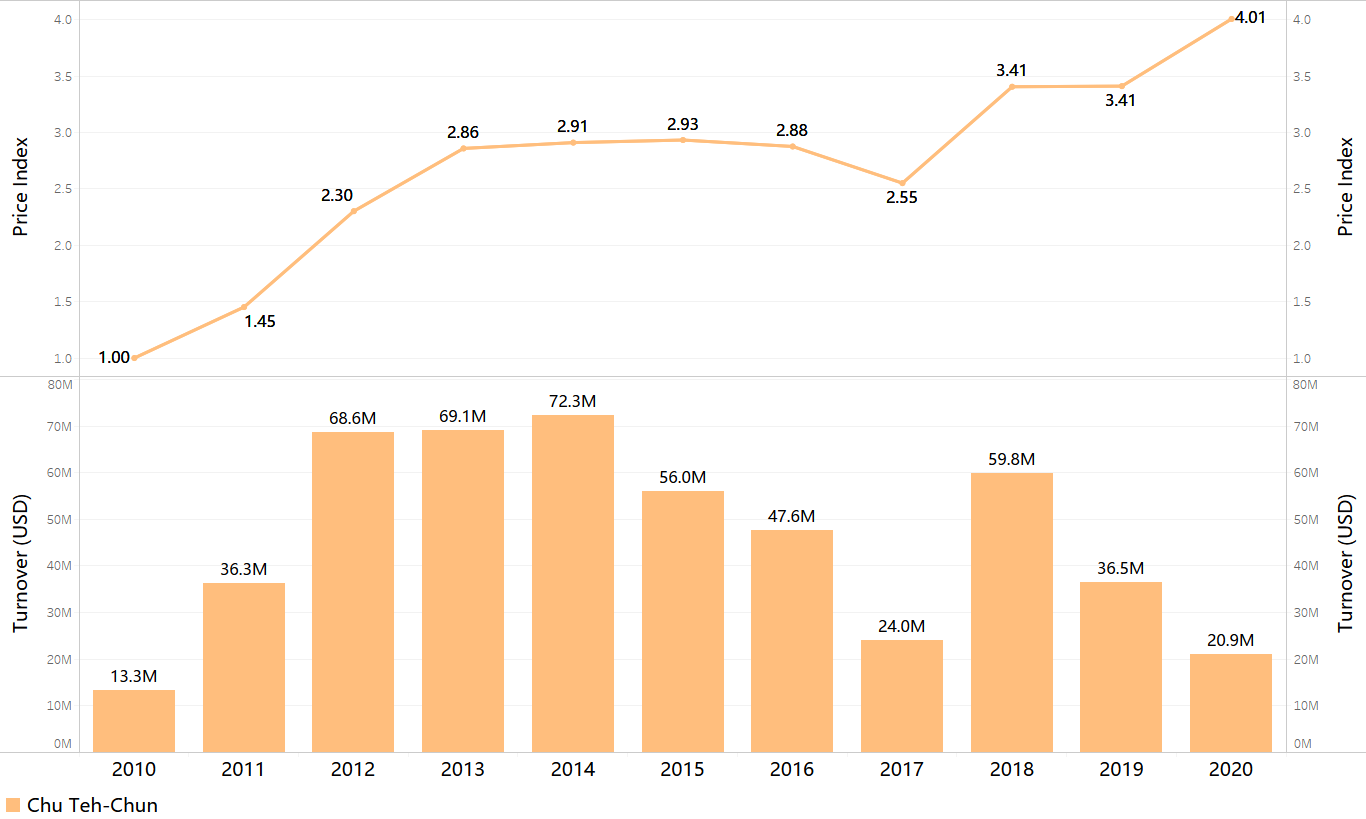 The Price Index of Chu Teh-Chun and Total Turnover in 2009-2020
From the vertical point of view, the trend of Chu Teh-Chun's personal market attracted attention. Its price index completed the transition from 1 to 4 in ten years, and the total turnover reached its peak in 2014. Due to the development and maturity of the art market, collectors are increasingly improving their choice of Chu Teh-Chun's works. Therefore, from 2018 to 2020, although the total turnover of Chu Teh-Chun is not so significant as that during his peak period, the price index still rises.
2. High Price Works: Works of Art Created in the 1980s and 1990s Account for the Largest Proportion
The creation time of Chu Teh-Chun's high price works is between the 1960s and 1970s. The former suggests that artist's abstractionism moves to a mature stage, the latter is the peak period of Chu Teh-Chun's SNOWY VERTIGO. In terms of both the total turnover and the number of the one million US dollars of works, artworks created in the 1980s and 1990s accounted for the largest proportion, followed by those from 1960s and 1970s.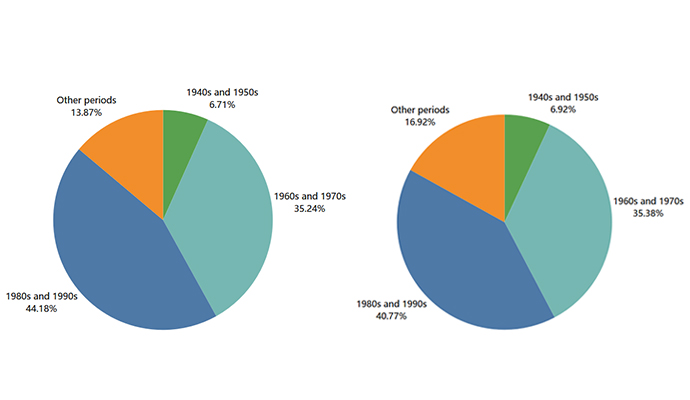 left:Proportion of Turnover in Four Periods
right:Comparison of the Number of Works over One Million Dollar in Four Periods
In Chu Teh-Chun's Top 10 lots, the works of the two periods were equally matched. It seems that collectors on auction love his works of both two periods.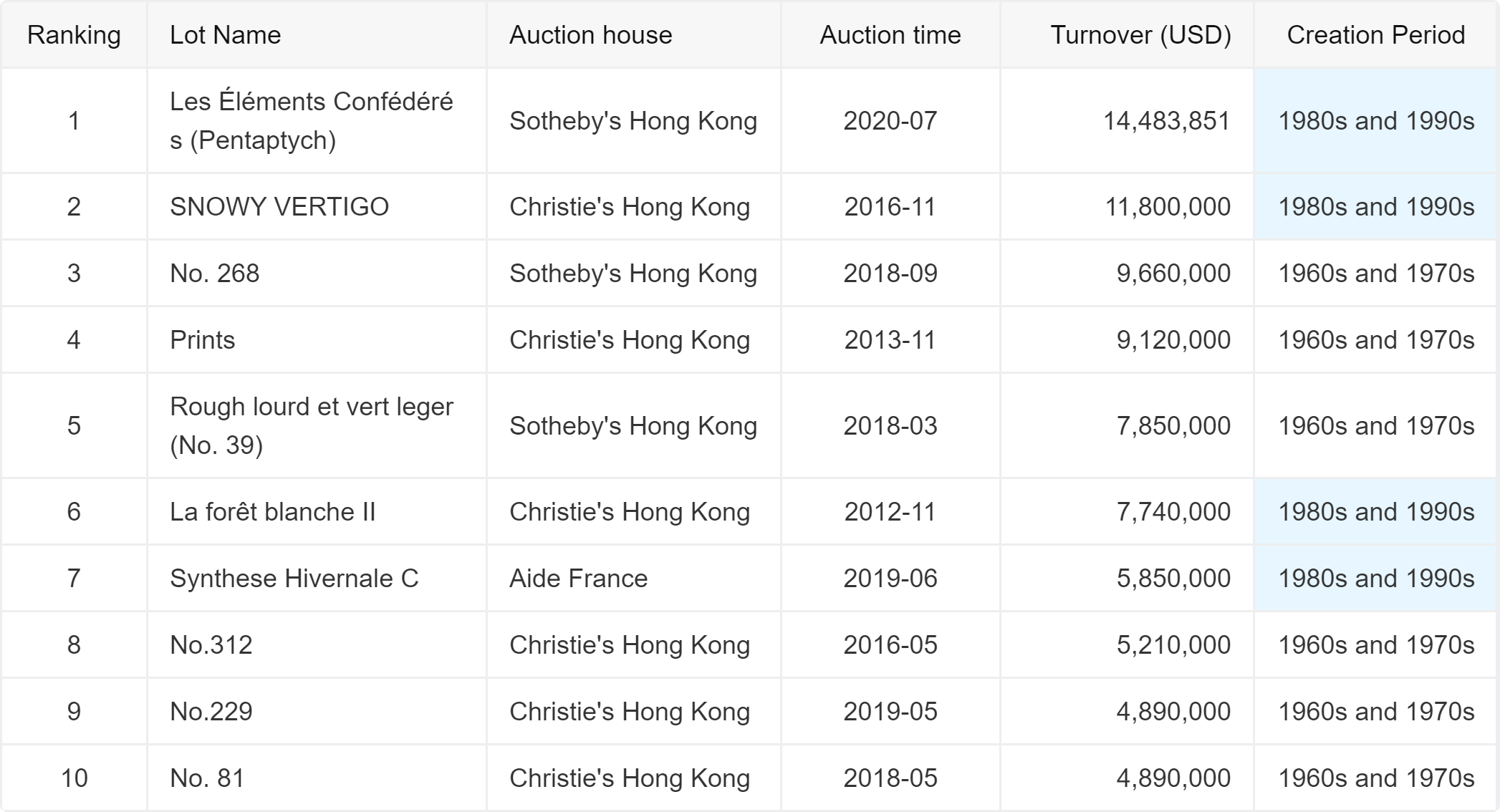 Top 10
3. Will the Coming up of Lot above HK$ Hundred Million be a Breakthrough in the Market?
On July 8, 2020, La forêt blanche II was on auction in Sotheby's "Modern Art Evening Sale" on July 8, 2020. After a fierce competition, it was finally sold for HK $113 million. This is the largest size artwork of Chu Teh-Chun among his private collections. It is the only pentaptych work in his life. Its artistic value is self-evident. Meanwhile, it is the first time that Chu Teh-Chun has entered the Hundred Million Club.
In 2013, Zao Wou-Ki's first work broke HK $100 million, and then there were 13 lots of over HK $100 million successively; in 2011, Wu Guanzhong's first work that broke the record of HK$ 100 million came up, and then there were 5 pieces with more than HK$ 100 million; in 2020, for the first time, Chu Teh-Chun's work broke through HK$ 100 million. And it attracts attention whether it can make the market pay a high price again.
The Important Time Nodes Help the Auction, Embellishing what is already Beautiful
The works of the three swordsman studying in France now reached tens of millions or even hundreds of millions, which are sought after by collectors. The highlight of its market is also an important node in his life.
Death: for the three swordsman studying in France, the turnover of artworks all reached the peak after their death. In 2013 and 2014, Zao Wou-Ki and Chu Teh-Chun respectively reached the highest turnover, while Wu Guanzhong reached the peak one year after his death.
The centenary birthday is also a hot spot in the market that cannot be ignored. 2019 is the second peak of Wu Guanzhong's total turnover and also the 100th anniversary for his birth. This year is the centenary birthday of Zao Wou-Ki and Chu Teh-Chun. Whether the auctioning performance can achieve another glory remains to be expected.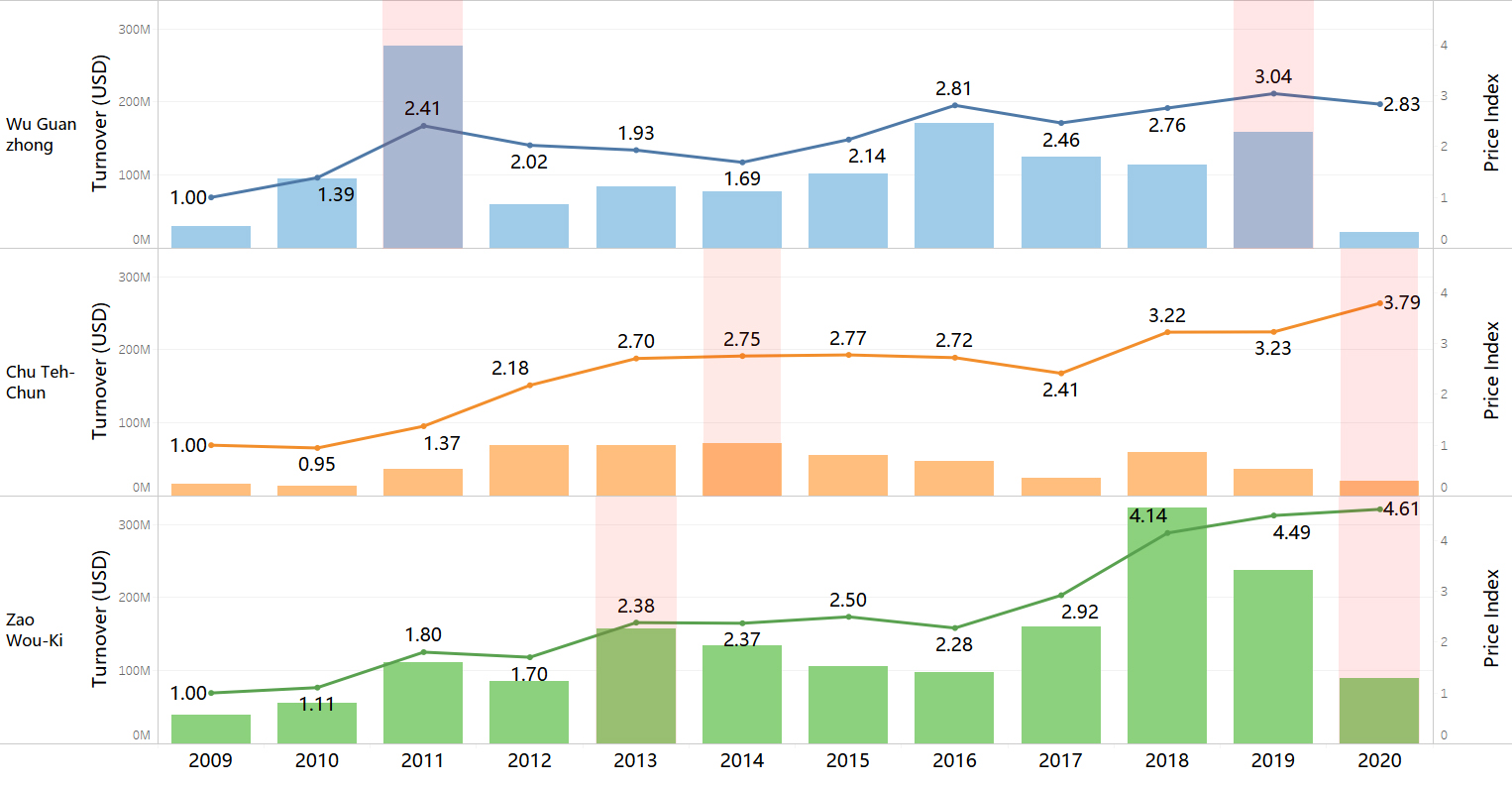 Price Index and Turnover of three Swordsman in France
Analysis of Important Works
The 1940s and 1950s: Concretism
Early Chu Teh-Chun's works were concrete. His famous work in Paris was the portrait of his wife, Portrait of Jingzhao. This painting was called "Mona Lisa in the East", and it was also his last figurative work. After that, he began to look for the freedom he wanted in the abstract style.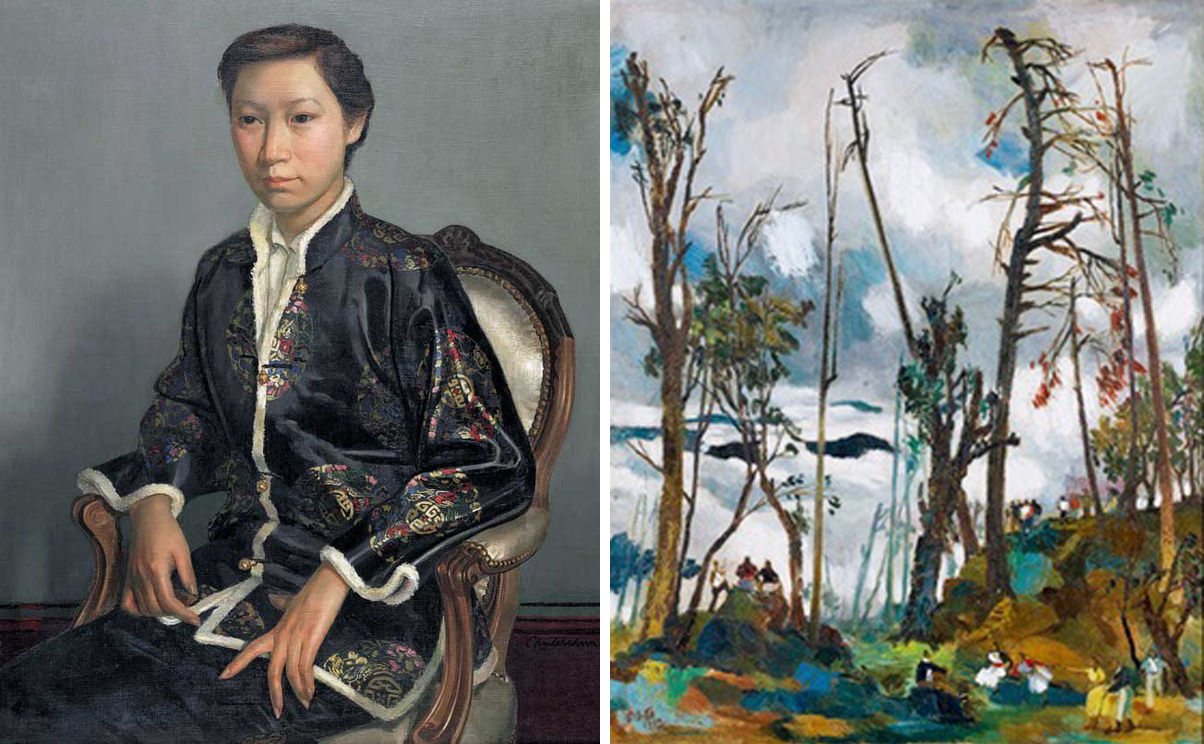 left:Portrait of Jingzhao, Oil Canvas , 1956
ringht:Baxian mountain, Oil Canvas , 1954
The 1960s and 1970s: Abstractionism
Looking back at Chu Teh-Chun's artistic career, he entered the field of abstract art in the 1950s, when abstract expressionism began to rise in the "Paris School of Painting". In 1958, Zhu visited the retrospective exhibition of Nicolas De Staël who had a profound impact on his artistic path. After that, abstraction became the main theme of Chu Teh-Chun's artistic career.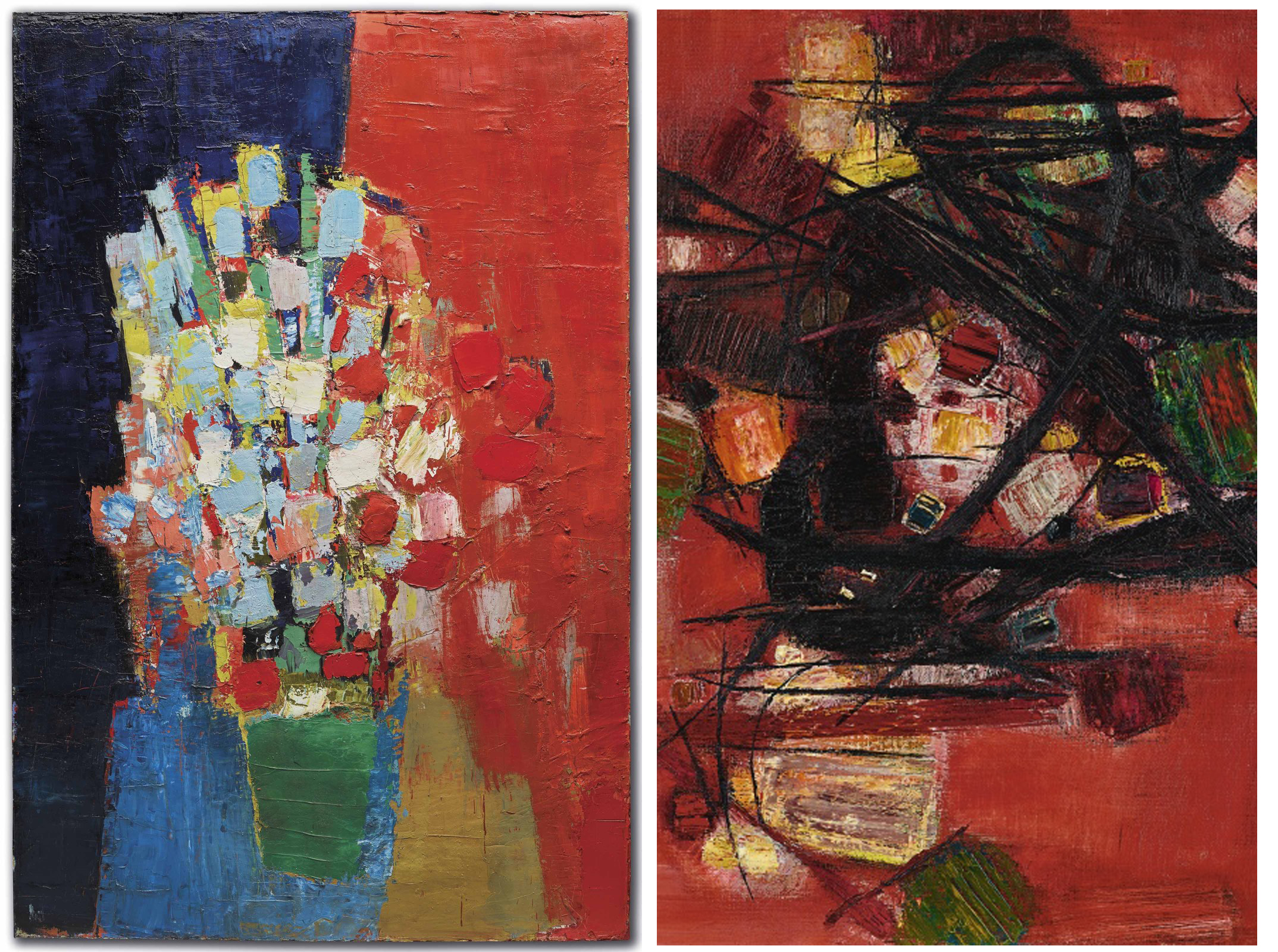 left: Fleurs, Oil Canvas , 1952
ringht: Rouge Lourd Et Vert Leger, Mixed media Canvas , 1959
His early abstract works "composition series" gradually moved into the mature stage, showing a strong and stirring creative face. In 1958, Chu Teh-Chun held his first solo exhibition in Paris and signed a contract with Galerie h. Legendre. Then, his works gradually stepped onto the international stage.
1980s and 1990s: SNOWY VERTIGO
Chu Teh-Chun's second peak of creation was in the 1980s, and his famous snowscape paintings came from this period. When he took the train across the Swiss Alps, he witnessed the snowstorm outside his window. This magnificent scenery became his inspiration and created a series of famous classic works.
Among them are La forêt blanche II and SNOWY VERTIGO in TOP10. The places touched by the brush strokes all reflect the artist's extraordinary painting skills. The seemingly calm picture contains the awe inspiring power of nature, showing the beauty of snow scenery.
Return Rate of Works Auctioned Repeatedly
In all the works of Chu Teh-Chun that were in repeated auctions, most high profit works are from these two periods: 60s to 70s and 80s to 90s.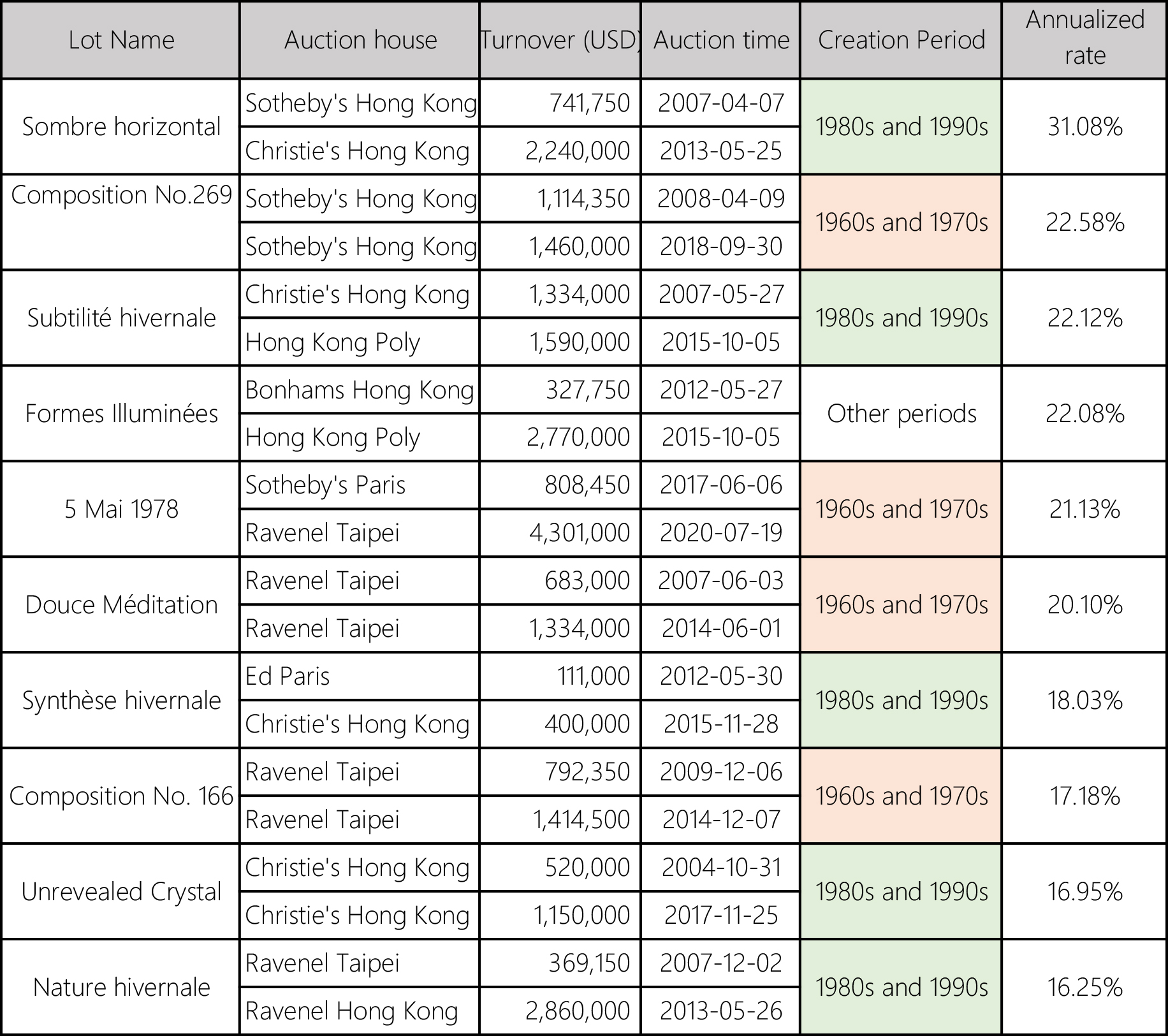 Return Rate of Works Auctioned Repeatedly
Conclusion: Chu Teh-Chun walked out slowly from the Chinese landscape, and integrated Western aesthetics into it, leading us into a different abstract world. Chu Teh-Chun's masterpieces has been absent from the market for a long time, so the artists' high price works this year, though seem unexpected, are totally reasonable. In fact, real good works will shine sooner or later.