Phillips & Poly Auction Joined Hands Once Again With Gerhard Richter's Abstract Painting about HK$ 75 million to Lead the Two-city Auction in Hong Kong and Beijing
1 Apr 2021, 12:00
In December 2020, Phillips partnered with Poly Auction for the first time to achieve a total autumn auction turnover of more than HK $508 million and set a world auction record for several artists. At the same time, Phillips Hong Kong and Poly Auction Hong Kong recorded the highest sales of modern and contemporary art in a single quarter of the history of Phillips Hong Kong and Poly Hong Kong auction. On this basis, Poly and Phillips announced that this season will present the 20th Century and Contemporary Art and Design auction in an unprecedented new form once again, across Hong Kong and Beijing. The simultaneous auction between the two cities will be held in June.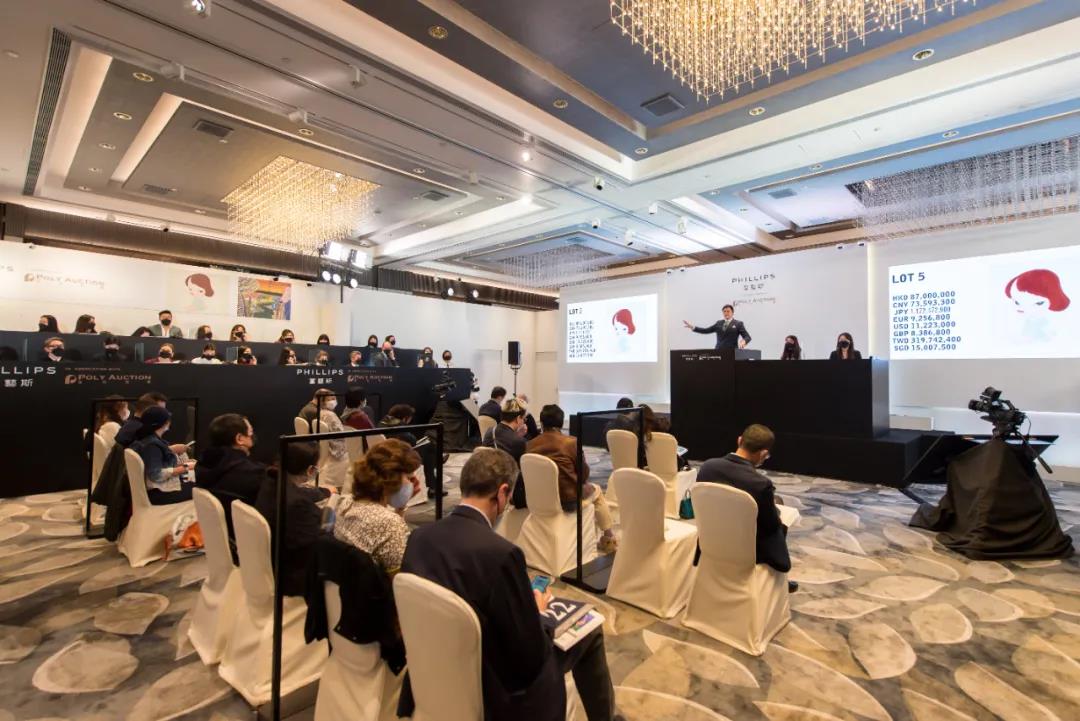 I. Auction, Preview and Bidding

The Twin cities auction will be held during Beijing Poly Auction week on June 7 and 8. The 6th is the daytime special auction, and the 7th is the evening auction. The official Phillips Auction will begin at the JW Marriott Hotel in Admiralty, Hong Kong, and accept bids from collectors, telephone seats and online bids from both Hong Kong and Beijing through live video streaming. It is worth noting that the twin cities auction will replace Phillips's own 20th Century and Contemporary Art and Design in Hong Kong Spring auction.

The preview will be held in Beijing, Shanghai, Shenzhen, Taipei and other places. The auction will also be broadcasted on Phillips's website and mobile App, Poly Auction mobile phone App and WeChat Mini Programs.

II. One of the Blockbuster Lots: Richter's Abstract Painting No. 940-7 Made Its Debut

German master Richter (Gerhard Richter, also known as Richter), Abstract Painting No. 940-7, in its first auction, got a HK$ 75 million-95 million valuation. In recent years, the western wind in the Asian modern and contemporary art market has become more and more popular, and Western paintings have repeatedly reached new highs.


The latest records of the top four about the Most Expensive Western Art auctioned in Asia are as follows:

Baskiah Jean-Michel Basquiat, Warrior |
HK$323,600,000, Christie's, Hong Kong, March, 2021

Richter Gerhard , Abstract Painting (649-2)|
October 2020, Hong Kong Sotheby's, HK$214,631,000

KAWS , THE KAWS ALBUM |
April 2019, Hong Kong Sotheby's, HK$115,966,000

David Hockney, 30 Sunflowers|
July 2020, Sotheby's, Hong Kong, transaction price: HK$114,827,000

What is the difference between Richter's Abstract Painting No. 940-7 and Abstract Painting (649-2) in 2020?
The size of Abstract Painting No. 940-7 is 140x160cm, which is about 44% smaller than the Abstract Painting (649-2) 200x200 cm, which changed hands with HK$ 214 million.

The time of creation of the two paintings is also far apart. Abstract Painting No. 940-7 was painted in 2015, while the latter was painted in 1987.


Abstract Painting 940-7 comes from Richter's famous abstract series, with red and yellow as the basic primary colors, evolves a vivid combination of colors on the canvas, and integrates rich layers and complex textures into the composition. The auction house pointed out that this is the largest post-2000 oil painting by Richter in history.

The Second Blockbuster Item: Zhang Xiaogang's Family Photo No. 13

Another announced item is from the East-Family Photo No. 13 by Zhang Xiaogang, it is a series of works by the Chinese contemporary art standard-bearer "consanguinity". Painted in 1998, 152x152 cm, estimates around HK$ 7.5 million-9.5 million, this is also the first time that the painting has appeared at auction. Consanguinity and family are inevitable topics in Chinese history and culture. Zhang Xiaogang's series not only challenges this kind of collectivism, but also overshadows the great trauma of the mainland in the 1960s and 1970s.

III. The Statement Issued by the Senior Management of the Two Banks on this Cooperation


Edward Dolman, the CEO of Phillips Global, and Jonathan Crockett, the Chairman of Phillips Asia, "our collaboration with Poly Auction in December last year had resulted in the highest total volume of Modern and Contemporary Art Auction held in Hong Kong in a single quarter. As Phillips continues to accelerate its expansion into the Asian market, we are pleased to innovate and change the auction cooperation model.

This season's Twin City auction will fully bring together the resources of Phillips and Poly in the international and mainland markets, not only to provide the most ideal auction environment for clients who entrust collections, but also to present collectors with diverse works from all over the world. In recent years, Asian collectors have actively participated in Phillips' global auctions, which is a testament to their strong demand for high-quality international art, and we look forward to bringing more high-quality collections to the booming Asian market.

Jiang Yingchun, the managing director and chairman of Poly Auction, Poly Culture Group Co., Ltd.: "the first joint auction held by Poly and Phillips in Hong Kong last year achieved better results than expected. This is not only an important boost to the Modern and Contemporary art market, but also the market's affirmation of the joint auction form. This year, Poly auction is very pleased to continue to deepen cooperation with Phillips, holding a special joint auction of Modern and Contemporary Art again at the same time in Beijing Spring Auction, formally including the joint auction in the large structure of Poly Spring Auction in Beijing, and looking forward to achieving better results together by combining Poly's strong appeal in the Greater China region with Phillips. "