2020 New York Sales Series Witnessed Many Highlights in negative situation, Price Index Remain Same Level Compared with 2019
Under the COVID-19 in 2020, the artwork sales series in the first half of the New York area finally opened at the end of June in the midsummer. Confronted with unprecedented challenges, several major auctions successfully concluded with lots taken by collectors. Since June 29, ten major special events from Sotheby's, Christie's, Phillips and Bonhams concluded with more than US $750 million, with an overall sold-by-lot rate of 83.8%. Among them, 94 works were sold for more than one million US dollars, 13 works were sold for more than US $10 million, and 39.4% of the works were sold with over-high-estimate price.
Strong Performance of the New York Market, Steady Development during Hard Times in 2020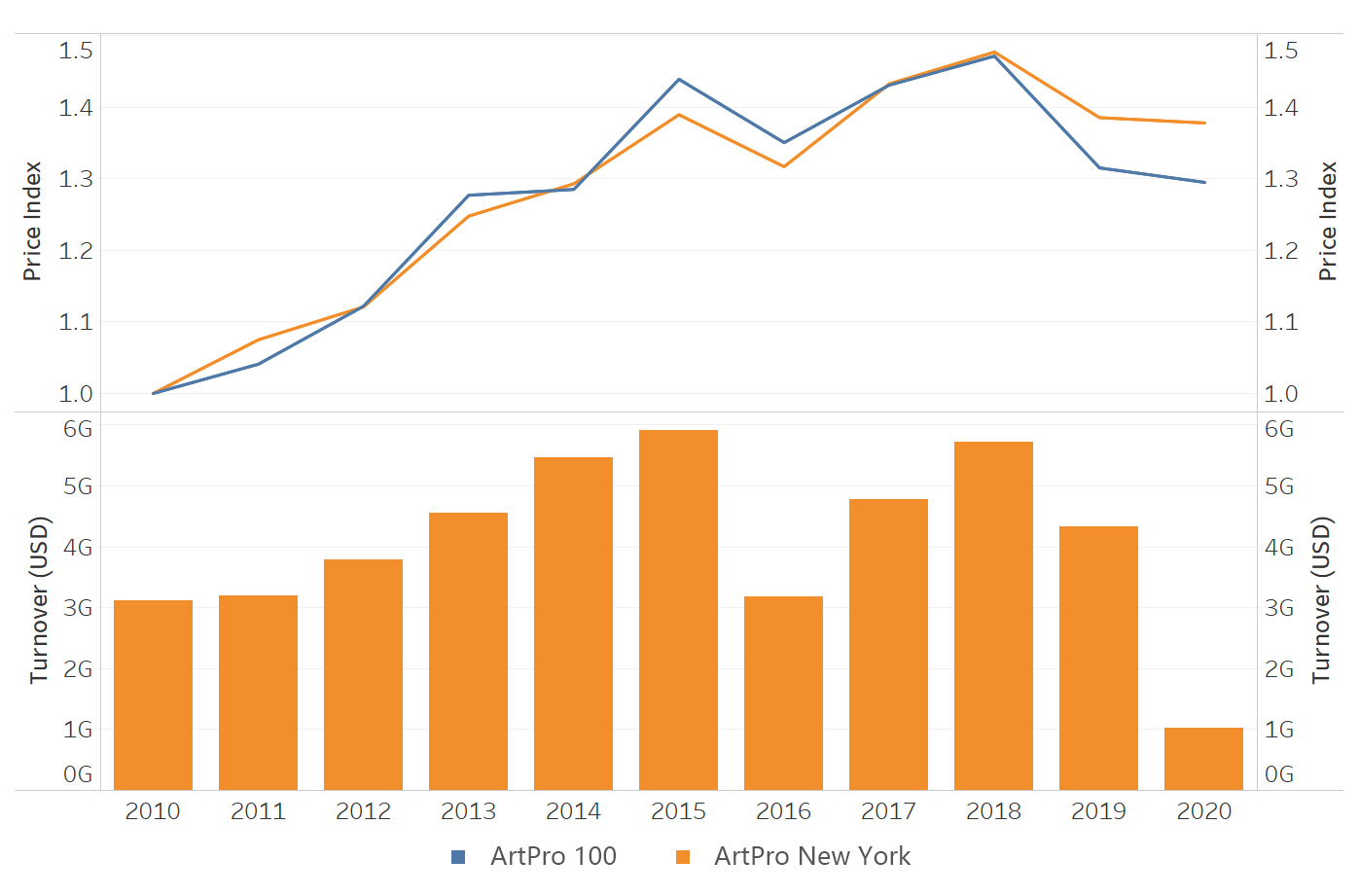 Price index and turnover in the New York area, 2010-2020 (as of July 14)
According to the ArtPro database, in 2020 (as of July 14), the total tally in the New York area was less than half of the lowest peak value in the past decade. We can see the struck of COVID-19 to the New York art market clearly and directly. However, under difficult circumstances, the price index of art transactions in the New York area is almost the same as that in 2019, greatly boosting the morale of the art market. (Note: ArtPro price index is an important reference for measuring price level changes.)
Francis Bacon Tops Artist Deal List
Top 10 Artists with High Turnover
The New York market, led by western artists, presented in this sales series the blockbuster works of Pablo Picasso, Jean-Michel Basquiat and Clyfford Still. A number of artists have made outstanding achievements, showing the strong demand for Top art in the auction market in the special period.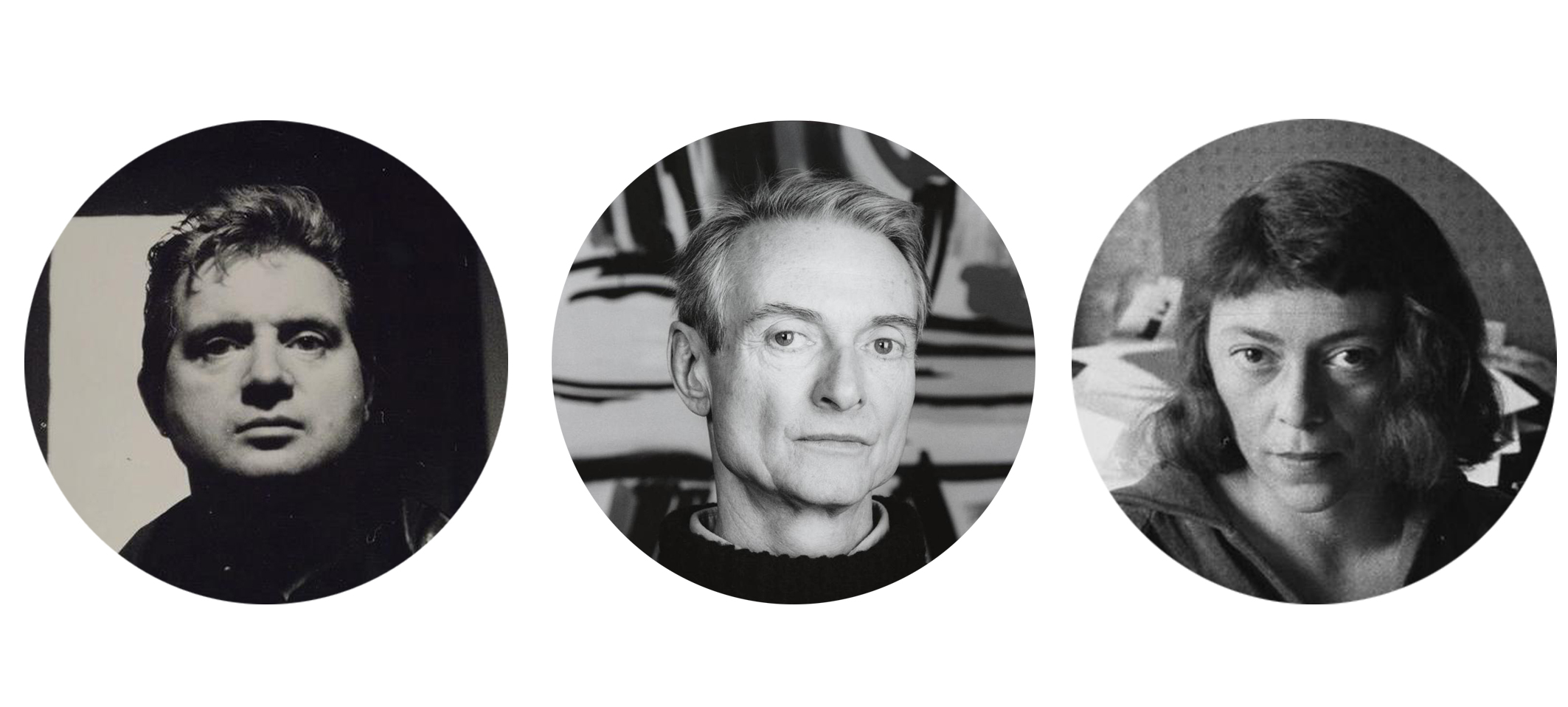 Left:Francis Bacon
Middle:Roy Lichtenstein
Right:Joan Mitchell
Francis Bacon, a British Master, was named the most expensive artist in New York auction this season with a turnover of US $ 84.55 million. Roy Lichtenstein, the father of American pop artists, harvested $46.24 million and $25.417 million respectively for two pieces of works, which followed Bacon in total. Joan Mitchell, an abstract expressionist female artist, is among the Top 3 as for total turnover.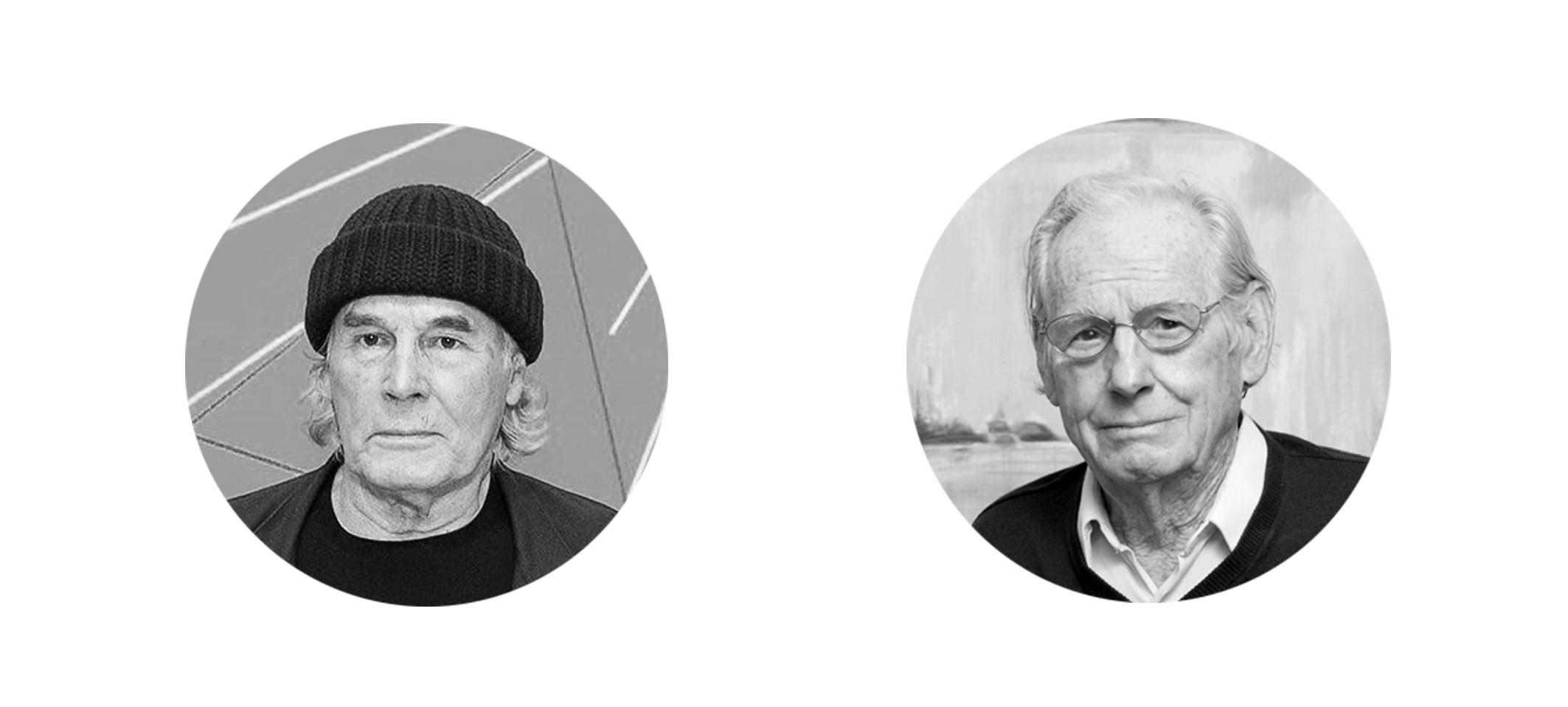 Left:Brice Marden
Right:Wayne Thiebaud
The emergence of high price works directly affects the total amount of artists' transactions. Brice Marden, a minimalist master, and Wayne Thiebaud, a centenarian artist from the United States, have been among the Top 10 artists for their high price works, attracting the attention of collectors.
In addition, the sold-by-lot rate of Japanese artists was 85% and all the night auction works were sold, and Yayoi Kusama and Takashi Murakami won great popularity among collectors; Chinese artists Yue Minjun and Ai Weiwei were brilliant and their works were all higher than the estimating price.
Old Brand and New Stars Broke Their Top List in the Auction Field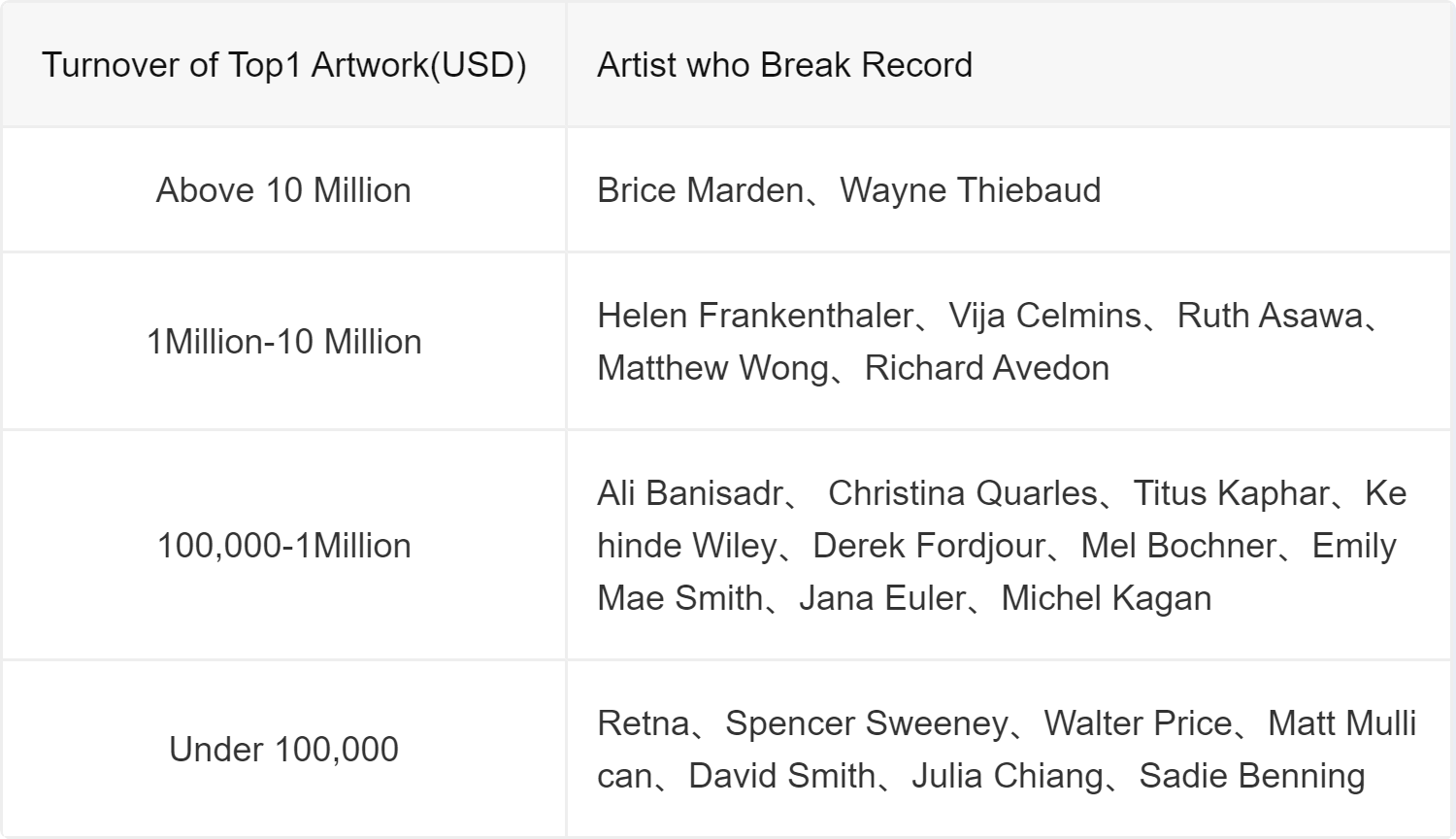 List of artists who broke personal auction records
During the auction season, 23 artists broke individual auction records and nine came from the night auction. There were seven artists who sold more than US $1 million and two artists who sold more than US $10 million.
Brice Marden's large-scale oil painting Complements was sold within the estimate range, with a harvest of US $30.92 million, which became the Top 2 highest lot in the auction.
The Four Pinball Machines by Wayne Thiebaud was purchased by the collector for US $19.135 million, ranking Top 5 in the spot auction.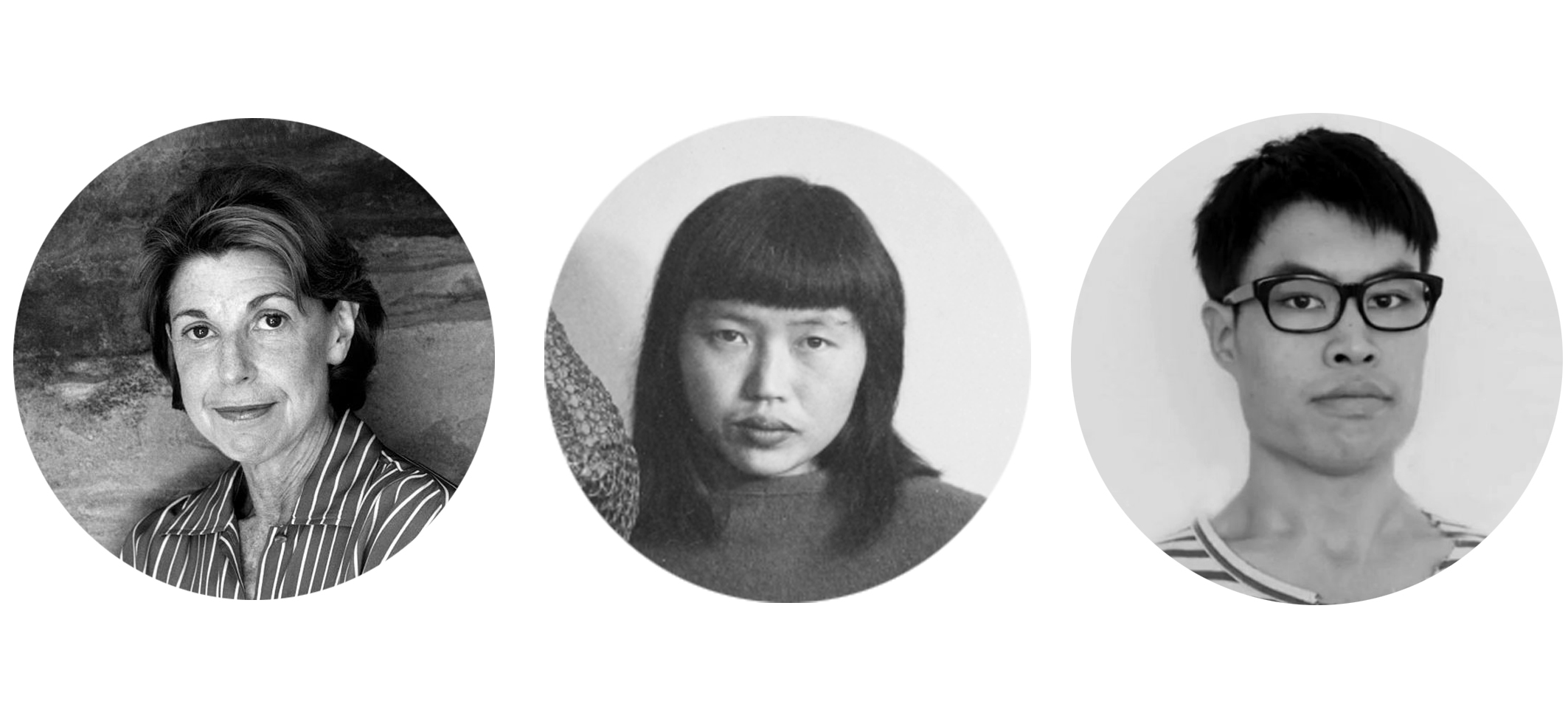 Left:Helen Frankenthaler
Middle:Ruth Asawa
Right:Matthew Wong
Within a few days, there are also a number of new artists in the market won great popularity. Helen Frankenthaler, an American abstract female painter, presented three pieces of works in three special scenes, updating her personal Top 1, Top 2 and Top 4 respectively; female sculptor Ruth Asawa updated her personal Top 3 and Top 4 while breaking her personal records; and Canadian artist Matthew Wong of the 1980s had three works sold, with an over-low-estimate rate of 700%.
The Most Expensive Top 10 Lots, Led by $80 million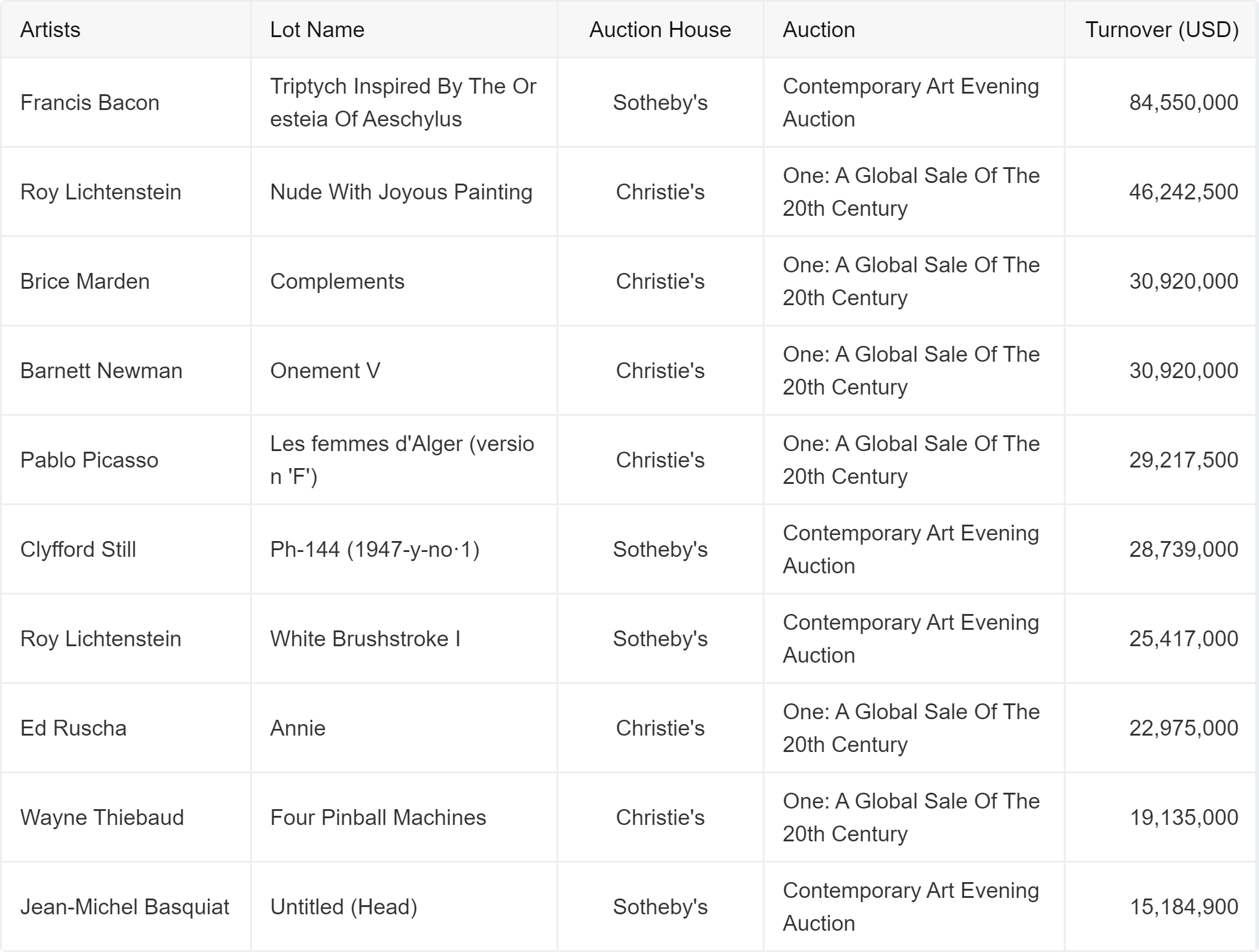 Top 10 Most Expensive Lots
In the special period of 2020, the auction veterans have made good achievements. Among the top ten art deals in the New York this season, masterpieces have reached their peak again. Among them, Francis Bacon's rare work Triptych Inspired By The Oresteia Of Aeschylus became the leading work of the New York this season with a high price of US $ 84.55 million and has updated the Top 3 of Bacon's representative works.
The Top 10 of the most expensive transactions are from Sotheby's Contemporary Art Evening Auction on June 29 and Christie's One: A Global Sale Of The 20th Century. Please click the "View Auction" below to enjoy the above works:
Contemporary Art Evening Auction
Sotheby's New York
1334 York Avenue New York
One: A Global Sale Of The 20th Century
Christie's New York
20 Rockefeller Plaza New York NY 10020 Christie's New York New York
Over-low-estimate Top 10 lots, with an Over-low-estimate Rate of nearly 2500%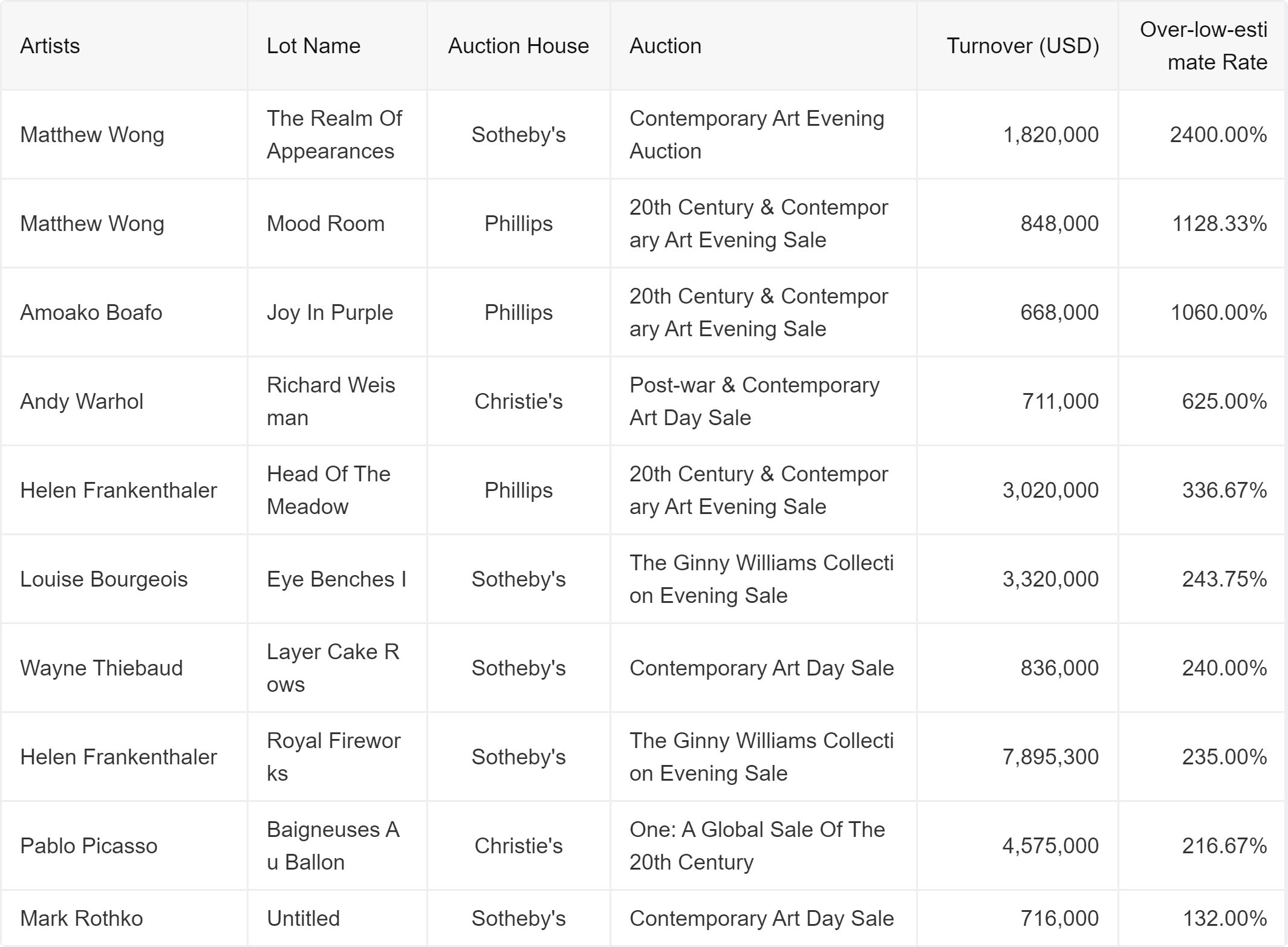 Top 10 lots ranked by over-low-estimate rate
(turnover more than US $500,000)
The over-low-estimate rate of works can reflect the popularity of lots and artists in the market. Among the works with a turnover of more than US $500,000 dollars, Matthew Wong's most expensive Top 1 lot, The Realm Of Appearances has an over-low-estimate rate of 2,400%, while that of the Top 2 lot, Mood Room is 1,128.33%.
In February 2020, Amoako Boafo, who entered the auction for the first time and entered the night auction directly, his work Joy In Purple was sold for $668,000 this time, with an over-low-estimate rate of 1,060%.
Under the influence of COVID-19, the major auction houses actively carry out structural adjustment and mode exploration to face the severe situation. In the first half of 2020, the sales series in the New York is coming to an end. Next, ArtPro will conduct in-depth reports on this season's auctions in order to provide valuable market reference for collectors. Please pay attention.