Francis Bacon | Auction Market Personal Report
Triptych Inspired By The Oresteia Of Aeschylus by Bacon was auctioned in New York for $ 84.55 million. In Bacon's limited creative career, a total of 28 triptychs were created. In 2014, Bacon's triptychs appeared at the auction house for the first time. So far, only five of Bacon's triptychs have been auctioned, which are all among his Top 10 works. Bacon once said in 1979: "Triptych is my favorite. As far as the quality of my work is concerned, I often think that the triptych is probably the best." The market has also given the best feedback to his triptychs.The most expensive work at the moment is the Three Studies of Lucian Freud Panel Canvas Oil, which was shot for $142,405,000 in 2013. The work auctioned this time is the sixth triptych on the market so far.
This triptych is inspired by the ancient Greek tragedy trilogy written by Aeschylus in the Fifth Century B.C. Although Aeschylus is the source of inspiration for many of Francis Bacon's works, Triptych Inspired by the Oresteia of Aeschylus is the only one named after Aeschylus. The work has been preserved at the Astrup Fearnley Museum in Oslo since it was purchased by Norwegian collectors at the Mabolo Gallery in London in 1984, for the first time in 36 years.
Next, Artpro will take you on a journey through Bacon's life, taking a deeper look at his background, as well as his classic works and style from different periods.
Francis Bacon's Personal Report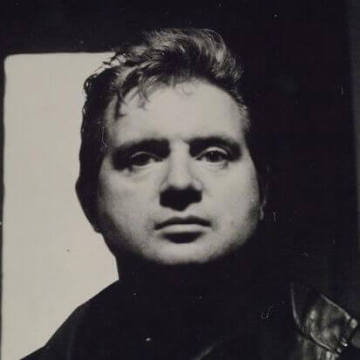 During Bacon's 83-year-life,more than 60 years of journey has been closely related to art. His real focus on painting began in 1944. Throughout his nearly 50 years of creative career, almost every 10 years can be regarded as a milestone. His artistic career can be divided into five stages: 1940s and before, 1950s, 1960s, 1970s, 1980s and after. Each stage has its own characteristics. Among them, the total turnover of works in the 1960s was the highest, followed by the 1970s, 1950s and the 1980s. A total of 68 works with more than US $5 million were sold, 30 of which are from the 1960s, 18 from the 1970s and 14 from the 1950s.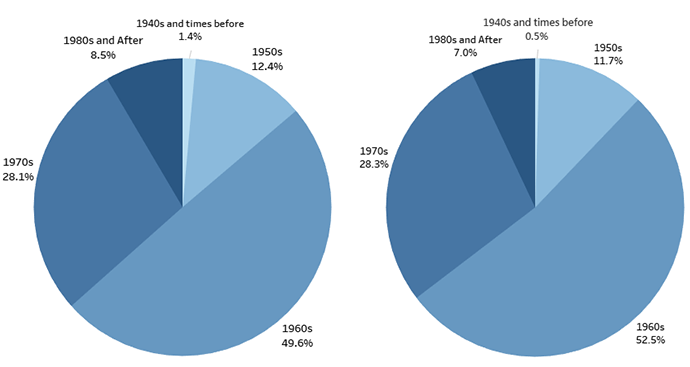 Left:Proportion of Turnover in Different Periods
Right:Auctioned Lots Over $ 5 million in Different Periods
Among the Top 20 list of Bacon's works, there are 12 in the 1960s, six in the 1970s, one in the 1950s and one in the 1980s.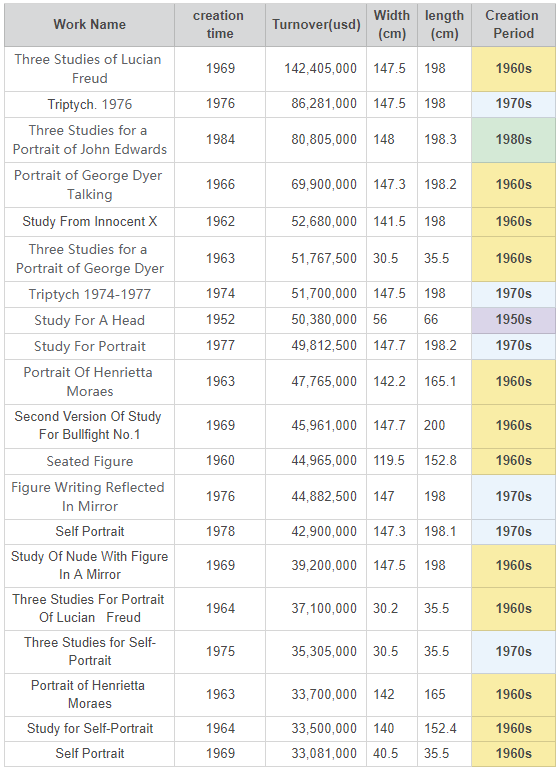 From the perspective of price index (2000-2019), although works of 1960s are still in the first place, the 1960s, 1970s and 1950s all showed a trend of rising beyond the volatility.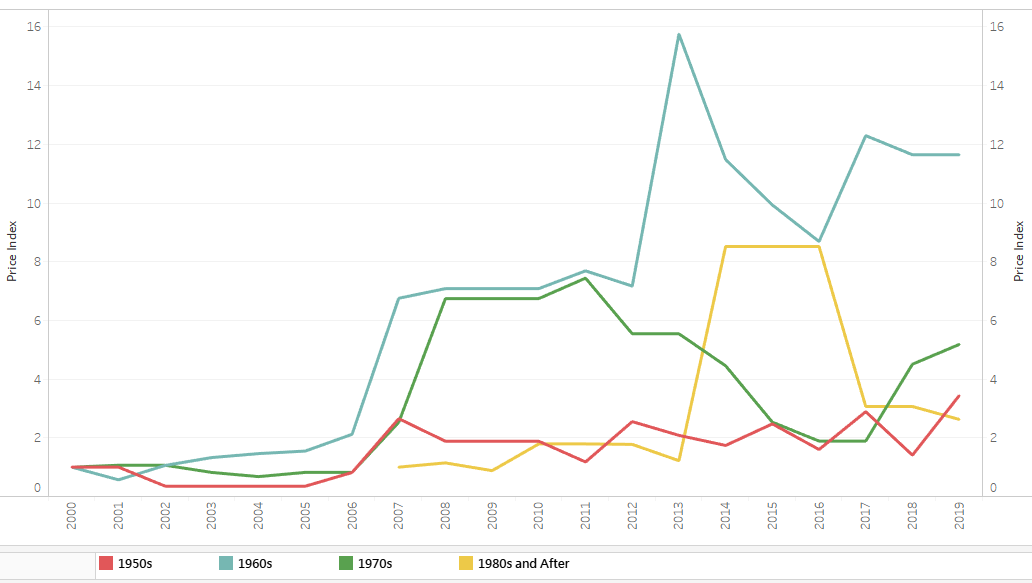 Artist's Style and Representative Works in Different Times:
In 1940s and times before, the Artist Explore and Determined His Career Path with Unique Style and Considerable Success
In 1909, Francis Bacon was born in an English family in Dublin, Ireland. His parents were aristocrats, but Bacon's childhood was not good. He once said, "childhood is the life of an artist.". In 1929, he began to learn oil painting. He became a self-taught talent. At this time, his works were inspired by Picasso and surrealism. In 1933, his Crucifixion attracted the attention of the art circles in London. However, the success did not last. Due to the lack of consistency in the style of this period, it attracted attention in the early stage and received resistance in the following years. As a result, Bacon almost gave up painting. The works created between 1937 and 1943 have not survived.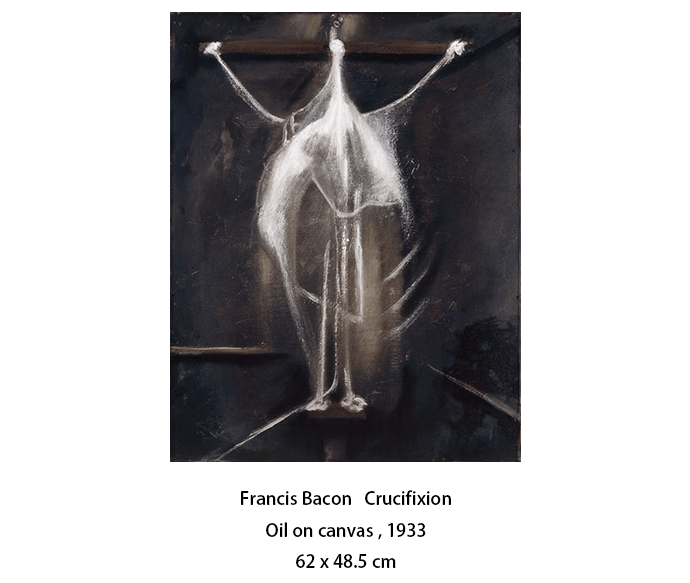 It was not until 1944 that Bacon took up his brush again, when his Three Studies for Figures at the Base of a Crucifixion was first exhibited at the Lefevre Gallery in London in April 1945. The painting heralded the beginning of his mature style. Three shrieking and wriggling gray creatures against an orange background touched the nerves of war-torn audiences. The work completely shocked the art world at that time. For bacon, they represent Eumenides in Aeschylus's Greek tragedy Oresteia. This famous triptych reflects Bacon's breakthrough in British Art field and the starting point of his star career. For the rest of his life, the artist spoke highly of this work and denied any of his previous works.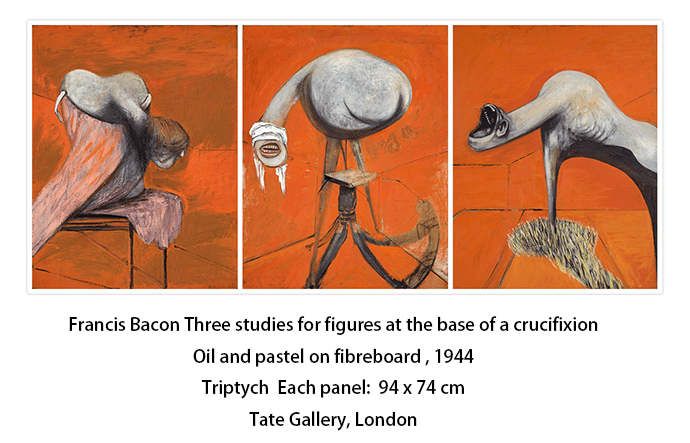 However, Bacon soon abandoned his linear style and adopted a more rugged way. In temperament, Bacon and Chaïm Soutine had similarities. They all look at the world with painful eyes, and display the feelings of tension, pain and terror conveyed by the characterization in the pictures. For example, PAINTING 1946 is a very typical work.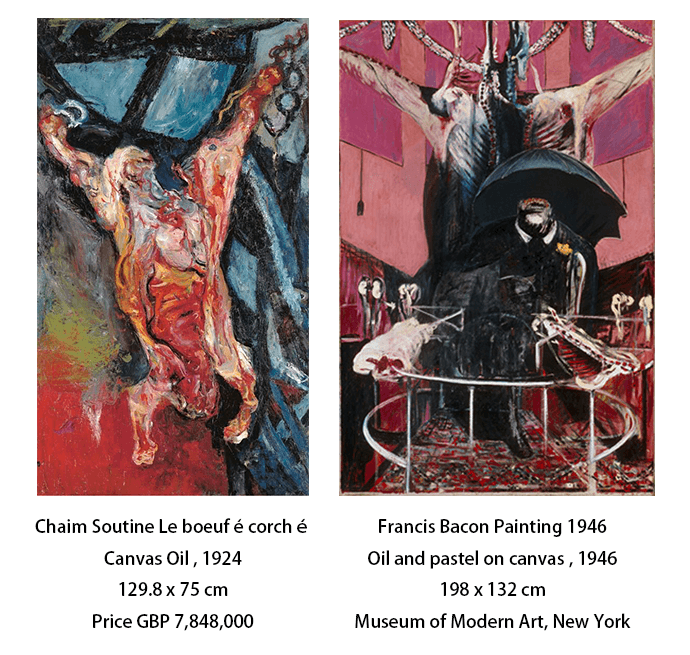 Then, the late 1940s to 1949 marked a critical turning point in Bacon's creative development: Portraits became his main theme and the focus of all his future works.
In the 1950s, Portraits Became His Artistic Theme, Obsessing with the Pope
At this time, the style of Bacon's paintings had been basically fixed. Based on the famous painting Portrait of Pope Innocent X by Spanish painter VelÁzquez, he changed his paintings into more than 50 variant works of portrait. These vivid and powerful deformations made the Pope's despicable rule into the image of evil demons. These works were large in size and magnificent in expression.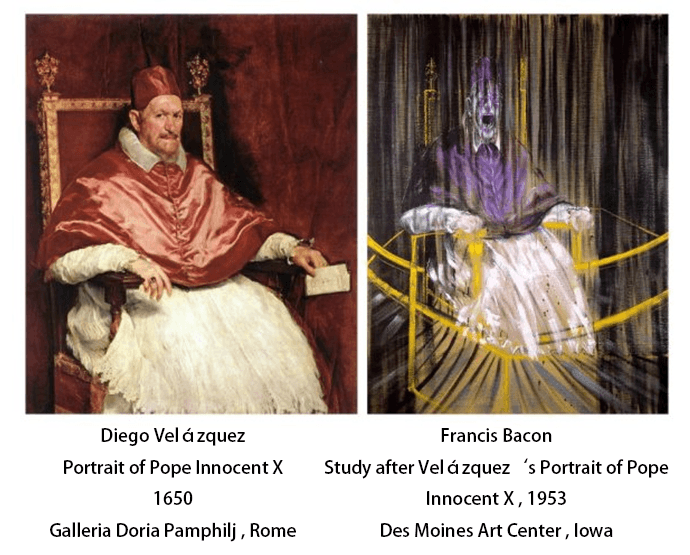 With the originality and powerful style of his paintings, Bacon once again shocked the art world. The free and attitude of these paintings echoes Bacon's worship of Chaïm Soutine.
These papal paintings in the 1950s have nothing to do with the appearance of religion. This is Bacon's obsession and infatuation. Bacon once said, "because I think it's one of the best portraits I've ever made; it opens up all sorts of fields of emotion and imagination for me." In this period, the most expensive work was Study For A Head in 1952, which is also one of the six most iconic papal works.
In 1960's, He Drew Materials from Life and Became Obsessed with People Around Him
Here we come to Bacon's golden period. In 1962, Bacon held a retrospective exhibition at the Tate Britain in London. For this reason, he completed Three Studies for a Crucifixion at this time. This is a very cherished theme about Cross. Its historical, cultural and religious connotation is "a grand scaffold on which you can hang all kinds of feelings and emotions". Three Studies for a Crucifixion marks the return of this theme to Bacon's works after 1944. The work is currently in the Solomon R.Guggenheim Museum.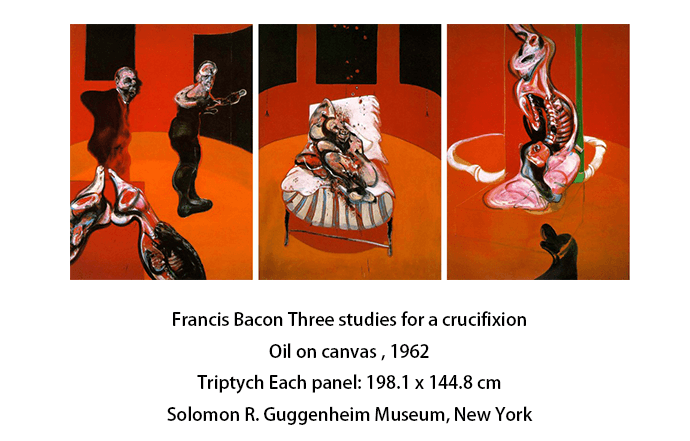 However, during this period, Bacon seemed to be more grounded. He was more interested in drawing people around him. He once said that he preferred to draw people he knew well. Many of his sitting figures, such as Henrietta Morris, Isabel Rosthorne and Lucian Freud are his friends. Triptych of Freud has become the most expensive work during the artist's career.
Even if he was familiar with these people, he would not directly draw the appearance in their life, rather he'd like take photos and paint with photos. In 1963, a new Muse entered Bacon's life and art -- George Dyer. His lover and partner, who also became the theme of many paintings. Take for example, Three Studies for a Portrait of George Dyer in 1963 and Portrait of George Dyer Talking in 1966. The paintings with Dyer as the theme have made many classic works.
From the Pope in 1950's to famous art figures, friends and lovers, Bacon's paintings are full of twisted and sensual figures with screaming. His unique painting style makes him have more supporters.
Lost Lover in 1970s, Obsessed with Self- portrait
In 1971, while Francis Bacon made his wave,a tragedy took place that his muse Dyer passed away. In the following years, Bacon painted a series of "Black Triptych ", such as THREE STUDIES FOR A SELF-PORTRAIT in 1975, to express his grief and memory of his lover.
Due to the continuous passing way of his loved ones and friends, Bacon began to draw self-portraits obsessively. He once said, "people around me die like flies, leaving no one for me to portray." Perhaps for the elderly artist, self- portraits also provide a way to face his own death. During this period, almost all the high-priced works sold were self-portraits, such as self-portrait in 1975.
God still favors the artist. In 1976, Bacon met John Edwards, Bacon's last lover. From then on, his self-portraits began to be colorful, and the style of his paintings had a clear trend compared with before.
1980s and After: the Scenery is Infinite, from Ferocious to Calm
In the 1980s, Bacon became famous, and famous institutions around the world held individual exhibitions for him. In 1985, when Tate Britain held a second retrospective for him, then curator Sir Alan Bonis announced that he was "the greatest living painter". At the age over 70, Bacon came to the peak of his reputation. With John Edwards, Bacon began to paint him frequently. Three Studies for a Portrait of John Edwards is one of the most classic works. With a high price of $80 million, it became the Top4 artwork by Francis Bacon.
At this time, Bacon did not stop in his popularity. He continued to develop his paintings. At this time, Bacon's canvas became simpler, and the background was often reduced to a monochromatic plane, mainly bright orange and hot pink, sometimes beige and light blue. It seemed that even Van Gogh's shadow could be seen.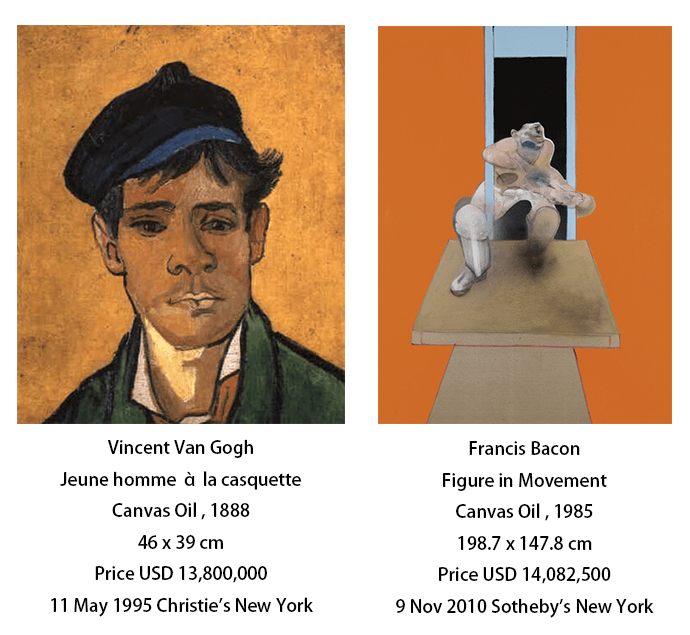 At this point, the abstract perspective line and "space frame" can still only provide fuzzy depth and space indication. Therefore, the emphasis on the characters has been magnified, and the composition has not been so obvious and direct in any other period. Bacon's protagonist also becomes quieter. They often sit serenely. Compared with previous decades, they use less gesture strokes, smoother ink with wash painting.
Sotheby's New York
Contemporary Art Evening Auction
1334 York Avenue New York

The above paintings are just one part of Bacon's art market. Nowadays, Bacon's works make many collectors spend a lot of money in the bidding. Do you have a deeper understanding of his works after watching his life? The following is the overall data of Bacon, which can provide a more comprehensive and in-depth understanding of the artist's performance in the market.