2020 Hong Kong Spring Auction | Highlights of Eastern and Western Contemporary Art
Focus on the highlights of contemporary art and stay tuned.
In the coming July, a new round of hot auction season will usher in Hong Kong, where major auctions houses will race to lift the hammer for the long overdue spring auction. Let's focus on the coming Hong Kong auctions with classic eastern and western contemporary works gathered, including works from contemporary masters David Hockney, Gerhard Richter, Yoshitomo Nara, Liu Ye, and Yayoi Kusama. This will certainly bring more wonderfulness and amazement for the Asian market. Let's now take a sneak peek at these masterpieces of contemporary art.
Highlight No. 1: Thirty Sunflowers by David Hockney
Thirty Sunflowers by David Hockney will be present on July 9th by Sotheby's Hong Kong on its Evening Auction of Contemporary art. It's one of the two largest paintings in the still life series created by David Hockney in 1996, which has depicted the largest number of sunflowers and most complicated composition – the vitality of the painting and the sunflowers full of the meaning of life make it so rarely seen. From another perspective, this painting was created after David Hockney's visits to exhibitions of Claude Monet and Johannes Vermeer in Chicago and The Hague – not only homage to the classics but also a rebirth of his own.
In 2011, Thirty Sunflowers was auctioned at Phillips New York with an estimating price of $1.5 million to $2.5 million, and finally sold for $2.55 million – the most expensive work by David Hockney sold that year. Nine years later, Thirty Sunflowers is up for auction at Sotheby's Hong Kong with no estimating price, becoming a true focus of the market.
Highlight No. 2: Frost (1) by Gerhard Richter
Frost (1) by Gerhard Richter, estimated at HK $48 million to HK $68 million, will be present at Christie's Hong Kong Evening Auction of Modern and Contemporary art in July. From light to dark, high-pitched primary colors to subtle combinations of colors, the work is so rich in colors and intriguing. Gerhard Richter's unique painting style is very impressive. The artist perfectly integrates his abstract thinking and intangible imagination into the works, presenting colorful shapes of oil colors, as if containing infinite possibilities.
Highlight No. 3: Keep Me In The Dark by Liu Ye
Liu Ye's works combine the romance of fairy tales with the simplicity of Mondrian. So far, he has created on four figure portraits on large canvas, with the first three in his signature red series and the fourth – Keep Me In The Dark, to be auctioned this time. Differ from the previous figures, the painting depicts a quiet girl, and it seems to tell us a fascinating fairy tale through her blue eyes.
With an estimating price of HK $25 million to HK $35 million, let wait and see who will take this "girl in snow" (Keep Me In The Dark) back home.
Highlight No. 4: Choir Of Angels (Red) by Liu Ye
Another work of Liu Ye's, Choir Of Angels (Red), will be auctioned at the "20th Century and Contemporary Art" Evening Auction of Phillips with an estimating price of HK $ 20 million - 40 million — right after the third most expensive estimating price of Zao Wou-ki at auction scene. Eleven girls depicted with the same big heads, small bodies and round faces, make up the choir. The fairy-tale narrative style reflects Liu's creative style as always, and also surrealism from another perspective. This work breaks the shackles of the era symbol, allowing the new meanings and connections from Eastern and Western cultural traditions to interact freely in the dramatic red curtain setting.
Highlight No. 5: Wisdom Tooth Fever by Yoshitomo Nara
Wisdom Tooth Fever by Yoshitomo Nara will be auctioned at the "20th Century and Contemporary Art" Evening Auction of Phillips, of which the childish style is not only a particular feature of Yoshitomo Nara, but also a classic art image popular among the collectors. This work is one of the canvas series rarely seen at auctions. The most striking part of the whole picture is the pair of indifferent and glum eyes, and it seems to convey endless stories to the audience through this window of heart. With an estimating price of HK $10 million to HK $15 million, it is exciting to see if the "Yoshitomo Nara Heat" in 2019 will still continue now.
Highlight No.6: Pumpkin by Yayoi Kusama
Pumpkin by Yayoi Kusama is up for auction in Christie's ONE: A Global Sale of the 20th Century with an estimating price of $8.5 million to HK $12.0 million. The dazzling golden pumpkin is one of the iconic themes of Yayoi Kusama. The image of pumpkin is displayed vividly via rich color collocation and unique visual technique, reflecting the aesthetic essence of Pop art. The work not only shows the superb artistic skills of Yayoi Kusama, but also offers deep thinking and unique visual experience to the audience. It is indeed a model work of the artist.
To conclude, the contemporary art market in Hong Kong has experienced internationalization in recent years, with not only the best collections of Asian art but also the classic masterpieces of western art up for auctions. The lots of this year's spring auction have intrigued many collectors. Let's wait and see whether contemporary art will achieve better scores in this July. ArtPro will stay tuned to spring auction information released by major auction houses and bring you more auction information, rich and timely, in the first time.
Sotheby's Hong Kong
Contemporary Art Evening Sale
Hong Kong Convention and Exhibition Centre 1 Expo Drive, Wanchai Hong Kong
Christie's Hong Kong
One: A Global Sale Of The 20th Century
18 Chater Road 22nd floor Alexandra House The James Christie Room, 22nd Floor Hong Kong
Phillips Hong Kong
20th Century & Contemporary Art Evening Sale
JW Marriott Hotel One Pacific Place 88 Queensway Hong Kong
Explore more highlights of contemporary art.
Contemporary art is not only popular in Asia, but also a shining pearl internationally. Please click the picture to get more data report on contemporary artists such as Yoshitomo Nara and Liu Ye.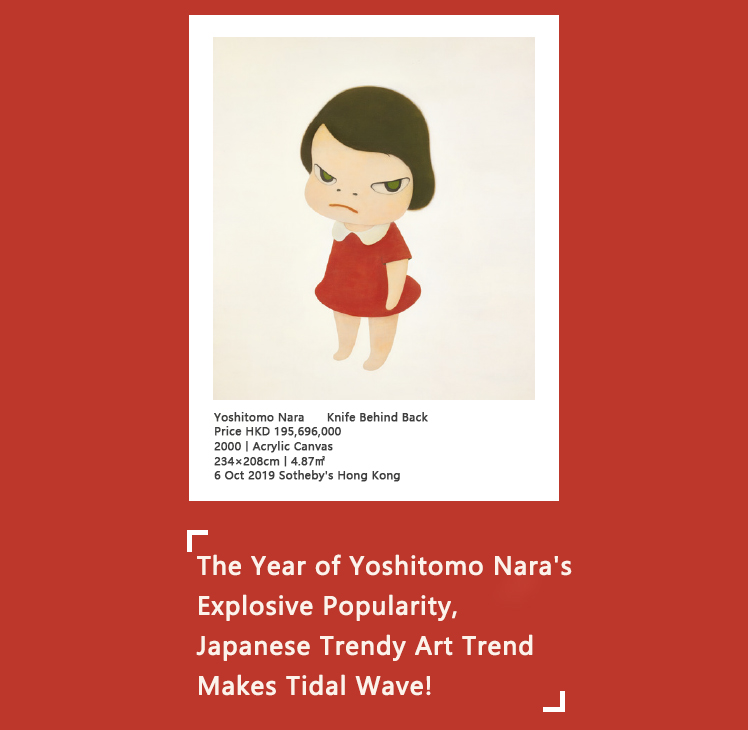 Yoshitomo Nara, unstoppable in 2019, will certainly be in the spotlight in 2020.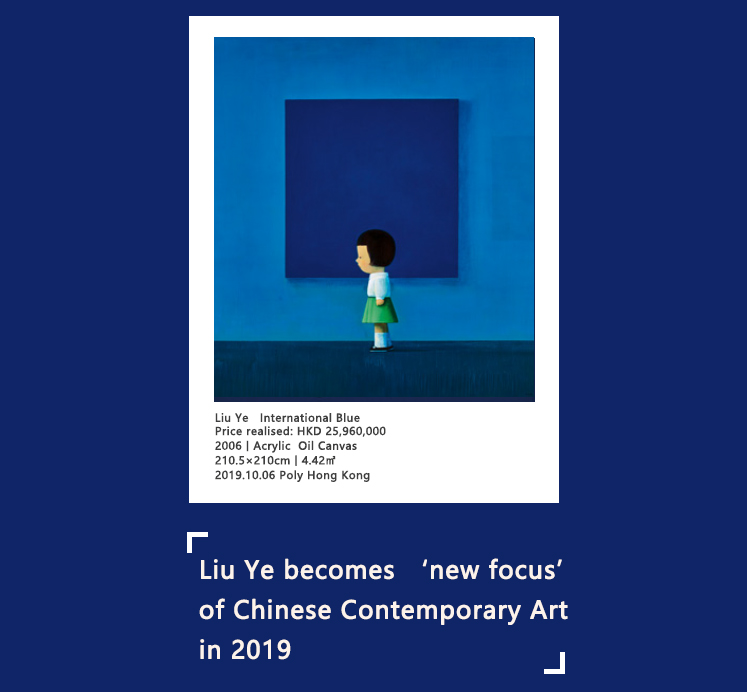 Having become the "new focus" of Chinese contemporary art in 2019, shall Liu Ye continue to keep his heat in 2020? Stay with ArtPro. Let's together wait and see!