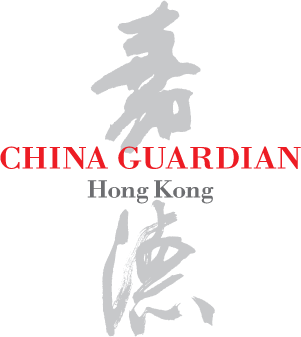 Guardian
Founded in May 2011, China Guardian (HK) Auctions is a wholly owned subsidiary of China Guardian Auctions with an elite international team of experts driven by professionalism, integrity and a passion for excellence. Since its first auction in Autumn 2012, China Guardian (HK) has firmly established itself in the city's auction scene, operating in major collecting categories including Chinese Paintings and Calligraphy, Ceramics and Works of Art, Classical Furniture, Asian 20th Century and Contemporary Art, as well as Jewellery, Watches and Luxury Goods.

Founded in 1993, China Guardian Auctions is China's first comprehensive auction house with a focus on Chinese art and artifacts. Total sales soar to great heights each year, reaffirming our leading position in the field of Chinese art auction worldwide.

As Hong Kong continues to gains importance as a hub in the international art market, China Guardian (Hong Kong) Auctions Co., Ltd. as a major player in the field will remain devoted to preserving and promoting traditional Chinese culture, offering the best services to art collectors worldwide while honouring core values of integrity, transparency and fairness, and operating in strict accordance with international standards.
Bidding
Upcoming
Auction results