The Internationalization of Contemporary Art Market Segment in Hong Kong
In the first half of 2020, each auction house performs differently in Hong Kong with many high priced works. The contemporary art segment achieved great record, with multiple Western artists broke their personal record. The ArtPro index of Hong Kong is continually rising up ! (Data collected by July 31th 2020)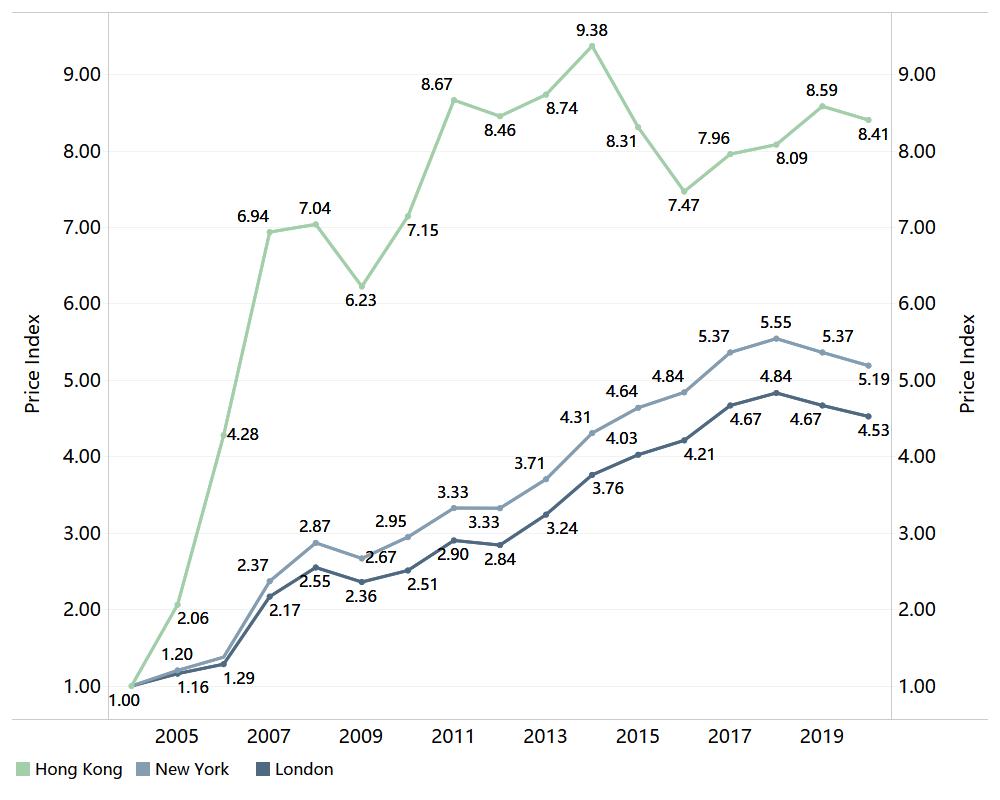 ArtPro index of contemporary art segment in London, New York and Hong Kong
Now, the auctions in last half of year in Hong Kong are kicking off soon. The contemporary art segment in this season is leading by Gerhard Richter's work Abstraktes Bild (649-2) with highest appraisal of all Western contemporary artworks. There will be many important artists like Francis Bacon, Marlene Dumas and Ellsworth Kelly who are going to have their first auction in Asia. Master pieces of David Hockney and Adrian Ghenie are also going to be showed. Both lots volumes and prices of the Western artist are quite impressive. With increasing number of Western contemporary arts participating and their significant performance, here lies a path of the development history of the globalization in Hong Kong's art market.
The contemporary art market in Hong Kong was not as prosperous as present at the beginning. Although both Sotheby and Christie had auctions in Hong Kong since 1973 and 1986, there was never a special auction for contemporary art. The beginning of Hong Kong's contemporary art market has to be traced back to "Chinese Contemporary Art". In 2004 Hong Kong had its first Auction for contemporary art only——"Contemporary Chinese Art". In the following 16 years, Chinese art works almost monopolized contemporary art market in Hong Kong from 2004 to 2014. Then after 2015, other Asian and occidental contemporary arts starts blooming.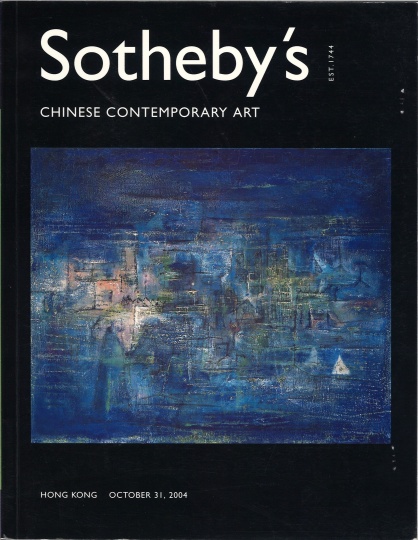 2004 Hong Kong First Contemporary Art Auction Catalogue Cover
2004-2014 Chinese Art Monopolized Contemporary Art Market in Hong Kong in Ten Years
"Chinese Contemporary Art" blew out from 2004 to 2008, turnover increased by 378% within 4 years
Following chart is the total turnover of Chinese contemporary art in Hong Kong, New York and London, from 2004 to 2008. The bars show the constantly increasing turnover of "Chinese Contemporary Art" at auctions in Hong Kong area. The first time that "Chinese Contemporary Art" was in Hong Kong auctions, received surprisingly good feedbacks with total turnover two times higher than estimate. After that it is still increasing.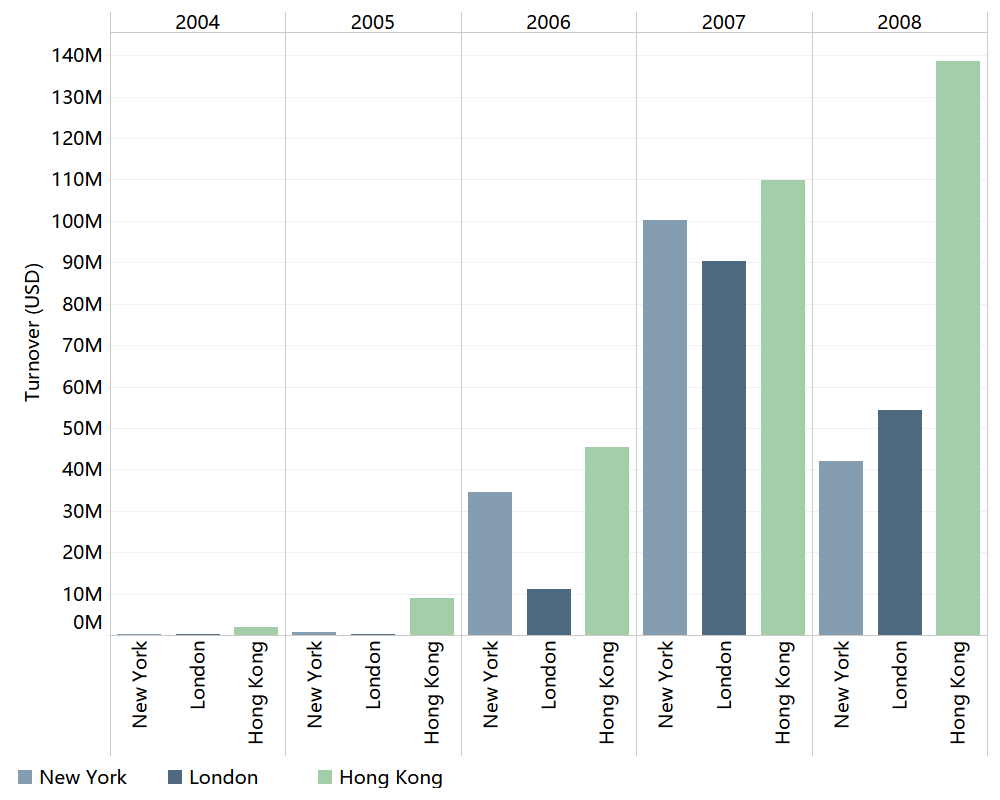 2004-2008 Total Turnover of Chinese contemporary artworks in Hong Kong, New York and London
From 2006 to 2008, the surging up trend of total turnover of "Chinese Contemporary Art" segment in the "Contemporary Art" field in Hong Kong is that related to the New York and London market. New York had an "Asian Contemporary Art" auction in March 2006, the work Bloodline Series: Comrade No.120 by Zhang Xiaogang was sold at 979.2 thousand dollar, that is 4 times higher than estimate and sets the Top1 record in this auction. In fact, Zhang Xiaogang's most expensive works only sold from tens of thousands to dozen of thousands dollars before. Not just Zhang Xiaogang, artists like Xu Bing, Zhang Huan, Wang Guangyi, Liu Xiaodong, Chen Yifei and Fang Lijun all broke their personal record at that evening.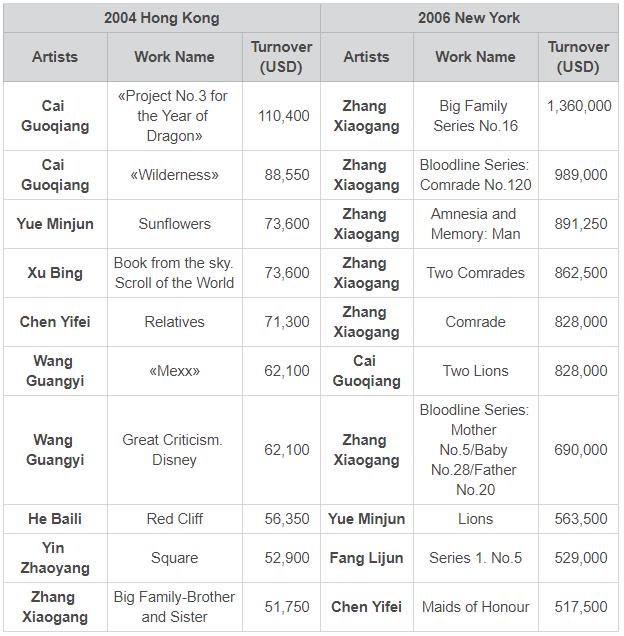 Top10 Chinese contemporary art works in 2004 auction at Hong Kong vs. 2006 auction at New York
The main auction houses given good feedbacks, and by switching between markets from Hong Kong to New York and London, the Chinese contemporary arts were spreading in global-wide, from Asia to America then Europe. In 2007 and 2008, the price of Top10 contemporary works in Hong Kong's market has rose from 10-100 thousands to 1-9 million dollar since 2004.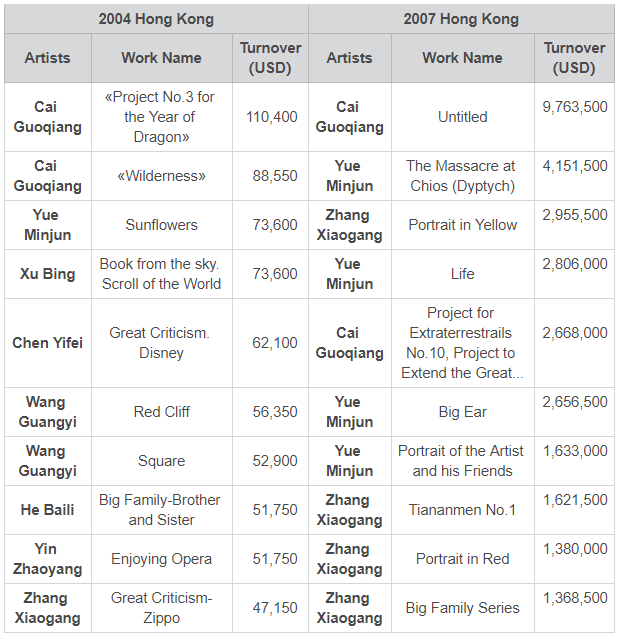 Price of Top10 Contemporary artworks in Hong Kong at 2004 and 2007
2007 could be a highlight moment for many Chinese artists. Like Yue Minjun and Wang Guangyi, their price index reached peak at 2007 and never exceeded since. Due to the affection of post-financial crisis era in Asia, the total turnover of Asian contemporary art in Hong Kong market decreased tremendously. The Contemporary art field in Hong Kong just had its first adjustment.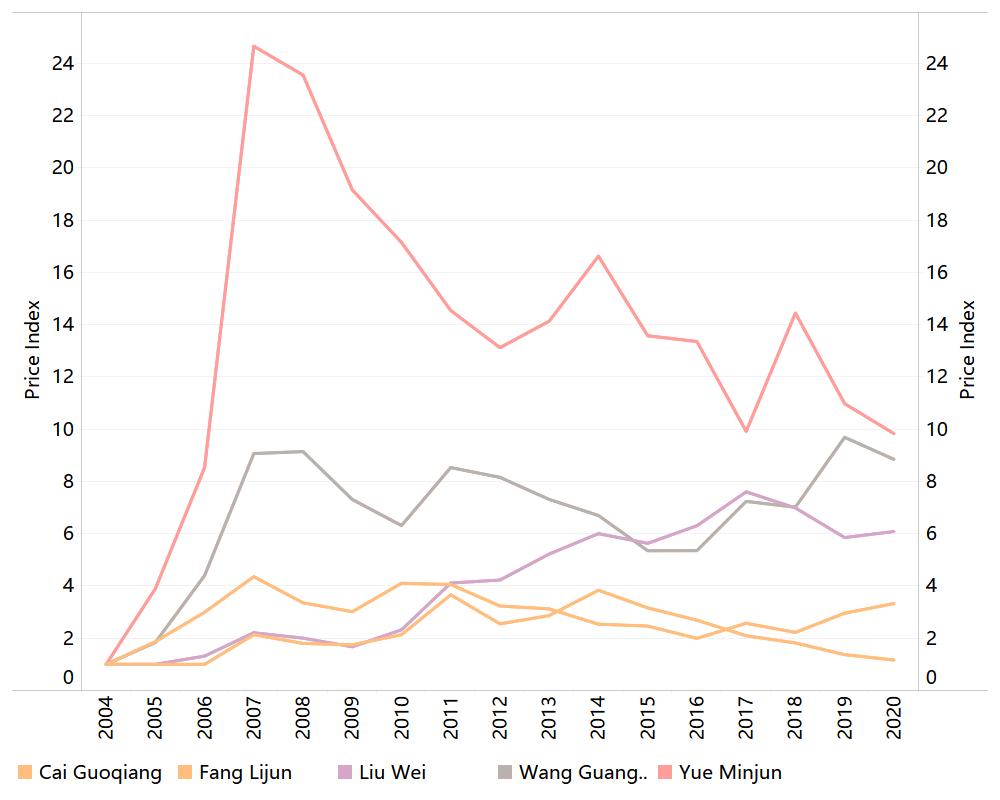 Part of price Index of Chinese Contemporary Artists
2009-2014 High priced sales of Chinese contemporary artworks, but market corrections has been decided
After the first adjusting of the "contemporary art field" at Hong Kong's auction market, but instead of breaking out as Chinese contemporary artists as a group, the focus has been moved to the classic works. Even in 2009, under many difficulties, the price of contemporary artworks in global-wide had fallen down dramatically, but works by Zhang Xiaogang and Zeng Fanzhi are still shined upon the Hong Kong art market as superstars of the field. Zeng Fanzhi sold two works in the 2009 fall auction and spring auction in 2020, with prices over 10 million HKD. Zhang Xiaogang's work Chapter of a New Century, Birth of the People's Republic of China II was sold with 3.06 million dollar in 2007 at New York, then it was sold again in Hong Kong with a price of 52.18 million HKD (about 6.72 dollar) that is two times higher than estimate.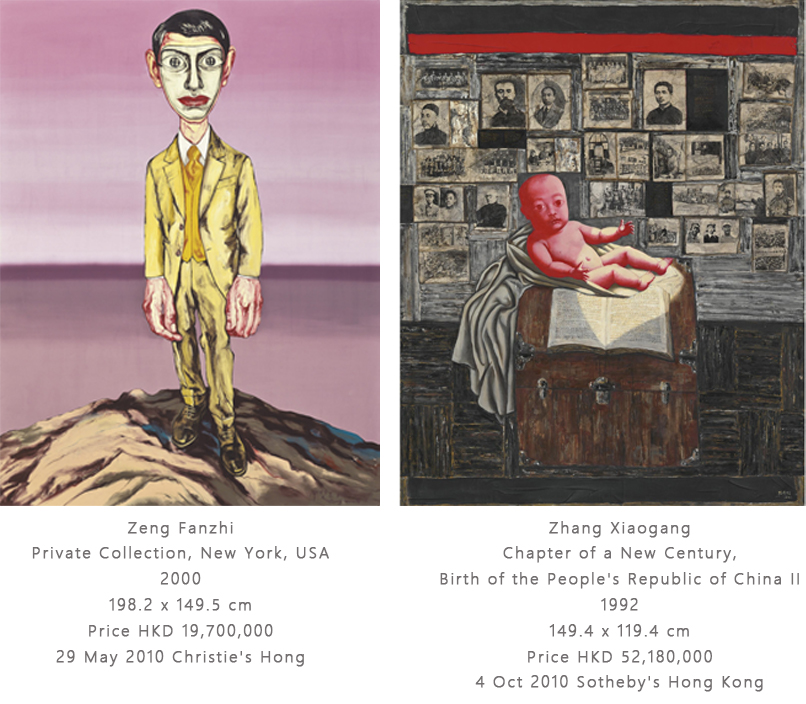 Zhang Xiaogang's work Forever Lasting Love (Triptych) was dealt with a price of 79.06 million HKD at the spring auction in Hong Kong at April 2011. In the Hong Kong's fall auction at 2012, Revolutionary Family Series - Invitation to Dinner by Liu Wei was sold with 180 million HKD (about 22.98 million dollar) that defeated Zhang Xiaogang and became the most expensive Asian contemporary artist. His another work Hospital Triptych No. 3 was sold with an extremely high price of 130 million HDK (about 14.42 million dollar), there was never an Asian contemporary artwork has been sold with such a price.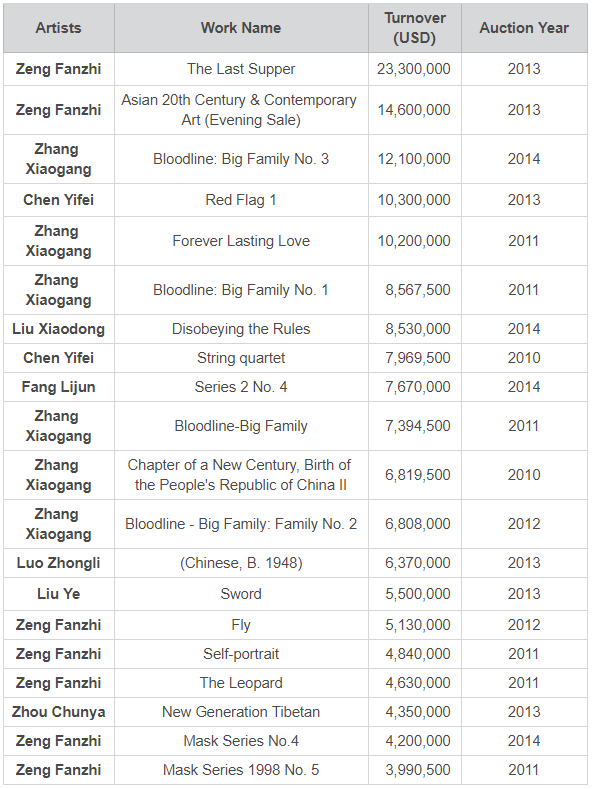 2009-2014 Top20 Chinese Contemporary Artworks
After short-lived glory, there are still some high priced sales of Chinese contemporary artists, but sometimes they have to face the awkwardness of the abortive auction of artworks. During the 6 years between 2009 and 2014, their price index and turnover are unstable, the artists on the high priced list were been through shuffling. The second adjustment of the contemporary art segment in Hong Kong, has been completed in silence during the ups and downs of the price index of Chinese contemporary arts.
2015-2020 Asian and Western Contemporary Art Blooming in Contemporary Art Market of Hong Kong
Asian Contemporary Art: Chinese contemporary arts shuffling completed, Japanese contemporary art rising up
The second adjustment of "contemporary art field" in Hong Kong is dramatic, Chinese contemporary art still occupies a big part, but no longer in leading position. The 4 years between 2015 and 2018 is been quiet for most Chinese artists, the main lots are still works of the artists like Zeng Fanzhi and Zhang Xiaogang, but no longer showing high priced bid. Till 2019 Liu Ye rised up against the stream and became the Champion on Chinese contemporary art market, his popularity is lasting in 2020.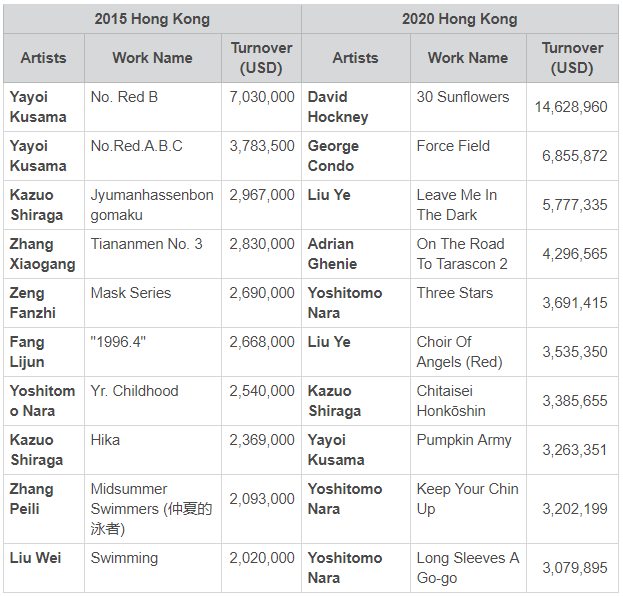 Top10 contemporary artworks at auctions in Hong Kong in 2015 vs.Top10 contemporary artworks at auctions in Hong Kong in 2020
From the top list, it shows that since 2015, Japanese contemporary art started to occupies the contemporary art market in Hong Kong. For the first time that Japanese art is on the top of Asian contemporary art market instead of Chinese art. The data shows that the total turnover of Japanese contemporary artworks only took small part of the Asian contemporary art field at 2014, then it started to become even with Chinese contemporary art.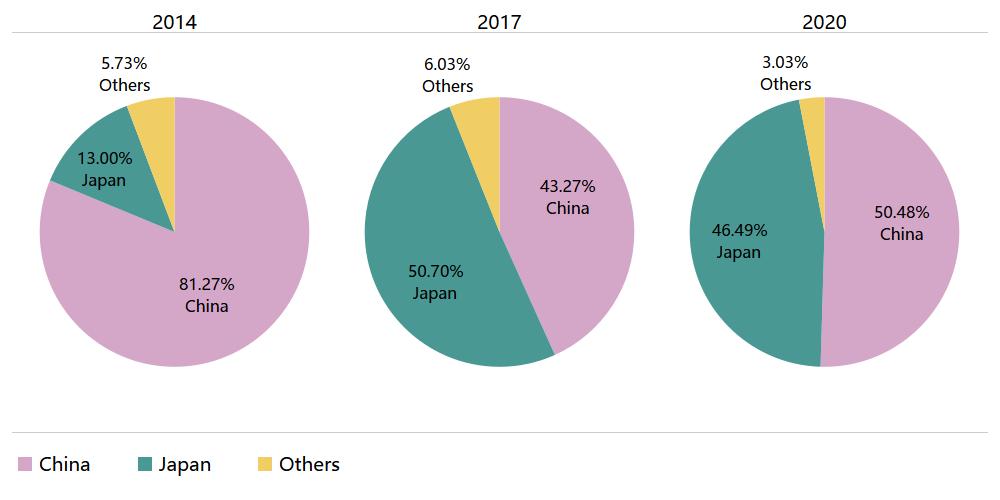 The changing of turnover of Asian contemporary art in Hong Kong's art market
Contemporary Western Art: Turnover portions went from 0% to 45% in 16 years
While the Japanese contemporary art is expanding at Hong Kong's market, the occidental contemporary art is also rising up. As a signature of Western contemporary artist, Jean-Michel Basquiat became the Top1 at the contemporary art segment in Hong Kong.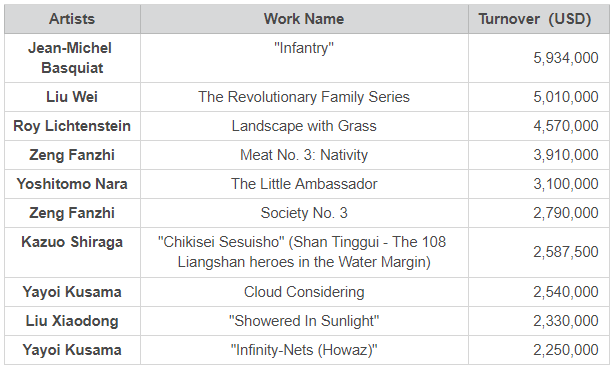 Top10 contemporary artworks in 2016 auctions in Hong Kong
Since 2019, the Hong Kong contemporary art market not only has the well-known works of artists like Andy Warhol and Jean-Michel Basquiat, there are also artists like Kaws who established his Top1 record in Hong Kong. And Eddie Martinez, the black horse who broke his personal Top list in Hong Kong for multiple times, and so far, all his Top10 works were sold at Hong Kong's market. In 2020, David Hockney sets the Top1 record in contemporary art field of Hong Kong, with many Western artists like George Condo and MR. who beat their previous record.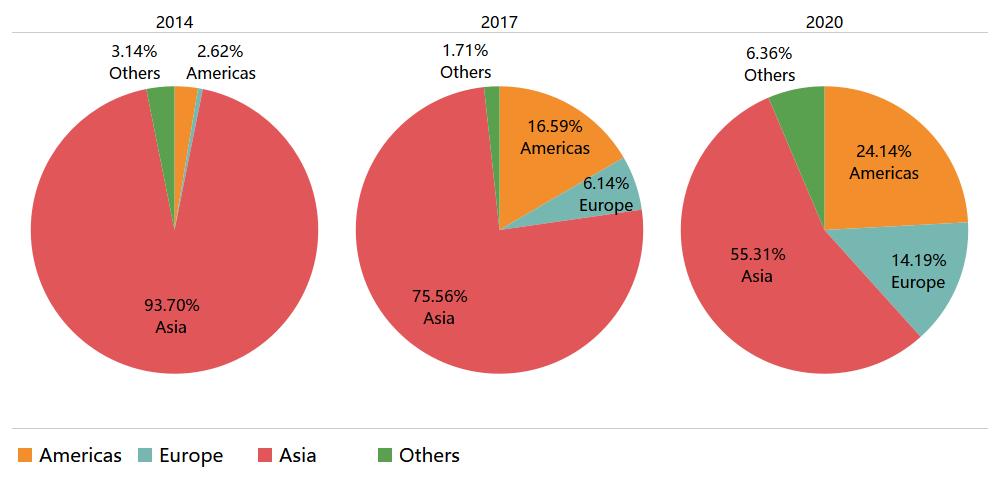 Proportion of the turnover of contemporary artworks sold in Hong Kong vs. Total turnover of Hong Kong's art market from 2014 to 2020
By looking at the chart above, we can see the adjustments in contemporary art market of Hong Kong. Whether it was famous artists like Kaws, George Condo, Yoshitomo Nara and Liu Ye, or the emerging artists like Hao Liang, Eddie Martinez and Nicolas Party, they all created new records at the market in Hong Kong.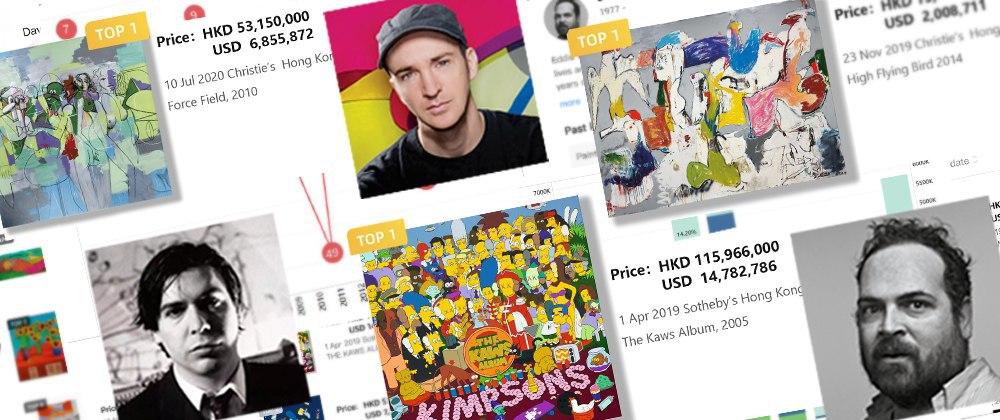 It took 16 years for Hong Kong to change from Asian contemporary arts only to both Eastern and Western arts together at the field. It is also a straight reflection of globalization and varieties of the art market in Hong Kong. The price index at the beginning shows fast increasing of art market is a worldwide phenomenon, and it's getting more international. Each different types of contemporary arts are competing at same stage, we look forward to see how the art market in Hong Kong will develop in the future.