Collection | Dialogue with Generation-Z Young Collector Zhou Nike: Post-00s' knowledge in personal and enterprise collection
4 Sep 2021, 15:06
On September 4, 2021, the contemporary art exhibition Plant Time was opened at 69CAMPUS, No. 143, North West Fourth Ring Road. The producer is Zhou Nike, a young German collector born in 2000 and returned home after completing fundamental education in Germany. He is now a junior student in the School of Economics and Management of Tsinghua University.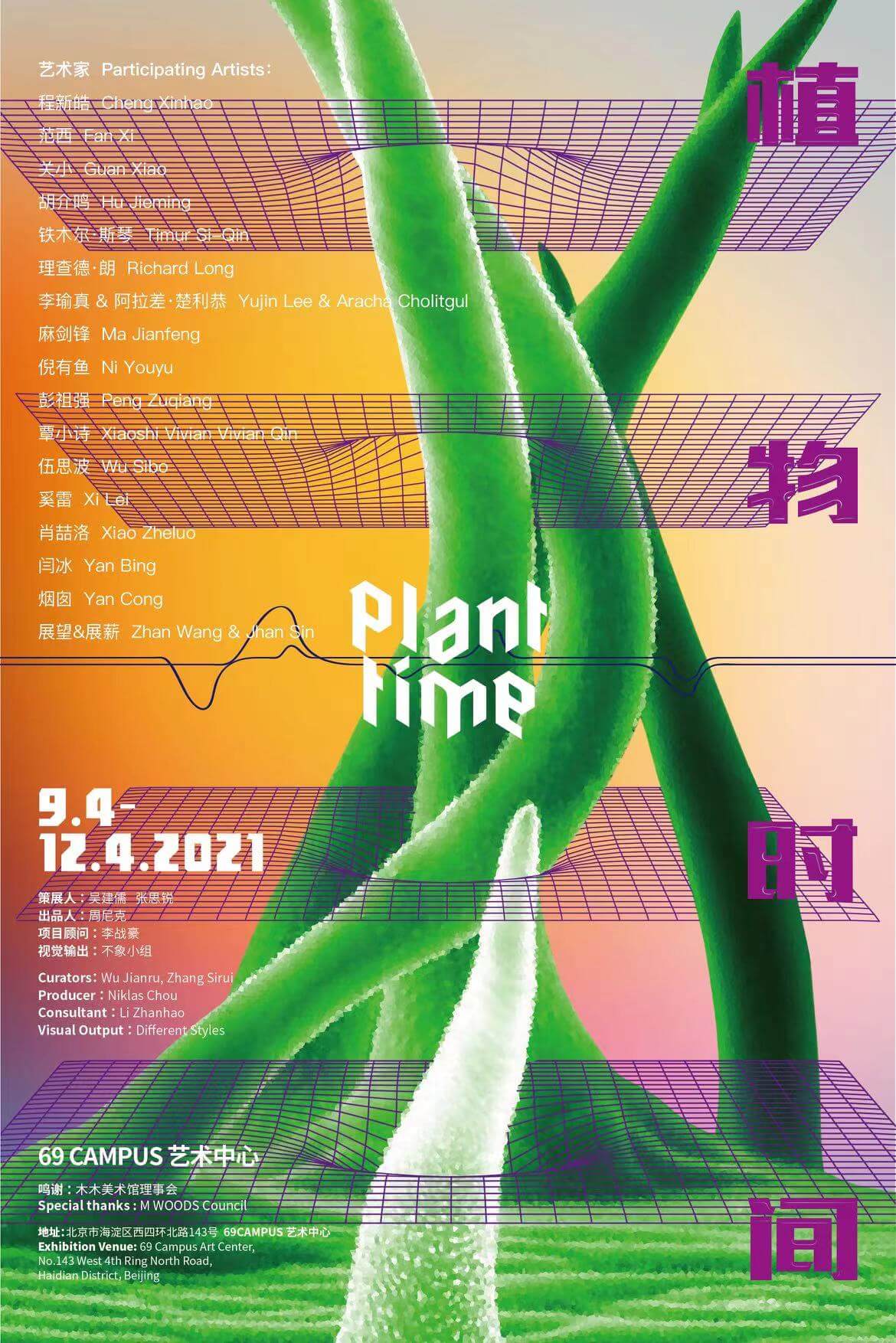 This young Tsinghua student in his prime loves music and tourism, and he's also a dedicated young collector. In the past two years, as a "second generation collector", in the approach towards art collection, he quickly crossed the stage of crazy purchasing and collecting faced by new collectors at the beginning, and orderly planned his personal and enterprise collection. He carefully studies art history, artists and works of art, goes to exhibitions and strolls INS at leisure, and talks to artists, gallery owners and collectors to get more knowledge. He accurately controls the desire to buy art works and plans his own collection system.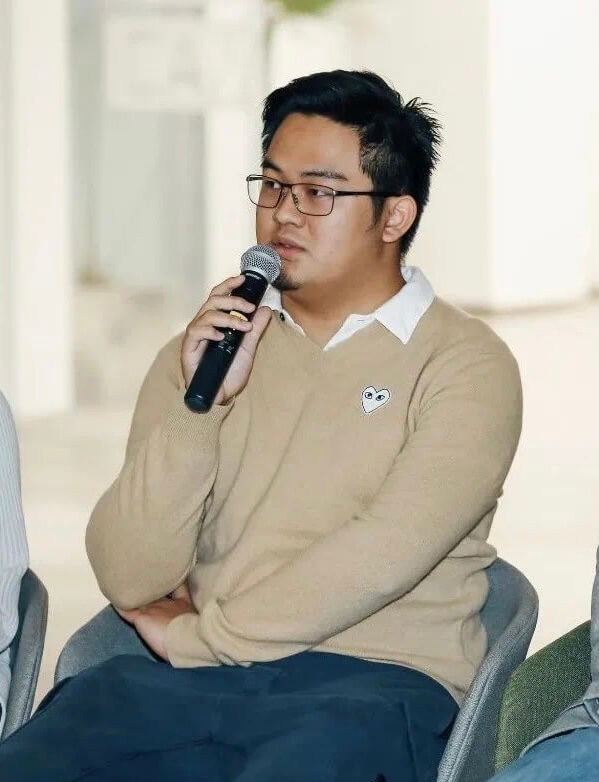 Within two years, he collected more than 30 works of art, including Wang Yin, Nabuqi, Tang Yongxiang... During the recent summer vacation, he spent much more time on collection than other things. He believes that contemporary art is full of infinite possibilities, and immersing in it shall continuously upgrade our own aesthetics. Li Zhanhao, the founder of Xiandong Hall, observes that Nike is not a person who boast, but a young collector with depth and thought in appreciating works among peers who's to become an important representative of new collectors in the future.
At the opening of Contemporary Art Exhibition Plant Time, ArtPro has an exclusive in-depth dialogue with Zhou Nike to shared his artistic ideas and collection stories to the public and the art circle.
Interviewee: young collector Zhou Nike (hereinafter referred to as Nike)
Interviewer: ArtPro Li Shuai and Xie Mu (hereinafter referred to as ArtPro)
ArtPro: Firstly, please introduce yourself and your personal interests.
Nike: I'm still a bachelor candidate at Tsinghua University, majoring in information management and information system. Since I was a child, I like playing the piano very much. Up to now, I also do music, arrange music and create some interesting clips. I mainly listen to classical music and pioneer electronic music .
I haven't studied painting, but art inspires me that music and art creation are interlinked. They interact with each other and give people more imagination.
It might be influenced by my studying in Germany, I'm greatly in favor of a group of representative artists in the Bauhaus period. I like the works of Kandinsky, Miro, Calder, Mondrian, Malevich and other artists. The works of these pioneer artists make my understanding of art history and contemporary creation more profound, which are worthy of in-depth study.
ArtPro: When did you buy your first collection? Is it the influence by family or friends that you purchase art works?
Nike: It was the beginning of 2019 that I saw the work of Paulo Salvador, a post-90s artist at a German gallery Peres Projec by chance, which brightened my eyes. After consulting my parents and the M Woods Council, I bought it at a price of less than €10000 and now it's hung in the study at my home in Germany.
Buying art works is both influenced by my parents and the M Woods Council. My father started collecting antiques as early as the 1980s and 1990s. In the last century, a large number of Chinese cultural relics and works of art appeared in the German antique market. Although my father lived overseas, he always thought he's rooted in China, so he bought some Chinese art at that time. After that, with the precipitation of time and the accumulation of long-term interest, I gradually know the doorway. At the time I entered college, my parents joined the Council of M Woods Museum, and I started my collection since then. Unlike my father's collection of antiques, I concentrate on contemporary art.
ArtPro: Is there any divergence between you and your parents while collecting? How to deal with it?
Nike: Generally, there is no divergence. The most likely difference is the price. It takes time for my parents to recognize the value of some contemporary works, especially conceptual art works. At this time, I will do a lot of research on the artist and the works, listen to the members of the the M Woods Council, tell my parents the relevant necessary knowledge, and apply for the purchase of art for myself. I hope my future collection achievements will be considerable, which shall confirm my original choice.

ArtPro: Please tell me about your current collection scale. Where do you conduct your purchase?
Nike: Within my two-year collection experience, there are about 30 collections at present, of which 25 are from young post-80s artists. The reason for collecting them is that I think their ideas and techniques surpass their peers. The most important thing is that the core and connotation of their works resonate with me. The other 5 are from important artists in the market. I will keep an open attitude towards the creative forms of contemporary art that easels, sculptures, image and installations will not be deliberately avoided.
I know and buy art works via three channels:
1. Primary market, galleries and Exhibitions. I will go to galleries and art museums to see exhibitions at home. After I know gallery artists, I will consider buying my beloved works.
2. Instagram. My foreign art purchase is mainly done on instagram. My favorite artists and galleries often recommend each other. After seeing beloved works, I will talk to the artists, or learn about studios and creative ideas by email.
3. Secondary market is considered when works cannot be bought at the primary market.
ArtPro: What kind of artists and works do you like?
Nike: First of all, the artists I like shall have a basically completed system. Through his or her works of the past two or three years, we can learn what they've been studying and thinking and the new directions they've been constantly exploring. In addition, when I contact with artists, I can understand the artist's style from the person to works. Good artists are regardless of nationality. Aesthetics does not matter about ugliness or beauty. It is the creative style that matters.
ArtPro: What is your collection concept? Is there anything you can share with collectors of the same age?
Nike: For freshmen in the field of contemporary art, accumulation and persistence are important. Don't just stay in the stage of visual stimulation while viewing works, but to rely on the connotation that moves yourself. Good works are the process of confirming history and culture.
Planning before purchase: I will decide whether this work is an investment or a collection of personal interests. Of course, good ones have both; In addition, my parents also have certain restrictions on funds, but my selection is free.
Rational process of purchase and collection: First of all, for the work that brightens my eyes, I will re-examine it every three days, five days and a month. If I like it after a month, I will buy it. If I miss it, then the work of art does not belong to me and I will find other artists who can resonate.
After purchase, you will find that personal aesthetics will be continuously improved under the influence of your collection. Be persistent, and only time can consider your own achievements.
ArtPro: This is a special exhibition displayed in the office area of BetterLife Group rather than in an art museum or a white box -- a combination of art and enterprise. Why is this exhibition made? Will BetterLife carry out enterprise collection? What are their plans for the future?
Nike: Firstly, in terms of social significance, enterprises can improve the quality of exhibitions by inviting curators and art teams to borrow exhibitions. Through the social influence of BetterLife, more enterprises can be influenced to focus on art collection, which is also a part of CSR.
Secondly, the spatial particularity of the corporate is combined with the exhibition. This contemporary art exhibition made by BetterLife also opens a leading idea. Not all the exhibitions are in the art museum or white box. The combination of the enterprise and the exhibition is also a breakthrough to allow multiple possibilities involved in art.
Finally, in the long run, in foreign countries, BMW, Volkswagen and other automobile enterprises also have good art galleries or art foundations. On the basis of learning, we hope that our enterprise collection will be better, so that the west can also pay attention to China's enterprise collection, which is conducive to international communication and local promotion.
In the future, we will continue to hold three or four exhibitions per year and cooperate with different art galleries and curators to display better artists and works.
In an exclusive interview by ArtPro, curators Wu Jianru and Zhang Sirui mentioned that this exhibition is a reflection in the post-epidemic era. Through observing plant time, we think about how far we human can create and reflect while exploring new natural situation. Plant Time tries to put forward another dimension of observing time -- observing time from the structure of plants. Plants exist more in the sense of collective rather than individual, and there is a time difference between the collective group and that within the individuals. Obviously, by understanding and learning the collective wisdom of plant life, we can better help human beings deal with the blind spot in ecological issues, imagine the time of a post human life, and surpass it. Through observing the time of plants, we can also observe the significance of plants in cities.
Focus on Highlights of the Exhibition:
Cheng Xinhao's video work Towards the Sweetness: In the voice-over the artist talks with the dog owner about the changes in crops and economy over the past two decades.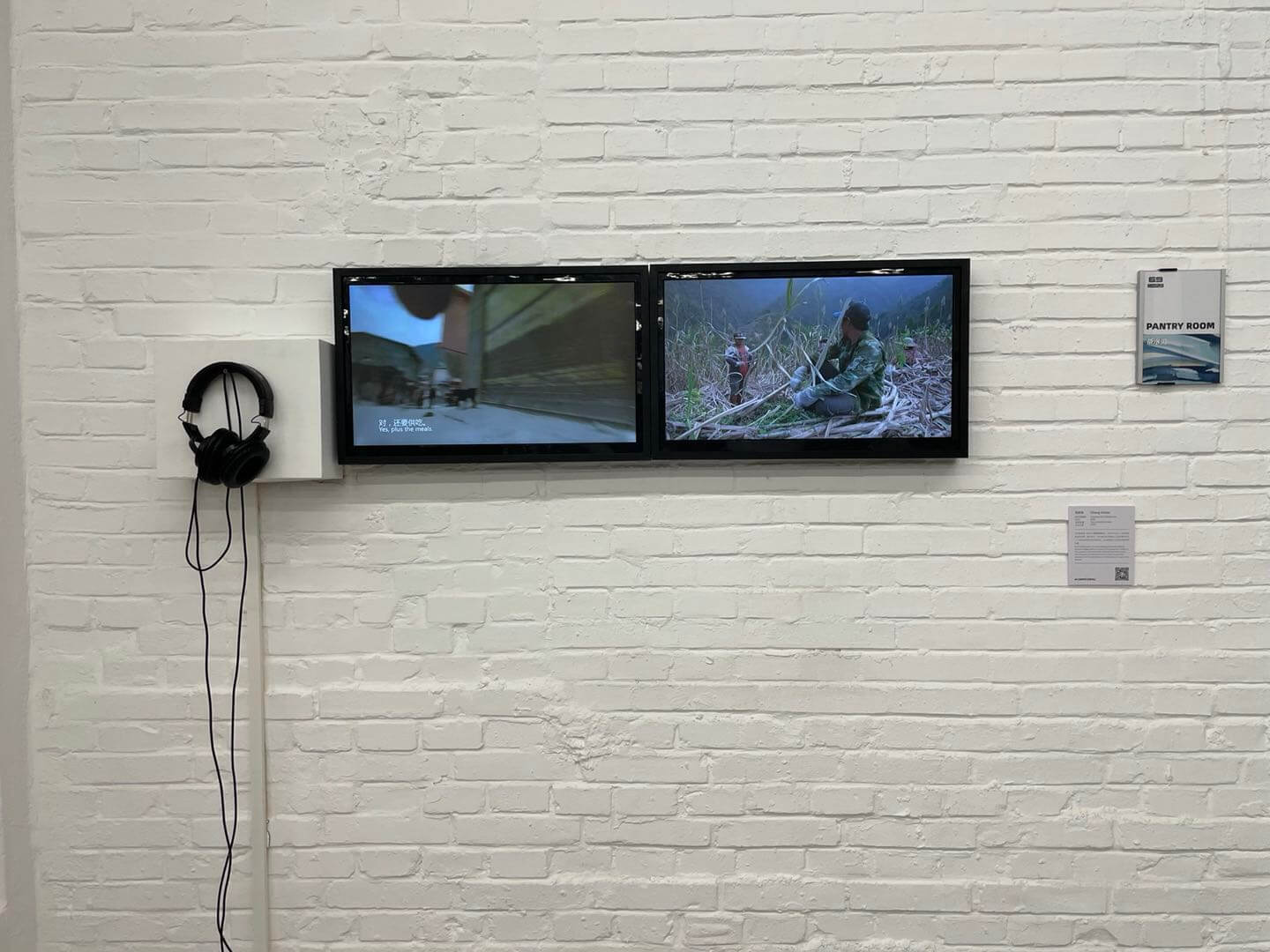 Fan Xi's Tree: Tree Series consider the relationship between image and visual impressions. This series captures hundreds of trees within the same period of time from various angles. Every tree conjures collages of various details from many trees. Through this process of viewing, the image embodies an overall environment.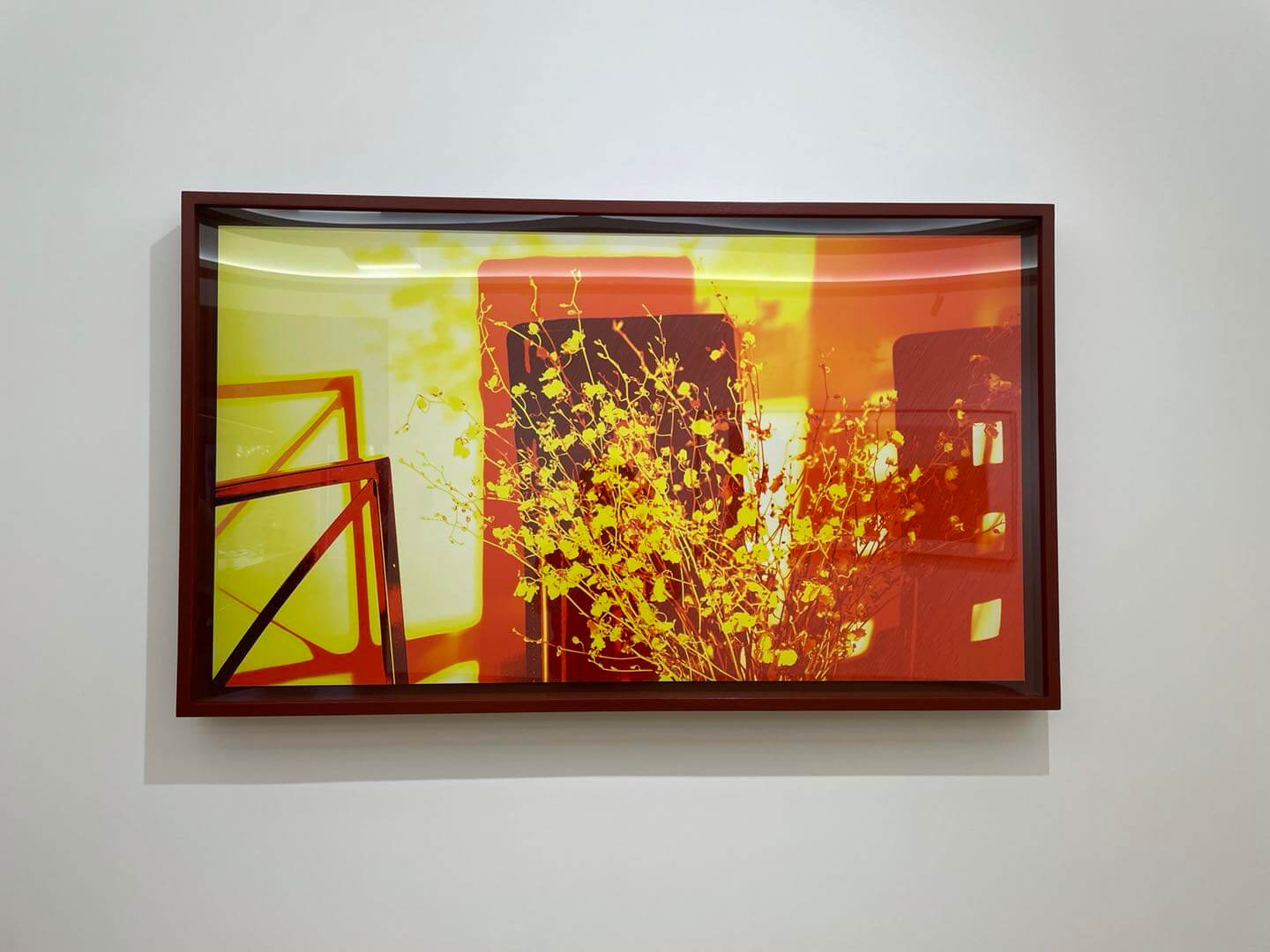 Guan Xiao's Slow Wave: Despite of the works' ambiguous representation, they imply totemic quality, emphasizing the artist's interest in industrial design, and invite us to examine products that have been produced as functional objects without apparent political or psychological message.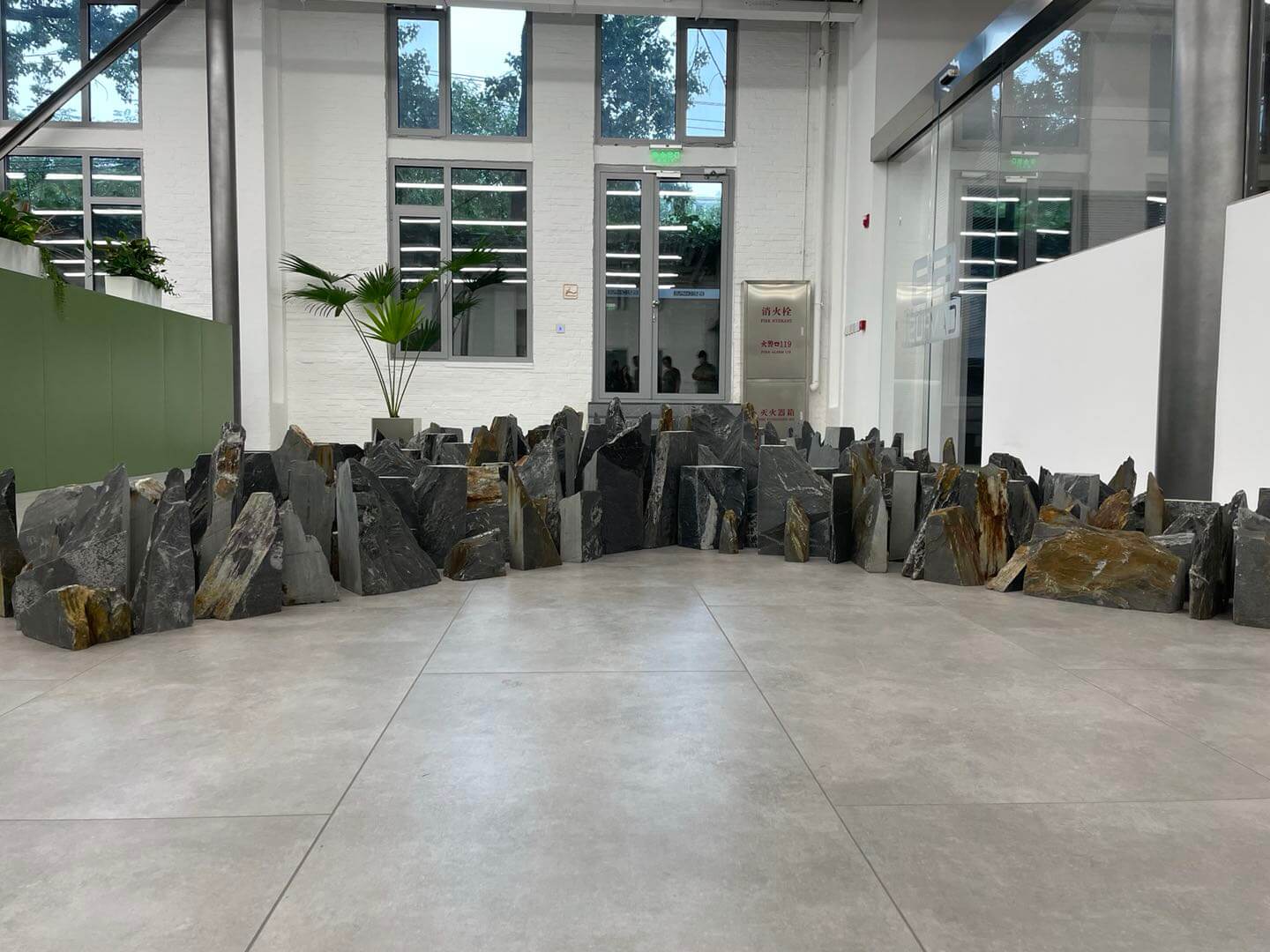 Hu Jieming's The Thing-Red 26#: "The Things" series was started during the outbreak of the COVID-19 pandemic in early 2020. This particular context offered Hu Jieming an opportunity to return to daily life. Being in home isolation allowed him to set aside the usual concerns and to focus on the everyday objects around him with attentions that had been impossible before.
Timur Si-Qin's Aat'oo BEPA: In this work, the 3d scanned tree becomes the agent and participant of a new ritual and space of worship.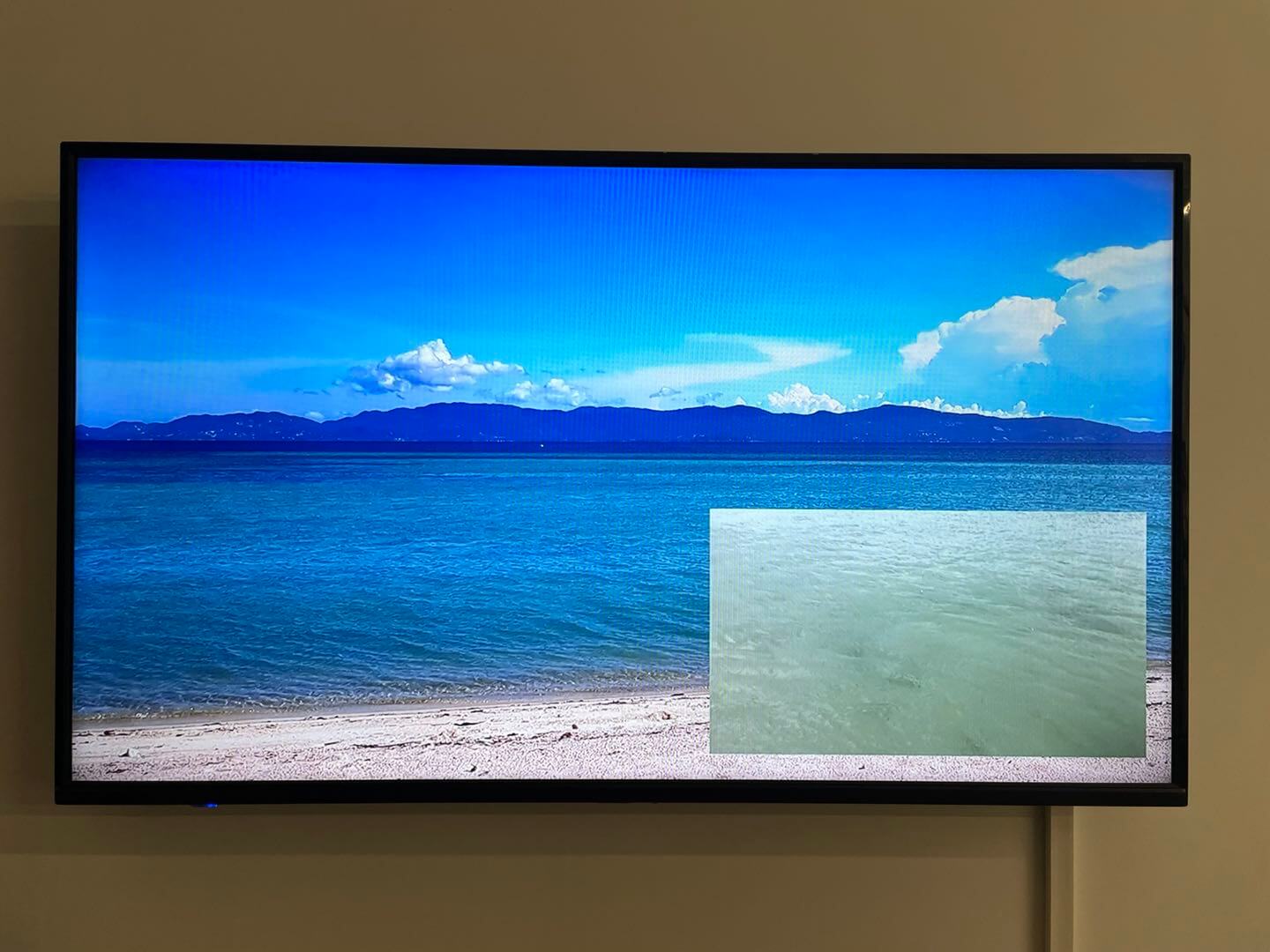 Richard Long's Four Ways: Richard Long explores the phenomenal relationship between art and nature by translating time and distance as the subject of his work through the performance medium of "walking". The slates converge and cross at the central point, revealing the diverse yet harmonious nature of the same rock when gathered together, allowing the viewer to feel the emotional power of the simple natural landscape.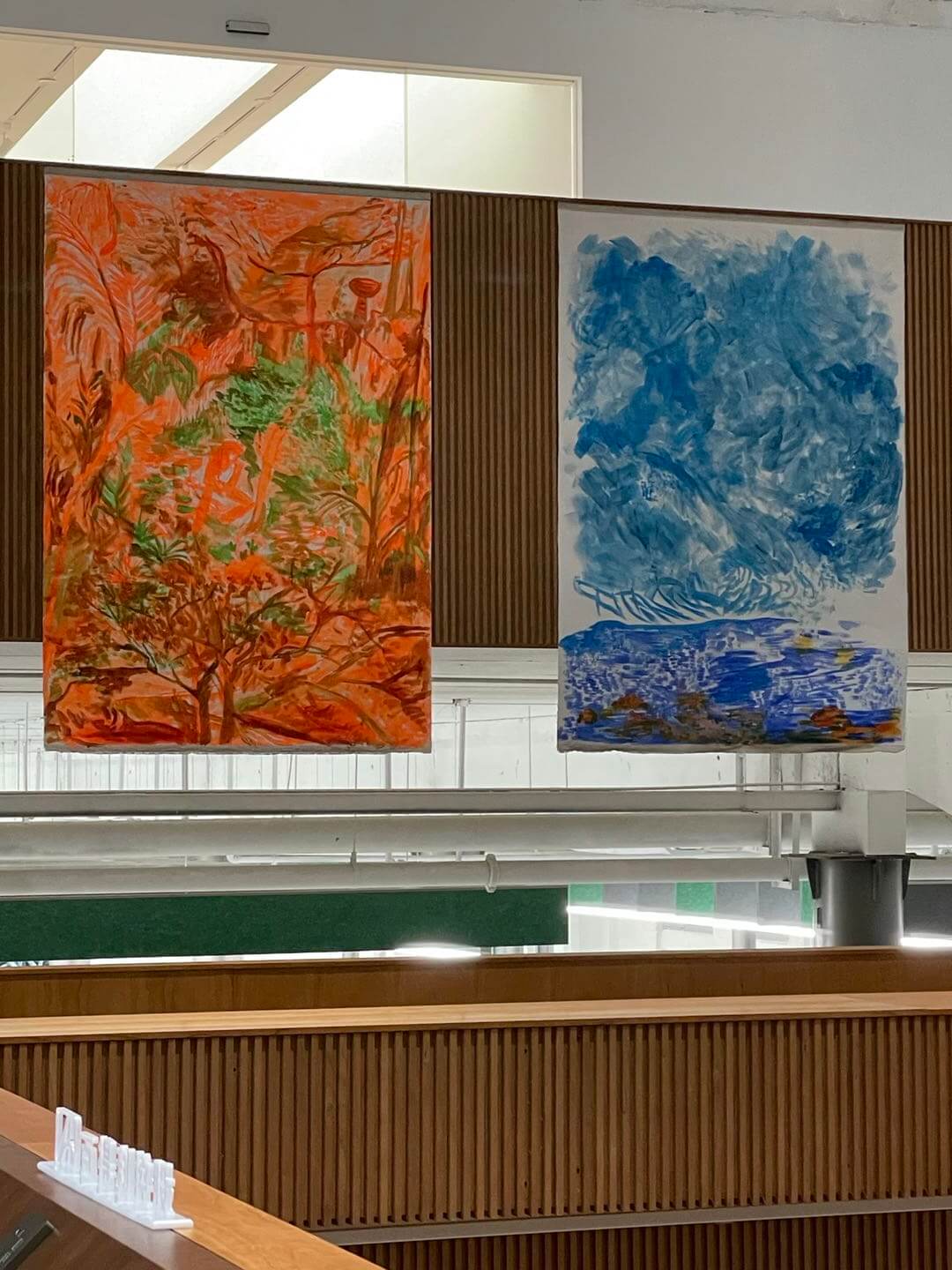 Yujin Lee & Aracha Cholitgul's Island ESC: Island is an escape. Escape is an invasion. Invaders are us.Island is nature. Nature fills a void. The void fills us.
Ma Jianfeng's Dinawan Series 6 & 9: Both works in the exhibition show wild brushwork and intense colors of Expressionism, and the nature observed in the images is permeated with an atmosphere of uncertainty, generating a compelling visual contrast with reality. The unframed approach is a continuation of the artist's display method of using locally found wood as a support for his paintings on the island.
Ni Youyu's Twilight of the Giant: During the western development of the United States in the 19th century, the gold rush triggered a large demand for wood, resulting in a "logging wave". A large number of thousand-year-old redwoods were cut down. These 2000 years old trees were gradually eroded out of human greed.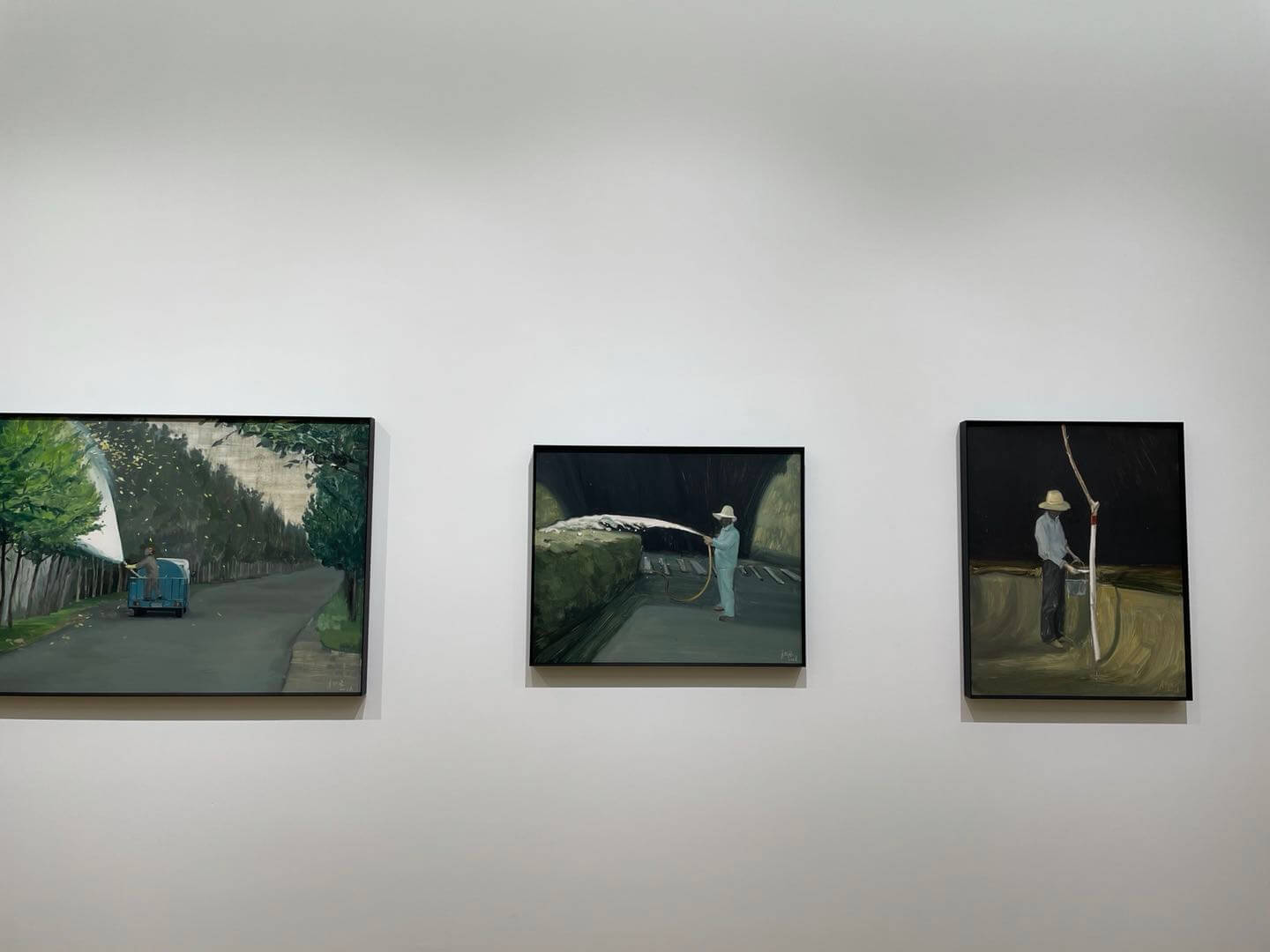 Peng Zuqiang's Keep in Touch (1, 4, 5): Improvised with a non-white cast, and prominently featuring queer and Asian bodies, these fragmented memories, uneasy gossip, and moments of silence, center on one key question: When the idea of an individual subject cannot take form, how might we reconsider being visible, audible, or legible?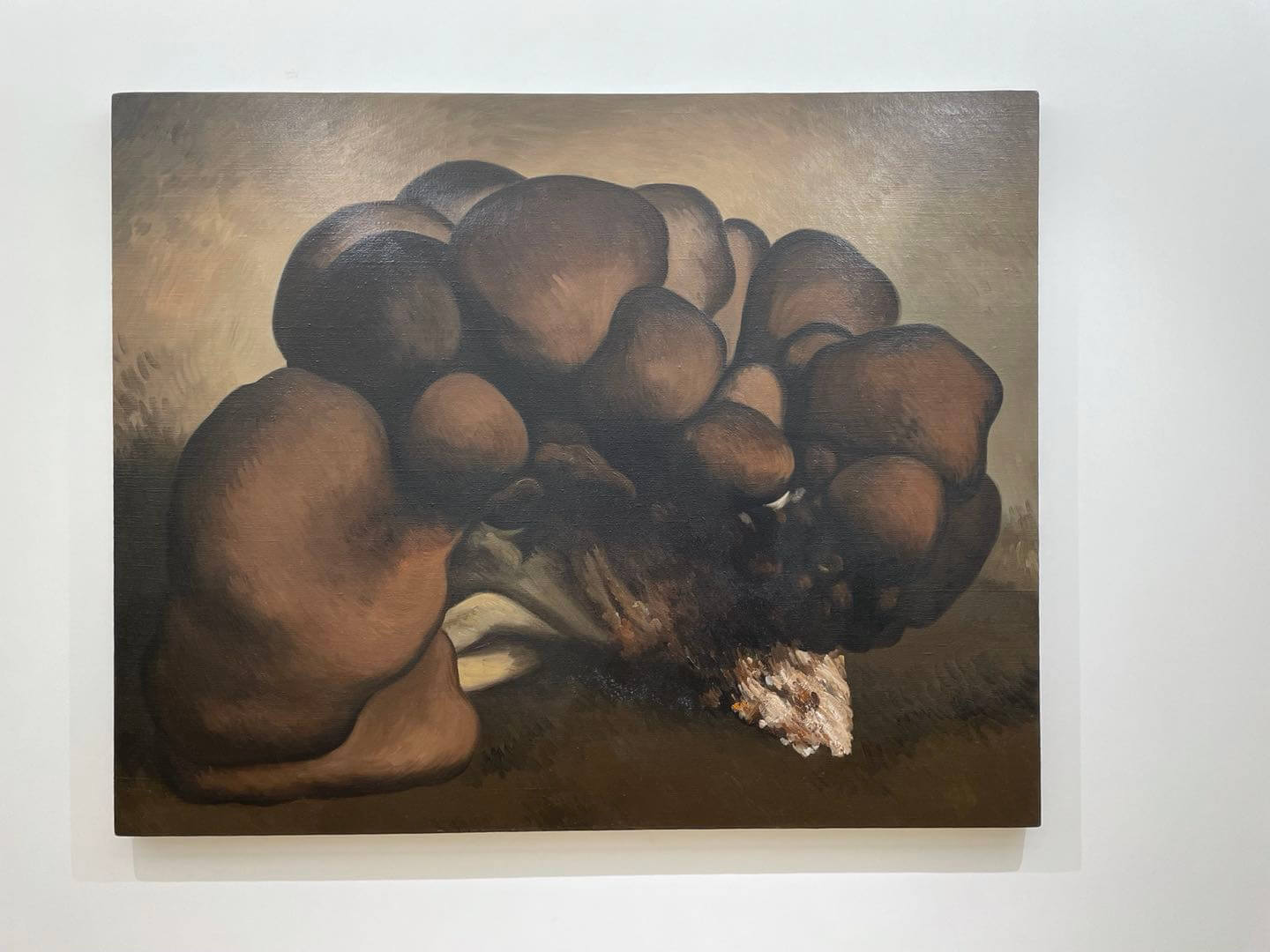 Xiaoshi Vivian Vivian Qin's 0: The swaying flower stems in front of us prompt the question, where the support of the space we live in comes from? Or, perhaps it is just an obvious record and test of the existence of the pillars of the world.
Wu Sibo's The Constructing Mine Park: The artist is fascinated to dig into the meaning behind this landscape that appears to be a scenic area in a non-touristic sense - an artificial desolation.
Xi Lei's To Look Is to Die: This work alludes to the spiritual dilemma of numerous current revolutions. Moreover, it aims to reflect on the ontological presuppositions of the relevant mainstream Western discourse, particularly the ontological presuppositions of self-consciousness and time, and the associated anthropocentric perspective.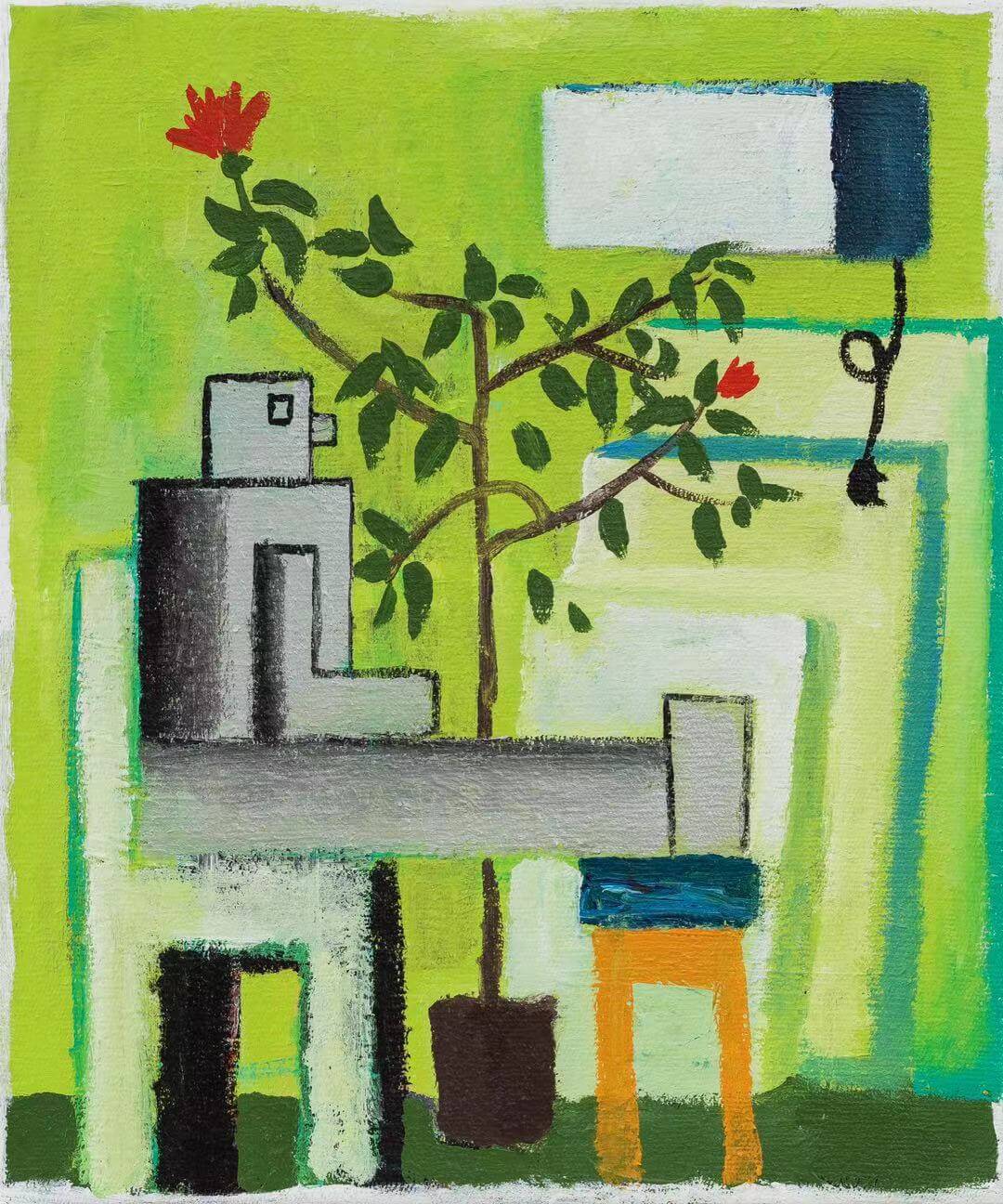 Xiao Zheluo's Pest Control No. 1,Watering, and Washing Off Dust: the three worksfocus on the multiple identities of plants and people who are integrated into the various corners of the landscape. The viewers and city dwellers become the tools serving these plants in such specific situations, transforming their natural appearance; while the trees lining up the street, as ornamental objects and urban decorations, evolve into subjects to be served, receiving and performing human actions.
Yan Bing's Mushroom: Mushrooms grow in the dark and do not require photosynthesis, and their layered and multiplying flaky forms distinguish them from the blocky shape of the potatoes. They generate a new tension in the structure that resonates with the dark and gloomy tone of my images.
Yan Cong's Cozy Home: The robot in the work is from a series of comic work Beggar Cartoon, which is also one of the incarnations of the artist himself in the work. The home in the work is the place where Yan Cong lived in Chengshou temple in 2016. Despite the small space and the dim light, his wife Shangshang still arranged the home comfortably.
Zhan Wang & Jhan Sin's Planned Forest - Planting: On a slightly gloomy and rainy day, Jhan Sin, in public school uniform, plugs her legs in the soil, as if she were a tree that had just been planted in a man-made forest.
ArtPro will continue to update the growth of collectors and the latest news of BetterLife enterprise collection. Stay tuned for more highlights.
Venue: 69CAMPUS, BetterLife Automobile Park, 143 West Fourth Ring North Road, Haidian District, Beijing
Time: September 4-December 4, 2021
Curators: Wu Jianru, Zhang Sirui