René Magritte | Auction Market Personal Report
As an art style, surrealism has been underestimated by the market for a long time, people believe only a few number of collectors are interested in this field. In fact, surrealism is closely related with contemporary imagery media and advertise production, music and film also let surrealism plays an important role in contemporary art world. As the globalization of art market developing and new buyers involving. Young collectors are more interested in those works that are mysterious and stylish with strong decorative feature, surrealism works just fulfilled these needs.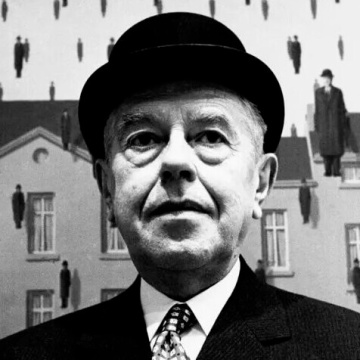 René Magritte is one of the most popular artists in surrealism movement, his turnover keep raising up since 2000. The price index achieved a leaping from 1 to 5 within 20 years.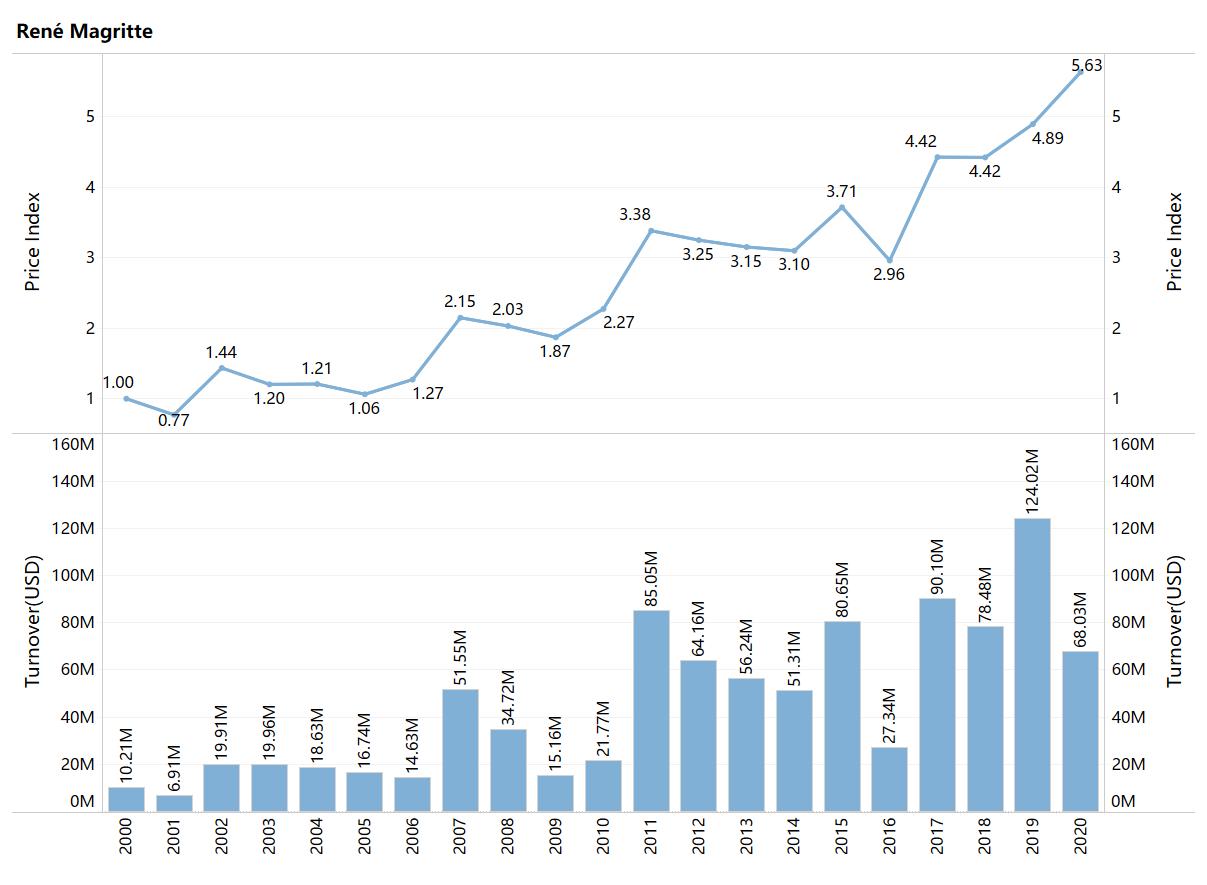 Price index & Turnover of René Magritte
His work "Le Principe Du Plaisir"has been sold at Sotheby's New York in 2018 with USD $26,830,500. It broke the artist's personal record, also achieves the most expensive surrealism painting ever sold on market.
In the meantime, his another work "A La Rencontre Du Plaisir"has been sold at Christie's London in February 5th this year with USD $24,552,718. In top-ten list of the most expensive paintings byMagritte it occupied second place. This not only make his a black horse on the market in 2020, also made him into the "Hundred million club".
Margritte's total turnover in global wide is increasing rapidly in recent years. From the Top25 in 2017 to Top5 in 2020, he becomes one of the most popular artists in this year.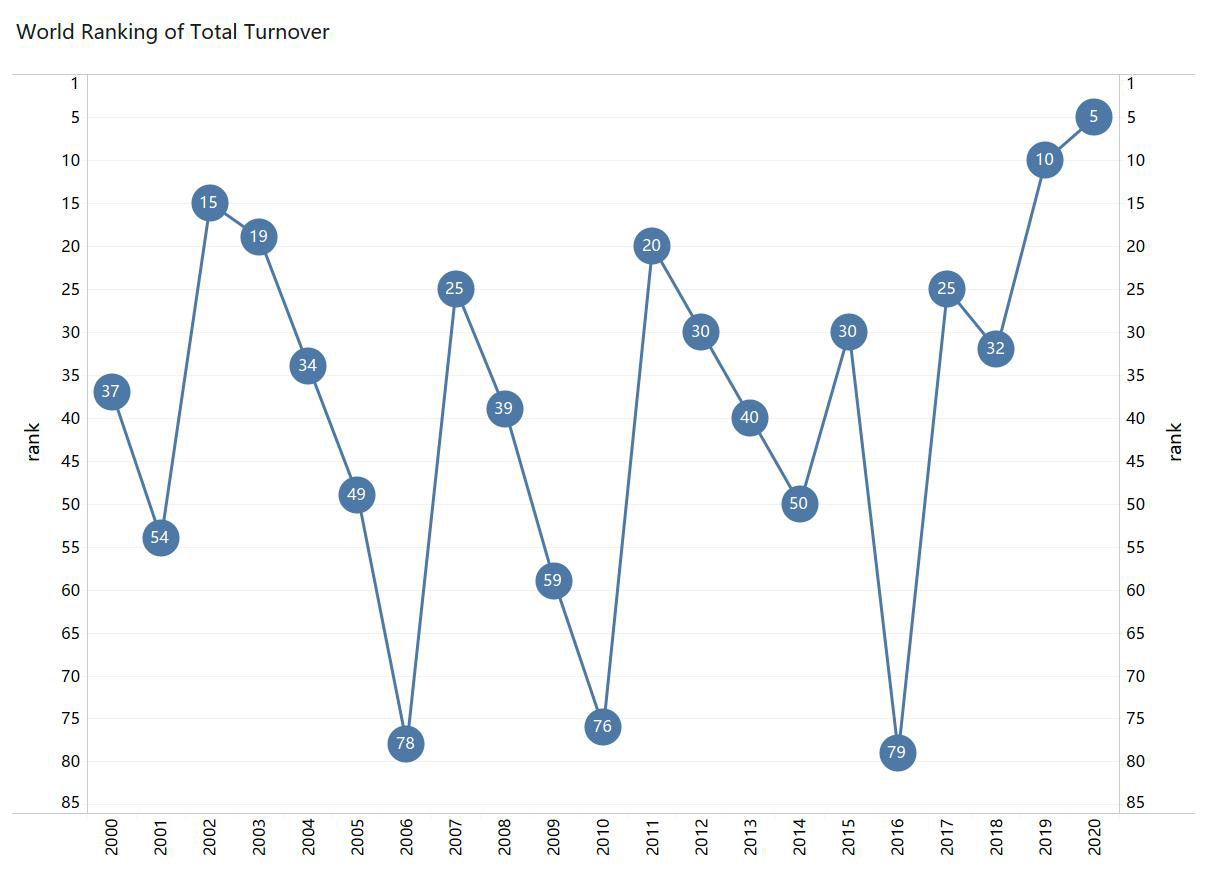 René Magritte's turnover ranking in global-wide
René Magritte Data Analysis in Different Period
René Magritte(1898-1967) is the most outstanding Belgian surrealism artist in 20th Century. He was born in Lessines, and used to study at Royal Academy of Fine Arts of Brussels, after that he started to explore surrealism painting. In 1927 he moved to Paris and entered a blooming period. Through his over 40 years art career, his works can be divided in to three period: Before 1940 (Exploration Period), 1940-1948 (Transition Period) and 1948-1967(Mature Period).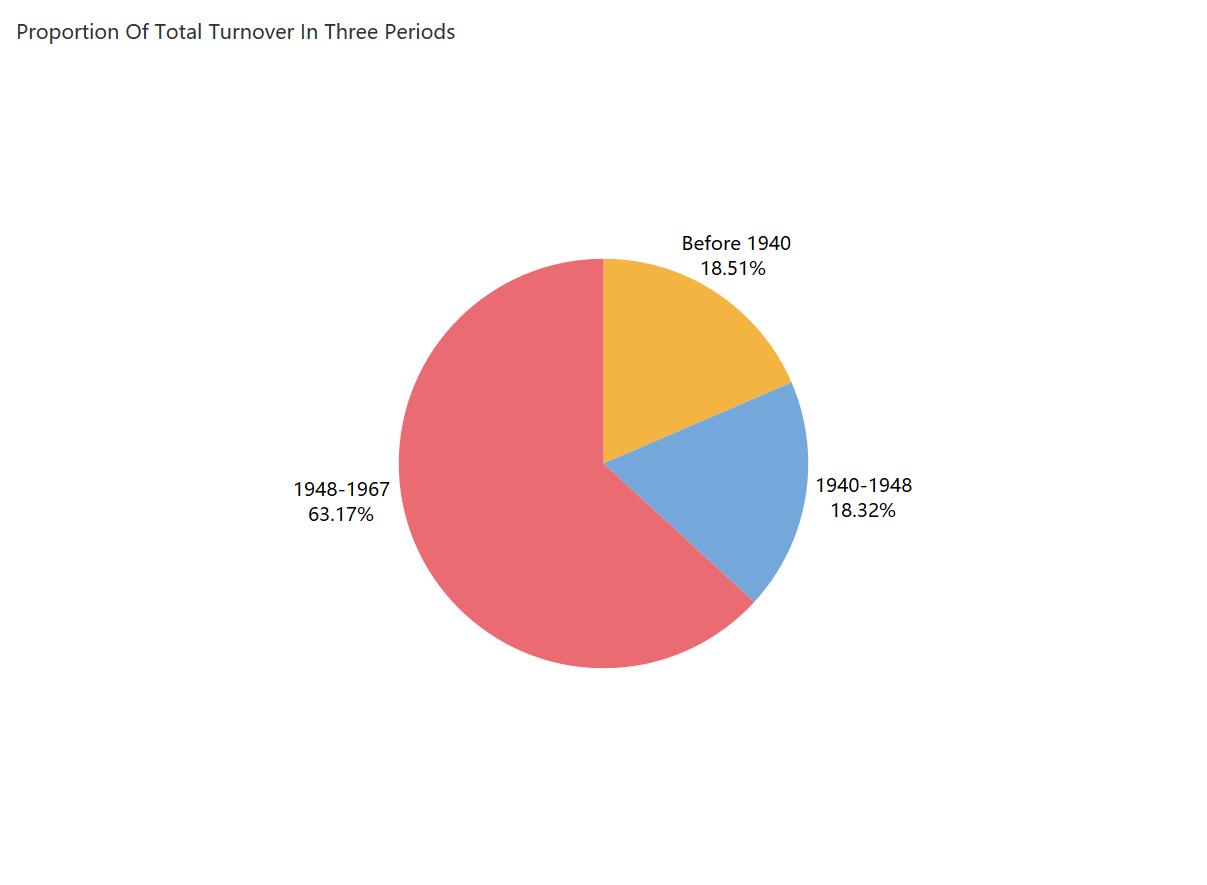 Turnover proportion in three periods
In Margritte's Top20 list, there are 15 pieces are from 1948-1969 (Stable Period), 4 pieces are created before 1940 (Exploration Period) and 1 is from 1940-1948 (Transition Period).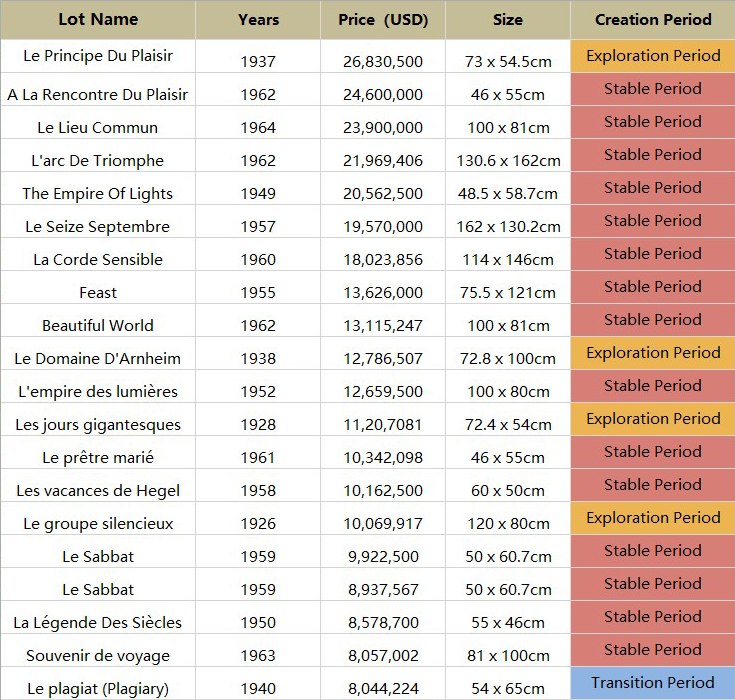 Top20 list of René Magritte
In fact many of Margritte's classic work are from his early and middle career. Now, let's take a look at the his styles in different periods.
René Magritte: Analysis and Introduction of Works From Three Periods
Beofre 1940 (Exploration Period)
After finished his short term military services in Belgian infantry, he worked as a draughtsman in a wallpaper factory, and then studied at Royal Academy of Fine Arts of Brussels. Here he learned the art of Cubism and Futurism. In the work "Femmes (Women)"that he painted in 1922, we can find the influence of Cubism and Futurism by Picasso.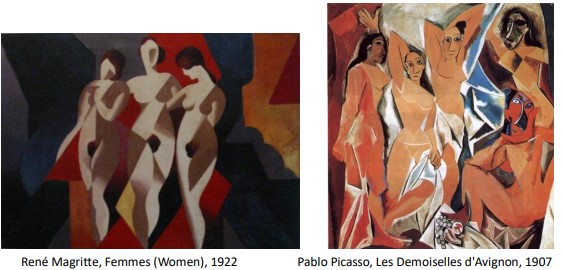 Magritte and Picasso's works comparison
After the short experience with Cubism and Futurism, the poet Marcel Lecomte showed Magritte a reproduction of Giorgio de Chirico's "The Song of Love" (painted in 1914). This work described a huge empty square, where a plaster sculpture of ancient Greek male head and a pair of rubber gloves exist in this space at the same time. The strange juxtaposition of objects creates an absurd, bizarre and yet a dreaming atmosphere that revealed to Magritte the poetic possibilities of painting, and even influenced the direction of art career path in his entire life.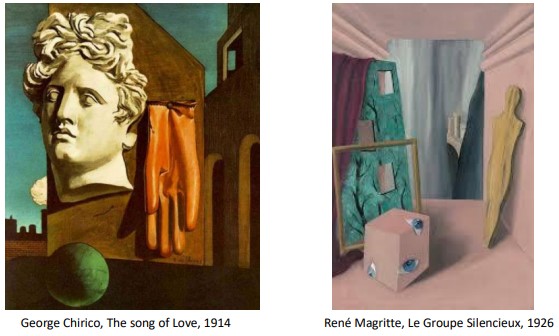 Magritte and Chirico's works comparison
Magritte said "This is one of the most moving moments of my life: my eyes saw thought for the first time." After that he started to explore the boundary of conscious and subconscious. His early works are full of philosophic thoughts, and mostly around still lives and landscape or have strong narratives. Since 1920, he started to explore the random relationship between images and words. One of the most well-known work is "The Treachery of Images"in 1929, the image depict a pipe with line of text under: "This is Not a Pipe". This painting is pushing audience's cognition to their limitation.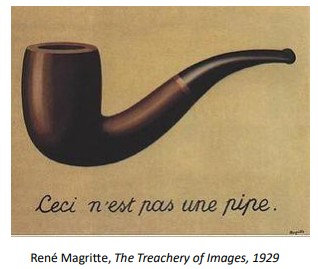 Magritte moved to Paris between 1927 and 1930. Here he became friend with André Breton, the French writer and poet, the co-founder of surrealism movement and officially join the surrealists group. During this time, his personal style is getting mature, he created many classic work like L'ombre celeste (1927) and "Les jours gigantesques" (1927).
However Magritte was not happy while in Paris, he felt his thoughts are incompatible with other surrealist artists. After his wife Georgette was mocked in public because she once wore a necklace with a gold cross to a party, Magritte decided to leave Paris with her and went back to Belgium to continue his art creation.
1940-1948 (Transition Period)
This is a very special period for Magritte, his style has changed dramatically. In 1943, when Belgium has already been occupied by German Nazi, Magritte is deeply troubled by an existential crisis. In his letter to Breton he wrote: "The confusion and panic that surrealism wanted to create in order to bring everything into question were achieved much better by the Nazi idiots than by us." When the real daily life became surreal, who would want to pay attention on the ordinary anxiety? So he abandoned the grayish tone and the philosophical thoughts in his classic works and decided to launches out in a type of painting inspired by impressionism in order to combine, through his personal research, the expression of the feelings of lightness, unconcern, in order to arouse the primitive impulse of happiness of all people.
Like the "Renoi period (1943-1946)" and "Fauvism period (1947-1948)", in these times his works imitated the style of impressionism and fauvism separately.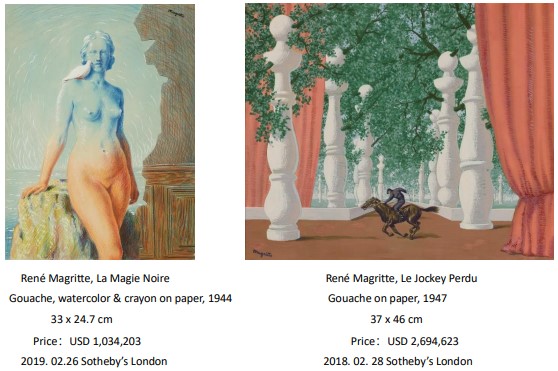 1948-1967 (Stable Peiod)
In this period Magritte returned to his successful painterly style. During this time, many of his works have an interesting feature of "huge". He likes to enlarge daily objects to extremely large scale and put them into spaces that make them look proportionally huge, in order to create a disturbing feeling. For example, in his work "Personal Values"(1952), he painted a windowless room with a cloud-strewn sky for wallpaper rest disproportionately sized household items like comb, match and goblet. These enormous everyday objects are challenging the viewers' sense of reality.
Another work "Heartstring" features an enormous crystal, champagne glass which dominates a natural landscape. The glass is empty apart from at the top, where a huge, white cloud rests in the rim of the glass. It is provoking the experience of how people are viewing the world, teases the viewer, who tries to understand the meaning behind such a surreal.
Magritte didn't change his style a lot in his whole career, he was not driven by the prevalent art movements. Instead he always focus on creating this magical and dream liked world. This world is based on reality but totally different. Here all the logics can be overthrown, the visual perception were challenged that upsets people. He used it to reflect the so called "reality" in our real life.
Magritte's price index doubled in 10 years and still increasing, which means that the market is paying a lot more attention on him. In fact, the price of surrealism works are keep raising up in recent years, other surrealist artists also received good feedbacks. We can say that the collectors' passion towards surrealist works are not just 5 minute wonder. To acquire more information, please contact our ArtPro customer service.