HK $258 million, Quatre Nus continues the"San Yu Fever", How nude portrait made such a fame?
On July 8, 2020, Sotheby's Hong Kong Modern Art Evening Sale concluded. After fierce bidding for 11 minutes, San Yu's Quatre Nus, started at HK $160 million , finally won a good performance of HK $258 million and delivered an excellent answer for the auction tonight. Once again, San Yu's nude portrait has been pushed under the spotlight.
In recent years, the "San Yu Fever" has always been an increasing trend in the auction field. The "nude's portrait of San Yu style" has shown an amazing explosive force. Both the highest turnover and the average turnover have created amazing achievements. In particular, in 2019, Five Nudes and NU were sold at a high price of HK $300 million and HK $190 million respectively. This time, Quatre Nus has made remarkable achievements, indicating that the glory of nude's portrait will continue in 2020.
Why can the nude's portrait in San Yu's works sell high prices from time to time? What is the uniqueness behind the high value?
Part1. High Value: From the Perspective of Annualized Return Rate, Five Nudes PK Quatre Nus
Five Nudes Has Been on the Top of the List for Eight Years, and Won the Top1 again in 2019, with a Dealing Price of Twice in Nine years.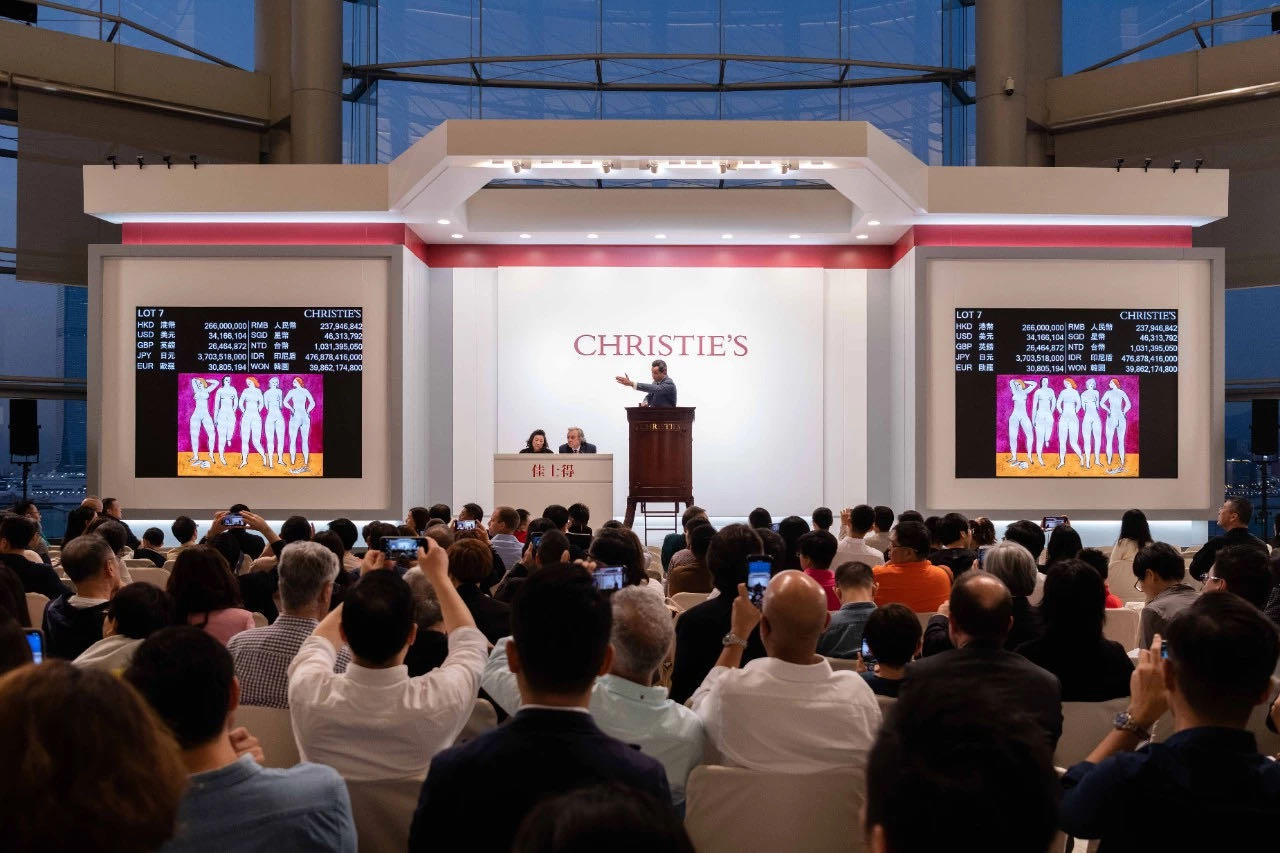 Auction Scene
On May 30, 2011, Five Nudes was auctioned on Ravenel Hong Kong without bottom price, and finally sold for $16.5 million US dollars, becoming the Top1 among San Yu's most expensive turnovers at that time. It was also the then most expensive Chinese oil painting around the world, which shocked the entire art field. The personal auction record of San Yu has been kept for eight years.
It was not until October 5, 2019, when NU, the last nude's portrait of San Yu, was auctioned for $25.2 million in Sotheby's Hong Kong, that the record of Five Nudes was broken. However, this record was only maintained for more than one month and was renewed by the auction of Five Nudes again.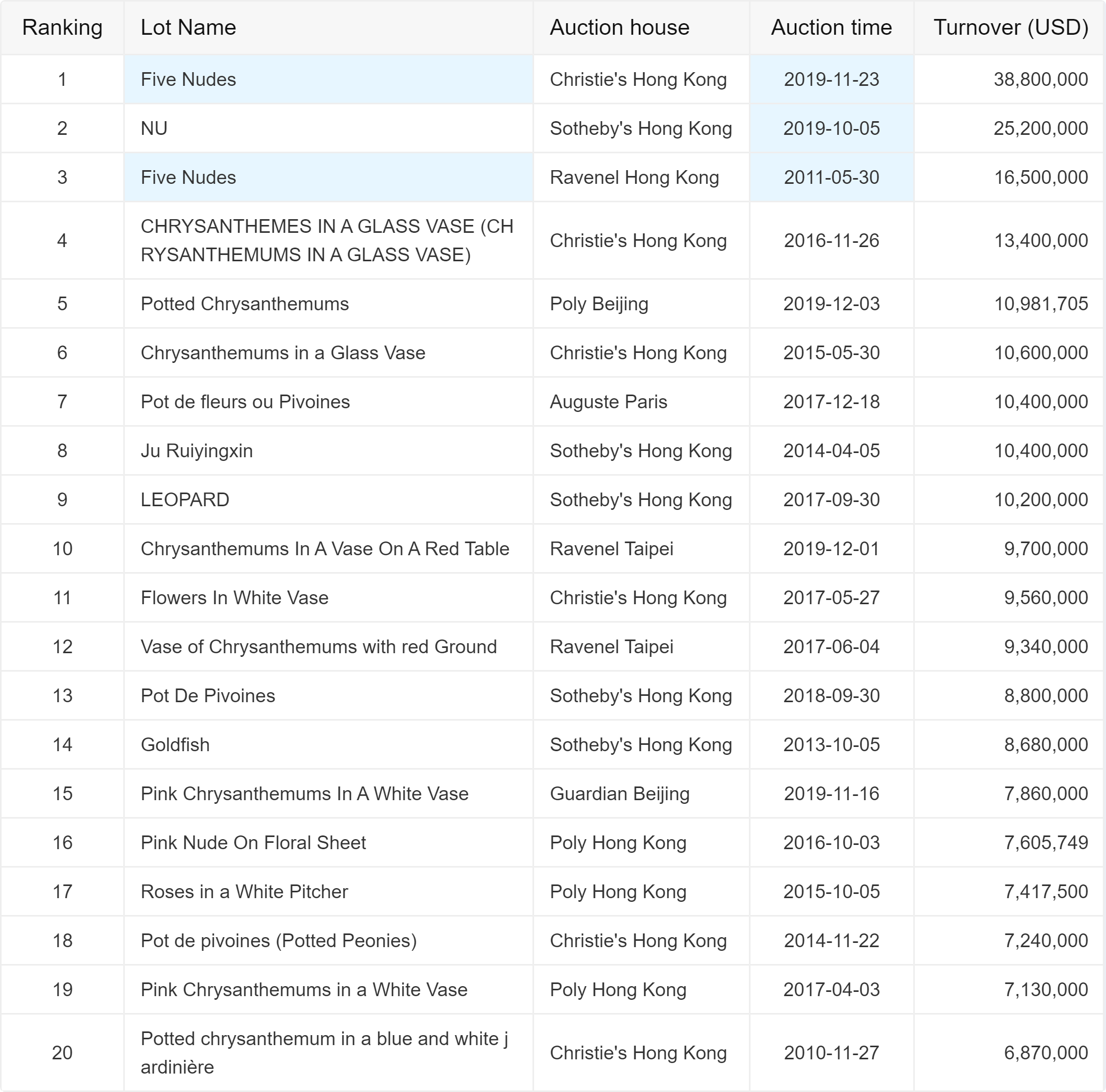 Top20 of San Yu by 2019
On November 23, 2019, Five Nudes was auctioned on Christie's Hong Kong Modern Art Evening Sale with an estimated value of $31.9 million USD to $70.3 million USD, becoming the lot with the highest estimation in Asia in 2019. The auctioneer started the auction with HK $190 million. After 10 minutes of intensive bidding, the auction price reached HK $300 million (about US $38.8 million), which significantly broke the artist's personal record. In just over a month, Five Nudes regained San Yu's Top1 position.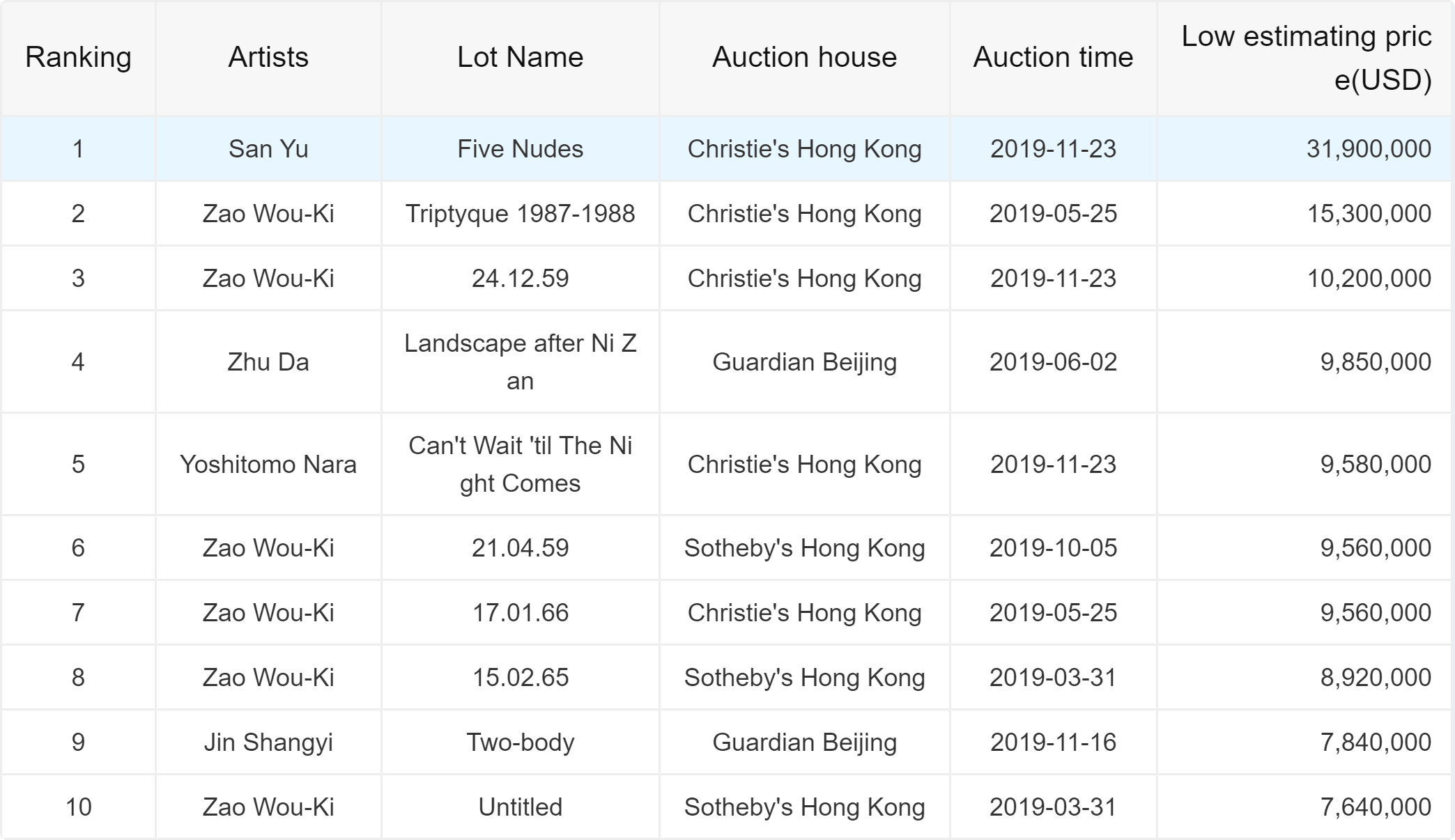 Top10 Undervalued in Asia
15 Times over 15 Years, Quatre Nus
On July 8, 2020, Quatre Nus was auctioned on Hong Kong Modern Art Evening Sale with no bottom estimating. The auctioneer started the auction with $160 million, and after 11 minutes, it was finally concluded in $258 million, 15 times 15 years. Its market value should not be underestimated.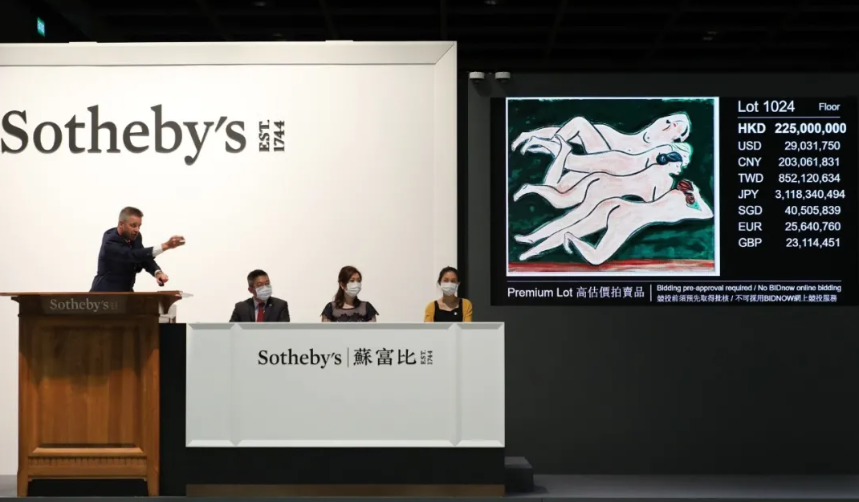 The Moment of Falling Hammer of San Yu's Quatre Nus
On April 10, 1994, it was valued at US $98,000-130,000 at that time and finally sold for US $123,000. Within the estimating price, the collector won the work in one fell swoop.
Eleven years later, on November 27, 2005, the lot was auctioned again in Christie's Hong Kong with an estimating of US $780,000 - US $1.03 million. Finally, it was sold for US $2.15 million, with an over-low-estimate rate of + 142.17%. Quatre Nus has completed the transition from hundreds of thousands of dollars to one million dollars, achieving 17 times in 11 years, and became the Top1 of San Yu's most expensive transaction.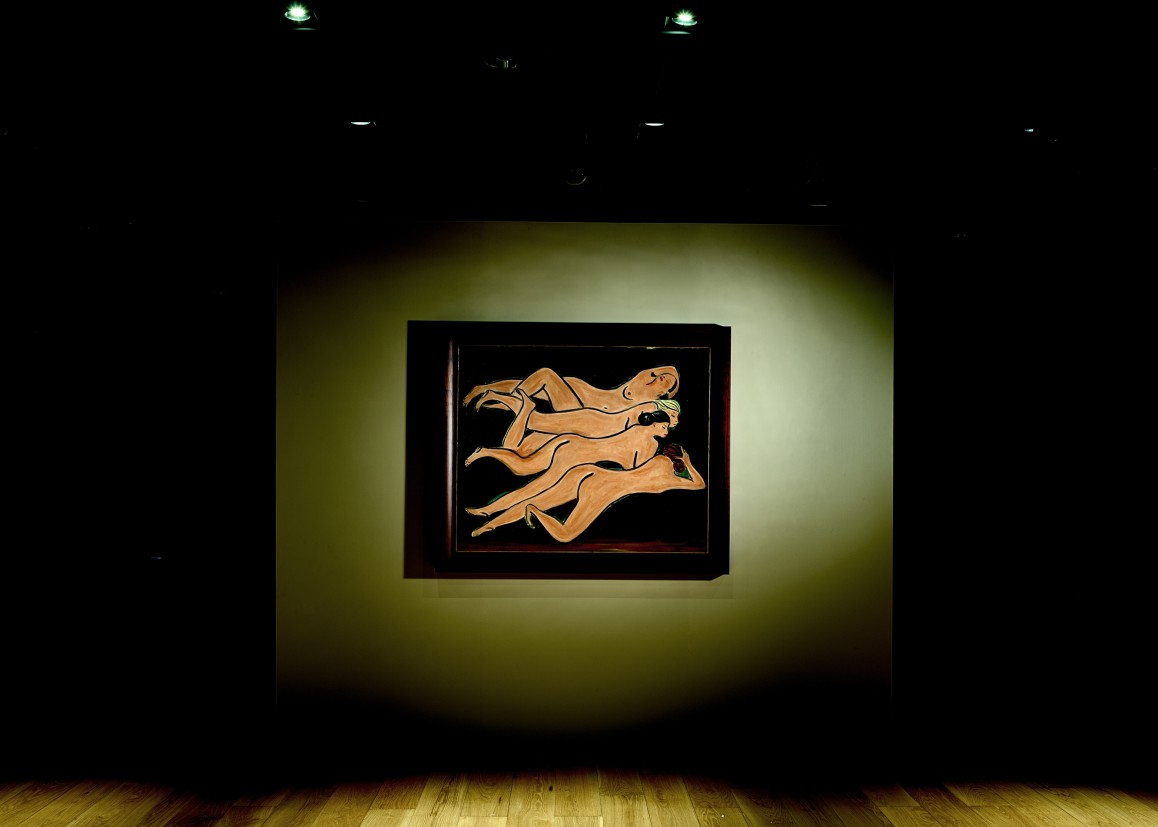 Quatre Nus
Part II, Artistic Charm Brings Fame among Auction Field: from the Perspective of Art, Five Nudes PK Quatre Nus
Similarities:
They are both the representative works of San Yu in his late period, and the group images of nudes are rare
In his early years, most of San Yu's subjects about nudes mainly focused on a single woman. According to the Complete Works of San Yu's Oil Painting, only six images of more than three nudes were created during the 1950s. Five Nudes and Quatre Nus are both made of oil paint and fiberboard, which are the representative works of San Yu in his late period. In his later years, the nude also surpassed the deformation style established by the artist since the 1920s and 1930s, creating a new situation of his nude portraits.
Differences:
1.Scale: Five Nudes is the largest, and Quatre Nus is grand
The size of Five Nudes is 120 × 172cm | 2.06 m² | which is the most magnificent and spectacular work among all the nude oil paintings of San Yu; while the scale of Quatre Nus is 100 × 122cm | 1.22 m², both its length and width are more than one meter.
2.Character: Five Nudes slightly wins
Five Nudes is the only painting with the biggest number of characters, five nude women.
3.Unit Price: 60 million for a standing nude and 65 million for a lying nude
The dealing price of Five Nudes is HK $1.48million per square meter, and a nude is worth HK $60 million, while the turnover price of Quatre Nus is HK $2.11million per square meter and one nude is HK $65 million.
4.Artistic Style
Five Nudes Stands Skillfully with Brilliant Background in Red and Yellow.
In the west, the horizontal composition of leaning and lying is common in the theme of nudes. The Five Nudes selects the relatively rare standing posture. There are some standing Nudes in San Yu's composition, but it is unprecedented for the five nudes. In terms of content, the expressions, hairstyles and postures of the five nudes are quite different. The graceful female body exudes a charming atmosphere. In terms of composition, the five nudes are rigorous and unique, with relaxed but powerful lines, beautiful colors but not greasy. The elegant curves seem to blend with the beauty of Chinese landscape.
Five Nudes brings together the three themes of San Yu's life: nudes, flowers and animals. In 1950's, San Yu's painting techniques began to change. In his daily life, San Yu worked in antique furniture in China. The patterns on the pictures of nudes were made by San Yu when he painted screens.
Quatre Nus is lively and gorgeous, and the background is green and vibrant
When this painting was born, San Yu also created Trois nus and Quatre nus with similar pictures and slightly smaller size. Relevant experts pointed out that San Yu intended to use these two works as the first draft of Quatre Nus.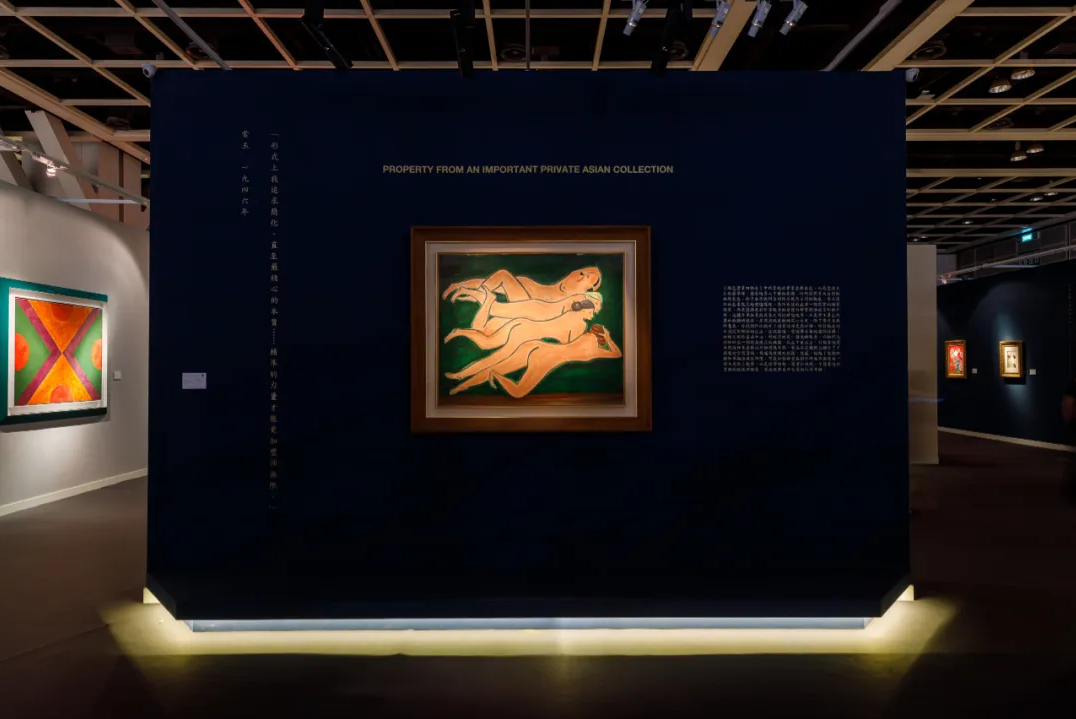 Quatre Nus
From the picture, the Quatre Nus seems to roam under the sun. Their graceful body curves interlacing, these women are listening carefully or lying on their back, as if they are whispering. The picture is wonderful and lively, which is a rare masterpiece. Unlike the rich background of the five nudes, the background of this work is green and brilliant, which symbolizes the inclusive land and is full of vitality.
Conclusion: The frequent high prices of the nude contribute to the total turnover of the art market, which also highlight the recognition and expectation of collectors for the market value of San Yu. The nudes in San Yu's works are famous in the auction market for their unique artistic charm. They have both the beauty of Western art and the charm of Chinese mountains and rivers. Those graceful bodies can be beautiful or naked, but there is not a bit of eroticism and depravity, which confirms that "All his life's hobby is nature, such an elegant young man ". In the vast works of art, the popularity of San Yu's nude remains high, and its future may be full of more possibilities. ArtPro will continue to focus on the auction market. For more information about the auction of San Yu's works, please pay attention.
Modern Art Evening Sale
Sotheby's Hong Kong
Hong Kong Convention and Exhibition Centre 1 Expo Drive, Wanchai Hong Kong