2019 Review | Street Art in Limelight, Kaws almost Equal to Jean Michel Basquiat
Street art is no longer Basquiat's domain...
Last April, with a ceiling-breaking price of over a hundred million HKD, Kaws's painting seemed to suddenly hit the door of Street Art. Afterwards XX-eye dolls enjoyed tremendous epidemic over the globe, while the joint-designed T-shirt was desperately snapped up, and later Sotheby's as well as Christie's held online auctions for Banksy at the same time. All these imply that graffiti is no longer regarded as an illegal act. Whether you pay much attention or not, with numerous Street Artists mushrooming, Street Art has already become an irresistible trend.
Kaws's "Dazzling" wind to hit, with 2019 Total Sales almost equal to Basquiat!
If you are familiar with the art world, you must have the idea that Basquiat has always been the representative figure of Street Art or before 2019, it's safe to say that he reigned over the world of Street Art . Since last year, however, the monopolistic situation has altered.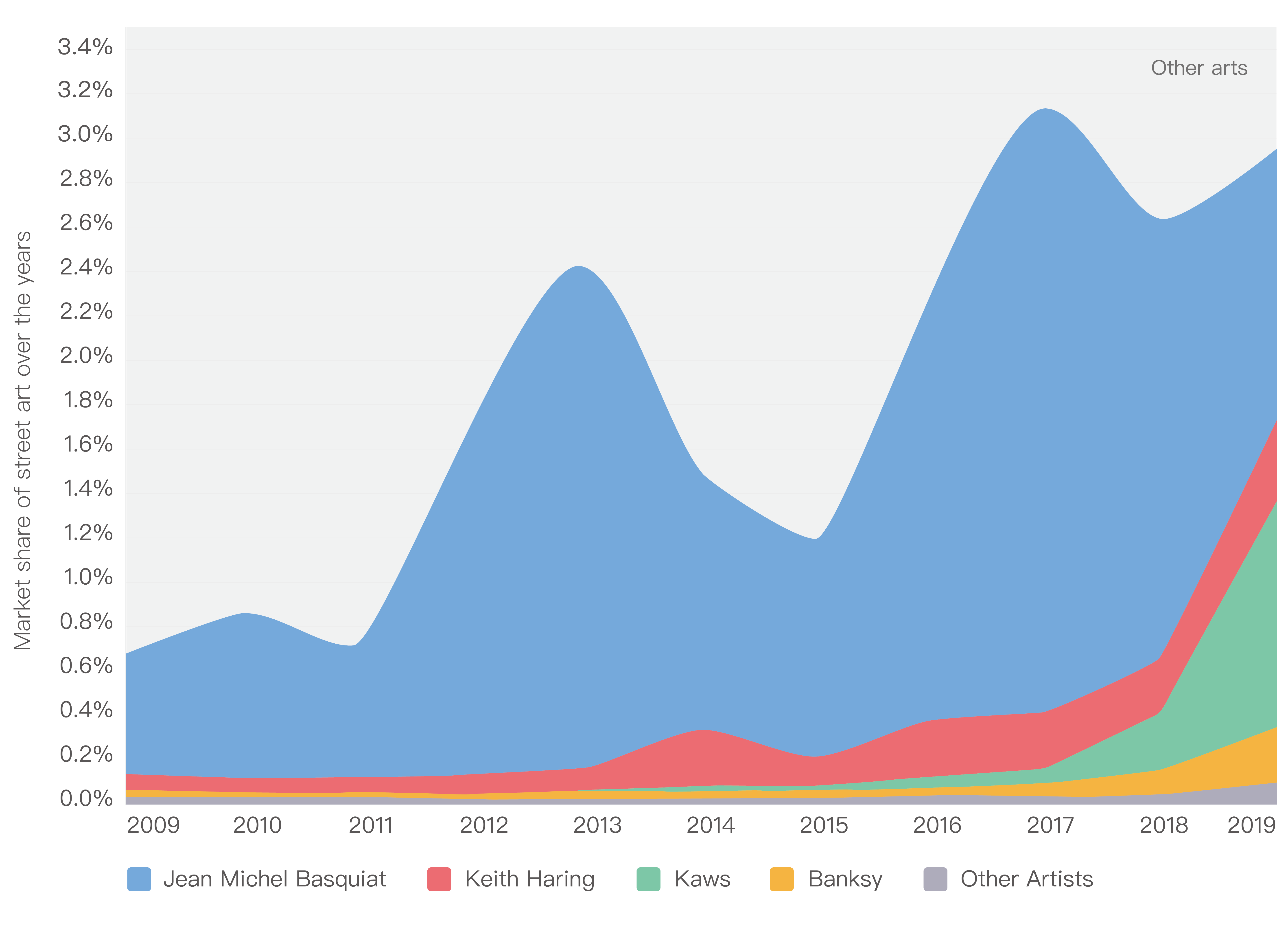 Over the past years, Basquiat ranked the top, unreachable for the second follower. It went widely divergent in 2019 that the No.2 competitor Kaws's soaring turnover had already caught Basquiat's up, exceeding the third place by nearly 70 million USD, and as a result, rewrote the history of Basquiat's unparalleled dominance.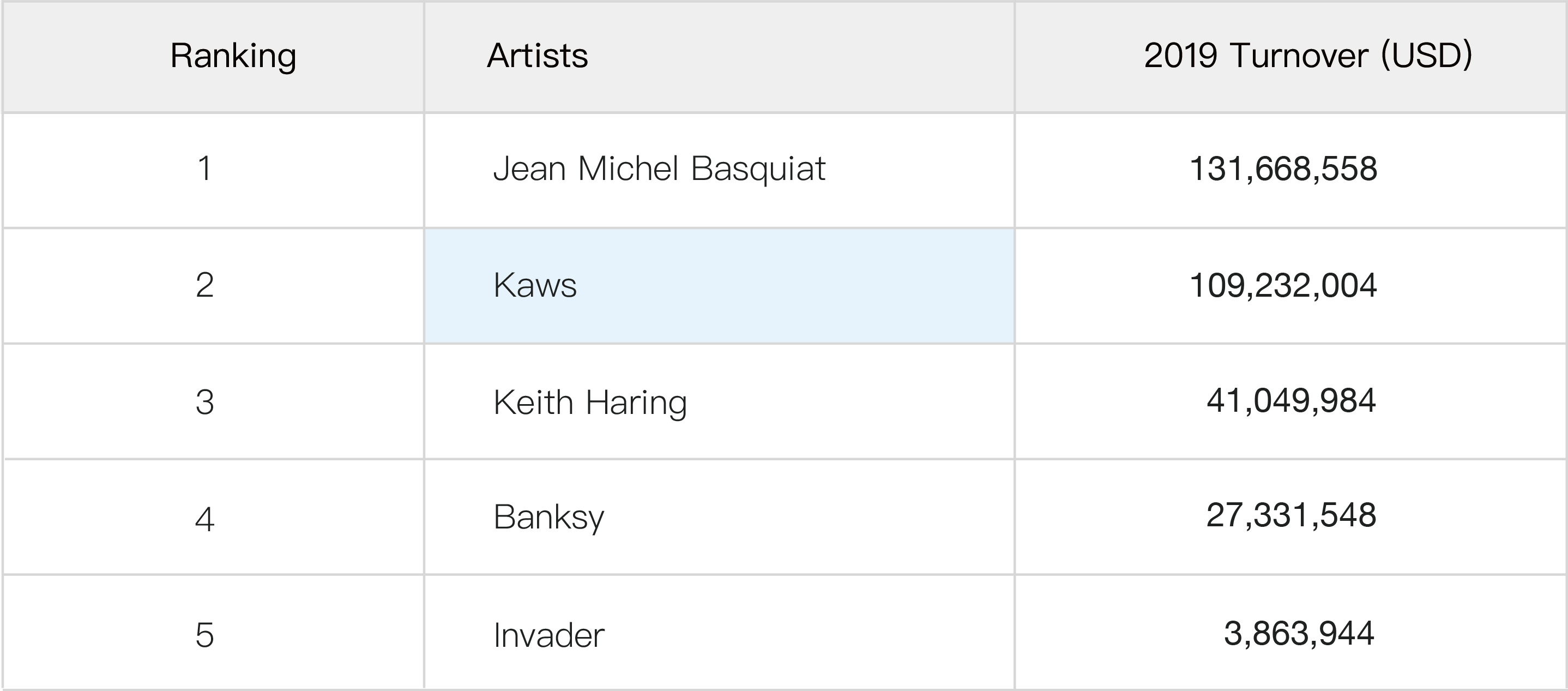 For sure, the title of year-of-auction for Street Art in 2019 is not only contributed by Kaws's good performance, but that artists including Banksy, Invader, and Stik sll accomplished a satisfactory uptrend in recent years as well.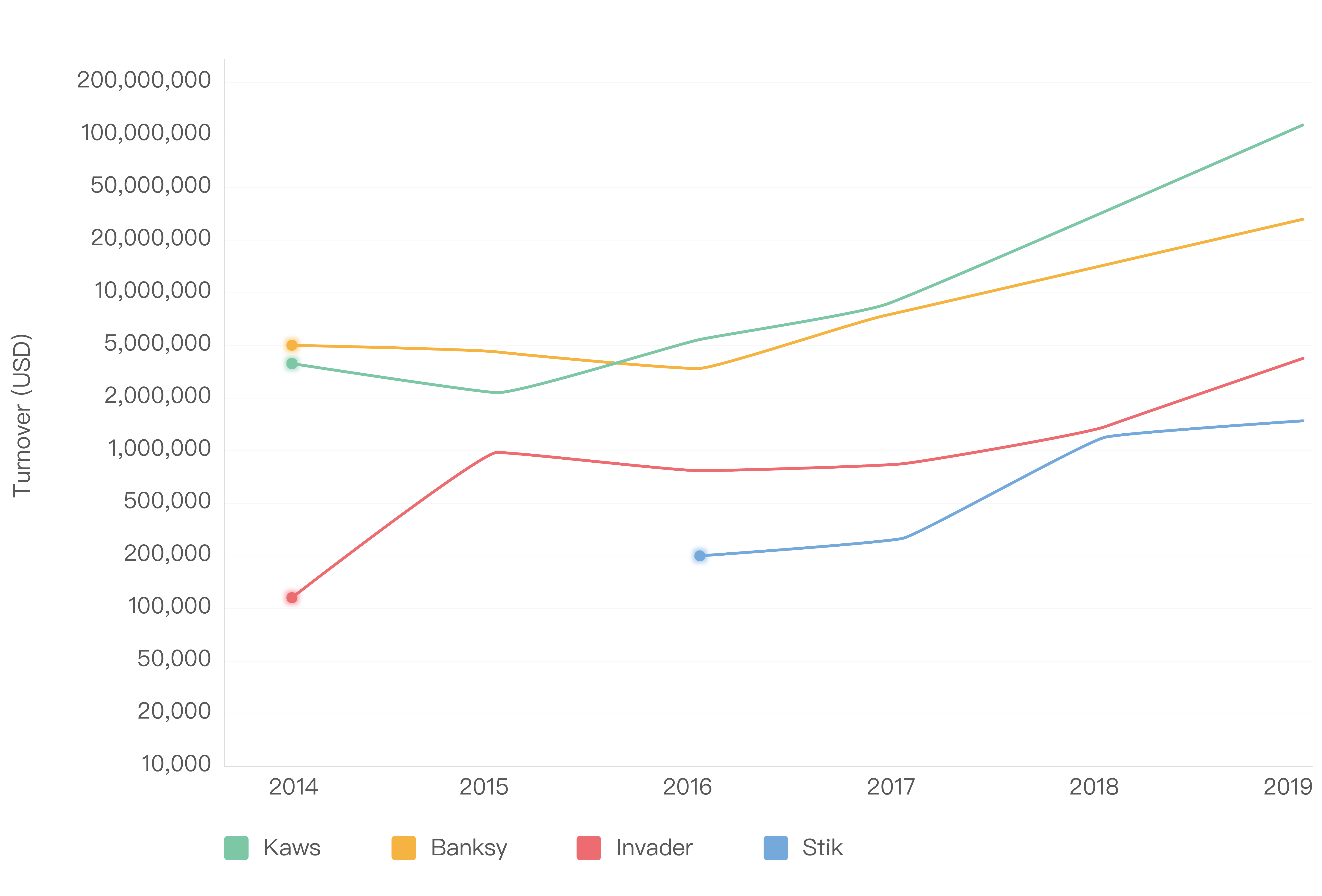 Kaws Creates New Pattern for Street Art, breaking Basquiat's Top10 Record
1. Three of Kaws's Works into 2019 Top 10 for Street Art
As can be seen from the figure below, the top10 Street Art works were almost taken by Basquiat alone over the past two years, but this phenomenon was changed by Kaws in 2019 – Basquiat no longer stood alone in Street Art. Within the top 10, Kaws had three works included and one of which listed up to top 2, and Banksy also had one on the map – an unprecedented phenomenon ever.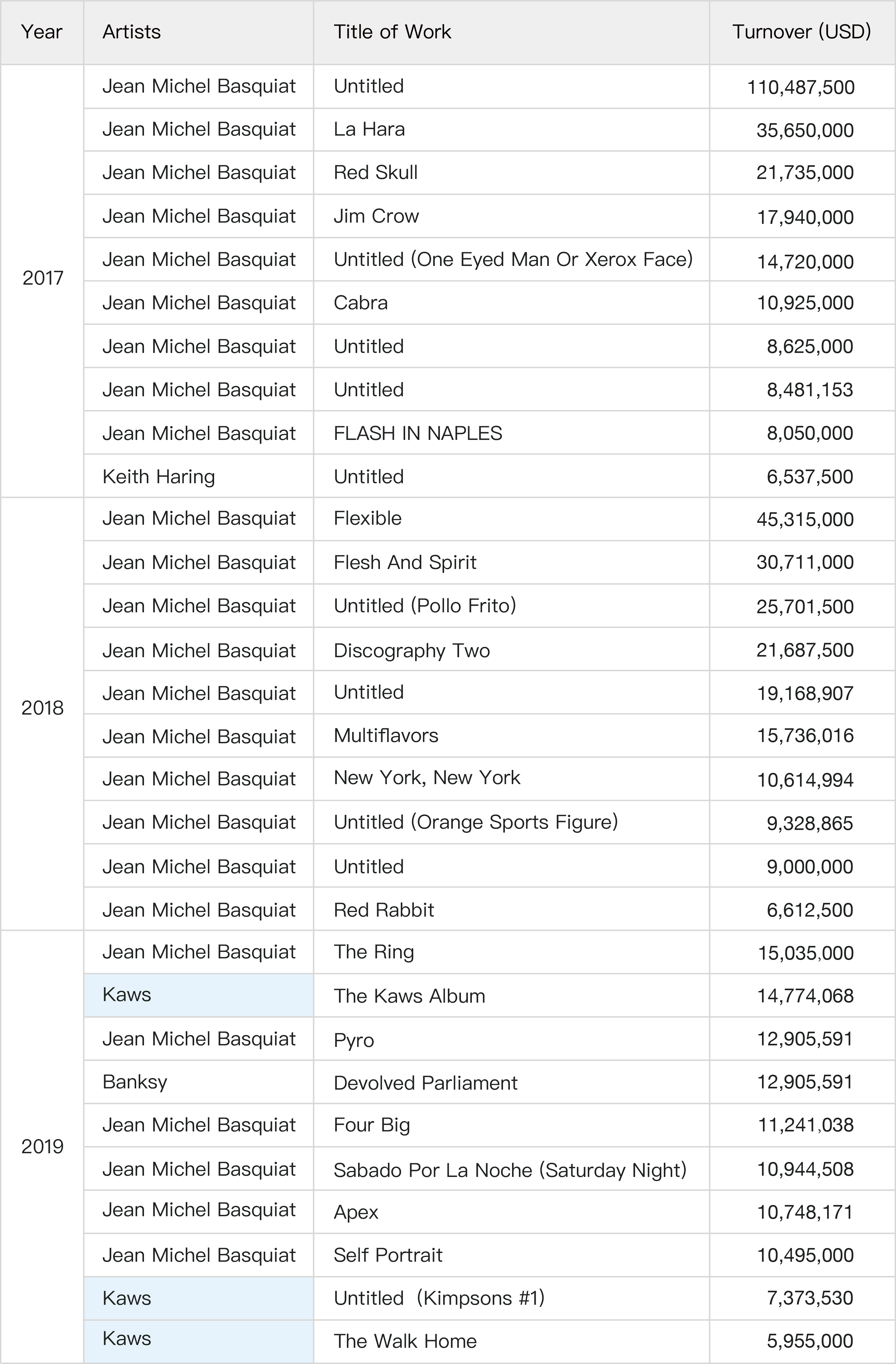 It also indicates that collectors' knowledge of Street Art is no longer limited to a certain person. The surging Street Art is not an exaggeration, but a description of phenomena!
2. Kaws to Set Successive New Highs in 2019
In 2019, even those who did not pay much attention to the art world had heard of Kaws's marvelous achievements, which was not just that one painting. In 2019, Kaws's personal top10 had been refreshed 9 times!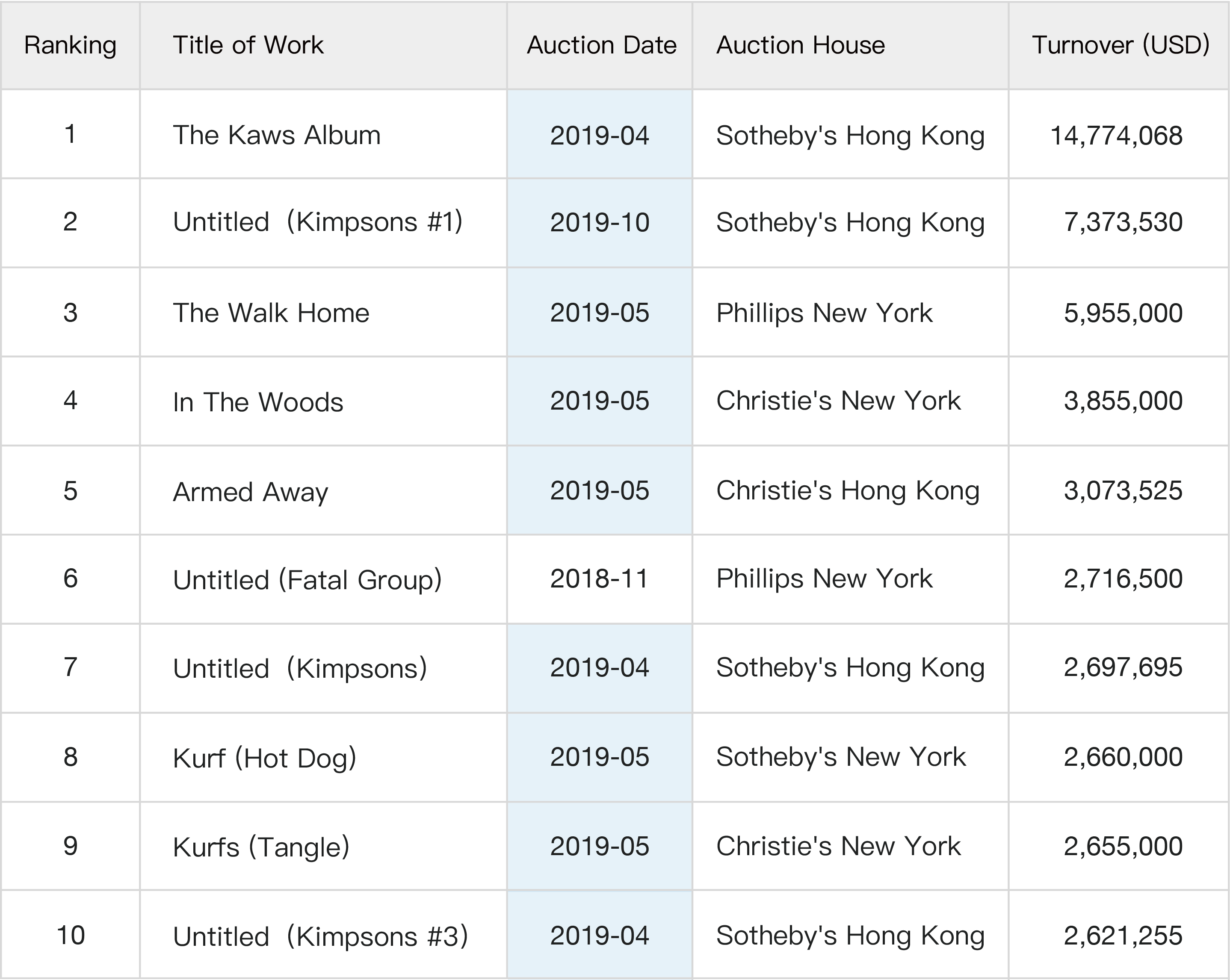 For Kaws, the year of 2019 is undoubtedly worth remembering. The number of dots in the picture below represents the deal quantity, with each dot representing one work, and the red ones respectively stand for works with new high transaction prices. As we can see from below, the transaction quantity and turnover of Kaws's works in 10 years are rising continuously. From 2009 to 2017, the price of his works was hovering in the million-dollar range, but since 2018, the quantity as well as the price of his works soared, with an increasing number of works over a hundred million dollars, and even repeatedly set new highs in the same year, entering a stage of steady rise. Until 2019, the highest price of his work broke through ten million dollars at one stroke – a qualitative leap, opening up a room for other works to rise.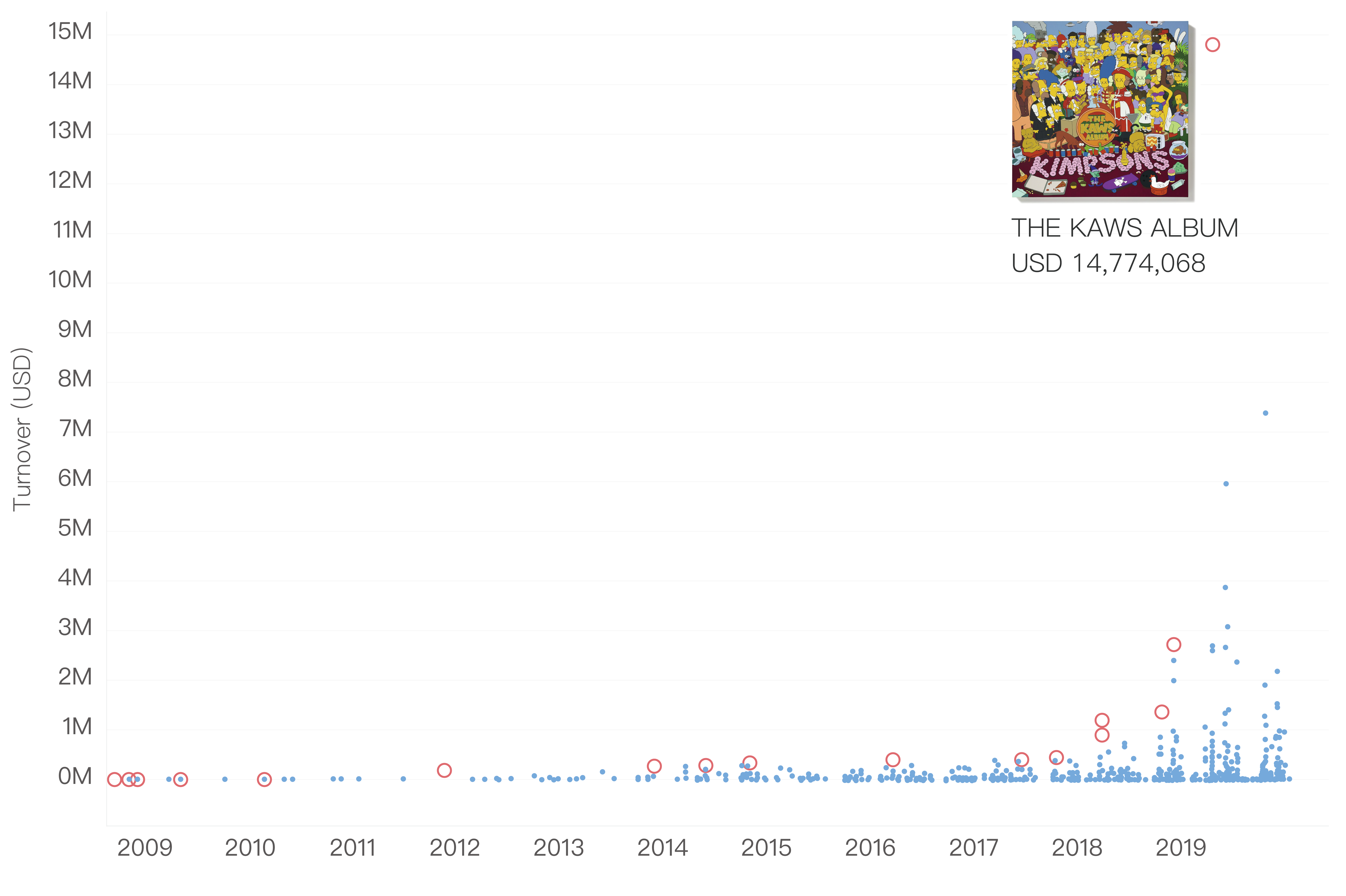 Hong Kong Contributes to Kaws's Rise!
Some years ago, European and American collectors used to be the main supporters of Street Art. In recent two or three years, with the increasing purchasing power and acceptance of Asian collectors, the turnover of Street Art in Hong Kong witnesses a significant rise.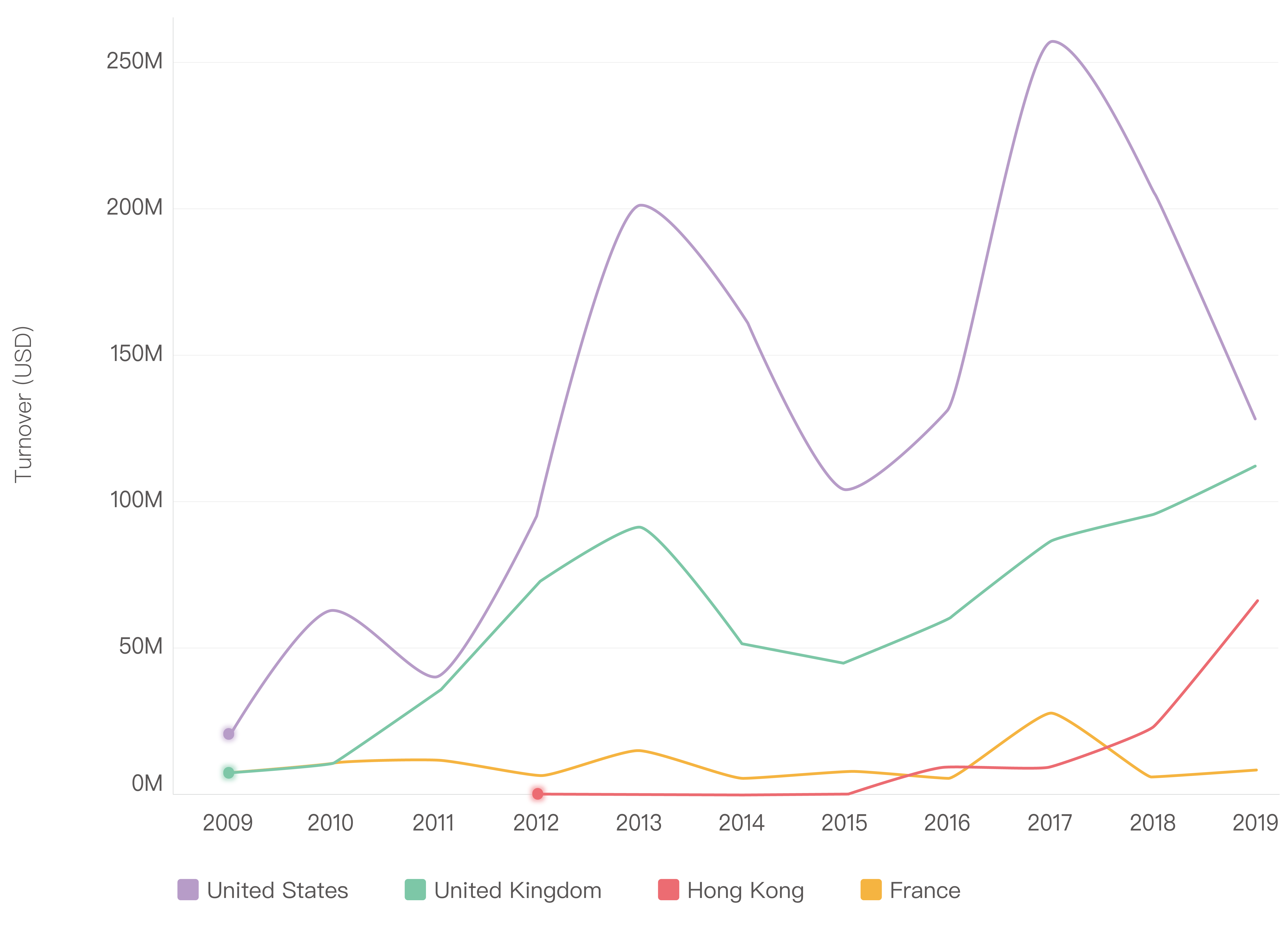 And as we dig deeper into the sources of these increments, it turns out that most of these increments are the work of Kaws. We can put it that Kaws's good results in 2019 shall not be separated from the assistance of collectors in Hong Kong. Certainly, not only in Hong Kong, the transaction volume of 2019 has increased in many other areas.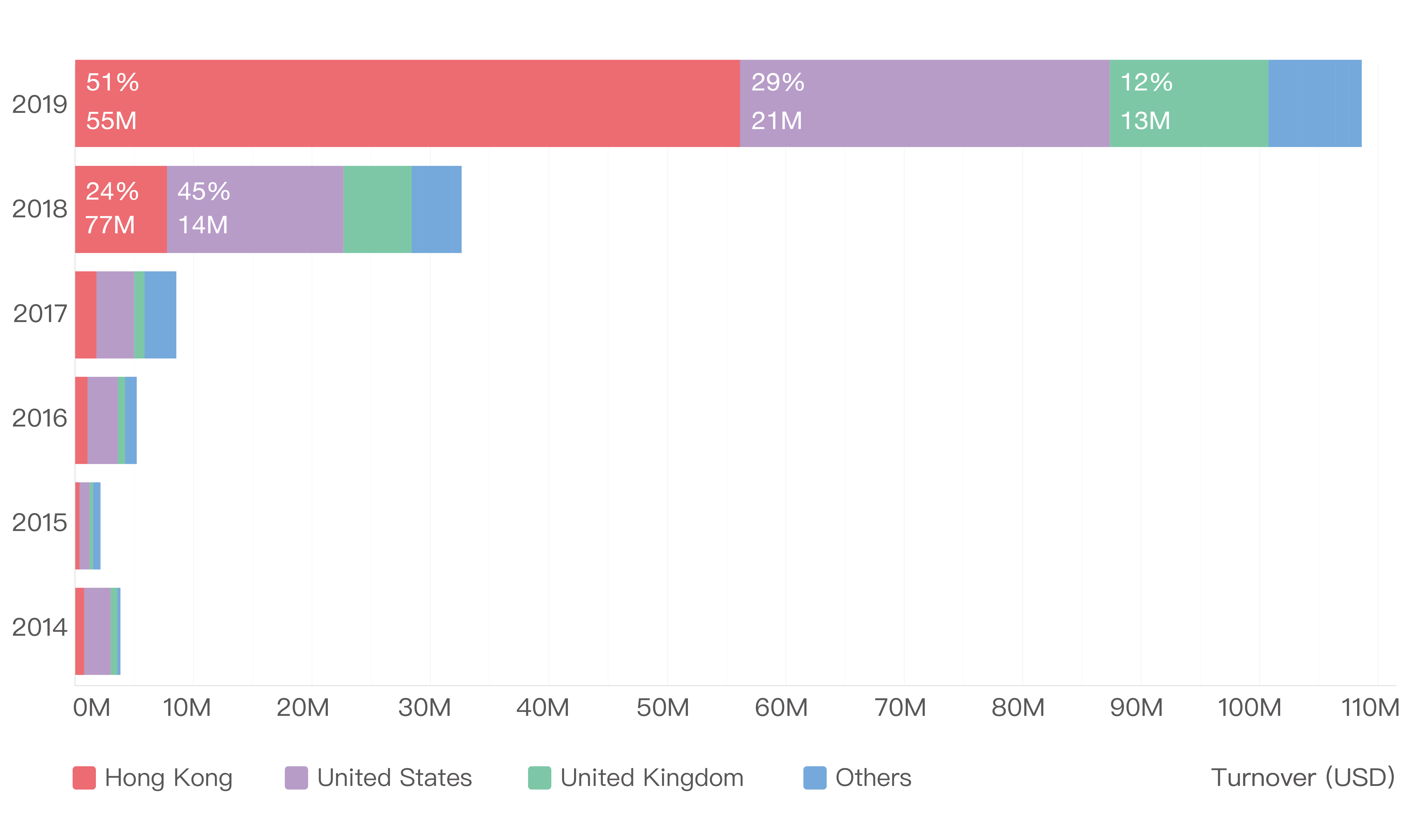 The distribution map of Kaws's turnover in the past five years
Kaws Internet Index Surpasses Basquiat for First time, Internet Helps Street Art
The distinction between street artists and the others lies in that street artists achieve the recognition from the public to the art world via a huge fan base and strong purchasing power with almost no marketing. Street art, therefore, receives more attention online. We see that since 2008, Basquiat had gained more popularity over Kaws on the Internet, and from 2019 on, the latter has turned the tide.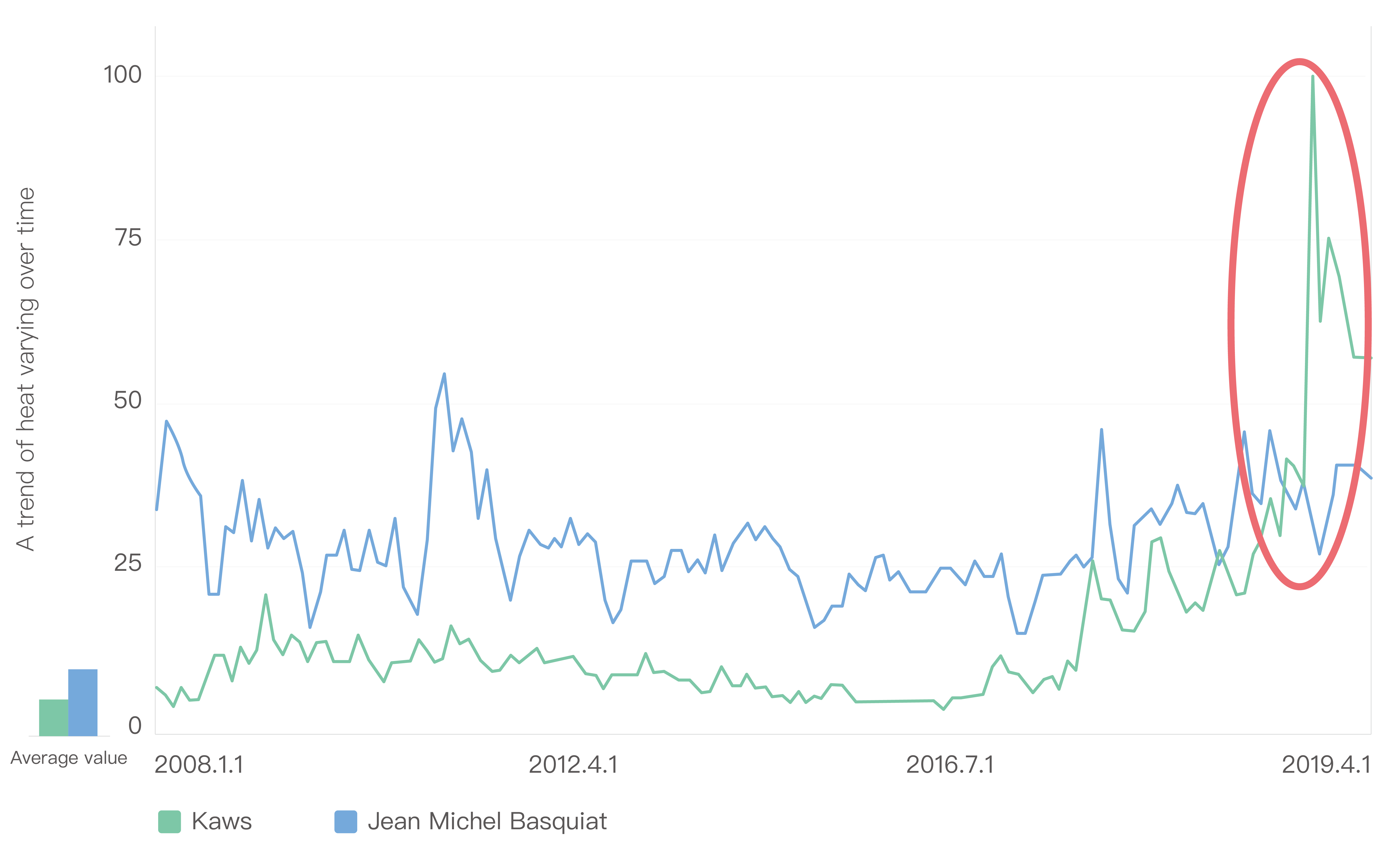 More Possibilities for Fashion Art Investment
In fact, the counterattack of Street Art is closely related to increasing youth and aesthetic diversity of collectors. The new generation of collectors pushes Street Art into the art market and changes the rules and trend of the game step-by-step, and meanwhile the annualized rate of return of street artists seems to be slightly different from other artists.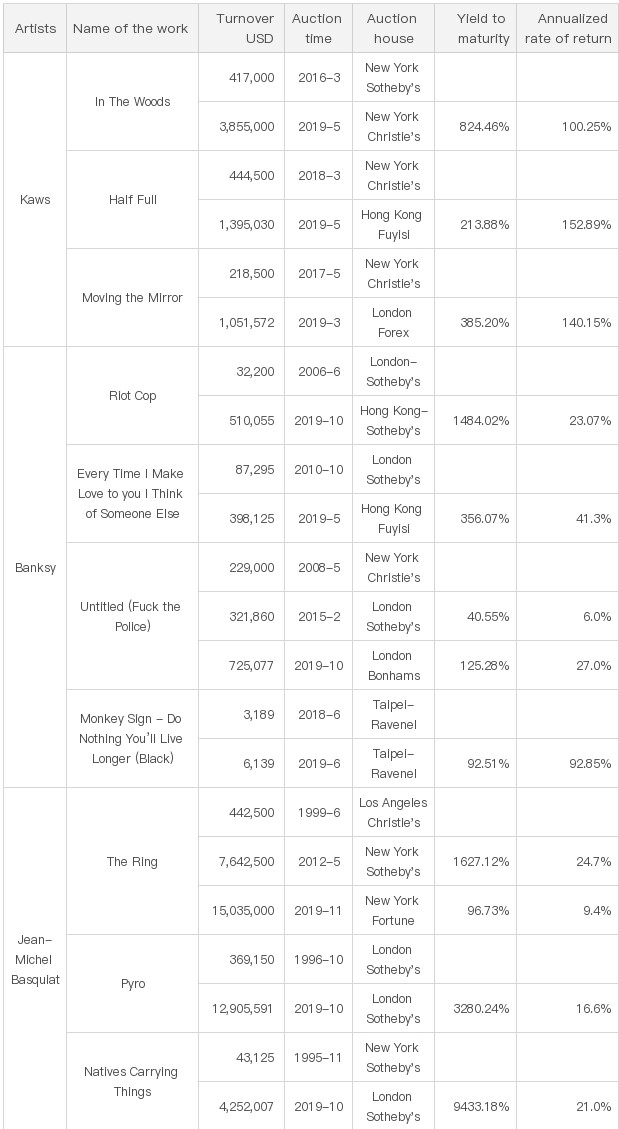 Despite that everyone has their own taste in art, collection is nothing more than choosing what one loves from the heart, for true love prevents one being swayed by gain and loss as a consequence of price fluctuation. It is good to increase the value of one's beloved works, but if you cannot, it is also good to keep them for pleasure.